More details of the forthcoming Hyundai bakkie are surfacing as the new model inches closer to production.
Picture credit: S. Baldauf/SB-Medien
Render by Duwyne Aspeling, Cars.co.za
Hyundai is making a bakkie and we made a render based on the information available thus far with a dollop of speculation to keep things interesting. Is this what Hyundai's forthcoming bakkie will look like? Maybe... We have also seen spy photographs of a prototype testing in the snow (see below) and while most of the body is hidden from sight, there are some noteworthy learnings to be gleaned from the spy images. Perhaps the most obvious feature is indeed the large, bold cascading grille which will likely be flanked by slim LED headlights. It's also clear that the fog light bezels will sit directly below the headlight casings. Another intriguing design feature is the sloping load bay design, which bears some resemblance to our render above. It's also worth noting that the size of the load bay will likely be substantially smaller than what's currently offered in the double-cab bakkie segment.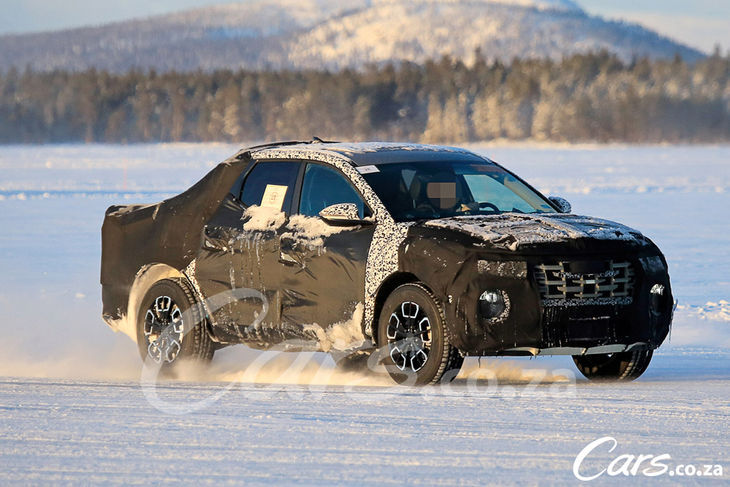 Spy images reveal some of the key design cues that are likely to feature on the production Hyundai bakkie.
What we know so far
Last year, Hyundai announced that production of its first-ever bakkie will begin in 2021 and that it will be built at the marque's plant in Alabama, USA! We have been keeping a close eye on developments regarding Hyundai's new bakkie and while official information remains thin, pieces of the puzzle are slowly coming together.
The 2015 Hyundai Santa Cruz Concept was given the green light for production in 2017 and we know that Hyundai and Kia are reportedly co-developing a pickup with the intention of infiltrating the lucrative pickup market in the US. While a rival to the full-size Ford F-150 might be a push too far, it appears that a medium-sized bakkie to rival the likes of the ever-popular Toyota Hilux and Ford Ranger is likely.
Engine Power?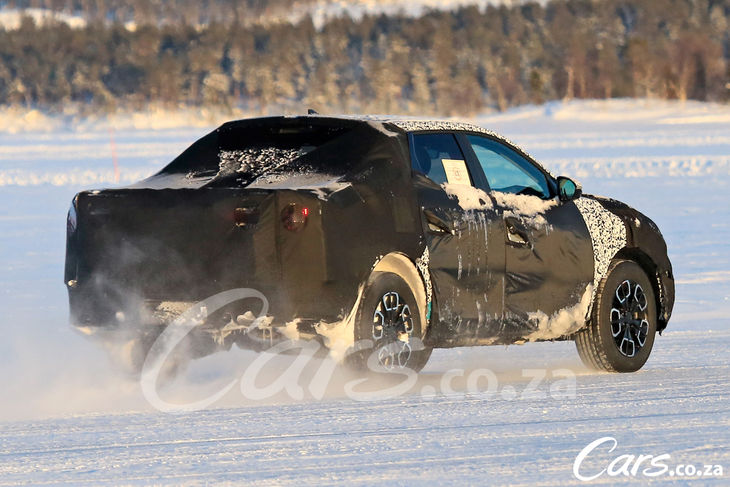 The jury's out on what will power the Hyundai bakkie but we are hoping that the Genesis GV80 engine makes its way under the bonnet.
Previously, we reported that Hyundai's luxury car brand, Genesis, recently revealed its GV80 premium SUV which is powered by a 3.0-litre, 6-cylinder turbodiesel engine with 205 kW and 588 Nm of torque. A report from Australia's CarSales suggested that the Hyundai bakkie could very well feature this engine.
In an interview at the launch of the GV80, Head of R&D at Hyundai, Albert Bierman, said "This engine... we can have so many applications. We make also commercial vehicles and so on, so this engine will be out there for quite some time."
If this is indeed the case, Hyundai's bakkie will be more powerful than its rivals including the Volkswagen Amarok, Toyota Hilux and Ford Ranger.
Now, however, Car And Driver, is suggesting that the Hyundai bakkie will feature engines from the new Santa Fe which includes a 137 kW/241 Nm naturally-aspirated 2.4-litre petrol engine and a turbocharged, 175 kW/352 Nm 2.0-litre turbocharged petrol engine, both fitted in conjunction with an 8-speed automatic transmission. Perhaps even the current 142 kW/440 Nm 2.litre turbodiesel engine that does service in the SA-spec Santa Fe would be a suitable match in the production Hyundai bakkie. It's also been speculated that the Hyundai bakkie will be offered in 4WD guise only. Hyundai has yet to reveal official details, however...
More than this, there are rumours that Hyundai's N Division could very well develop a high-performance bakkie that would rival the Ford Ranger Raptor. There is speculation that this N bakkie could feature the same potent, turbocharged 2.0-litre engine that powers the i30N and could offer as much as 225 kW!
What else?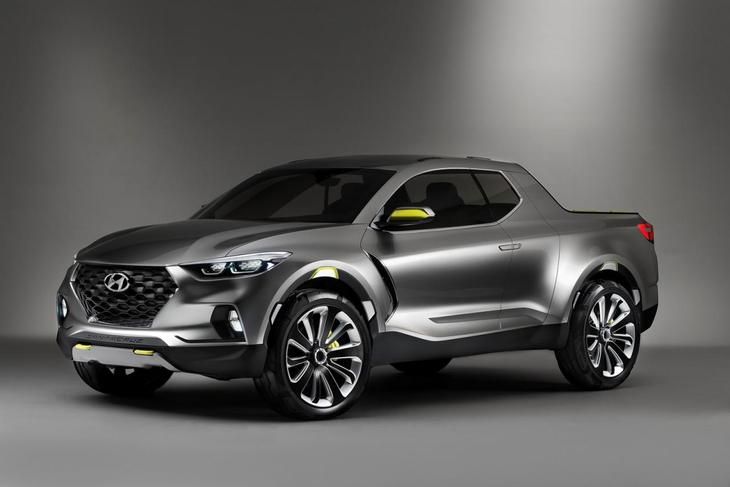 The Hyundai Santa Cruz concept from 2015 is where it all began...
Previously, in yet another report from Down Under, Which Car confirmed that Hyundai is developing a range of 1-tonne bakkies for Australia and other markets, which as history has proven, will likely include South Africa which is, as we know, a major market for bakkies. The report also indicates that the one-tonne bakkie will be based on a ladder-frame chassis and will be developed in partnership with Kia, which will also receive its own version of the bakkie. Both 2-wheel and 4-wheel drive variants are on the cards as well as different cab variants.
Hyundai Australia CEO, John Kett commented:
"What's clear to us is that if we're going to bring a ute out, it had better be a ute. We've got past the first hurdle of what it needs to look like, but it needs to be functional as well. That's the important part. We're going down that pathway and we're working towards it. We just have to make sure that when it arrives, it's a bloody ute."
"We're looking at a range. When you cut up the ute market, you split it up between 4x4 and 4x2, who owns 4x2 and what powertrain goes with that and then 4x4 crew cab versus cab/chassis and so on… we want to be smart about it and that's what we're going through at the moment."
We will keep you updated as soon as more information becomes available.
Buy a new or used Hyundai on Cars.co.za
Related Content
Hyundai N Bakkie Coming to Rival Ranger Raptor?
Hyundai Kia Working on Double-Cab Bakkie for 2022