Hyundai South Africa has reintroduced the Atos as a budget car to rival the Datsun Go and Renault Kwid. How does it stack up against those volume-sellers and... is it any better? Lance Branquinho reports back from the local launch.
Hyundai has a significant presence in the compact hatchback market; brisk sales of the Grand i10 and i20 attest to that. With the new Atos, however, the Korean company has reinforced its entry-level hatchback offering in South Africa.
Price is critical in the budget-car segment: a few thousand Rands can often be the difference between a purchase or deferral and Hyundai's strategy is to structure its local portfolio in such a way that customers can always afford to be in a Hyundai hatchback of some configuration, or specification.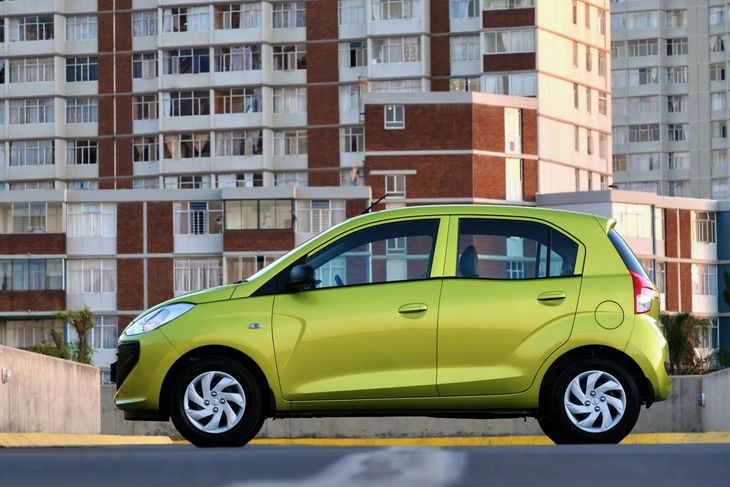 Return of Atos sees it sit below the i10 as the entry point to Hyundai's product portfolio.
In South Africa's stalled economy, many car customers have been forced to buy down. Therefore, Hyundai's entry-level offering has changed from Grand i10 to Atos, which is sourced from India. By the end of next year, most of Hyundai's local portfolio (80%) will be assembled in the world's 2nd-most populous country and the firm says its Indian products have allowed for a very low warranty burn rate (the number of warranty claims against the amount of premium that has been set aside to meet those claims), which compares favourably with any Korean- or European-built Hyundai.
Modest – but honest – spec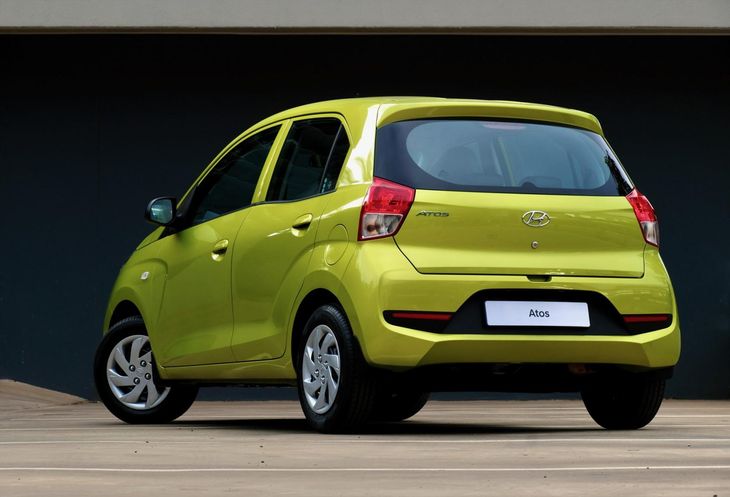 The Atos' peak outputs are meagre, but it only weighs 866 kg, which should make it quite spritely.
The previous Atos was very popular in South Africa; Hyundai sold no fewer than 45 000 units from 2005 to 2013. Hyundai established its local reputation with entry-level hatchbacks, although the company now markets a vast portfolio of vehicles, including several crossovers and SUVs.
The new Atos is built on a K1 platform, which will reportedly become the standard for many of Hyundai and Kia's more affordable sub-4-metre-long vehicles. The engineering claim is that this new K1 structure is 63% more rigid than Hyundai's previous compact car platform, which should equate to better crash safety, sharper steering responses and lower vibration-induced noise levels.
The newcomer's mechanical specification is modest but entirely relevant for its R159 900 price point. The 1.1 Motion (the only version so far) is powered by a long-stroke 1.1-litre 4-cylinder petrol engine, which produces peak outputs of 50 kW and 99 Nm. It runs a single overhead camshaft with a 3-valves-per-cylinder configuration, which should facilitate the best compromise between low service costs and efficient combustion.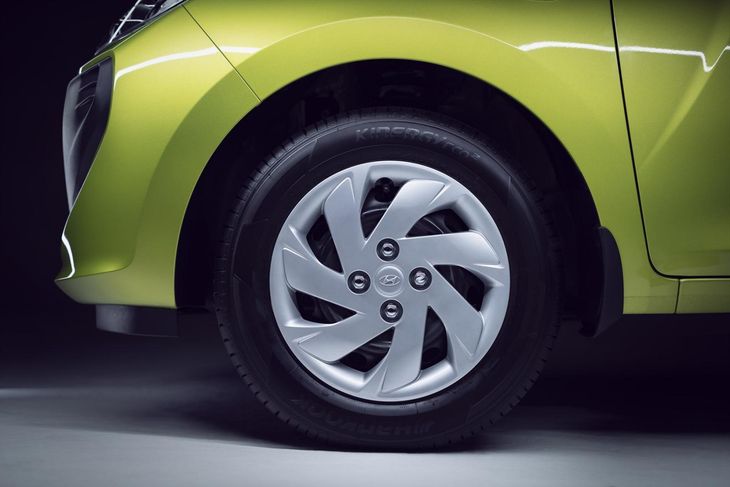 Steel wheels (with covers) are standard.
Gearing is via a 5-speed manual transmission and drive is directed to the front wheels. The Atos' suspension configuration places coil springs at all 4 corners, with the front linkages having a McPherson strut-type set-up, while the rear-axle is held in place by a torsion beam.
As you would expect for a budget vehicle of such low mass (it only weighs 866 kg), the Atos does not have disc brakes all-round. There are 180 mm drum brakes to slow down the rear wheels, while most of the brake-force is generated by 241-mm solid discs up front.
The entire deceleration system features a 4-channel ABS function, with additional sensors to enact emergency brake-force distribution. The Atos does not come with electronic stability control, but that isn't standard on any of its rivals either.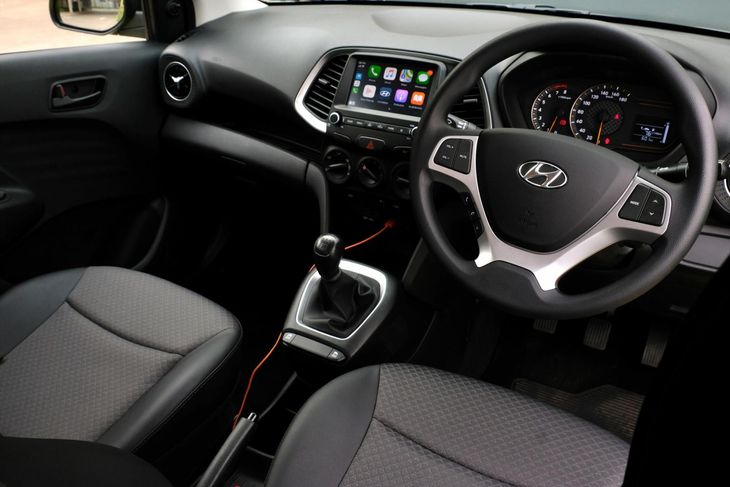 Interior is basic, but reasonably well-appointed for a budget-car offering.
Beyond the mechanical bits, the Atos has an entirely decent cabin architecture. Broad-spectrum infotainment system functionality and smartphone synching/integration certainly sweeten the deal for any new-car buyer, even more so for those on a tight budget and truncated shopping list. As such, the Atos features a factory-fitted 7-inch touchscreen infotainment system that plays nice with Apple CarPlay and Android Auto.
The steering wheel also has satellite controls (audio- and Bluetooth handsfree toggles, which means you can answer an incoming call without having to take a hand off the wheel), but the column is neither height- nor reach-adjustable.
For Hyundai to keep the Atos within the desired price bandwidth, it had to prioritise certain content items over others. Sacrifices were made regarding convenience, which is why you have manually adjustable side mirrors, manual rear windows and seats that are not height-adjustable.
Adequate all-rounder
Meanwhile, many budget cars look like a fair deal when you evaluate their specification, but they tend to be annoyingly unrefined to drive.
The Atos is competing directly with Alliance twin-platform budget cars from Renault and Datsun: the Kwid and Go. Although the engine output numbers are similar between these 3 vehicles, their levels of driveability are very different.
Once you are accustomed to its fixed steering position, the Atos delivers an entirely adequate driving experience. For one, it has unquestionably better mechanical noise and vibration insulation than either the Kwid or Go...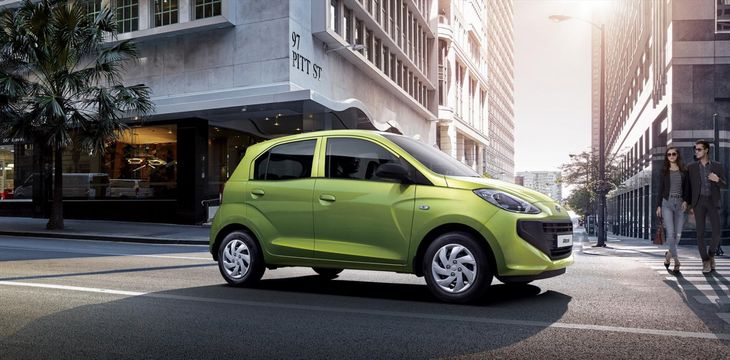 After a decent drive in the Atos, it feels more complete than its rivals.
A small-capacity engine and 5-speed manual gearbox combination is always going to make for a busy drivetrain. At highway cruising speeds, the Atos does "buzz" a little, due to its engine running at higher rpm than is the norm (if you are accustomed to cars with 6-speed transmissions).
Ride quality is fair, but this is a short wheelbase car rolling on 14-inch rims shod with 165/70 tyres, which means that the Hyundai's ability to absorb harsh surface ridges and imperfections is limited. That said, the Atos has steel wheels; they tend to survive a pothole strikes better than alloys.
The claimed average fuel consumption is 5.7 L/100 km. Such figures are often overoptimistic, but on a test route that included 2 mountain passes and some very enthusiastic throttle use, we averaged 5.7 L/100 km as per the Atos onboard consumption computer. It's an impressive number and evidence, yet again, that relatively simple atmospheric engines are truer to their fuel consumption potential than any small-capacity turbo mill.
Rivals and ownership considerations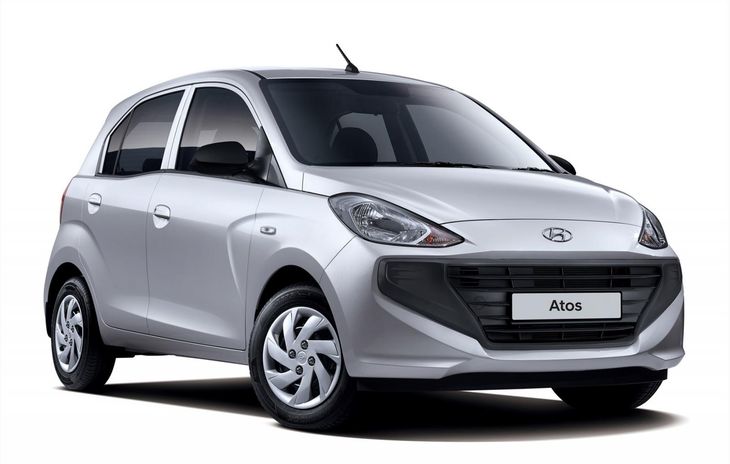 A long warranty and service plan makes the new Atos an attractive long term purchase.
The budget hatchback market is a substantial business in South Africa. The aforementioned Datsun Go and Renault Kwid often total a combined 1 500 units in monthly sales and Hyundai is understandably keen on conquering some of that business.
Hyundai's new city car only has one real debit compared to its rivals and that is luggage space. The Atos is said to be able to accommodate 235 litres of luggage, while the Go and Kwid have more space in the back, at 265 and 300 litres respectively.
Summary
All told, the new Atos is a very convincing budget hatchback offering. The engine is unmistakably efficient, ergonomics are satisfactory and refinement is superior to those of its Japanese and French rivals. On a balance of features, Hyundai's newcomer is competitively specced too.
And then there is the ownership journey, which is often an unconsidered, but crucial, element for budget buyers. With an asking price of R159 900 (November 2019), the Atos comes with a 1-year service plan and a 7-year warranty – the latter should make it marvellously cheap to run long-term.
Related content:
Hyundai Atos (2019) Specs & Price
Budget Car Comparison (2019) Datsun Go vs Renault Kwid vs Kia Picanto vs Mahindra KUV vs Suzuki Celerio