The Atos nameplate has made a welcome return to the South African market. Should you add it to your list if you're shopping in the (very price-sensitive) entry-level hatchback segment?
We Like: Build quality, exceptional specification, good driving traits, brand cachet, warranty and after-sales support.
We Don't Like: Small load bay, no steering column/driver's seat adjustment and lack of rear wiper/demist function.
Fast Facts
Price: R159 900
Engine: 1.1 naturally-aspirated 4-cylinder petrol
Power/Torque: 50 kW / 99 Nm
Transmission: 5-speed manual gearbox
Fuel economy: 5.9 L/100 km
Load capacity: 235 litres
Own a Hyundai? Tell us about your experience here.
SERIOUS ABOUT BUYING?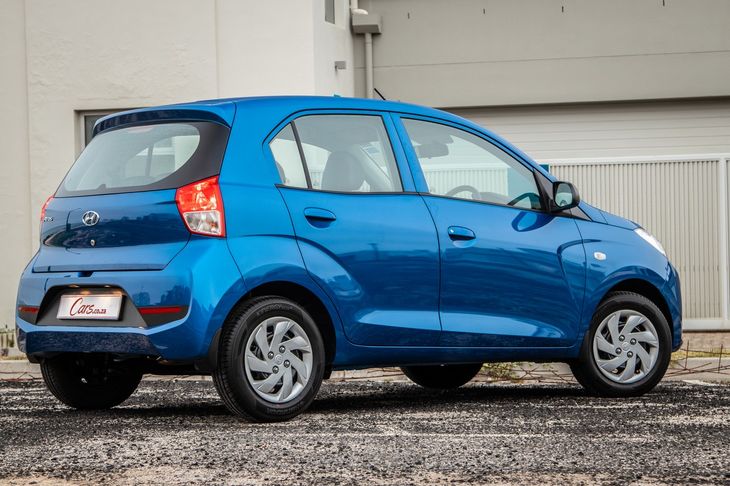 Built in India as the Santro, the Hyundai Atos has made a welcome return to the SA motoring landscape...
What is it?
The plucky Atos is back. Like its predecessor, this new model is assembled in India and, judging by details on Hyundai India's website, the SA version is similarly-specced to the model in its home market. From launch, there's just the one derivative: the 1.1 Motion. Hyundai SA already has a budget-car offering in the shape of the Grand i10, but the Atos sits below that and is targeted at first-time buyers, the rental market and consumers who are obligated to "buy down". This segment is hotly-contested by a number of brands vying to find the best balance of features, performance, safety tech and price. Some of them are even offering complementary insurance deals to sweeten their propositions.
On paper at least, the new Atos looks primed to take on the budget segment. A long spec-sheet is only half the battle won, so without further ado, let's get stuck into the 2019 Hyundai Atos to see if it's worthy of your consideration.
How does it perform in terms of…
Performance and efficiency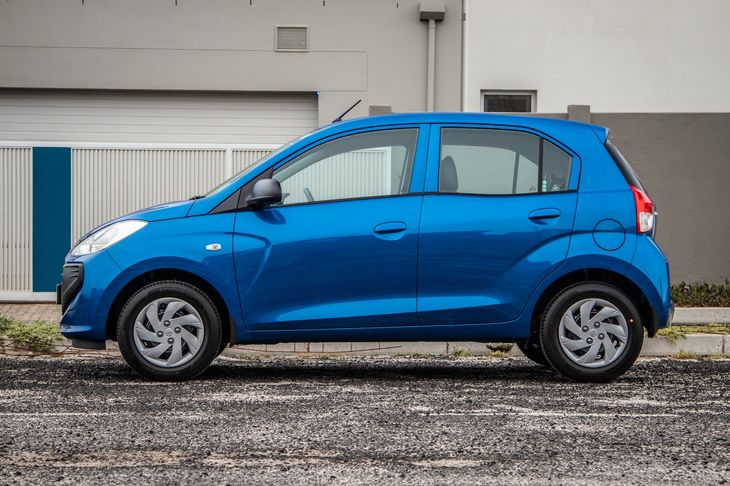 The Atos' design is inoffensive enough and features just enough "fluidic sculpture" cues to be instantly recognisable as a Hyundai.
The Atos' naturally-aspirated engine boasts an extra cylinder over the Datsun Go and Renault Kwid (4) and its displacement (1.1 litres) sits bang in between those of its Japanese and French rivals. Workmanlike outputs of 50 kW and 99 Nm of torque drive the front wheels via a 5-speed manual 'box. An advantage of the additional cylinder is that the motor runs smoother. In this segment, refinement measures such as precision engine-balancing and vibration damping are not particularly important, therefore although 3-cylinder-engined models emit rorty off-beat engine notes, their vibrations can become intrusive/bothersome at higher revs. This 4-cylinder unit feels and sounds quieter and more refined.
Hyundai claims an average fuel economy figure of 5.9 L/100 km, but we found ourselves hovering in the low 6s, which is still more than fair if you combine urban and open-road driving. The fuel tank has a capacity of 35 litres.
Ride and handling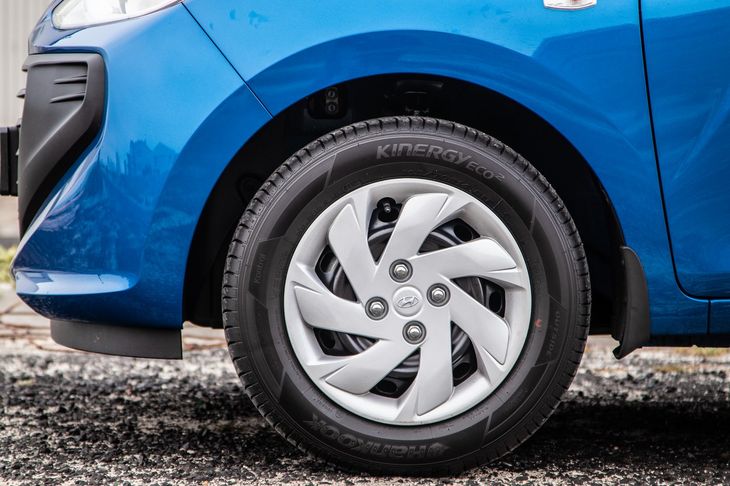 These 14-inch wheels (with covers) aren't fancy alloy items, but the higher-profile rubber facilitates a more absorbent the ride quality.
Around town, the Atos' motor is tractable enough to move the 870 kg Atos about with intent, but bear in mind that we tested the 1.1 Motion at sea level... in Gauteng, where non-turbo motors (such as this 1.1 litre unit) lose about 20% of their performance due to the thinner atmosphere, the Hyundai might struggle when loaded up with a couple of adult passengers and their cargo, especially on inclines or when overtaking acceleration is required. As mentioned before, the 4-cylinder mill accelerates smoothly, but the engine note increases dramatically as it approaches its rev limit. The 5-speed 'box gets a thumbs-up because it's slick, direct and easy to use, which is just as well because you'll be working it often to keep the engine on the boil. The short gearing makes the newcomer feel spritely, but a 6th ratio would have been handy to reduce mechanical noise/keep the revs down at the national speed limit; they sit quite high at 120 kph.
The short wheelbase and torsion beam rear suspension setup don't provide cossetting occupant comfort, but at this price point, the general ride quality is more than acceptable. The new Atos rides on 14-inch steel wheels wrapped in generously-sidewalled (Hankook) tyres. The steering is light and fairly direct, which is what you'll want in a compact city car. We noticed that the turning circle of the Atos was small, making it a cinch to manoeuvre in parking lots.
Interior quality and features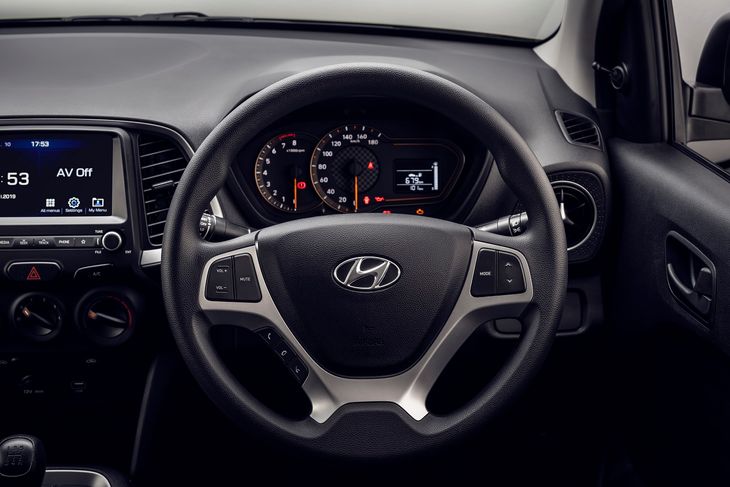 The cabin of the Hyundai Atos may be simple, but it doesn't feel cheap.
Hyundai knows a thing or 2 about making good-quality interiors and even in this budget-oriented Atos, the Grand i10's solid and durable-feeling cabin materials have been successfully carried over. Compared with its Japanese and French rivals, the Atos' plastic components and surfaces feel more upmarket and although it's an affordable car, it doesn't feel like a cheap car, which is a commendable trait. The 7-inch touchscreen infotainment unit from the Grand i10 is retained as well, which is great because it offers an intuitive, unfussy user experience. It comes with Android Auto/Apple Carplay and if you want even more connectivity, there's USB/Bluetooth, as well as a 12V charger.
The Bluetooth hands-free functionality, which can read out WhatsApp messages out to you (to which you can, in turn, reply) is a boon to safety, Google Maps adds navigation functionality to the car and you access streaming services like Spotify directly. Another big advantage of the new Atos is the provision of steering-wheel controls, including audio volume and change-track/station toggles, as well as the ability to activate your smartphone and answer/decline calls.
Safety is a prickly subject as far as entry-level hatchbacks and budget cars are concerned. Stability control is rare at this end of the market, but we're glad to see anti-lock braking (ABS) is becoming commonplace. The Go and Kwid lacked ABS upon their initial release and were slammed by many commentators; that's been rectified, but the damage has been done. Worse still, Global NCAP tested those cars in India and found their structures unable to withstand severe impacts. This Atos, for its part, didn't fare too well in the Global NCAP test either and scored just 2 stars. It does, however, feature ABS with EBD and 2 airbags as standard – it'd qualify as a #CarsAwards budget car contender.
While we think the new-generation Atos boasts impressive levels of standard specification, such as the aforementioned Apple CarPlay/Android Auto-compatible infotainment system, front electric windows and (surprisingly potent) aircon, we did note that the Hyundai's missing a rear demister/rear wiper combination.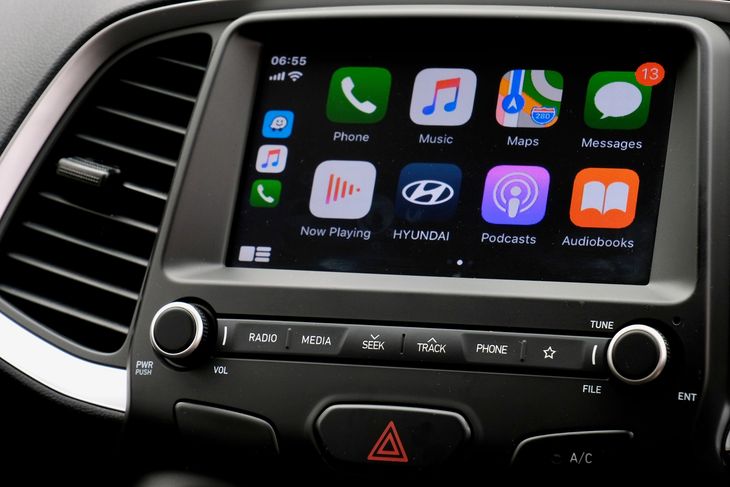 It's keen entry-level hatchback price point notwithstanding, the Atos joins the ranks of the budget-car segment by offering Android Auto / Apple Carplay.
Practicality
One of the few gripes about the Atos concerns its hardly-adjustable driving position. The steering column is in a fixed position (which feels a tad too low), and the driver's seat merely slides and reclines (in other words, it lacks height adjustment). This gives you a feeling of you're sitting on the car, as opposed to in it, and if you're a tall person like this author (and a number of the Cars.co.za testers), you're most likely to battle to find that perfect position.
However, this criticism is countered to an extent by the vehicle's overall height, which, at 1560 mm, is more than those of its rivals, and while it may not sound like much, it makes it easier to get in and out of the Indian-made hatchback. The load bay is notably one of the smallest in the segment, however, and is only really suitable for carrying small suitcases and a laptop bag or 2.
Price and warranty
The Hyundai Atos 1.1 Motion costs R159 900 and it comes with a 1-year service plan with intervals every 15 000 km. A 7-year/200 000 km warranty and roadside assistance for 7 years/150 000 km are included too.
Buy a Hyundai Atos in Cars.co.za
Verdict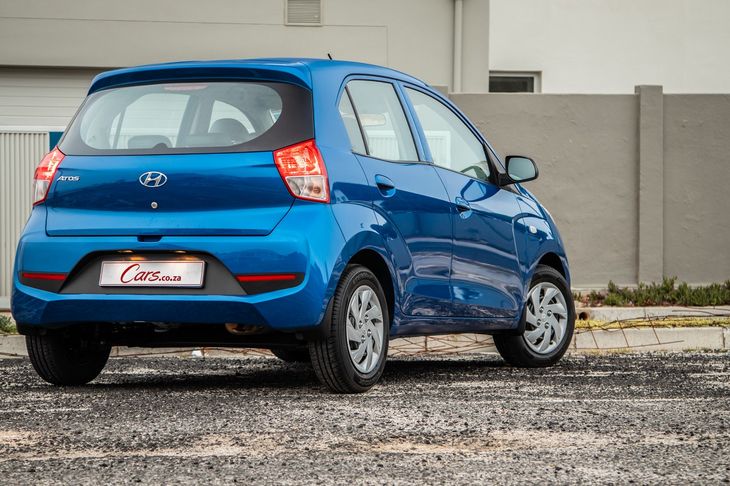 In a country where affordability is a significant barrier to new-car ownership (not just in terms of asking prices, but also constrained household incomes), the humble Atos might be one of the most significant new-vehicle introductions of 2019, because it brings excellent value for money, strong brand reputation, reasonable refinement (oh, and an acceptable suite of safety features) to a sometimes maligned segment. Yes, its 2 rivals may boast a bit more power and less weight, but they lack the Hyundai's substance. You know you're getting into something near the bottom of the ladder, but hundreds of new-vehicle buyers do exactly that every month and now they another (and strong) option to consider.
Should you buy one? Well, if you find yourself craving an all-new car at this price point, this is arguably one of the nicer and more pleasant offerings in the contemporary market. With the backing of a strong brand such as Hyundai and its comprehensive 7-year mechanical warranty, the new Atos 1.1 Motion holds a clear edge over its rivals. Is there a better vehicle, available from brand new, that offers a stronger proposition at R160k? We seriously doubt that.
Related Content:
Hyundai Atos (2019) Launch Review
Hyundai Atos (2019) Specs & Price
Datsun Go CVT (2019) Launch Review