The annual Worthersee festival is a showcase of all things Volkswagen. Held at the end of May 2019, this year's event was no different. Check out these 2 Golf GTIs which were built by apprentice teams from Volkswagen.
The Volkswagen Golf GTI Aurora from Wolfsburg and the Volkswagen Golf Estate FighteR from Zwickau are 2 crazy-looking cars. Built by Volkswagen apprentice engineers and mechanics, the 2 Golfs showcase build quality, performance and design.
"The Wörthersee 2019 apprentice team equipped the Golf GTI Aurora with state-of-the-art technology," says Christoph Görtz, Director of Vocational Training at the Wolfsburg location. "By taking part in the Worthersee project, our apprentices gain wide-ranging and indeed interdisciplinary technical experience for their later careers," says Christoph Görtz. "The integration of complex digital applications in the vehicle is of utmost importance, as are keeping to a schedule and maintaining quality standards, coordinating with the specialists involved, presenting their results and finding creative solutions to technical challenges."
The Volkswagen Golf GTI Aurora is powered by a 2.0-liter gasoline engine with an output of 279 kW and is painted in the colors Nardo Gray (LY7C) and Deep Black Pearl Effect (in the rear) (LC9X), as well as the one-off accent color Mint Green. The bodykit with rear diffuser and all the decorative elements were painted by hand.
The second car is the Volkswagen Golf Estate R FighteR, which was built by a second team of apprentices from Zwickau. This monster is all-wheel driven and powered by a 295-kW and fitted with a wide-body kit. The one-off vehicle has a glossy paint job in the base colors Crystal Silver and Nardo Gray; design colors are Misano Red and Piano Black. The vehicle features a 360-degree camera which was used to record hot laps around a track, which can be viewed with integrated VR goggles.
While both vehicles are far from the standard production Golfs that enter showroom floors, it's impressive to know what the vehicles are capable of and secondly, the next-generation talent that'll be working for Volkswagen.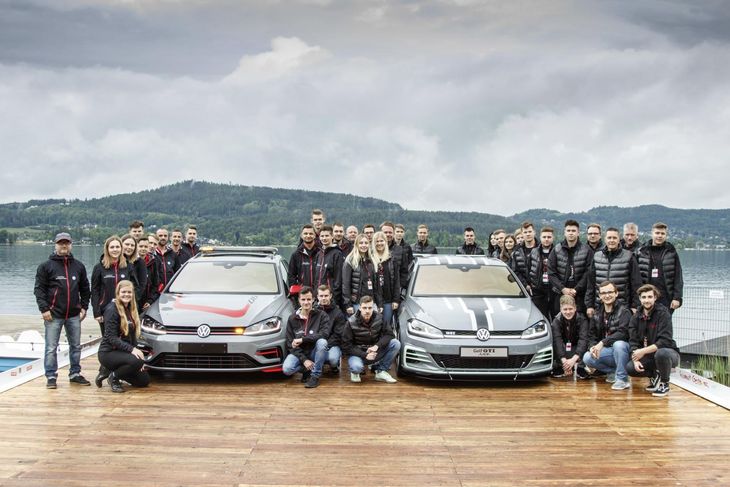 The apprentices and their Volkswagen Golf creations
Further Reading
Official Volkswagen Golf 8 Sketches Released
New Volkswagen Golf 8 Boosted with Mild Hybrid Tech
Volkswagen Golf 6 (2009-2013) Buyer's Guide