Details of Honda's Europe-only supermini, the Honda e, have been revealed. We would love to see it in South Africa but that ain't going to happen...
We don't typically report on cars that aren't destined for South African shores but sometimes there are exceptions and the Honda e is one of them.
We absolutely loved the 2017 Honda Urban EV Concept and we were excited that Honda promised to have a production car ready in 2 years. Now, enter the Honda e, which made its world premiere at the 2019 Frankfurt Motor Show. What a great-looking electric car, don't you think?
The Specs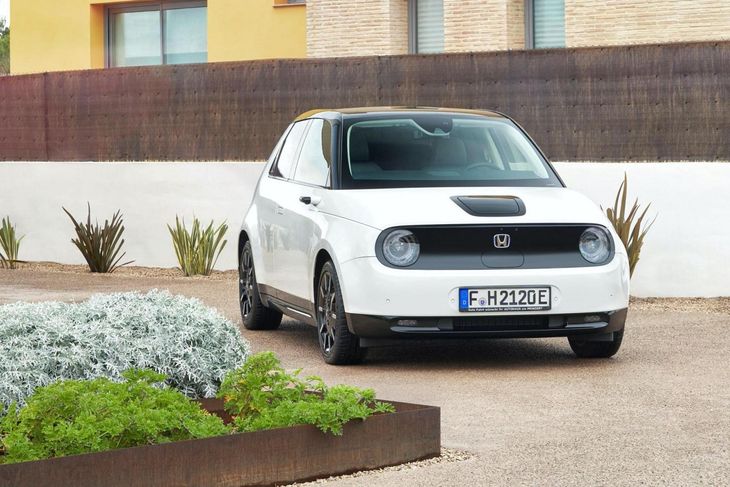 The Honda e is only destined for Europe and it sadly won't be offered in South Africa. Insert sad face emoji here...
The Honda e stands some 3 895 mm long, 1 750 mm wide, 1.512 mm high and weighs in at a hefty 1 514 kg. It's wheelbase measures 2 530 mm. It's a rear-wheel-drive electric car that boasts a 50:50 weight distribution, low centre of gravity and MacPherson Strut independent suspension for each wheel, all of which is pegged to deliver a fun driving experience.
As for electric power, the Honda e is offered to European customers in 2 flavours including a 100 kW/315 Nm version as well as a more powerful 113 kW/315 Nm variant. The former can sprint from zero to 100 kph in 9 seconds while the uprated version takes only 8.3 seconds. Both derivatives are limited to a top speed of 145 kph. A 35.5 kWh lithium-ion battery pack allows for the Honda e to travel up to 222 km (WLTP standard).
Charging can be done using a 100 kW CCS2 fast charger allowing for 80% charge in just 30 minutes. A public 4 kW Public Type 2 charger will take 4.1 hours for a full charge while a 2.3 kW Home Type 2 charger will take 18.8 hours.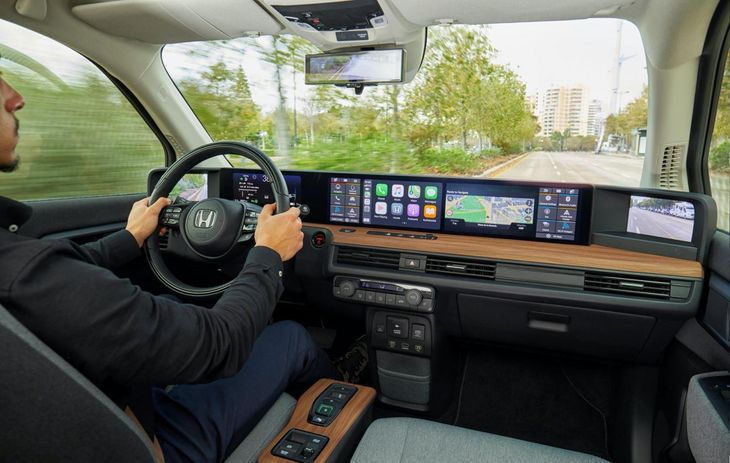 How cool is this interior? Note the Side Camera Mirror System.
As for the interior, it's pretty cool with a full-width digital dashboard which integrates 5 HD displays including an 8.8-inch digital instrument cluster and 12.3-inch dual touchscreen display with Apple CarPlay and Android Auto functionality. Honda's new AI-powered Personal Assistant is also able to respond to natural questions and commands and improves over time by learning an individual's voice. The 2 outer screens are used for the Side Camera Mirror System while a Center Camera Mirror system provides a clear view from the rear. Other nifty features include Honda Parking Pilot, Collision Mitigation Throttle Control, Low Speed Brake Function and Lead Car Departure Notification System.
The Honda e is a strict 4-seater and being a supermini, it's limited in terms of luggage space and only offers 171 litres of space in the load bay which expands to 571 litres with the seats folded down.
We think the Honda e is one of the coolest electric cars in the world, would you agree?
Watch the videos below to see the Honda e in motion!