The Honda Amaze budget sedan was launched in South Africa in October 2018 and we recently had the opportunity to test the range-topping 1.2 Comfort Auto derivative. How does it perform overall? Let's take a closer look...
We Like: Decent performance, ride/handling balance, rear passenger space
We Don't Like: Some build quality issues, interior colour, hard plastics, wind noise
Fast Facts
Price: R208 900 (November 2018)
Engine: 1.2-litre petrol
Power/Torque: 66 kW / 110 Nm
Transmission: CVT (automatic)
0-100 kph: 13.5 seconds
Top Speed: 160 kph
Boot Space: 420 litres
Serious About Buying?
Check out full specification details and finance estimates here
Some Honda dealers regularly offer specials: Have a look here!
What is it?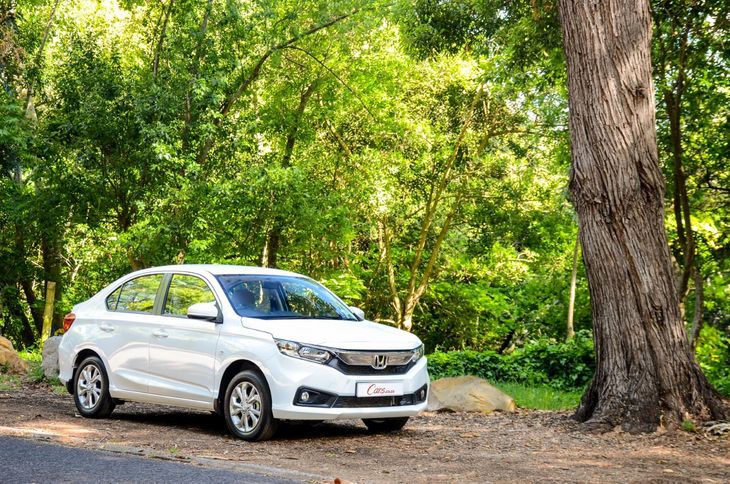 The Honda Amaze has a unique look with a squared-off face and large chrome-look grille, which makes it easily recognisable.
The Amaze replaces the previous Brio Amaze sedan and competes directly with the new Suzuki DZire, Toyota Etios and updated Ford Figo sedan in the entry-level (budget-oriented) compact sedan segment. Not only is it longer and wider than its predecessor, but its wheelbase has been stretched out by 65 mm, which has improved the Honda's interior space appreciably. The Amaze is easily recognisable by its squared-off face with a large chrome and honeycomb grille that dominates the front-end. This specific derivative rides on 15-inch alloy wheels.
While the sedan market is ostensibly shrinking, the Amaze will appeal to the budget-conscious family car buyers, fleet operators and entrepreneurs who are looking for a competent Uber vehicle (for example). Is the new Honda Amaze 1.2 Comfort CVT worthy of your attention? Let's find out...
What's good?
Decent performance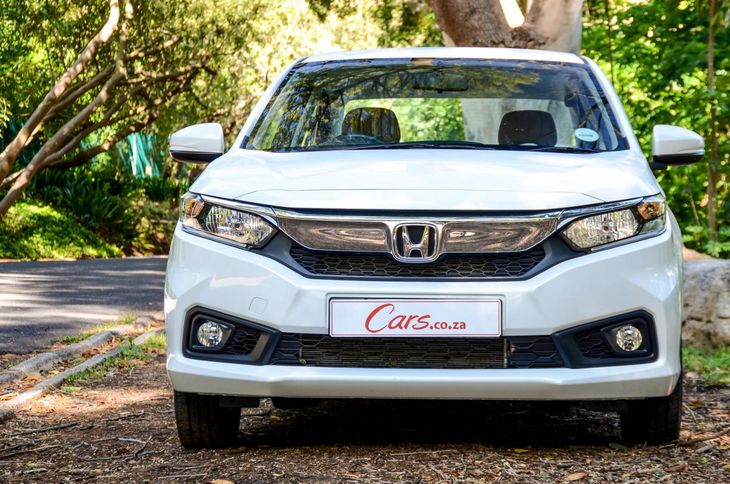 The Amaze performs reasonably well when driven in a measured manner.

As a result of weighing in at just over 900 kg, the Amaze is light, which means its workmanlike, naturally-aspirated 1.2-litre petrol engine (with peak outputs of 66 kW and 110 Nm), doesn't have to work too hard to shuffle the sedan around town at a reasonable pace. That's to say that the Amaze performed better than what we expected it would, even when equipped with a less-than-engaging continuously variable (automatic) transmission. We do, however, suspect that the Amaze will struggle more at altitude and when fully loaded with passengers and their luggage.
When driven with a measured approach, the Amaze delivers acceptable performance in both city and highway driving situations. It's only when you mash the accelerator pedal hard that the dreaded CVT drone and excessive engine noise come to the fore, but the 1.2 Comfort is not meant to be driven hard anyway (hence its name, we guess), so in most cases, the powertrain performs acceptably.
Steering wheel-mounted paddle shifters allow you to manipulate the CVT's "steps" manually, but mostly it's best to let the transmission to its own devices. The CVT also has a Sport mode (not that you should need it), which holds higher revs for longer to get the most from the engine.

In terms of fuel consumption, Honda claims an average efficiency figure of 5.7 L/100 km and returns in the mid-6 range should be easily achievable.
Ride and handling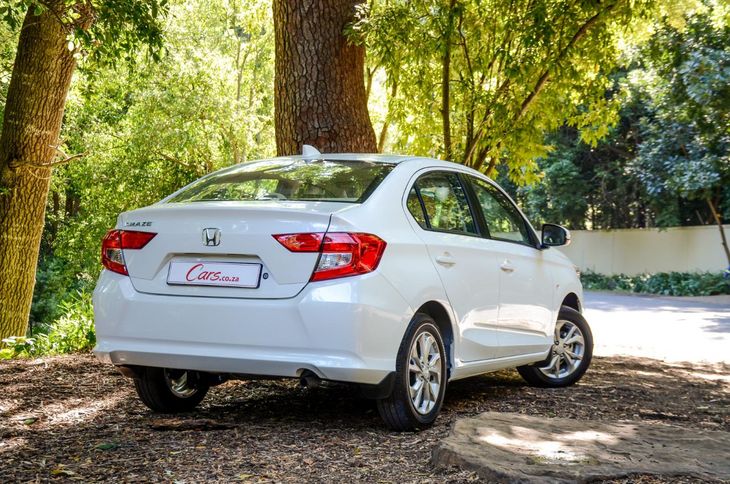 Ride comfort is a highlight in the Amaze.
To its credit, the Amaze delivers a smooth and comfortable ride on most surfaces; it does a fair job of absorbing most road imperfections. While its steering is somewhat dead at centre, it has a positive feel and is nicely weighted, which makes the drive more pleasurable. The Amaze also remains well-composed through corners with minimal body roll. We did, however, notice a fair amount of wind noise in the cabin at highway speeds.
Standard features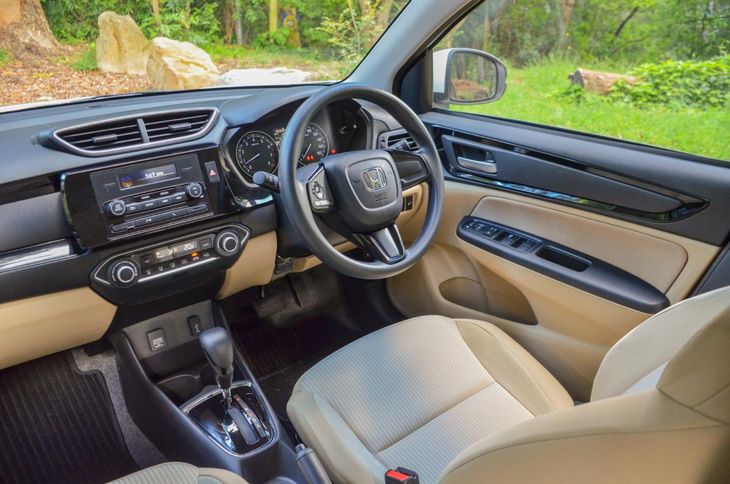 The cabin design and feature offering is basic, making for a fuss-free experience behind the wheel.
The basic sound system is very straightforward to use and offers Bluetooth connectivity and MP3 playback (USB and auxiliary ports are standard). The system's settings and Bluetooth can be controlled with the mounted controls on the steering wheel, of which the column is adjustable for rake.
Other notable standard features include single-zone automatic air conditioning (a nice-to-have feature), front and rear electric windows and electric folding mirrors. The seats are upholstered in cloth and are well cushioned to offer a fair degree of support and comfort.
In terms of safety, the Amaze is equipped with 2 airbags and ABS with EBD. Brake assist and stability control with traction control is not included.
Reasonably practical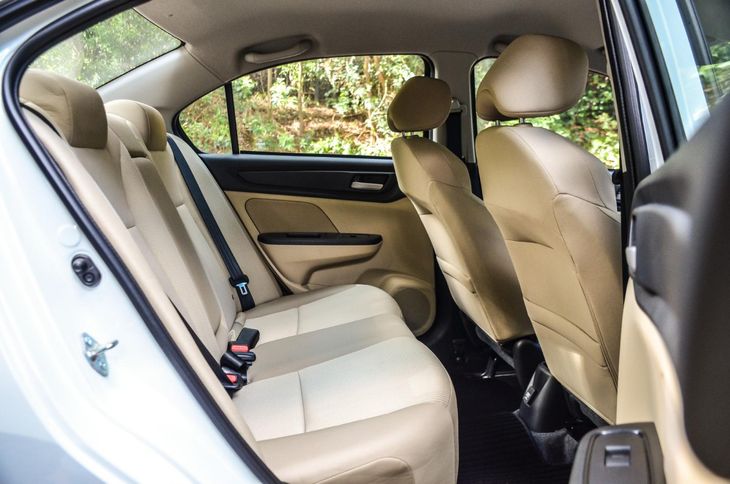 Rear passengers should be relatively comfortable on the back bench with ample legroom.
Thanks to its larger dimensions, the Amaze's interior is quite spacious and rear passengers are afforded acceptable leg- and headroom. Rear passengers also have access to 2 cupholders in the central armrest and additional storage for bottles and other oddments can be found in all the door mouldings. Up front, the driver and passenger also have 2 cupholders ahead of the gear lever and additional storage in the glovebox.
As for the boot, it offers 420 litres, which compares favourably with the 378 litres offered in the Suzuki DZire. The rear seat does not split, however.
What's not so good?
The sea of beige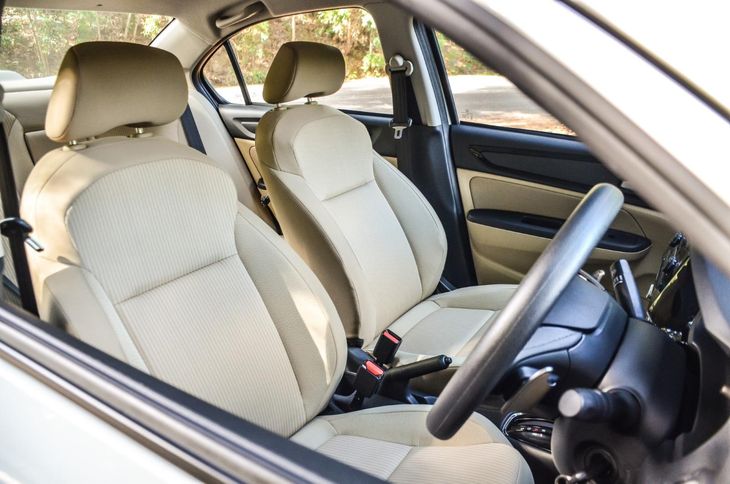 The beige upholstery and trim finishes will get dirty easily. Best to opt for the no-cost synthetic leather seat covers.
While the cabin's design itself is actually inoffensive, the interior is dominated by hard, cheap-looking beige plastic, which is matched by the colour of the cloth seats. Sure, the colour reflects the preference of consumers in the Amaze's home market (so Honda SA may have had no say in the spec), but we dislike it. Our main gripe is that dirt and scuff marks will show up quickly after moderate use and will be a pain to maintain on a regular basis. However, Honda does offer synthetic leather seat covers as a no-cost option which is advisable if you want to protect the integrity of the seats.
The cabin appears to be mostly solidly built and is generally free of squeaks and rattles, but we did find questionable build quality issues. The glovebox, for example, requires a mighty push to close properly or you need to manually latch it into place. Apart from looking unsightly, the boot lining is also poorly finished and looks like it can be peeled away with little effort, something that could very well happen after extended use.
Price and warranty
The Honda Amaze 1.2 Comfort CVT is priced at R208 900 and is backed by a 5-year/200 000 km warranty and a 2-year/30 000 km service plan.
Buy a new or used Honda on Cars.co.za
Verdict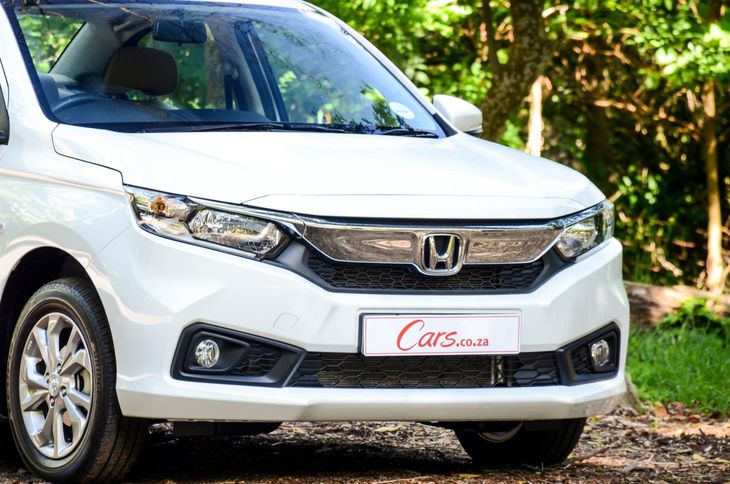 While the Amaze CVT adds convenience, we would rather look to the manual version, which should offer better performance.
For the most part, the Honda Amaze 1.2 Comfort CVT is a convincing product in this segment... if you don't mind its beige interior. It offers better-than-expected performance while also delivering a comfortable ride and competent handling ability. We suspect that it may even outperform the equivalent Suzuki Dzire automatic (R191 900), which may very well justify the additional outlay. It's also worth noting that Honda has a solid track record for reliability, which needs to be factored into your purchasing decision, along with the presence of a comprehensive product warranty.
However, if an automatic is not a necessity for you then we suggest you also consider the manual Amaze priced at R193 900. With a manual transmission, the Amaze should be more lively (its performance will be easier to exploit, in other words) and marginally more fuel efficient too.
Alternatives (Click on vehicle name to view specification details)
While we have yet to test the Suzuki DZire automatic (priced at R191 900), it's worth a test drive if you are looking for an automatic budget sedan. Its 1.2-litre petrol engine offers 61 kW and 113 Nm of torque. The manual GL version, priced at R177 900, is the sweet spot in the range and represents good value-for-money in this segment.
The Ford Figo 1.5 Trend sedan is priced at R197 950 and offers more power and torque from its 1.5-litre petrol engine: 88 kW and 150 Nm of torque. It is, however, offered with a 5-speed manual transmission and has more boot space to the Amaze (the claimed capacity is 445 litres).
Offered in either Xi or Sprint guise and only in manual form, the Etios sedan is powered by a 1.5-litre petrol engine 66 kW and 132 Nm of torque. It has the largest boot capacity (595 litres) and pricing starts at R181 for the 1.5 Xi derivative, while the 1.5 Sprint sedan is priced from R186 200.
The untested BAIC D20 1.5 Fashion auto is priced at R209 990 and is powered by a 1.5-litre petrol engine with 85kW and 148 Nm of torque. The front wheels are driven through a 4-speed automatic transmission and it comes equipped with nice-to-have features such as rain-sensing wipers, sunroof, climate control air conditioning and rear park distance control with a reverse-view camera.
Related Content
Honda Amaze (2018) Launch Review
Suzuki Dzire 1.2 GL (2018) Quick Review
2018/19 Cars.co.za Consumer Awards – powered by WesBank; Finalists