Toyota has teased a selection of high-performance Hilux bakkies, but fans of the market's most popular double-cab still pine for a true Ford Ranger Raptor rival. This is as close to the real McCoy that Toyota has ever produced!
The expectation is that Toyota will introduce a true GR-badged high-performance Hilux, with its next-generation bakkie, which is expected in 2023. It has secure the patent naming rights for a GR Hilux, back in 2018, to show the intention of developing a Ranger Raptor rival.
For customers in New Zealand, the wait is over, as Toyota's marketing division in Aotearoa has revealed a limited-edition Hilux that will be the envy of many South African bakkie fans.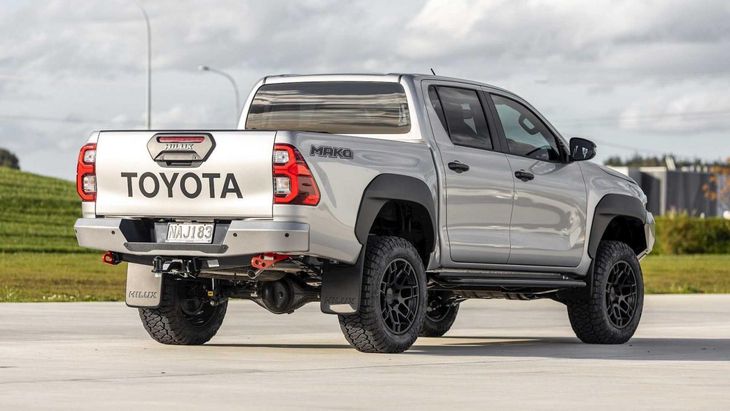 It is called the Hilux Mako, will be limited to only 250 units, and has significantly enhanced off-road ability.
By far the most radical Hilux available from an official Toyota dealer, the Mako has an imposing stance courtesy of its Old Man Emu suspension upgrade. The bakkie has been lifted by 40 mm at the front axle and 50 mm at the rear, which meaningfully enhances its approach, departure and breakover angles. Larger capacity dampers also give it much better compression and rebound performance, when having to roll over particularly rocky terrain, at speed.
To accommodate the Old Man Emu suspension and huge 265/60 Maxxis Razr off-road tyres shod on 18-inch blacked-out alloy rims, Toyota swapped out the standard Hilux fenders for custom components. These black plastic fenders can house larger tyres without inducing any wheel-arch rub during peak compression or axle articulation.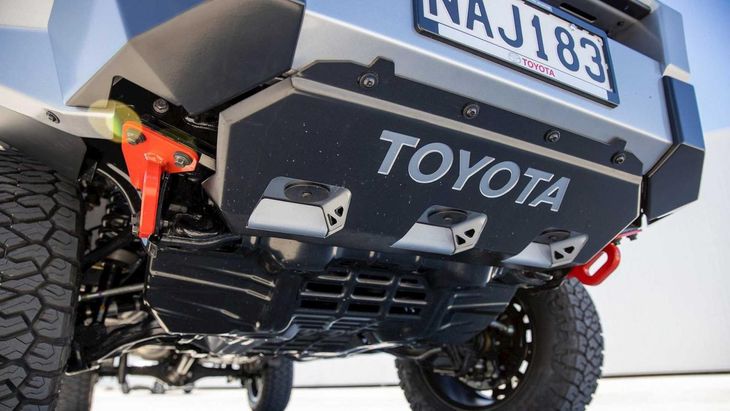 Beyond the increased ride height and superior traction afforded by those Maxxis tyres, the Mako is also a lot less vulnerable at both ends, thanks to oversized steel bumpers. Easily accessible dual recovery points, which are painted red, are embedded into these off-road spec bumpers.
No off-road exploration bakkie can do without addition illumination technology, which is especially handy when navigating unknown and technically challenging trails at night. As such, the Hilux Mako has an LED light bar, mounted just below the grille.
The cabin is left relatively unmodified, but for semi-bucket front seats and additional leather trim on the steering wheel rim.
Powering this Hilux Mako is Toyota's latest version of the 2.8 GD turbodiesel engine, which produces peak outputs of 150 kW and 500 Nm. That means the Mako's powerplant matches the Ranger Raptor for torque, despite being 7 kW down on power.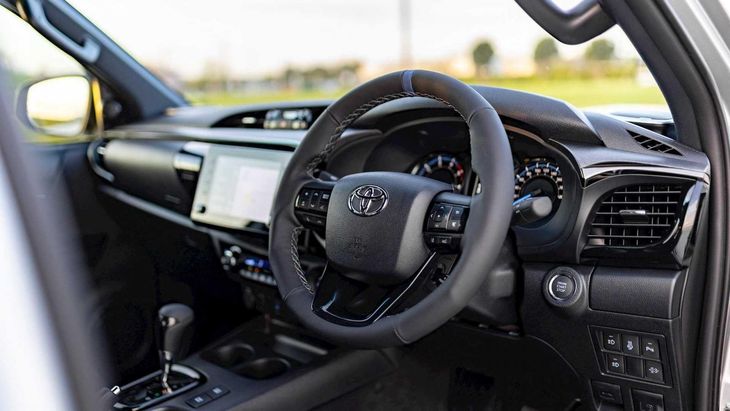 It might not have a more potent engine than any standard Hilux, but the Mako's brake system is borrowed from Fortuner, which means a 15-mm increase in disc size and better pedal feel, thanks to braided hoses.
A notable advantage that Toyota's Hilux Mako has over the Ranger Raptor, is that its increased ride height and off-road ability do not come at the cost of payload of towing capacity. Toyota has confirmed that its Mako will haul 3 500-kg (braked trailers) and carry 940 kg in its loadbox, like any other Hilux double-cab 4x4 – both numbers are way more than what a Raptor is capable of.
Related content:
Nissan's Nismo Navara is the real deal
Toyota GR Hilux To Fight Next Ranger Raptor, Amarok R
Ford Ranger FX4 Max Gets Raptor Genes