The H2 is Chinese SUV brand Haval's first foray into the South African market, in H2 1.5T Luxury guise, it represents a tantalising proposition: price wise, it undercuts popular compact crossover rivals, and in terms of size, it rivals family car/compact SUV offerings. What's more, its standard specification offers features that many premium marques reserve for their options lists.
We like: premium packaging, generous specification, value for money
We don't like: untidy rear wheel-well sealing, clicking wiper repeaters, short(ish) service plan
Alternatives
The popular option: Hyundai's Indian-made Creta compact car is one of the bigger compact family cars on the market and is selling up a storm. The 1.6 Executive AT (R339 900) is R21k more expensive than the H2, but trails it in terms of performance, luxury cabin finishes and overall specification.
The #CarsAwards champion: Suzuki was named Brand of the Year in the 2016/17 Cars.so.ca Consumer Awards and the Vitara 1.6 GL+ the Compact Family Car of the Year. In automatic guise (R321 900), it compares favourably with H2 in terms of economy and its build quality is superb, but in terms of premium feel and luxury specification it lags behind its Chinese rival.
A more MPV-like crossover: The Honda HR-V 1.5 Comfort AT (R334 200) does not offer much in the way of SUV-flavoured kerb appeal, but it remains a well-made, comfortable and reasonably spacious (if average specified) family car. Safety specification is good.
The not-so-compact compact family car: The Nissan Qashqai is one of the most desirable options for those who need just a little less practicality than what a family car/SUV offers. If you can live with a manual 'box, the 1.2 Visia (R330 900) is good value, but specification wise not in the league of the H2. A facelifted version arrives in November 2017.
Compare the specification of the H2 with those of the Hyundai Creta and Suzuki Vitara
Compare the specification of the H2 with those of the Honda HR-V and Nissan Qashqai
What is it?
Haval (we're reliably informed its moniker is a contraction of the phrase "have (it) all" and local brand representatives suggest one pronounces the name to rhyme with the word "gravel"), is the SUV offshoot of Great Wall Motors (GWM), which has been importing a variety of vehicles into South Africa for a number of years, but is best known for its range of Steed bakkies. Last year, Haval sold no fewer than a million vehicles worldwide, and in the annual Brand Finance report (issued recently), it was listed as the "second-most valuable" and "most powerful" SUV brand in the world.
The H2 compact family car (first shown in China in 2013) will be the first of several Haval products to be released in South Africa via an initial network of approximately 40 dealerships (not all Haval-branded as yet). Whereas GWM (and now, Haval) was previously imported under licence by a South African company, the business is now wholly owned by the Chinese giant, which augers well for sustained after-sales and marketing support.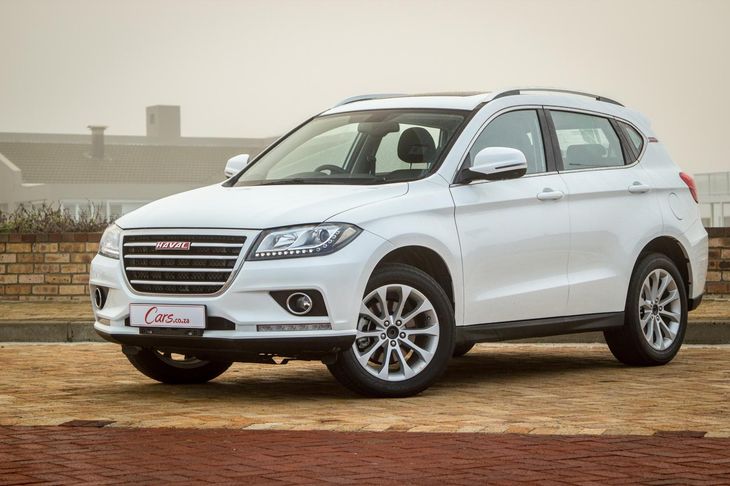 "Is that a baby Mercedes-Benz ML (now known as the GLE)?" Curious onlookers were enamoured with the H2's chunky, premium looks.
How does it fare in terms of…
Kerb Appeal?
Although the H2's exterior styling is technically well worn (because the vehicle made its Chinese debut as long as 4 years ago) it is a credit to the Haval designers that this "newcomer" still looks reasonably fresh "out of the box". In terms of aesthetics, there are number of factors that count in the 1.5T Luxury's favour: it may be front-wheel driven, but as opposed to many crossovers, the Haval was conceived to be just an SUV, which endows it with a purposeful blockiness that appeals to so many buyers; the front styling is bold and chunky with chrome-look trim, LED daytime running lights and integrated indicator lenses that complement the standard 18-inch alloys and roof rails; in short, it has "hey, what's that?" factor.
That's not to say that the Haval's get-up is devoid of Chinese-market quirks that set it apart from the majority of vehicles in its segment. Local consumers might find it unusual, for example, that the name Haval appears on the vehicle's exterior in 5 places: the grille and tailgate (which is normal), the pair of C-pillars (a red rectangular decal on each) as well as the derivative designation lettering: "Haval H2 1.5T". The overall exterior finish proved commendable, however, save for some untidy white sealant in the rear wheel wells, a driver's door that was a bit sticky to close and 2 exposed screw holes in the tailgate, which were ostensibly meant to accommodate a squarer number plate, but were unused on the test unit.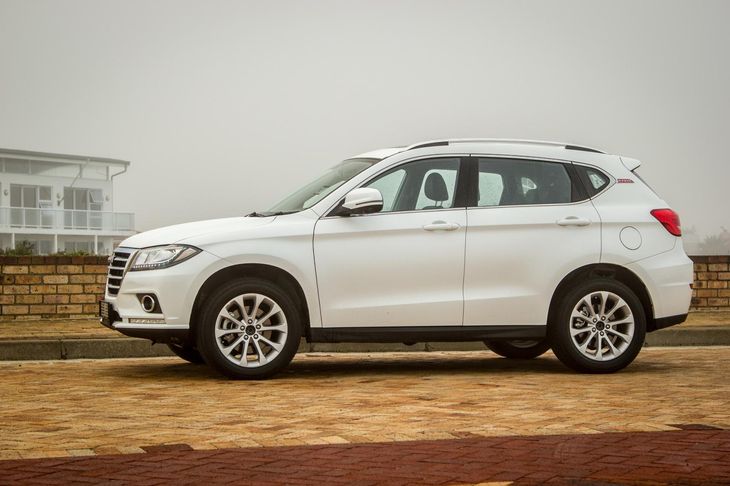 It may appear as if the 18-inch alloys are missing centre caps, but the holes in the middle of the wheels have toothed radial designs.
Luxury packaging and practicality?
Because of the H2 1.5T Luxury's particular price point, premium marques' compact family car/crossover products weren't included as alternatives for the purposes of this review, but, as it turns out, they (not Haval) should be grateful for the omission. And that's because, at the price point of R309 900 (the test unit's list price as of June 2017), there is no product available on the new vehicle market (irrespective of segment) that can match the sheer number of standard luxury features offered by the Chinese newcomer.
When unlocking the vehicle (with the remote key fob or standard keyless entry system), the headlamps' welcoming function is complemented by electrically foldable side mirrors that project dazzling red Haval badges through their integrated puddle lamps. Upon ingress to the leather-trimmed interior, you're greeted by H2-badged sill plates and a multifunction steering wheel as well as an electrically adjustable driver's seat with lumbar support. At night, the interior is illuminated with LED mood lighting and the window sills of all 4 doors are clad in soft-touch plastic!
All these adornments could easily look overwrought, but the execution is quite tasteful and, critically, cohesive-looking. The switchgear is conventional, but the fascia is trimmed in smart piano black with metallic accents applied to the edges of the ventilation outlets and hangdown section, but also a number of the control knobs including the dial that operates the functions of the (yes, stock-standard) sunroof.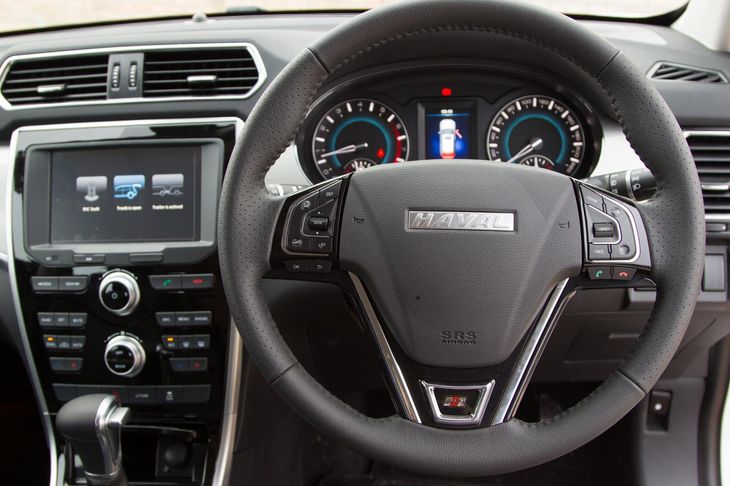 The fascia is dominated by the touchscreen infotainment display, piano black inserts and metallic finishes. Note the H2 detail at the bottom spoke of the steering wheel.
Rear passengers are afforded more than reasonable legroom, a ventilation outlet and a centre armrest with drinks holders/storage compartment. The luggage capacity is about on par for a vehicle of the H2's size (a full-size spare wheel and fire extinguisher are provided under the boot board), but should utility space be required the 60/40 split rear seatback is easy enough to bring into operation.
Interior and on-road refinement?
To many consumers, it's not enough if a vehicle offers "surprise-and-delight features", of which the H2 1.5T Luxury has many, if they don't work in subtle, organic ways. In this regard, the Haval mostly impresses. Yes, the display of the full-colour touchscreen infotainment system, which relays the functions of the 6-speaker Bluetooth, USB and auxiliary-enabled audio unit and dual-zone climate control system, looks a bit shouty (and its user interface is a tad clunky), but it appears well-co-ordinated with the 3D-look instrument binnacle and its integral colour TFT information display.
In a similar way, it is a bit annoying that the cruise control system emits a shrill chime (which unfortunately sounds like an "onboard error message" in other cars) when you activate it (although the function seemed to work perfectly well), or that the (automatically activated) wipers' relay click incessantly when the blades are in operation. However, when we activated the SVC function on the right spoke of the steering wheel, we were delighted to find that there is a camera that monitors the kerb view of the left-hand side of the vehicle (side view camera – a boon when parking in narrow streets) and, when one executes an aft manoeuvre, the display of the reverse-view camera has a grid with a dynamic tracking function.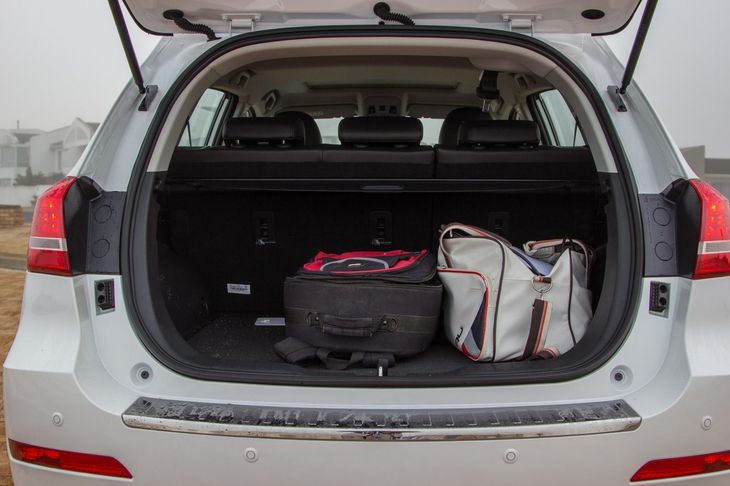 Access to the load bay is at a convenient height and a metallic sill plate protects the lip of the bumper from scrape marks.
In terms of general interior and on-road refinement, the Haval's powertrain worked unobtrusively (except for when hard acceleration was required), and at cruising speeds the level of insulation from noise, vibration and harshness was commendable, with only wind noise (ostensibly generated by the side mirrors) becoming apparent at the national highway speed limit. Meanwhile, the steering is direct and not over-assisted, and the pedals were easy to modulate, even though the exterior of the test unit (which was delivered to us with a little more than delivery mileage on its odometer) emitted a faint toasted-metal smell, which led us to believe that the brakes were still "bedding in" when our assessment began. Otherwise, the H2 offered a reasonable ride/handling balance: most road imperfections were absorbed well, complemented by predictable road holding and cornering ability.
Performance and economy?
Whereas the performance and economy of its GWM-badged SUV predecessors could have been accused of being marginal (or conservative for the sake of better reliability, depending on your point of view), the 6-speed automatic transmission of the 1.5T Luxury makes reasonably good use of the 105 kW/202 N.m availed by the 1.5-litre turbopetrol, even though it's not hard to notice that the otherwise-willing motor must propel a vehicle that has a claimed kerb weight of no less than 1.5 tonnes, especially when needing to make brisk pullaways or bursts of overtaking acceleration are required.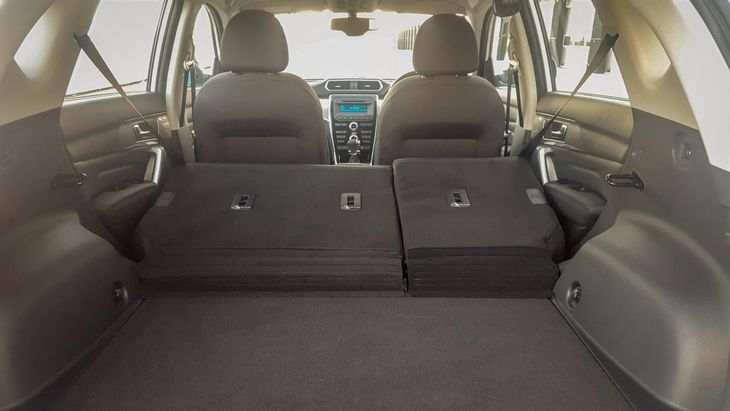 In a compact family car package where rear legroom is good, but luggage space merely fair, the availability of utility space is a boon.
Otherwise, the H2 accelerates relatively eagerly to overtaking speeds (the transmission can be overly eager to engage high gears… and, although we did not test the vehicle's real world fuel consumption with a full complement of occupants and their luggage on board, we did notice that by selecting the Economy drive mode, the indicated consumption dropped from the high 11s to well under 10.0 L/100 km during the duration of the (7-day) test period, which suggests that an average consumption of close to the 9.0 L/100 km mark could certainly be achievable in the long run.
Safety specification?
Given its family car positioning, the 1.5T Luxury is suitably equipped with safety features: over and above front-, side- and curtain airbags, ABS with EBD and brake assist, the traction control system is augmented with stability control plus an electronic parking brake with auto-hold function.
The convenience of the push-button start function, automatically activated headlamps and self-dimming rear-view mirror is complemented by the whiplash-reducing front active headrests. Furthermore, child seat anchor points and –locks are provided for rear occupants and finally, the aforementioned reverse-view and side-view cameras are supplemented by parking sensors at the back. Although the H2 doesn't have a Euro NCAP score, its safety equipment list is encouragingly comprehensive, which is, after all, in keeping with the premium positioning of the brand.

The exterior finish of the H2 was hard to fault; the untidy application of white sealant in the rear wheel well was the biggest gripe.
Price and after sales service
The H2 1.5T Luxury retails for R309 900, which includes a 5-year/100 000 km warranty, including unlimited km roadside assistance. The kilometre limit of the 5-year service plan is 60 000 km, which is, however, shorter than some of its competitors' 90 000 km programmes, it must be noted.
Verdict
Can there be a more effective way to enter the local market than by introducing a model that offers almost unbelievably good value for money compared with its well-established rivals? The arrival of Haval in South Africa had been anticipated for a number of years and even though the H2 arrives in Mzansi half way through its model life, there seems less risk when entering a burgeoning market segment where long-established brand biases count for less. Whereas sister brand GWM's SUV offerings aimed to create an air of prestige on top of a brand whose reputation was based primarily on commercial vehicles, Haval's product pitch is purposely premium and the brand's reputation in the East is anything but insignificant.
As was the case with many of its fellow Chinese offerings, this newcomer was subjected to a very close examination by our test team. However, we could find no drawbacks to the product that could be considered deal-breakers or (forgive us) red flags, quite the contrary, in fact.
As we summarise in our video review (a link to which appears below), the Haval H2 shakes off that kiss of death that "it's the best of the Chinese brands" title that many critics bestowed on its GWM parent company's products. The 1.5T Luxury is a compelling compact family car offering – full stop. What consumers do have to bear in mind, however, is that Haval, as a burgeoning brand in the South African context, has a relatively small dealer footprint (and, therefore low brand visibility), plus it still needs to build a reputation for solid after-sales support in its own right.
Does it require a leap of faith? Perhaps, but not a huge one.
Watch our full video review below:

Related content:
Chinese Cars: The (not-so-obvious) Barriers to Wider Acceptance
Haval H2 (2017) Launch Review
Haval H2 (2017) Specs & Price
Haval's 7-seat H7L on the way to SA
Haval to launch with H1 and H2 in SA
Shanghai Motorshow: GWM's Haval SUV brand charges upmarket
GWM in South Africa - Big Corporate Changes and Haval Arrival
Crossover Group Test: Suzuki Vitara, Hyundai Creta & Renault Captur [with Video]
Interested in buying a Haval?