Bugatti has revealed a new, hardcore hypercar for the track. Meet the Bolide!
The Molsheim-based firm has created a new hypercar for the track, boasting a truly-impressive power-to-weight ration of just 0.67 kg per single horsepower. It must be noted that the Bolide is somewhat of an experiment at this stage as Bugatti wanted to create a lightweight hypercar based on its 8.0-litre W16 engine and is the most extreme, fastest and lightest concept car in the company's recent history.
Stephan Winkelmann, President of Bugatti commented, "We asked ourselves how we could realise the mighty W16 engine as a technical symbol of the brand in its purest form – with solely four wheels, engine, gearbox, steering wheel and, as the only luxury, two seats. Important aspects of our considerations were fine-tuning our iconic powertrain without any limitations as regards the weight-to-power ratio. These considerations resulted in the Bugatti Bolide. An uncompromising experiment, a thoroughbred, a Pur Sang that, in its brute exclusivity, impresses above all with high performance, low weight, and a driving experience in a whole new dimension. Driving the Bolide is like riding on a cannonball."
The Bolide Pack Serious Heat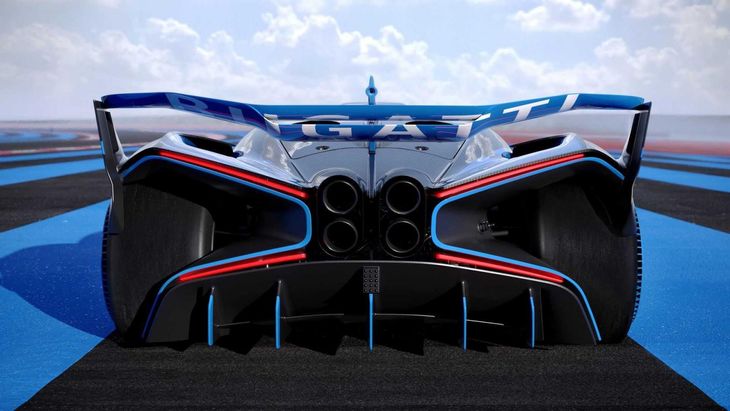 Is this the ultimate hypercar for the track?
The Bolide weighs in at only 1 240 kg and is motivated by a modified version of the brand's iconic 8.0-litre W16 engine which produces 1 177 kW on standard fuel, but power increases to 1 361 kW at 7 000 rpm when fed on 110-octane racing fuel with torque maxing out at 1 850 Nm at 2 000 rpm. Newly developed quad turbochargers also contribute these hugely impressive outputs.
As a result, the Bolide delivers performance that's almost comparable to a modern F1 car. Bugatti's simulations show that the sprint from zero to 100kph will take just 2.17 seconds, zero to 200 kph in 4.36 seconds, zero to 300 kph in 7.37 seconds, zero to 400 kph in 12.08 seconds and finally, zero to 500 kph in just 20.16 seconds!
Bugatti estimates that the Bolide would take only 3:07.1 minutes to do a lap at Le Mans' Circuit de la Sarthe and just 5:23.1 minutes to lap the Nurburgring!
Watch the video below to see how the Bolide manages to achieve such staggering performance figures!
Related Content
Spy Shots: Bugatti Chiron Super Sport 300+
Bugatti Chiron Pur Sport on Track [w/video]
SSC Tuatara Claims New World Speed Record
10 Most Powerful Production Cars of the Last Decade (2010-2019)