China's Great Wall Motors (GWM) revealed its all-new, 3rd-generation Pick-up at the Shanghai Auto Show this week. This is not a replacement for the current Steed range, but a more upmarket offering that's intended to rival the industry's big hitters. What's more, it could arrive in South Africa before the end of 2020...
The boldly styled newcomer does not yet have an official name, but internally it's referred to as the "Pow-Series" and will be offered in 3 distinct flavours: Commercial, Passenger and Off-road. GWM believes this Pick-up (bakkie), which will be built at an all-new factory, will be a match for the Ford Ranger and Toyota Hilux (the vehicles it was benchmarked against). The company has set itself the difficult goal of becoming the world's 3rd most popular pick-up brand, and will, therefore, enter new markets with this product, including the Americas and previously untapped Asian regions.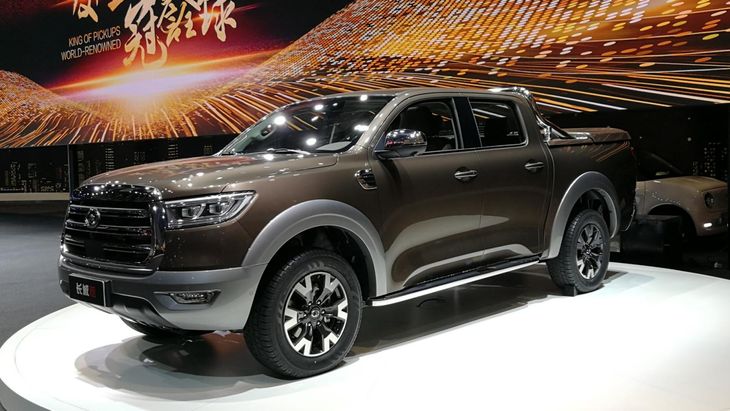 With its bold chrome grille and substantial dimensions, the new GWM Pick-Up casts a large shadow. It arguably needs bigger wheels than the standard 18-inch items.
The bakkie itself is an imposing machine with a bold chrome grille on the passenger version that reminds one of the Toyota Tundra. It measures 5 425 mm in length and has a 3 230-mm wheelbase – both these key dimensions are bigger than those of the Ford Ranger. Built on the marque's all-new P71 platform, 2 different suspension configurations will be offered – Commercial versions will feature traditional leaf-sprung rear suspension, while Passenger and Offroad variants get a multi-link arrangement.
Inside the spacious cabin it boasts SUV-like features and fittings – the display unit had expensive-looking (and smelling) leather that extended to the door trims. Features such as adaptive cruise control and lane-change assist, among many others, will be offered.
Under the bonnet you'll find either a 2.0-litre turbopetrol (120kW/360Nm) or a 2.0-litre turbodiesel (between peak torque of 380 Nm or 400 Nm). GWM has revealed that it's also working on bigger engines, but didn't disclose capacities, only stating that the target for the larger turbodiesel engine would be a maximum torque figure of between 480 and 500 Nm! The new GWM bakkie will be available with either a 6-speed manual or 8-speed automatic transmission. The Off-road version will feature 3 differential locks as well as a new "Tank U-Turn" mode, which allows it to turn very tight corners at slow off-road speeds. The towing capacity for the new pick-up will be an industry-competitive 3 500 kg (for braked trailers).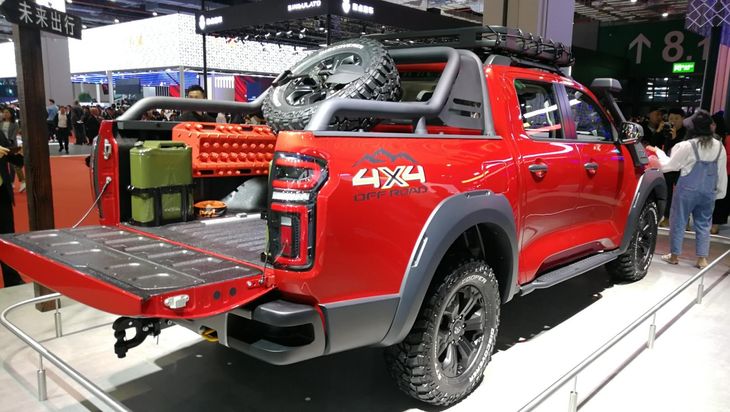 Off-road variants get 3 differential locks, a winch and snorkel. A portfolio of localised accessories is part of the plan.
Interestingly, GWM also previewed a fully-electric version at the Shanghai Auto Show, although it did not divulge any technical details. It has confirmed that the electric pick-up's development includes right-hand drive markets, so South Africa could very well see this vehicle in the future.
According to the MD of the Australian subsidiary, sales of such a "ute" would likely be slow, but it could be a great way for GWM to change brand perceptions and get an early start. Hybrid (including plug-in hybrid), as well as a hydrogen fuel-cell versions, are also on the cards.
During our visit to GWM/Haval's factory in Baoding we were shown around the company's hydrogen fuel-cell research centre, claimed to be the biggest and most sophisticated in all of China...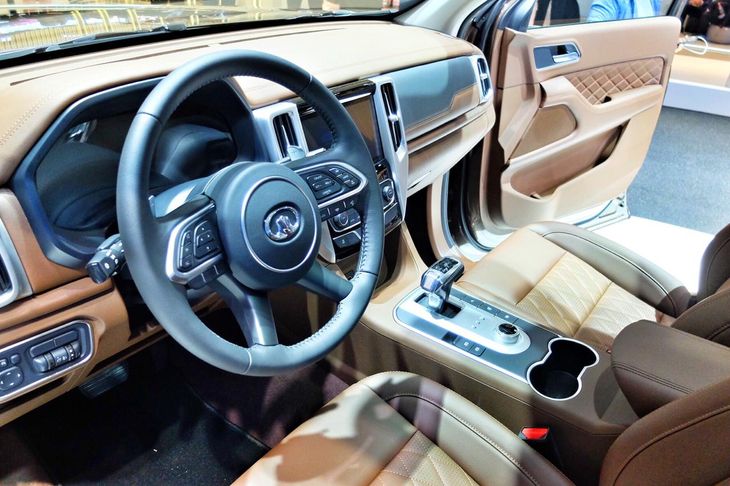 Offering luxury SUV-like fittings and features, the new GWM Pick-Up can be specified with a raft of advanced safety features. Credit: Reuben van Niekerk.
While it's unclear exactly when the alternative fuel (and EV) variants will reach South Africa, the rest of the world is not likely to have to wait too long. GWM moves fast these days. Two years ago its Ora EV brand did not even exist, and now the roads in Baoding are full of them. At the Shanghai Show, the Chinese firm showcased its cute new R2 compact EV, which is already on sale...
What is the new pick-up likely to cost in South Africa? "Definitely above R300 000," said the South African MD, Charles Zhao, adding that the current Steed 5/5E and Steed 6 would continue at their lower price points. Our guess would be that higher-spec passenger versions of the "Pick-up" are likely to be positioned around the R400 000 mark.
Evidently, the product of intensive research and benchmarking, not least a very ambitious company, GWM's new bakkie joins a wave of new products that the Chinese giant is pushing out to the world, including South Africa, during the second half of 2020.
You may also be interested in:
Haval confirms H6 and F7 for South Africa
Freshly revised Ford Ranger driven (2019)