GWM's new P-Series bakkie has finally arrived in South Africa to take on some formidable competition in the highly-competitive leisure double-cab segment. Does it stand a chance? We recently tested the range-topping P-Series LT 4x4 automatic to find out if it has what it takes to become a major player in this lucrative segment. Let's dive in and take a closer look…
We Like: Value-for-money, interior execution, lots of practical features, reasonable performance, great price
We Don't Like: Grille design is iffy, ride quality could be more refined and we want more power and torque!
Fast Facts
Model tested: GWM P-Series LT 4x4 automatic
Price: R544 900 (as of March 2021)
Engine: 2.0-litre turbodiesel
Power/Torque: 120 kW/400 Nm
Transmission: 8-speed automatic
Fuel economy: 9.4 L/100 km (claimed)
Tow rating: 2 250 kg (braked)
What is a GWM P-Series?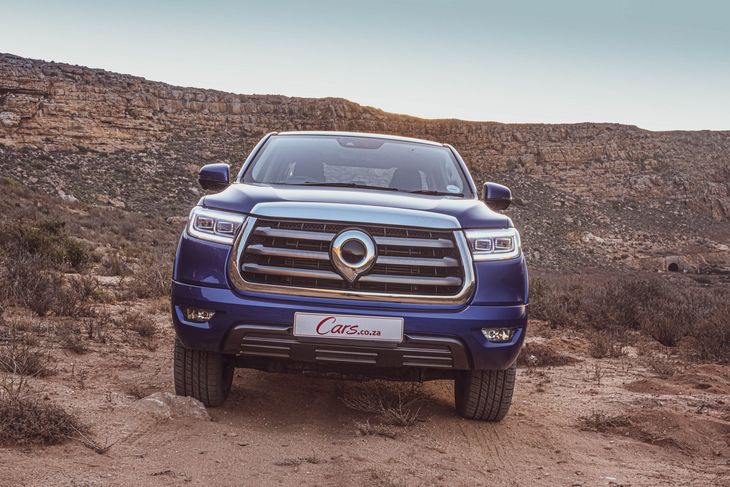 The GWM P-Series has arrived to take on the segment's heavyweights.
GWM is typically known as a brand that has primarily served the lower end of the single and double-cab segment with its range of Steed bakkies. When GWM unveiled its P-Series back in 2019, the Chinese automotive giant made it abundantly clear that it wanted its newcomer to rank in the "Top 3" pick-ups worldwide alongside Ford and Toyota's bakkie juggernauts. That's an ambitious goal for GWM, but if you consider the considerable success that GWM's SUV brand, Haval, is currently experiencing worldwide and locally, then perhaps a Chinese bakkie storm is indeed brewing.
The P-Series was recently launched in the South African market and, in contrast with its Steed brethren, the newcomer caters for a more discerning leisure double-cab bakkie buyer with bolder exterior styling, a generously-equipped and modern cabin and the promise of significant 4x4 capability. The top-of-the-range P-Series LT 4x4 automatic rivals the likes of the Toyota Hilux 2.4 GD-6 4x4 and the Ford Ranger 2.2 TDCi 4x4 and, on paper, the P-Series offers marginally better power and torque outputs as well as an impressively-equipped cabin that arguably leaves the competition in the dust.
South Africa is a major bakkie market and since the P-Series' introduction late in 2020, we have seen many examples on the roads all over Mzansi. Is that a sign of what's to come? Can the P-Series steal the hearts of (traditionally very brand-loyal) bakkie enthusiasts and claim a sizable share of this lucrative segment? Let's dissect the new GWM P-Series to find out just how good it really is...
How does the GWM P-Series fare in terms of...
Kerb Appeal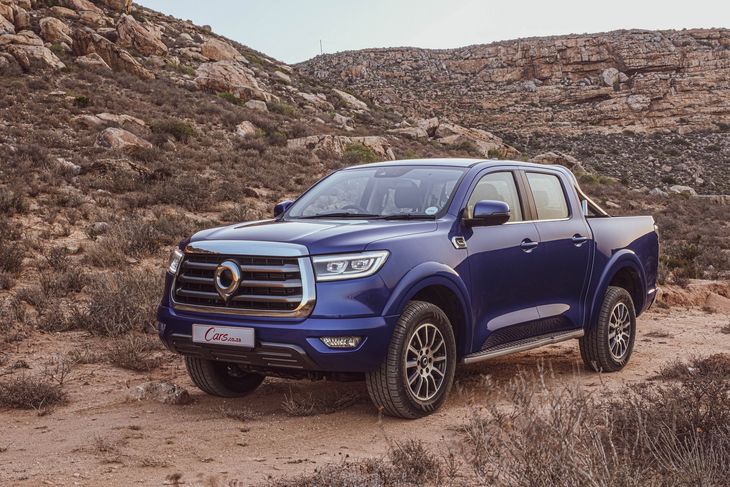 There's nothing small about the new P-Series. It's big, bold and shiny.
For GWM, size really does matter. Don't let the images of the new P-Series deceive you, this is a sizeable bakkie! The P-Series is 5 410 mm long, 1 886 mm tall, 1 934 mm wide and has a 3 230-mm wheelbase. To put those numbers into perspective, the P-Series is larger in all directions than both the Ford Ranger and Toyota Hilux…
The P-Series also wears what just might be the biggest and thickest chrome grille and brand logo ever seen on a bakkie (in the South African market, anyway). Talk about making an entrance... that's one huge shiny schnozz! The large-and-in-charge grille is flanked by LED headlights with integrated daytime running lights, while smart-looking LED clusters are fitted at the rear. The chunky grille is further complemented by an equally-chunky chrome sports bar that completes the brightwork.
We think the P-Series brings a bold look to the road, but we also think that the swathes of blingy chrome might be too polarizing for some (if not a mite impractical). Even so, the kerb appeal on display by this vibrant Blue Sapphire P-Series is quite impressive and it may very well cause a stir, or perhaps a raised eye-brow, when you pull up next to a Ranger or Hilux at the traffic lights.
Interior Execution and Features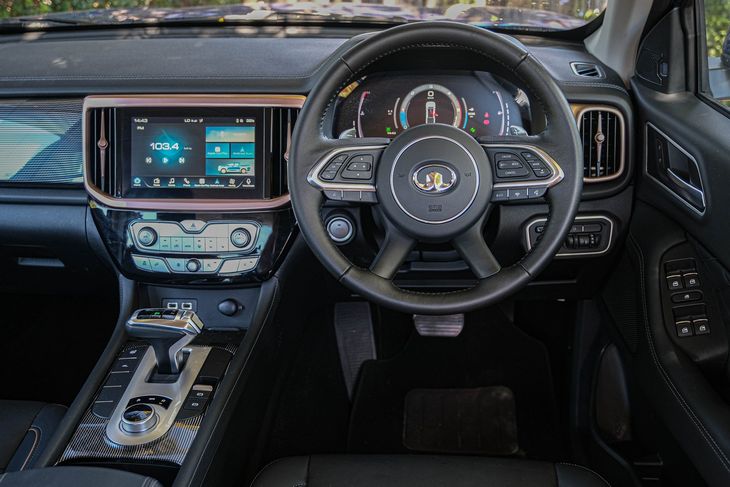 The P-Series' interior execution and standard features list are mightily impressive for a bakkie at this price point.
Step inside and you are met with an interior that looks and feels decidedly upmarket and luxurious. This LT derivative is lavishly furnished in quilted leather upholstery, which extends to the upper dashboard, while the door inners also feature a quilted leather design that further adds a sense of theatre to the (let us remind you, bakkie's) cabin. There are, of course, harder plastic surfaces present too, but they don't detract from the overall pleasantness of the layout. Notably, perceived build quality also appears to be on par, or perhaps even better than, some other offerings in this segment. To give you an example, the presentation of the transmission lever is far better than what you'd find in a Ford Ranger.
The neatly-framed 9-inch infotainment touchscreen, which is flanked by vertical air vents, provides quick and easy access to the core multimedia functions such as Bluetooth telephony and is compatible with Apple CarPlay and Android Auto. A host of vehicle functions and settings can also be accessed via the system's submenus and adjusted according to your preference. The operating system isn't as slick as Ford's SYNC3 system, but its menu layout is easily navigable and straightforward to use.
Unlike other bakkies, the P-Series is equipped with 4 cameras that project a 360-degree view onto the touchscreen. This is perhaps one of the most useful features and you will need it when you have to manoeuvre this Chinese behemoth in and out of tight parking spaces. A reverse-view camera with guidelines is standard too.
Meanwhile, the P-Series is surprisingly well-equipped with safety technology that you wouldn't necessarily expect to find in a bakkie at this price point, such as blind-spot warning, lane-departure warning, lane-keeping assist, lane-centre keeping, rear cross-traffic alert and traffic-sign recognition. A total of 7 airbags are also fitted, as is an autonomous emergency braking function with pedestrian detection.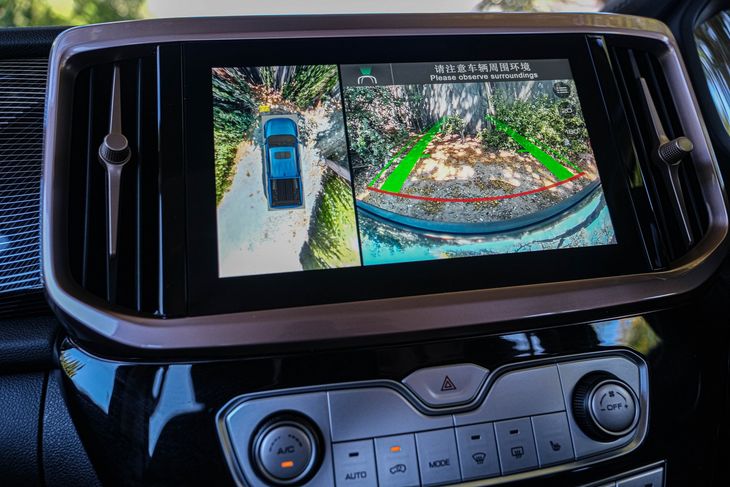 The high-definition 360-degree camera is a useful feature and a first in this segment.
The lane-support system is displayed directly ahead of the driver in a 7-inch digital instrument cluster that further contributes to the upmarket look of the cabin. The instrument cluster, however, isn't configurable. As for the steering wheel, it's wrapped in leather and is equipped with mounted controls for the audio system, adaptive cruise control, telephony and voice control function.
Other nice-to-have features include heated front seats, a pair of USB ports, a 220V outlet, keyless entry with push-button start, auto-dimming rear-view mirror and single-zone climate control.
Overall, the cabin of the P-Series (in LT guise) is arguably the most aesthetically-pleasing and luxurious bakkie interior on the market – for that, GWM certainly deserves a round of applause. More than that, however, the sheer number of standard mod cons and safety features considerably broadens the value-appeal of the P-Series. Is this the closest to an SUV cabin that a bakkie can offer?
Powertrain performance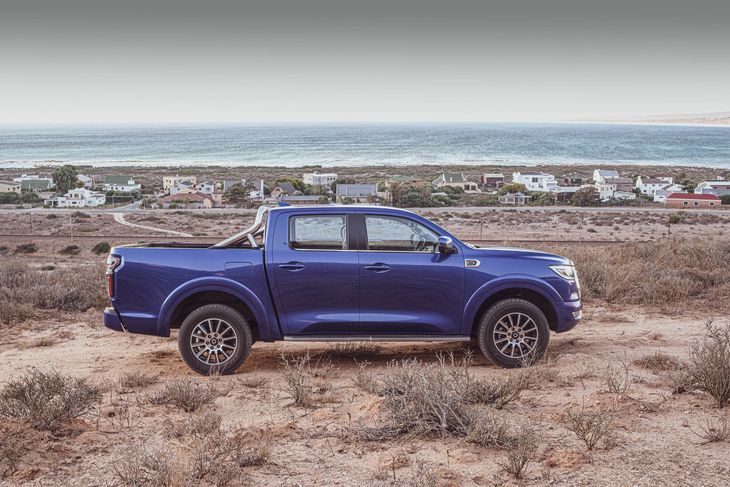 ​The P-Series has middling outputs but it's still more than the equivalent rivals from Ford and Toyota.
The GWM P-Series came to market with a single turbodiesel engine that powers the 16-derivative range, which includes both commercial and passenger variants in 4x2 and 4x4 configurations.
The engine is a 2.0-litre 4-pot that produces 120 kW and 400 Nm and while those outputs are not class-leading, they compare favourably with those of its rivals and the powerplant is mated with an 8-speed ZF automatic transmission. It's worth mentioning that the engine sound has a typical diesel thrum to it, but it's more refined than we expected and thankfully it's not overly noisy or intrusive.
Out on the road, the P-Series' power delivery isn't lacking, but a noticeable degree of turbo lag is evident under harder acceleration, especially from a standing start. When left to its own devices, the auto transmission seems to adapt readily to your driving style and shifts unobtrusively in a variety of traffic conditions, but it's nonetheless nice to have the mounted paddle shifters at your fingertips should you feel the inclination to drop a few cogs to quickly execute an overtaking manoeuvre. It's fair to say that the P Series' on-road performance is dutiful and about on par with its equivalent rivals.
The driver can also turn a dial in the centre console to toggle between drive modes, which include Normal, Eco and Sport, to suit their preference. It must be said, however, that Sport mode is more useful when traversing an off-road course (when you need the transmission to hang on to a gear a bit longer to overcome an obstacle) as opposed to, say, hoofing it on the highway.
As far as fuel economy is concerned, GWM claims 9.4 L/100 km for this derivative, but during our test (mostly a mix of city and highway driving) we saw indicated figures of between 11.5- and 12.0 L/100 km, which is comparatively on the higher side for bakkies with similarly-sized engines in this segment.
Ride and handling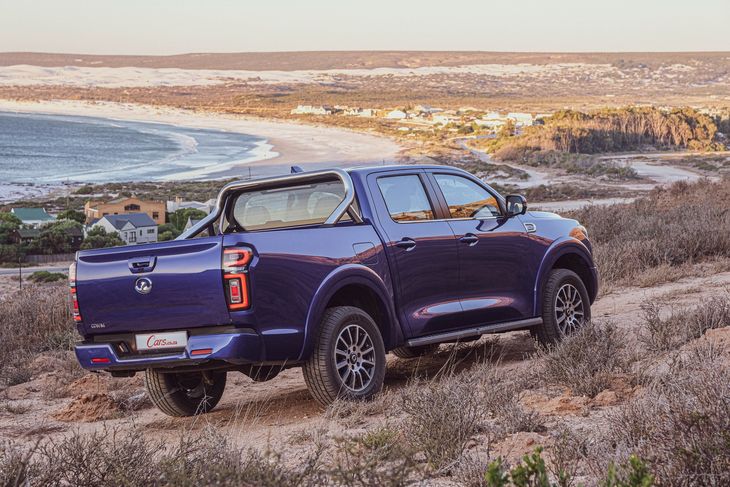 On asphalt roads of average quality, the GWM P-Series provides good levels of ride comfort. The suspension is firmly-sprung, by top-end bakkie standards, but the ride quality is still quite forgiving. Like most offerings in this segment, the GWM's rear multi-link suspension does feel jittery and jiggly when the load bin is unladen and this is further exacerbated when driving on a gravel route or going off-road. This P-Series is fitted with 18-inch alloy wheels shod with road tyres, which translates into a firmer ride on a gravel road.
The steering feel is light, but it's quite vague and feels "dead" around the centre position, but there is a button on the centre console that allows you to adjust the steering feel according to your preference or to the driving situation i.e. lighter in the city and firmer on gravel, but this feature ultimately doesn't improve steering feedback.
In terms of the newcomer's dynamic ability, well, the P-Series' general handling characteristics are fairly good, it's handling is not as precise as we'd hoped but this is mostly a result of the aforementioned electrically-assisted steering, which doesn't offer much in the way of feedback. So, overall then, we feel that the P-Series' ride/handling balance is average, but definitely not class-leading.
Off-road ability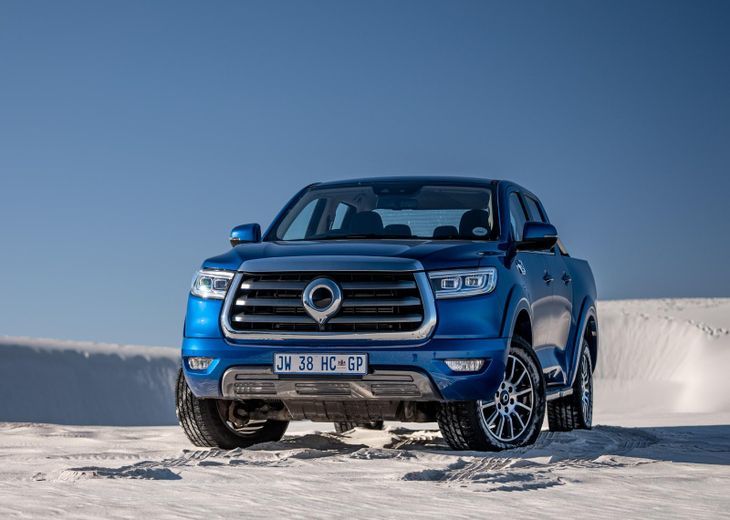 Dune driving formed the basis of our offroad test and the P-Series rose to the challenge.
In an effort to test the P-Series' offroad performance, we pitted it against the similarly-priced and recently-launched Ford Ranger 2.2 XL Sport 4x4 in the Atlantis dunes outside Cape Town.
A key point of difference of the P-Series is that it offers a torque-on-demand all-wheel-drive system (developed by Borg-Warner) while most other bakkies, barring the Volkswagen Amarok, offer part-time all-wheel-drive capability. What that means is if you are driving on-road, the system will direct torque to the rear axle (2H). When the road surface deteriorates, on a gravel road, for example, the system will automatically switch into 4H in an effort to improve traction.
For serious off-roading, the driver can engage 4L by simply pressing a button in the centre console, which allows you to crawl over harsh terrain and if you experience severe loss of traction on more complex obstacles, a rear differential lock can be engaged at the press of a button as can hill-descent control, should you need it. The P-Series does have 232 mm of ground clearance, which is useful, but not class-leading, as well as a 27-degree approach angle and a 25-degree departure angle.
Our initial experience of driving the GWM in the dunes revealed that the GWM's on-demand system wasn't as effective as a direct switchable 4x4 system (as you would find in the Ranger, for example). However, with 4L engaged and traction control switched off, you access a mode called Cross Country Expert Mode and with this mode engaged, the P-Series navigated the soft sand with far more ease and confidence. The P-Series' ride quality in the sand was firmer and ultimately harsher than what we experienced in the Ranger, but even with road-biased tyres fitted, the P-Series was fairly impressive in the dunes. At one stage, it was necessary to engage the diff lock to help the P-Series free itself and it worked without any issues at all. The Borg-Warner system does make a noticeable mechanical noise as the system engages which can be disconcerting at first, but you soon realise that it's working its magic for you.
Nonetheless, it's worth stating that as the P-Series is a new product, the full scope of its off-road capability still needs to be proven in local conditions; the P-Series was primarily tested on fine sand during our test, which, to reiterate, it handled with the assistance of general-purpose tyres. We, therefore, feel that further testing in various off-road conditions, against benchmark products such as the equivalent Toyota Hilux would ultimately yield more conclusive results. As such, we look forward to putting the P-Series through its paces in much harsher terrain against its rivals in the future. Watch this space!
Practicality

Access to the load bin is now much easier thanks to a built-in step in the tailgate.
Double-cab bakkies, by their very nature, are not very practical city cars. Due to its size, the P-Series poses a challenge to anyone living in an urban environment and even seemingly simple manoeuvres can be tricky to execute. The grille is so big, it needs a parking space all of its own…The aforementioned 360-degree camera and the rear parking sensors do, however, assist when you need to park the P-Series safely.
Apart from offering a sizable load bed with a drop-in bed liner, the P-Series can be optionally-equipped (for an additional R12 892 excluding VAT) with a segment-first step that's built into the tailgate so that you can conveniently step into the load bed, which is quite a nifty feature. The tailgate itself is also fitted with gas struts, which gently lowers the tailgate and prevents it from slamming down and it also requires less elbow grease to close, which is nifty.
One of the main gripes we have with double-cab bakkies is that they don't offer much, if anything, in the way of oddment space. For example, if you want to hide your laptop, where do you put it? Behind your seat, under the seat, in the load bin? It's ridiculous! However, in the GWM, at least there's some kind of solution! If you lift the rear bench's base upwards, you will find recesses that allow items of a certain size to be safely stored under the seat. This feature also means that the rear passenger compartment can be used to load larger items too. The backrest can also be flipped forward if necessary.
Lastly, we must mention the P-Series offers acres of legroom for rear passengers, which bodes well for family use, especially on those adventures that require long journeys to and from the destination.
How much does the GWM P-Series Cost in South Africa?
Pricing for the GWM P-Series starts from R339 900, but the top-specification P-Series LT 4x4 automatic is priced from R544 900 (as of March 2021). A 5-year/100 000 km warranty and a 5-year/100 000 km service plan are standard.
See full specification details for the GWM P-Series LT 4x4 automatic
Verdict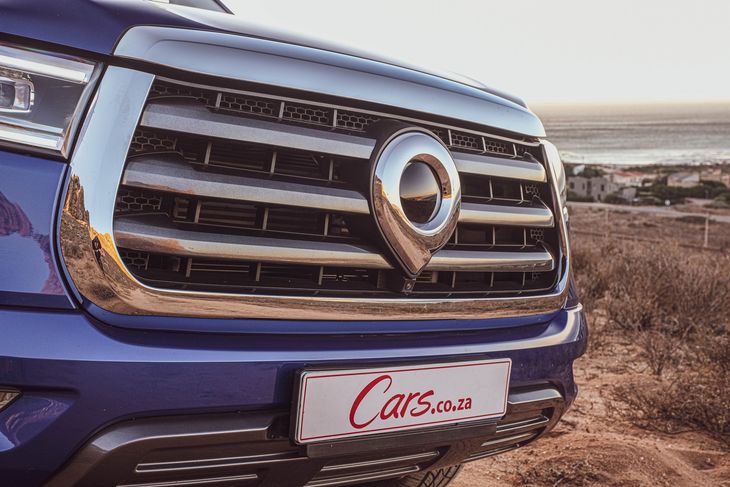 When it comes to value-for-money, this P-Series LT is unbeatable.
Our maiden test of the GWM P-Series double cab was illuminating. In many ways, the P-Series is the first, proper example of the direction that the leisure-double cab segment is headed and it's telling that this direction is coming from the east, driven by a Chinese brand that's perhaps underperformed given all the value its bakkies offer.
The cabin of this P-Series LT derivative is not only luxurious and SUV-like, but generously equipped with features that are typically found on more expensive cars, let alone double cabs. More importantly, there is no leisure double cab at this price that offers this much value. Indeed, GWM's newcomer will be hugely attractive to buyers who favour value-for-money over (often blind) brand allegiance.
The P-Series needs to prove its long-term reliability; GWM will have to work hard to convince fiercely-loyal bakkie enthusiasts to switch to a P-Series. The fact that the LT comes with a 5-year/100 000 km warranty and -service plan is an indication that the Chinese brand believes in its product. Given sister brand Haval's progress in our market, that peace-of-mind after-sales back-up could be the clincher.
Buy a used GWM P-Series on Cars.co.za
Related Content:
GWM P Series could be the perfect Chinese bakkie
5 Cheapest Automatic Double-Cab Bakkies in SA