The GWM M4 has nothing in common with BMW's tarmac-searing sportscar... apart from its name. But the Chinese-made light crossover, which competes with the Renault Sandero Stepway, Toyota Etios Cross and Polo Vivo Maxx, underwent a revamp early in 2016. Here's what it's like…
Sharper styling
The GWM M4's exterior appearance represents a marked improvement over that of its predecessor. The M4 is marketed as a cool-looking baby SUV for trendy, single urbanites — as opposed to merely a raised hatchback with rugged-looking addenda — and it's equipped with numerous SUV-like adornments. It has a more rugged appearance, replete with moulded black bumpers and side sills as well as a band of grey trim around the front bumper's air intake grille. Standard daytime running lights and front and rear fog lamps set the M4 apart from the competition. Overall, it looks like an attractive pavement hopper.
Under the bonnet
In China, the M4 is nicknamed the Speed because of how quickly it sells in its native market. Under the GWM's bonnet, however, you won't find a source of tremendous speed. The 1.5-litre naturally aspirated petrol engine (producing 71 kW and 135 Nm) compares favourably against those of its aforementioned rivals, but maximum power is developed at 6 000 rpm, meaning that you have to rev the motor hard before you feel its extra grunt. The rivals develop power and torque at lower revs than the M4 and that results in lower fuel consumption. The M4 is quite thirsty for a budget-conscious vehicle. Claimed consumption is 7.2 L/100 km in a segment where around 6 L/100 km is the average. The engine is therefore not the strong point of the M4's arsenal but, if you're happy to potter around at a gentle pace then the M4's performance is adequate, if not particularly frugal.
Inside the cabin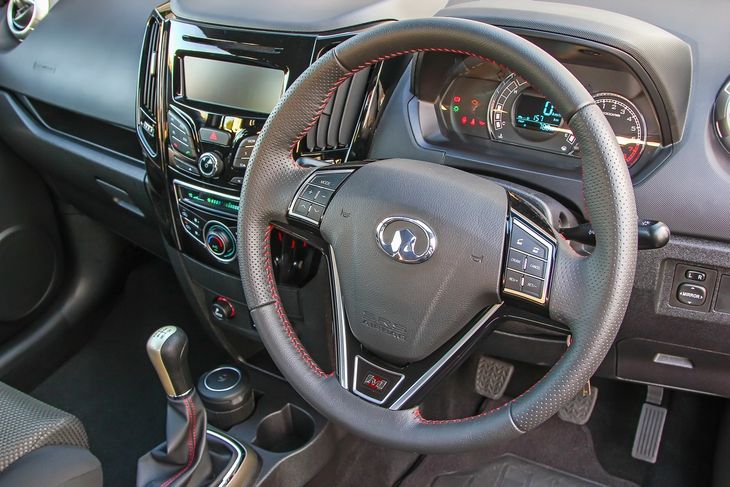 GWM M4 cabin is well made and quite upmarket in appearance and finish.
Chinese brands haven taken a lot of flak for utilising cheap-looking cabin materials with less than impressive levels of fit and finish. The GWM's interior, although not particularly sophisticated in design, features a number of impressive upmarket fitments. The leather-clad steering wheel with red stitching (and an "M" badge at the bottom), and digital speedo, combined with the analogue rev counter, are easy on the eye. The audio system has a rather plain digital display, but offers USB and auxiliary input sockets as well as Bluetooth connectivity. The facia is even clad in piano black trim — a rare sight in a vehicle that costs less than R200k. Overall, the facia materials are respectable and the build quality looks impressive in terms of shut lines and the rigidity of the fittings.
There is a slight ergonomic issue, however. Taller drivers will probably struggle to get comfortable behind the M4's steering wheel, which can be adjusted for rake (up and down), but not enough to get out of the way of the driver's legs. It becomes annoying when your leg brushes against the wheel every time you release the clutch or move your foot to the brake pedal. It should be noted, however, that shorter members of the Cars.co.za test team didn't have a problem with it. Cabin space is acceptable up front and would suit smaller passengers in the back, but the luggage area, which is equipped with a retractable cover, measures 310 litres, which is fair — but less than capacious.
Ride and handling
It appears that GWM spent all its research and development money on upgrading the light crossover's interior and forgot about improving its indifferent ride comfort. The M4 is shod with handsome 16-inch alloys but rides quite harshly on rippled roads and over speed bumps; it becomes tiresome to be jostled about in the cabin. The M4 has a slightly raised ride height and has a ground clearance of 183 mm. It's by no means an off-roader but will hop onto a pavement (if you can't find a conventional parking spot) or travel down a gravel road with ease. The added height does make the M4 feel a little top heavy and it leans when you corner or tackle a roundabout quickly.
Verdict
The GWM M4 has improved inside and out, and quite considerably so. The exterior design is quite appealing and pulls off the rugged, baby SUV-look aptly. It is a generously equipped light crossover (it even includes front and rear parking sensors as well as cruise control) and its cabin quality looks comparable to that of the Sandero (and it's arguably better than that of the Etios). The weak points of the package lie in the engine and chassis. The petrol engine needs revving to build up a head of steam and it is thirsty in comparison to the competition. The M4 is not particularly great to drive when the road gets bumpy or if you're a tall driver, but its exterior packaging and spec should find favour with its target market.
Watch the GWM M4 Video Review below
GWM M4 pricing
There is only one model in the GWM M4 range right now and it costs R189 900. There is a standard 5-year/100 000 km warranty and an optional 5-year/60 000km service plan.
Team opinion
"The M4 offers great value for money in a stylish, compact package. However, that driving position does not suit taller folks (like me), which is a drawback." David Taylor
"Although practicality is not the M4's strong suit, the GWM should be viewed as a stylish hatchback for urban commuters rather than a multi-purpose crossover." Mike Fourie
We like: Improved styling, interior design and decent build quality, specification
We don't like: Thirsty on fuel, unrefined ride
Also consider: Renault Sandero Stepway, Toyota Etios Cross, VW Polo Vivo Maxx
Click here to compare the M4 to the Stepway and Etios Cross
Search Cars.co.za for GWM M4s for sale