GWM has revealed a beefed-up version of its P-Series double-cab bakkie. This is the GWM Baja Snake!
The much-talked-about Baja Snake has been revealed at the 2021 Shanghai Motor Show this week.
We know GWM is keen to enhance its bakkie offerings and its prior concepts like the GWM Black Bullet Concept underlines its intentions of making cool lifestyle offerings.
How much power does the GWM Baja Snake have?
The GWM P-Series was launched in South Africa just before the end of 2020 and impressions have been favourable thus far. We at Cars.co.za were impressed with the refinement, levels of equipment fitted and value for money. For the record, the GWM P-Series is powered by a 2.0-litre 4-cylinder turbodiesel engine with 120 kW and 400 Nm. This motor is paired with an 8-speed automatic gearbox, sourced from ZF.
Performance bakkie enthusiasts will feel a little deflated knowing that the Baja Snake has no more than 140 kW and 360 Nm on offer from its 4-cylinder, 2.0-litre turbodiesel engine. Despite this, the Baja Snake is equipped with Fox shock absorbers with 14-stage damping that will be particularly useful in an offroad scenario. The ride height can also be raised by a notable 50 mm. Other noteworthy features include a menacing grille with a huge GWM logo in the centre, 2 racing stripes, 'Baja Snake' lettering, air snorkel and wide and flared wheel arches which house rugged offroad Toyo tyres.
As for the interior, it hasn't changed much from the standard P-Series but GWM has used Alcantara and orange accents to liven up the cabin.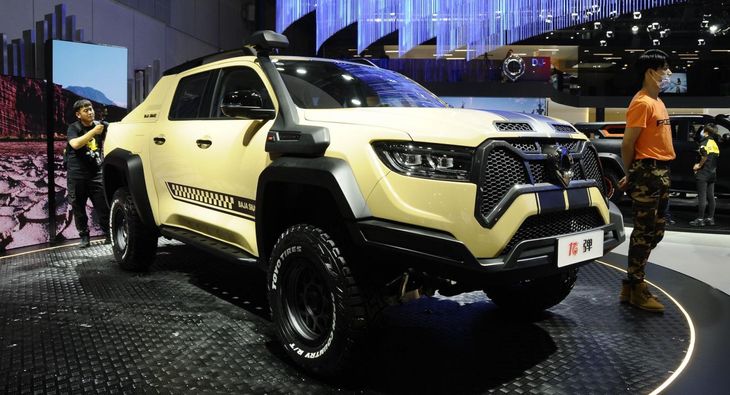 The Baja Snake looks the part but that's where this story ends...

Does it make sense for GWM to go the performance bakkie route?
The current uptick in new market introductions suggests this is indeed an avenue worth investigating. Globally, the Ford F-150 and F-150 Raptor dominate the sales figures Stateside, while locally many Ford Ranger Raptors have found homes. We know Toyota is working on GR-badged Hiluxes, and the substantially revised, locally-assembled Nissan Navara may spawn a sportier derivative down the line. Local production of the all-new Isuzu D-Max is due to kick off in late 2021 and we'd bet there'll be some form of aggressive-looking model soon enough. While it isn't inherently sporty, let's not forget the V6-powered Volkswagen Amarok - easily SA's fastest double-cab bakkie.
Initial reports suggested that GWM had partnered with Shelby to create the Baja Snake but it now appears that the model has merely drawn inspiration from products such as the Shelby Baja Raptor which is based on the Ford F-150 Raptor.
Even so, the Baja Snake does not have the engine performance to compete with its more powerful rivals and it appears to rather be an exercise in design rather than a full-blown performance bakkie, which is a bit of a disappointment if we're honest...
Browse one of our 5000 double cab bakkies for sale
Further Reading
New GWM P-Series LT 4x4 vs Ford Ranger XL Sport - In-Depth Review and Buying Advice
GWM P-Series (2020) Specs & Price
5 Cheapest Automatic Double-Cab Bakkies in SA