Are you looking to buy a new 4x4 double cab, but don't want a workhorse-spec vehicle or to spend much more than about R400k? If that's the case, the top-of-the-range Tunland bakkie offers a number of luxuries, even though it cannot quite match newer, mainstream rivals for sophistication. Its strongest suit is good, old-fashioned bang for buck…
We like: Handsome looks, fuel economy, leather trim and other nice-to-haves
We don't like: Middling performance, minor finishes, basic safety spec
Also consider:
Best-priced volume competitor: The updated Ford Ranger 2.2 double cab 4x4 XL, which list price is a mere R1 905 more than the Foton's, produces more torque and is claimed to use less fuel. Although it foregoes leather upholstery and a multi-function steering wheel, it does have a diff-lock, as well as traction- and stability control systems, which its Chinese rival lacks. It's a top-seller and for good reason.
A proven multi-purpose workhorse: Although Isuzu's KB 250D-Teq derivatives are better known for their commercial applications, in double cab 4x4 LE guise (R457 400), the Japanese marque offers an acceptable level of performance/efficiency, albeit with a cloth-trimmed cabin (leather optional), a multi-function steering wheel and the surprising addition of cruise control. The Isuzu is pricier, but its reputation is strong.
The cheaper Chinese alternative: Although we haven't tested it yet, the JMC Vigus 2.4TDCi double cab 4WD SLX (R375 990) offers leather, a multifunction 'wheel and rear PDC as well as a similar safety specification to the Foton. However, its 2.4-litre turbodiesel produces 88 kW/290 N.m, which limits its appeal as a long-haul family vehicle. The 5 year/60 000 km service plan is middling and dealer network is limited.
Click here to compare the specifications of the Foton Tunland, Ford Ranger and JMC Vigus
What is it?
Double-cab 4x4s were a mainstay of the South African new vehicle market even before compact SUVs became de rigeur. Unfortunately, inflation has put paid to the idea that if you want a double-cab, you can buy a big-engined bakkie that can rival conventional passenger cars for luxury and trounce them in terms of off-road ability. Those examples now cost in the mid-to-high R500k range — they still sell, but only to a fortunate, well-heeled clientele…
So, when shopping around with a budget of around R400 000, you can either look to used car market for pre-owned examples of bakkies produced by the mainstream brands (Toyota, Isuzu, Mitsubishi, Volkswagen and Fiat), opt for a new entry-level Ford Ranger 2.2 double cab 4x4 XL, which is less than generously specced, or look down the new vehicle price lists to bakkies that are either of an obsolete design, or very rudimentary in terms of performance and equipment levels.
At R409 900, the top-of-the-range Foton Tunland 2.8 double cab 4x4 Luxury comes standard with a number of exterior adornments and interior appointments that some of its best-selling rivals don't offer; it's powered by a 120 kW/360 N.m 2.8-litre Cummins turbodiesel engine and has been a fixture in the South African market for almost 4 years. If you're looking to buy a brand-new double cab with 4x4 capability, can this bakkie justify a >R400 000 outlay?
How does in fare in terms of…
Kerb appeal?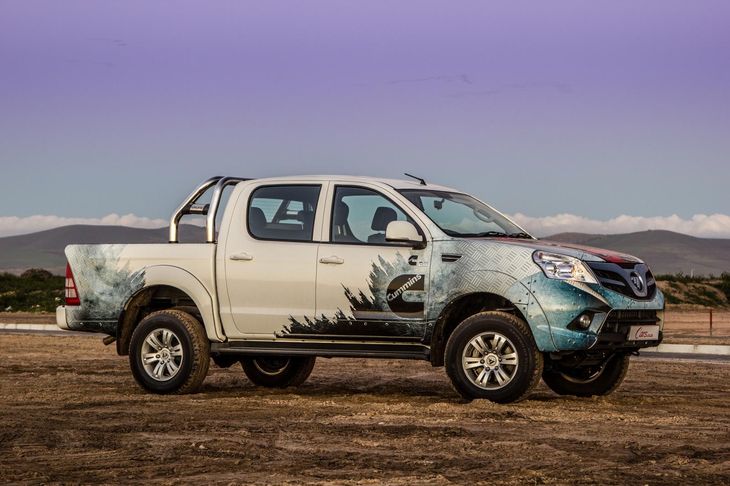 Ignore the branding of this unit and you have a design that remains appealing, even 4 years on.
The Cars.co.za test team members were unanimous: the Foton might not be the youngest contender in the double-cab market, but it still cuts a handsome figure — the bold, colourful plastic body wrap (applied by the Foton's distributor for marketing purposes) certainly helped the otherwise plain-white Tunland draw many admiring glances during its test tenure.
Sporting a suitable number of aesthetic exterior accoutrements, colloquially known as "bakkie bling", is very important in the context of standing out in the vehicle parc of a congested urban sprawl. To that end, the Luxury comes with fog lights, running boards, colour-coded mirrors and door handles (the former with integrated indicator lenses, the latter amended by chrome accents), a chunky chrome-look roll bar, as well as a tonneau cover. Those cover virtually all of the bases, but, as human nature is, we would have liked to see a chrome-look nudge bar as well…
Luxurious interior?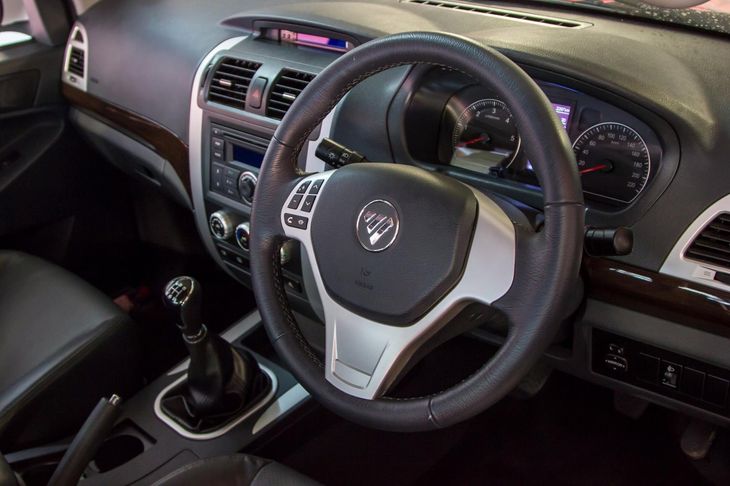 The standard specification is comprehensive and the build quality appears solid.
The moment you step inside, you're greeted by a cabin trimmed in anthracite leather upholstery (with adjustable lumbar support for the front seats), a leather-wrapped multifunction steering wheel, electrically folding side mirrors (with a demisting function) as well as rear PDC system (with audible warnings).
The dark "wood" inserts seem a trifle passé now that we find ourselves in the latter half of the second decade of the 21st century, but they combine neatly with the dark trim and metallic-look inserts. The front seats are very comfortable and the cabin is spacious enough for a family of 4 (okay, 5 adults at a squeeze – we tested it!); only the marginal rear legroom betrays the Tunland's older design. The auto-locking doors is a good security measure as well.

Instrumentation is simple, but includes a fuel economy indicator.
The Foton's fascia and dashboard designs are unimaginative and workmanlike, but the build quality is fair at this price point. The (right-most) ventilation control knob felt a little flimsy to operate, but although we initially judged the audio system on its plain appearance (it still has a CD slot!), it offers USB and auxiliary inputs and can stream music from a smartphone via Bluetooth, plus it's easy to set up and use. Furthermore, the multifunction steering wheel's controls work well and the integrated handsfree system's microphone (mounted on the inside of the A-pillar) relayed clearly audible dialogue.
The specification is not comprehensive, however. We appreciated the voluminous cupholders in the centre console, the lidded oddment storage spaces (including one at the bottom of the fascia) and even the pockets on the front seatbacks, but would have liked a one-touch up/down function on the driver's electric window and additional 12V outlet for rear passengers, for example. Also, the Foton's interior could have appeared smarter overall had there not been exposed screw heads in the door handle housings and steering column; imagine if they were hidden under unobtrusive plastic caps...
Performance and economy?
The fact that the Foton is powered by a 2.8-litre engine, whereas its rivals' motors are of smaller capacities, should be an advantage, but the Cummins is neither as refined, nor significantly more powerful, than its opposition. The 5-speed transmission is notchy, especially from a cold start, and an extra ratio would undoubtedly be a boon on longer trips. Having said that, the engine is tractable enough and even if Foton claims an average consumption of figure of 8.3 L/100 km for the 2.8 Double Cab 4x4 Luxury, the highest indicated figure we saw was 8.0 (it usually hovered in the 7s), which was most impressive.
As a source of everyday transport, the Foton's engine is a trifle noisy, but performs tirelessly, the ride quality is less than pliant, but not bouncy/crashy. The brakes perform ably, although the middle pedal could be more feelsome… if you mash the pedal hard at crawling speeds, the front calipers may snatch, but with familiarisation that proved less of a concern.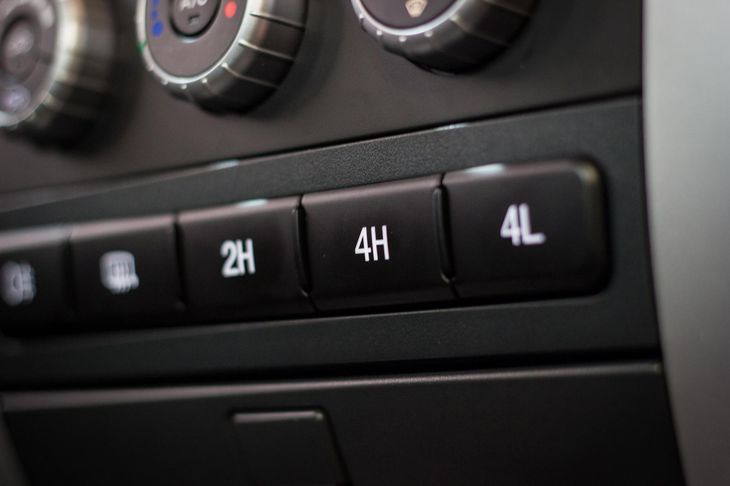 Push-button controls for the four-wheel drive system.
Meanwhile, 4-wheel-drive enthusiasts will appreciate the convenience of being able to shift from 2H to 4H on the fly at the push of a button. 4L can be engaged at a push of a button too, but only when the bakkie is standing still and in neutral. While testing the Foton's off-road performance in a variety of conditions near Melkbosstrand outside Cape Town, the Foton proved more than capable. The tester that put the Tunland through its paces commented that although diff-lock (which is not fitted) would not have been required under the circumstances, the bakkie could benefit from a trifle more torque at low revs and that a shorter rear overhang would have been more ideal. In the event, the Foton handled most obstacles with aplomb.
Practicality?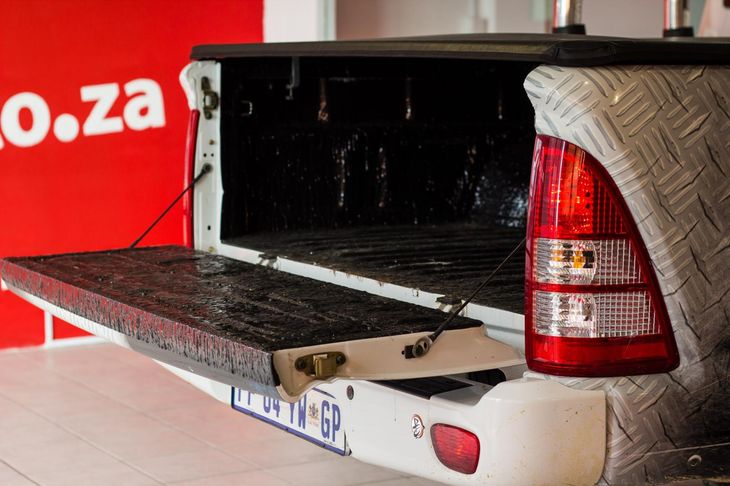 The Tunland has a payload rating of 950 kg.
The Foton is a sizeable bakkie, which is advantageous in terms of its spacious cabin and broad, deep loading area, the latter of which proved very practical when a Cars.co.za tester needed to move all his detritus during a recent house move. However, the extreme exterior dimensions are disadvantageous when utilising the Tunland as an urban family vehicle. In congested parking lots, the Tunland's wider turning circle and relatively weighty steering (which is the case with virtually all bakkies, but was particularly apparent in the Foton), let alone the vehicle's bulk, makes parking tricky, but not prohibitively so.
Meanwhile, the Tunland has a kerb weight at just over 1.9 tonnes and a payload of 950 kg. For those interested in towing capacity (as many leisure bakkie buyers would be), the 2.8 Double Cab 4x4 Luxury can tow unbraked trailers of up to 750 kg (braked: 2 500 kg).
Value for money?
Given all its standard features, the most notable of which was mentioned in this review, the Foton represents commendable value for money. The leather upholstery, multifunction 'wheel and Bluetooth-compatible audio system may not seem like deal-makers, but in a competitive market, the items that you can see and feel count for a lot when you're browsing through dealer showrooms. Safety wise, the dual front airbags and ABS with EBD are standard, yes, but traction and stability control would have added more piece of mind. As an ownership proposition, the 3-year/100 000 warranty is good, but the 5-year service plan is valid for 70 000 km, which is less than the 90 000 km/100 000 km market benchmarks. Service intervals, at every 10 000 km, are a little short.
Price in South Africa
The Foton Tunland 2.8 Double Cab 4x4 Luxury retails for R409 995, which includes a 3-year warranty and 5-year service plan.
Verdict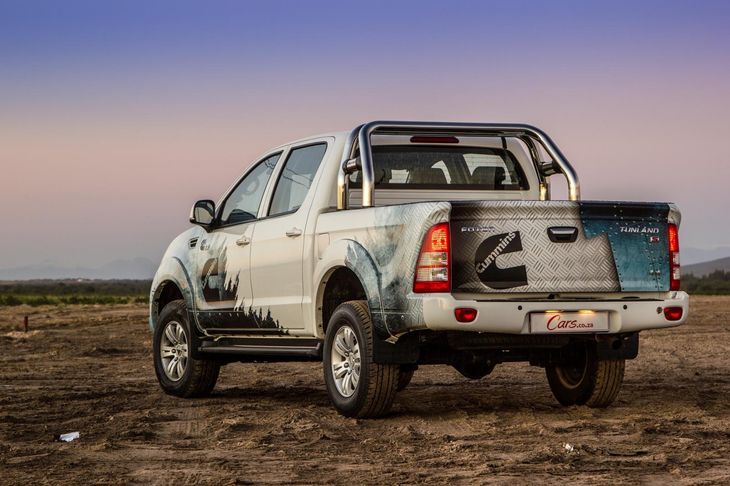 Sturdy, spacious and a willing worker, the Tunland's price is its biggest barrier to greater sales success.
At the Tunland's asking price, the 2.8 Double Cab 4x4 Luxury certainly looks the part (that of a suitably well-specified, desirable five-seater bakkie) and its kerb appeal is backed by an apparently solid build quality and a measure of luxury in a market where other fringe players that are priced below it don't feel as substantial, and more sophisticated/newer products priced above it feel relatively stripped down. It's not perfect, but a thoroughly well-balanced product.
Having said that, as well-priced as the Foton seems compared with mainstream rivals that are priced R50 000 to R60 000 above it (here are a handful of examples), the generously specified Tunland doesn't make a strong enough case against the Ranger 2.2 double cab 4x4 XL, which is only marginally more expensive, but offers a torquier (and ostensibly more frugal) motor, is distributed and serviced via a wider dealership network than the Foton has and, given the rampant popularity of Ford's bakkie, the Ranger is bound to retain its value better when the time comes to trade it in.
Ultimately, the Ford's reputation trumps the Foton's flash. Perhaps the local distributors of the Chinese marque can strengthen the service and warranty plans of the Foton to embolden its purchasing proposition. You must also bear in mind that the Tunland 2.8 double cab off-road Luxury (the 4x2 derivative) is much more affordable (at R319 995) and that Foton outlets sporadically offer special deals on their bakkies... Search the Cars.co.za specials page.
Click here to compare the specifications of the Foton Tunland, Ford Ranger and JMC Vigus
Interested in buying a Foton Tunland?