The performance-oriented Mustang Mach 1 has returned. It offers fans of Ford's iconic muscle car a chance to access more muscular performance than with the standard 5.0 GT fastback, but without the need to splurge on a wild Shelby (or Roush) version.
We recently reported that a Mach 1 version of the current Mustang was in the pipeline and now it's been revealed in all its glory. It marks the return of the historic nameplate, which was first launched in 1969 (and briefly brought back in 2003) to the market after a 17-year hiatus. Like the celebrated original Mach 1, the new version comes equipped with a host of upgrades over its 5.0 GT fastback sibling, including mechanical-, cooling-, aerodynamic- and suspension improvements. Besides, just look at it!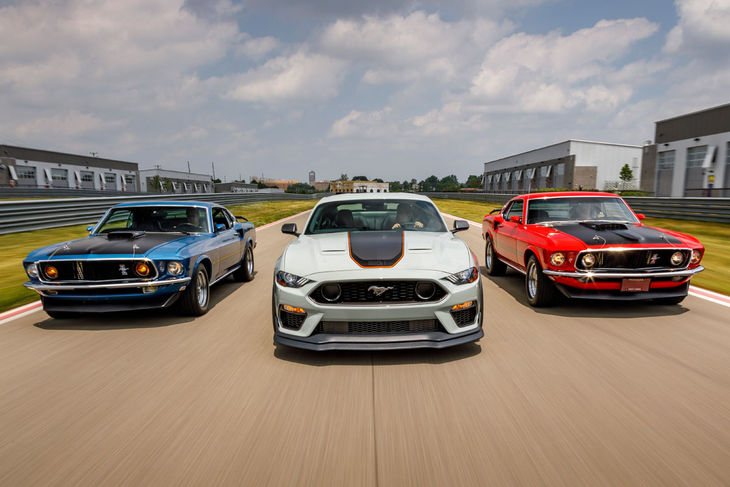 Ford raided its Shelby parts bin to give the Mach 1 the level of performance it needs to match its head-turning appearance.
The newcomer's top grille (with its deep 3D mesh, low-gloss Magnetic pony badge and faux lamp elements) pays homage to the original model, while the lower-grille section is flanked by side-inlets below each indicator lamp. Not only do they help Ford's newest muscle car derivative look the part, they aid the Mach 1's aerodynamics and cooling.
There's no shortage of detailing whatsoever... low-gloss magnetic and black accents feature throughout the vehicle, including the Mach 1's mirror caps and rear spoiler. Plus, if you spec the Appearance Package, satin black side and bonnet stripes are included with a choice of red, white and orange reflective accent stripes.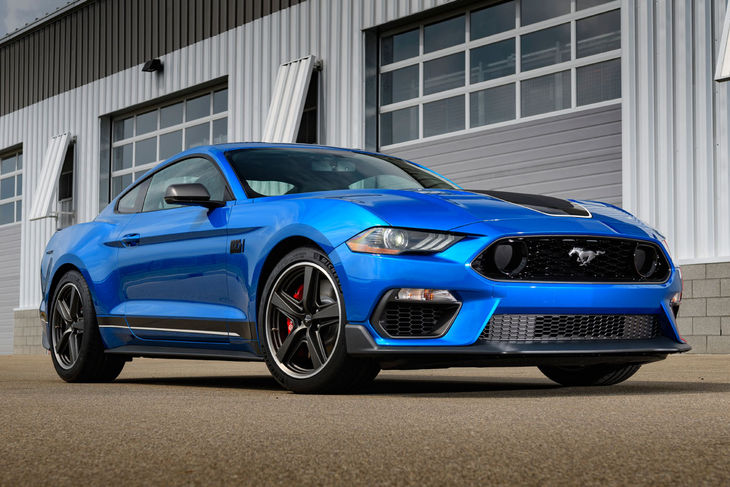 The standard Mach 1 does not have the Handling Package's 2-tiered front splitter. The Appearance Package is a must-have!
The elaborate two-tiered front splitter and rear spoiler "combine to create ideal lift balance", Ford says. The Mach 1 is said to produce 22% more downforce than a 5.0 GT (with Performance Pack Level 1) and the improvement jumps to approximately 150% if the optional Handling Package is specified.
The latter – exclusively available in combination with the Tremec 3160 6-speed manual gearbox – further includes a larger unique higher-downforce front splitter, new front-wheel lip mouldings, and a low-gloss Magnetic swing spoiler with a Gurney flap and the rear tyre spats from Shelby GT500.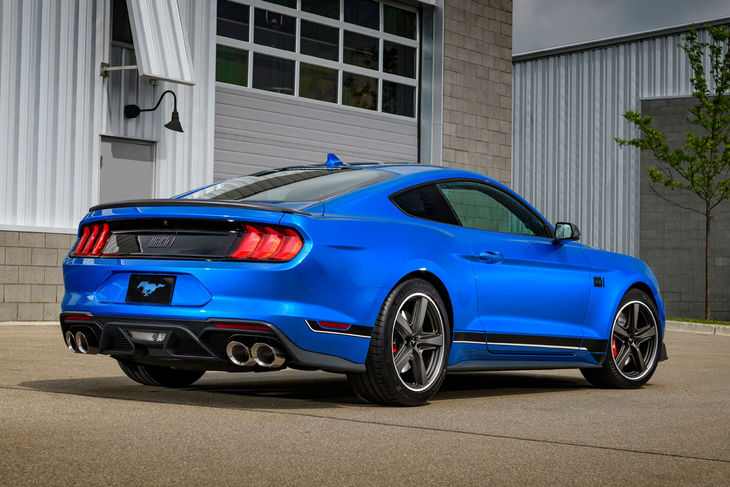 A quartet of stainless steel exhaust ends ensure that the Mach 1 makes the most of its 5.0-litre V8's sonorous soundtrack.
The most important aerodynamic upgrade is a new underfloor pan that extends a full 508 mm further rearward than on a 5.0 GT with Performance Pack to optimise the airflow under the front of the car. Large underwing features in the pan and special winglets in the brake cooling ramps also serve to improve downforce and the latter additionally assist brake-cooling flow.
The newcomer's 19-inch 5-spoke Tarnished Dark-painted alloys are modern interpretations of the classic Magnum 500 style wheels, while the Mustang's interior features a unique Dark Spindrift instrument panel with aluminium accents, as well as ebony seats that feature accent stripes.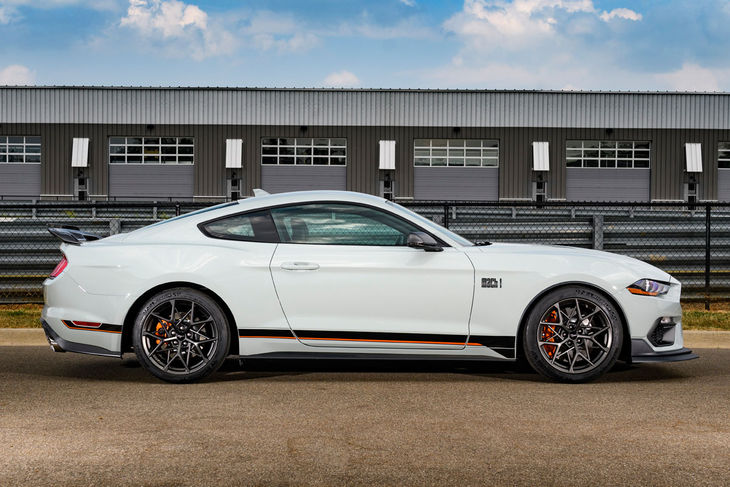 The Handling Package enables the Mach 1 to generate 150% more downforce than a Mustang GT (with Performance Pack Level 1).
Other interior upgrades include new door sill plates, a white cue ball shift knob (as featured on the Bullitt), as well as an engraved plaque that displays the vehicle's unique chassis number.
Meanwhile, the Mach 1's 5.0-litre V8 motor has been beefed up to produce peak outputs of 358 kW at 7 000 rpm and 569 Nm at 4 600 rpm. The powerplant incorporates revised Shelby GT350 components such as the intake manifold, oil filter adapter and engine oil cooler, the latter of which ups the engine oil cooling capability by 50%.
To enhance track endurance, Ford added 2 side heat exchangers – 1 to cool engine- and the other transmission oil – as well as a rear-axle cooling system.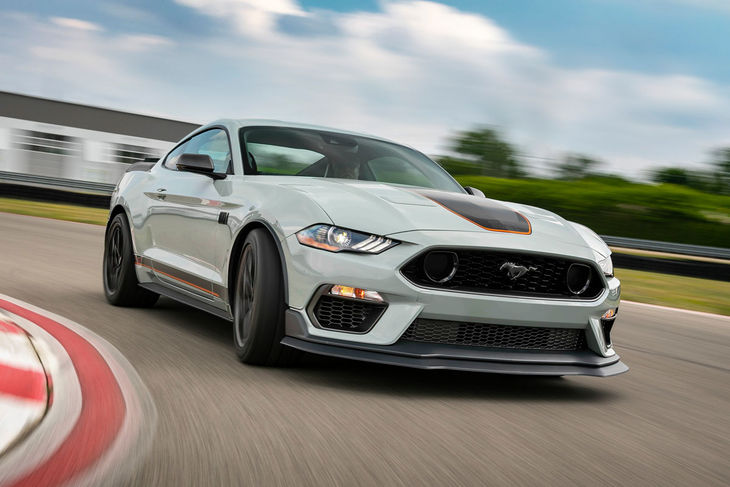 Ford anticipates buyers of the Mach 1 are likely to want to indulge in on-track antics and has beef-ed up the Mustang to suit.
The Mach 1 comes standard with the Tremec 6-speed manual 'box and oil cooler from the Shelby GT350, replete with a twin-disc clutch, short-throw shifter and rev-matching.
Drivers can also opt for the familiar 10-speed automatic transmission with an upgraded torque converter and unique calibration that enables optimising torque capability, shift character and overall enhanced performance, Ford says. A second air-to-oil cooler increases cooling capacity by 75%.
And lastly, to improve ride and handling, the Mach 1 features the latest MagneRide calibration, a stiffer steering I-shaft, a tweaked steering calibration, stiffer sway bars and front springs, a brake booster from the Mustang GT Performance Pack Level 2, Michelin PS4 tyres, stiffer rear-subframe bushings, plus the rear toe-link from the Shelby GT500.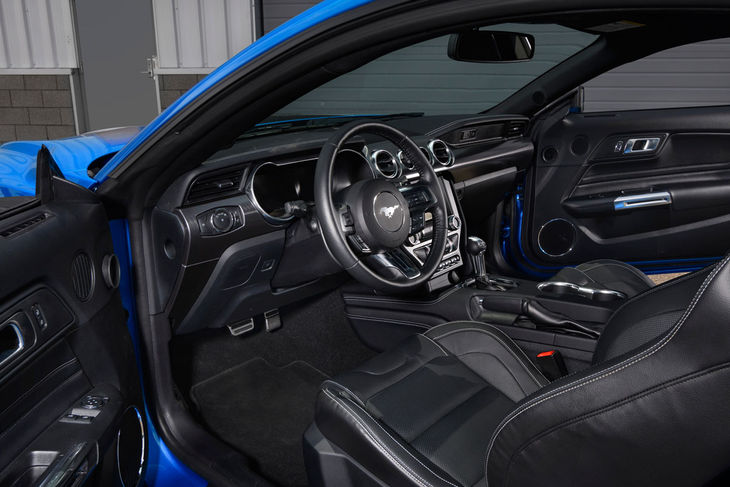 The Mach 1's dashboard features a special plaque that denotes the car's unique chassis number.
Ford has not indicated how many of the Mustang Mach 1s it will produce (apart from saying that it is a limited-edition derivative) or whether there will be right-hand-drive versions. If the Blue Oval decided to build this special derivative in RHD that might well bring South Africa into the frame…
"There's never been a better time to bring back Mach 1 and have it go global too," Jim Farley, Ford's chief operating officer, said at the vehicle's presentation.
Rest assured that if there's any hint of the Mustang Mach 1 coming to South Africa, we'll be sure to let you know!
Further reading:
Ford Mustang 5.0 GT Fastback (2019) Review
Roush unleashes 500 kW+ Stage 3 Kit for 2019 Mustang
Ford Mustang Bullitt (2018) Launch Review [w/Video]