Ford is well aware that its flagship Ranger offerings are priced out of the reach of many bakkie fans. The XL Sport version was built to offer most of the workhorse- and lifestyle bakkie experience, but at a more affordable price. We examine "how much bakkie" you get for your money if you go the close-to-bottom-spec route.
We like: Adequate engine, value for money, offroad tyres are great for SA's poor roads, looks great
We don't like: Good value undercut by a strong pre-owned market, could be too basic for some
Fast Facts:
Model tested: Ford Ranger 2.2TDCi double cab 4x4 XL Sport auto
Price: R559 500 (March 2021)
Engine: 2.2-litre turbodiesel 4-cylinder
Power/Torque: 118 kW/385 Nm
Transmission: 6-speed automatic
Fuel consumption: 8.2 L/100 km (claimed)
What is it? ​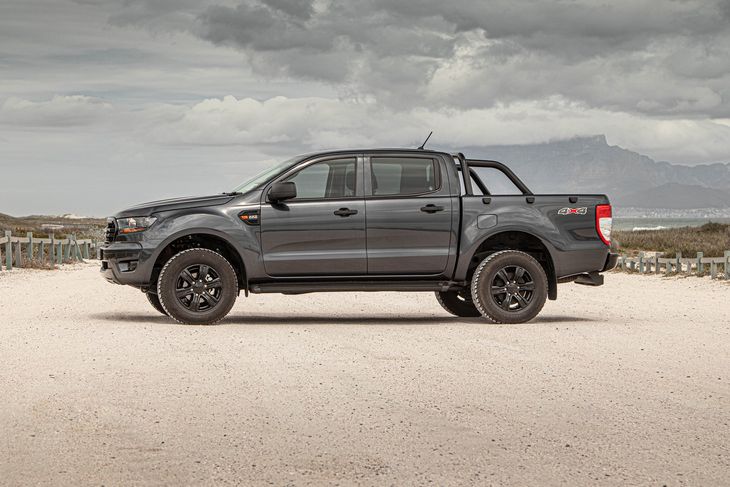 The Sport pack showing off the black grille, black wheels and black sports bar.
While many bakkie enthusiasts dream of owning a Ranger Wildtrak or -Raptor, the reality is that the asking prices of those flagship bakkies have reached astronomical heights. This is not a purely Ford problem as top-spec offerings from Volkswagen and Toyota have both skyrocketed, with the former being oh-so-close to the R1-million mark. Double-cab bakkies aren't only luxurious indulgences for South African consumers, however. Granted there's been a shift towards lifestyle use, but the core roles of business and utility remain. The price band for the Ford Ranger is enormous, it starts at R328 000 and stretches to R888 900. The lower end of the scale is dominated by industrial-spec workhorses, but what if we told you that mixing business with pleasure was not just a cliche?
Ford recently introduced a Sport pack for its XL-grade Ranger derivative. This is not a vehicle we'd usually get for testing as it is primarily a workhorse, but the addition of the Sport pack brings a lifestyle edge that notably broadens the bakkie's appeal. The XL Sport treatment incorporates a gloss-black grille, with a matching sports bar, rear bumper and 17-inch alloy wheels, plus the test unit was fitted with the excellent Ford SYNC3 infotainment system with Apple CarPlay/Android Auto connectivity. This modern unit replaces the rather basic system that comes out of the factory.
The package is a proper back-to-basics offering, but it doesn't feel bareboned. There's no modern Ford biturbo 2.0-litre diesel engine here, with the Blue Oval sticking with the tried-and-tested older-gen 2.2-litre 4-pot turbodiesel unit. Is this mutton dressed as lamb, or has Ford managed to make a compelling value-for-money product? Let's take a look.
How it performs in terms of...
Performance and ride/handling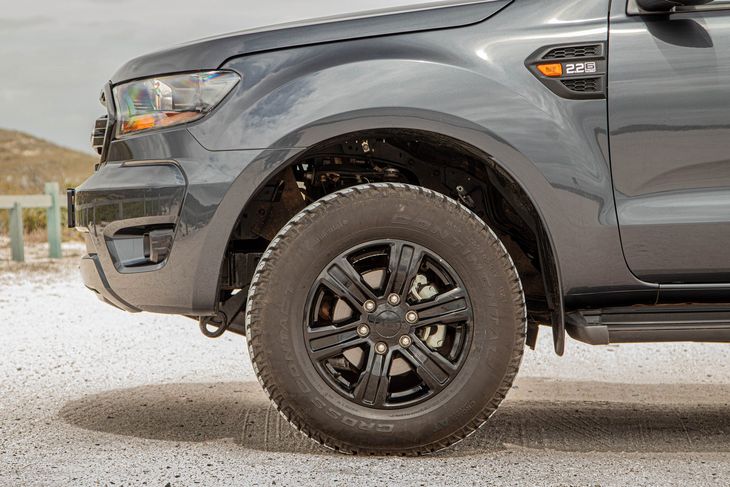 Offroad tyres aren't just for show - they can take serious punishment
Ford's new-generation powertrains are fantastic; the 2.0-litre engines offer a great blend of power and economy, and the 10-speed transmission intuitively selects the appropriate ratios at the right time. The Ranger XL Sport is different – it uses an older-spec motor and a 6-speed automatic 'box. The 2.2-litre 4-cylinder diesel offers up 118 kW and 385 Nm, which are sufficient outputs for day-to-day use. It's not the most eager of powertrains when you need maximum acceleration, but you never feel there's a shortage of grunt when overtaking on a national highway. The transmission may not be the fastest- shifting 'box in the business, but you have to remind yourself this is a blue-collared working-class hero. A manual gearbox is also available, but most of our readers are unlikely to go the 3-pedal route.
When it came to fuel economy, we were hoping to see returns of under 10 L/100 km, but excessive inner-city urban driving with traffic saw the consumption figure climb up. By the time the vehicle went back to Ford, the trip computer read 10.8 L/100 km, which was not ideal, but not unexpected. Add a few open-road trips into the mix and we reckon the Ranger XL Sport would dip under 10 L/100 km.
Despite its dapper cosmetic accoutrements, is the Ranger still a capable off-roader? We put this to the test on the vehicle's launch (late in 2020), when the Ford traversed with the kind of obstacles most Ranger owners are unlikely to encounter. The bakkie performed admirably; we even waded through a river to test out the claimed 800-mm water clearance. The 4x4 operation is simple: you toggle between 2 High, 4 High and 4 Low with a rotary dial (4L, of course, still requires you to come to a complete stop and engage neutral. The tyres (265/65 R17 Goodyear Wranglers) helped extensively on the launch, but interestingly, our test unit came with 17-inch alloys wrapped in chunky 265/65 Continental Cross Contact off-road rubber. While we didn't test those, they certainly looked the part.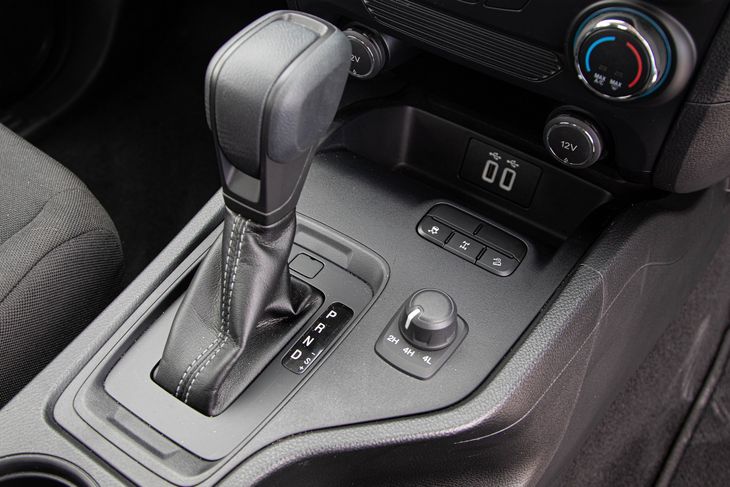 The 6-speed auto works well and shifts smoothly. Note the 4x4 rotary dial, lockable diff, hill descent control and twin USB ports. Sorted!
With such extensive off-road experience under our belt, we conducted more of a "real-world test" of the Ranger in and around Cape Town. Usually, specialised off-road tyres produce unpleasant levels of road noise on asphalt surfaces, but we're happy to report the Ford Ranger XL Sport didn't seem to generate any more tyre rumble than a double-cab bakkie shod with standard tyres. On longer trips, when travelling at higher-than-average speeds, the rubber did make its presence known, but the hum was drowned out by some of our favourite road-trip tunes played through Spotify and Android Auto.
As far as ride quality is concerned, the Ranger is a body-on-frame double-cab bakkie, remember, so when unladen, the rear end can jiggle about, but that's to be expected. In case you don't know, when there's no weight on their leaf-sprung rear axles, bakkies can bounce, jiggle and shimmy at higher speeds. While it'd be impossible to eliminate this characteristic entirely, the latest Rangers in XLT and Wildtrak guise have received some tweaks to the suspension to dial this out with mixed success. The Ranger XL Sport has none of this and it feels old-school, but at this price point, we can't complain.
Exterior design & Packaging
The Ranger XL is, arguably, as basic as it gets when it comes to exterior execution, but the Sport pack adds some notable visual updates that ramp up the Ford's road presence/kerb appeal. We've already mentioned the off-road-specific tyres, which are really great from a visual point of view, but their chunky sidewalls are also likely to withstand some serious pothole impacts.
The 17-inch Panther black alloy rims also give the vehicle a lifestyle edge compared with the standard bakkie's stock wheels. There's a big black gloss grille too and we'll bet that'd be an imposing sight in other motorists' rear-view mirrors! A black rear bumper has been fitted, as well as a tubular sports bar. Customers can also opt for black side steps for R5 000. There's a nice sport badge on the rear too.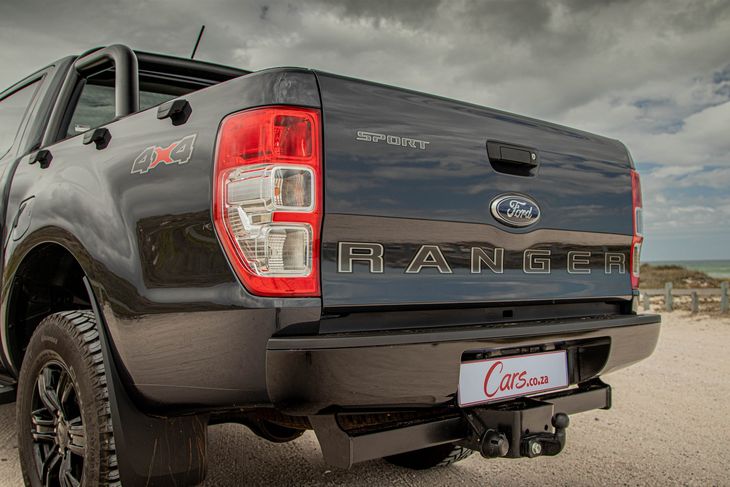 A subtle Sport badge and slightly different bumper are the key visual differences
Interior execution and features
Given its workhorse origins, it would be rather unfair to expect the XL Sport to have a luxury level of interior spec, but just about everything you'd need in terms of mod cons is present and correct. There is a simple unfussiness to the cabin layout, but some may be put off by the extensive use of cheap-looking and cheap-feeling plastics. This is the bottom-spec Ranger, however, so you can't be too demanding.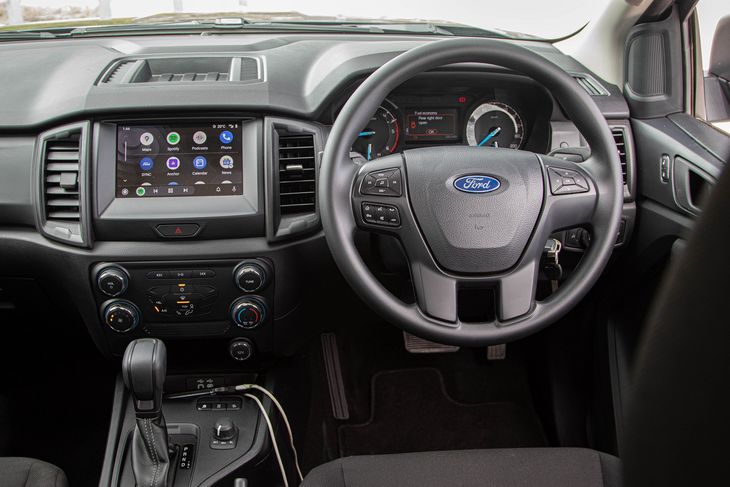 Everything you'd need is here. Manual air conditioner at full power for those hot summer days.
We understand this is a basic offering, but the lack of rear parking sensors in something as large as a double-cab bakkie may cause many stressful parking situations. Thankfully, this is available as an extra-cost option. In terms of the requisite features, there's air conditioning, fabric seats, front/rear electric windows, remote central locking, aux/USB connectivity, as well as daytime running lights. The arguably class-leading 8-inch infotainment system was fitted to this vehicle and for R6k, we'd heartily recommend going this route as it adds hands-free telephony, music streaming and navigation into the mix.
You cannot even begin to compare the standard infotainment unit to the SYNC3-equipped system, they're light-years apart. Given its hands-free operation, which is safer to operate, we're in full support of it. Voice command is supported and works well. Saying, 'Hey Google, navigate home' will activate Google Maps and navigation. Other instructions, like asking for music from your favourite band on streaming services, work well and the system will even read out WhatsApp messages and allow you to reply, all without your hands leaving the 'wheel.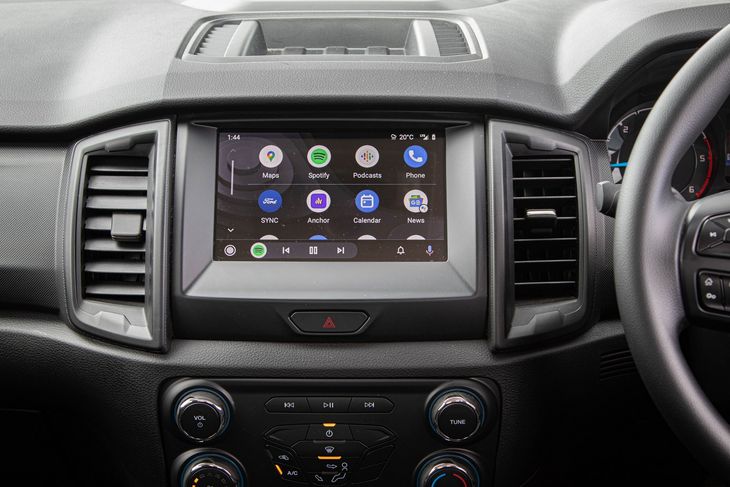 Android Auto in operation. Simply connect your device via Bluetooth and USB port, and you gain an array of additional functions.
Price and after-sales service
The XL Sport Pack is priced at R16 500, the optional 8-inch infotainment system costs R6 080 and the dealer-fitted side steps command an extra R5 050. All in, our 4x4 auto test unit was priced at R559 500. The Ford Ranger is sold with a 4-year/120 000 km warranty, 6-year/90 000 km service plan, 5-year/unlimited km corrosion warranty, and 3-year/unlimited km roadside assistance.
Browse for a new or used Ford Ranger on Cars.co.za
Verdict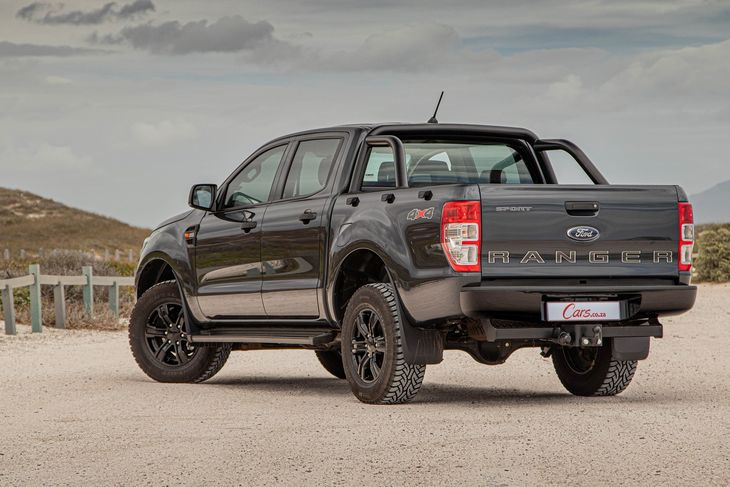 An honest and hard-working bakkie that does the basics right.
Given the difficult financial climate, we applaud Ford for offering prospective buyers a cost-effective way to upgrade the versatile Ranger XL. Despite its basic underpinnings, there's something refreshing about an honest and uncomplicated vehicle that is fit for purpose. The Sport pack gives the bakkie a welcome image boost, but our favourite part of this kit has to be the wheels. Not only do they look the part, but those thick-walled off-road tyres should soak up the horrendous swathe of potholes littered on our roads. Price-wise, the XL Sport significantly undercuts its flashier XLT and Wildtrak siblings and while more expensive Rangers offer newer powertrains, more refinement and extra creature comforts, the XL Sport offers 75% of that experience at a pocket-friendlier price. That's a win in our books.
You could always look to the demo and pre-owned market too, where significant savings are to be had. The recently revised Toyota Hilux Raider and all-new GWM P-Series are the Ranger XL Sport's key rivals. The former offers legendary reliability and the after-sales backing of a 3-time #CarsAwards Brand of the Year winner, while the GWM is keenly priced and well specified, but still an unknown quantity on the local market. Suffice to say, it's a huge credit to the Blue Oval that the Ranger remains a frontrunner given that the current generation of the bakkie has been on our market for almost a decade.
Related content:
Ford Ranger XL Sport offroad adventuring
Ford Ranger Thunder vs Wildtrak: Key Differences
2022 Ford Ranger: More details emerge
Ford Ranger XL Gets Spec Boost in SA
Ford Ranger 2.0Bi-T DC 4x4 Wildtrak auto (2019) Review