Ford has revealed its ultimate Mustang. This is the all-new Shelby GT500 and Ford claims this is the quickest accelerating street-legal Mustang ever offered. Herewith some information about this monster.
"Carroll (Shelby) was always working on the next faster Shelby, I think he would love this Mustang more than any other," said Jim Farley, Ford president, global markets. "A takedown artist, the new Shelby GT500 will surprise supercar owners with its Ford Performance racing tech, supercharged engine and visceral swagger."
The Ford Mustang is already a potent enough offering, thanks to its 5.0-litre V8, but this Shelby GT500 takes things to a much higher level. It boasts a hand-built supercharged 5.2-litre V8 pushing out 522 kW while a torque figure wasn't mentioned. One of the big changes was the switch from a conventional automatic to an all-new 7-speed dual-clutch transmission supplied by Tremec. With its various drive modes like normal, weather, sport, drag and track, the Shelby GT500 also features line-lock and launch control.
With all that power, the new Ford Mustang Shelby GT500 was going to need some serious mechanical changes to harness it all. The newcomer feature Michelin Pilot Sport tyres, Brembo brakes, revised suspension geometry, new power steering, lighter-weight coil springs at the front and back, and the next-generation of MagneRide active suspension.
There will be no mistaking the Ford Mustang Shelby GT500 for any lesser form of Mustang thanks to some aggressive aerodynamic additions. There's a huge fixed wing at the rear, a bulging bonnet and the car has a low-slung and aggressive stance.
We're hoping the Ford Mustang Shelby GT500 comes to SA and will update the article if we hear any news.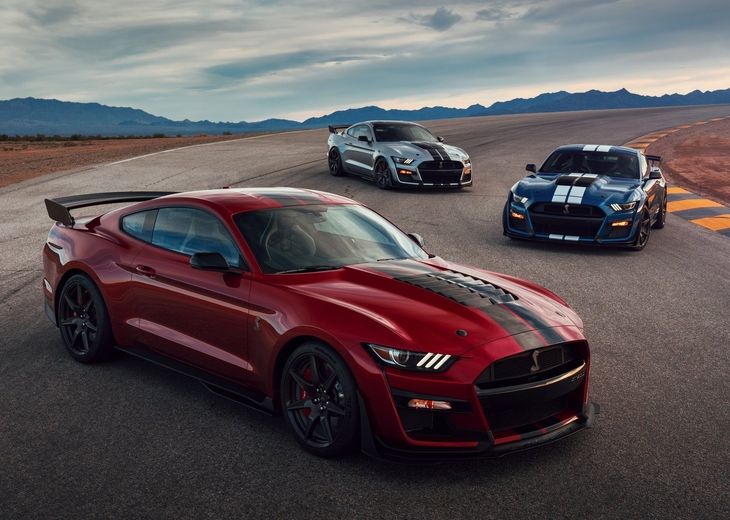 Buy a new or used Ford Mustang on Cars.co.za
Related Content