We have had to wait a long time for the Mustang, but even though the local market's demand far outstrips Ford's ability to supply units to local buyers, the musclecar needs to succeed on merit for the sake of its own longevity and value retention. So, does it?
We like: Everyman appeal, easily-accessible performance, sheer desirability
We don't like: Prohibitively-dear pricing, limited legroom, cabin quality
Alternatives:
For V8-engined kicks: As the Mustang's natural rivals (the Chevrolet Camaro and Dodge Challenger) are unavailable in South Africa, your options (around the R840 000 mark) are limited to the Chrysler 300C SRT8, which is charming, but still a sedan. In the second-hand market, there are few German-made V8-engined coupe options to consider, such as previous-generation Mercedes-Benz C63 AMG, BMW M3 and Audi RS5. You can even consider a Maserati GranTurismo or Jaguar XKR…
For two-door sportscar thrills: Here's where the Mustang's asking price looks steep. For about the same price, the BMW M2 will obliterate the Ford in terms of performance, although that's also sold out, plus you could get a Porsche 817 Cayman for a little more. Meanwhile, the Mercedes-Benz C300 Coupe, BMW 440i and Audi TTS Coupe cost less than R800k and if you'd consider a used car, you can even get a V8-engined motor in the form of the long-legged BMW 650i or Mercedes-Benz E500 Coupe.
If you want a Mustang: Unless you successfully ordered and are awaiting delivery of a 5.0 GT Fastback from Ford, you cannot get a one new unless you are willing to pay in excess of a million rand at selected used-vehicle dealers. This derivative's new list price will get you a 2.3 Ecoboost version from similar outlets… There are, of course, a few right-hand-drive conversions of older Mustangs out there as well.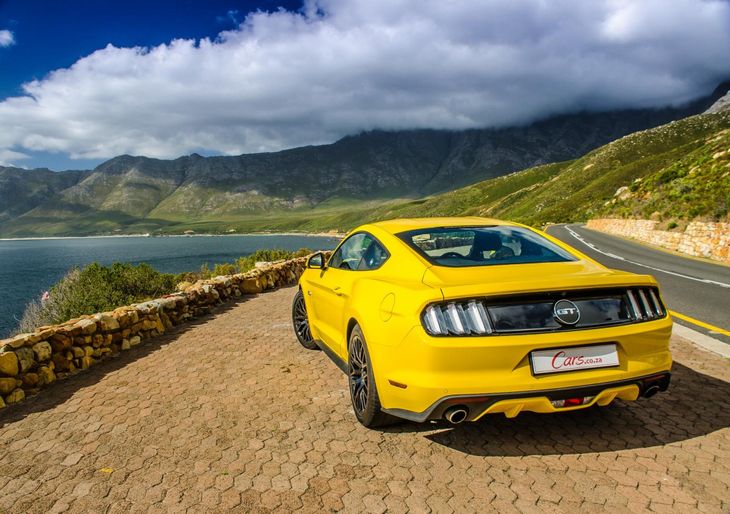 The Mustang's triple-element taillight clusters are instantly recognisable LED units.
What is it?
South Africans have had to wait to four decades to get a factory-made right-hand-drive Mustang available on the local market. In the meantime, American-influenced popular culture has helped the original musclecar to take on a highly romanticised image and achieve near-mythical status in the hearts and minds of local motoring enthusiasts. But don't feel short-changed… Since the early Seventies and until reasonably recently, Mustangs were not regarded particularly brilliant sportscars, they were large-engined coupes based on run-of-the-mill passenger car platforms and built to cost-price budgets.
That's why any review of a Mustang needs to begin with a disclaimer. Even though the latest version of the eponymous pony car was developed on a global platform that would see the Ford appeal to customers outside North America, many of which are accustomed to highly engineered sportscars, the Mustang remains, in spirit, a product designed to offer surfeit kerb appeal and capable performance at an affordable price. A poor exchange rate, duties and taxes, let alone the laws of supply and demand contrive to make the Mustang relatively expensive in South Africa. Those factors are unavoidable.
How does it fare in terms of…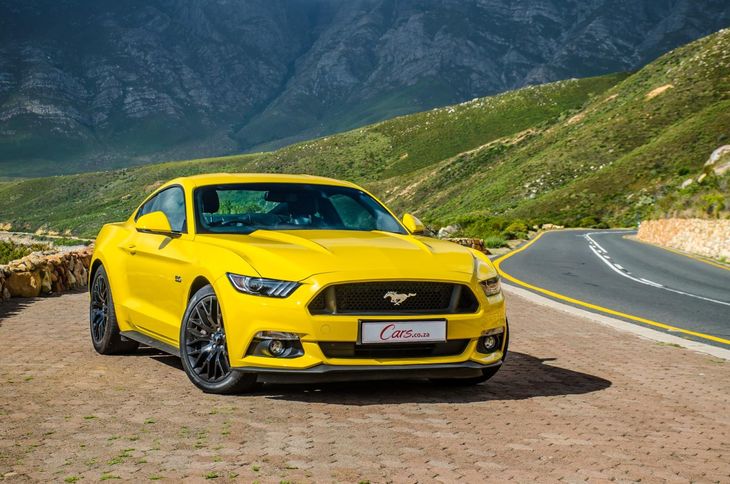 The Performance Pack adds, inter alia, black 19-inch rims, which complement the inimitable mesh grille.
Image and sense of occasion?
What makes a car's design a starring attraction? It's a combination of angles, contours and a striking profile that gives a distinctive shape; one that compels throngs of onlookers to gawk at (and photograph) the vehicle. Supercars have that crowd-pulling power and so does the Ford Mustang. Prospective buyers will need to bear in mind that irrespective of whether you're filling up at a service station or parking at a mall, the 5.0 GT Fastback tends to attract bystanders.
Granted, the Mustang is now a novelty, but nonetheless, from its slanted slim headlights, trapezoidal Mustang grille with galloping-horse motif, seductively sloped C-pillars, slabby black rear fascia with triple piano-key taillights, the Ford captures the imagination and looks striking in its Triple Yellow finish. It's a dream car for the masses.
Getting behind the wheel is a less glamorous affair, because although there are nifty touches that denote the Ford's interior as that of a Mustang (seeing that logo on the steering wheel boss is a thrill in itself), the cabin materials and build quality pale in comparison to those of European sportscars in the Ford's price bracket.
Having said that, there's very little amiss with the driving position and front seat comfort. There is such a sense of occasion to piloting the Mustang… the driver is constantly reminded of the 5.0 GT Fastback's musclecar status by seeing the bonnet bulge through the windscreen and spotting the flared rear fenders in the side mirrors. Then, when egressing the vehicle at night, the puddle lamps emit "Mustang emblem" spotlights; those are nifty, memorable design details.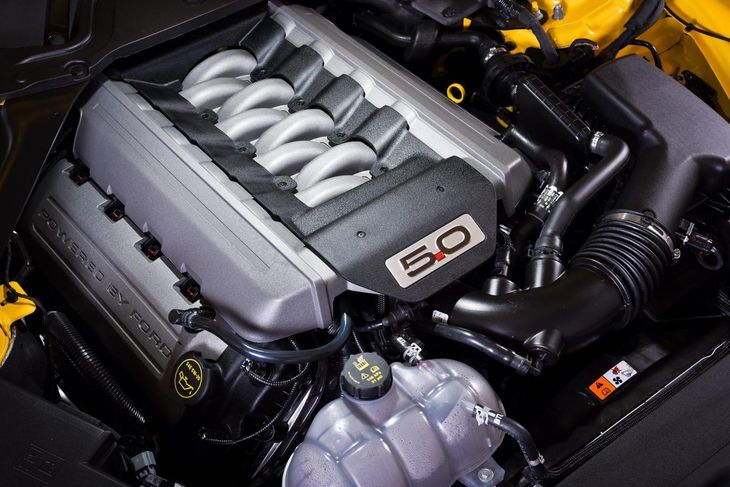 Although some buyers may believe the 5.0-litre V8 sounds "too refined", it's appreciably louder in Track mode.
Performance and handling?
In the current era of forced-induction performance machines, the Mustang's 306 kW/530 Nm 5.0-litre V8 (with its 6-speed automatic transmission) is an anachronism. To expect the beefy, but ultimately languid, powertrain to deliver the type of responsiveness and tractability of smaller, turbocharged motors would be unreasonable. Still, the Mustang is claimed to complete zero to 100 kph in 4,8 secs and it emits a characterful, broad-chested and burbling soundtrack in dispatching the sprint benchmark with consummate ease. The exhaust note is not particularly urgent or voluminous, which will be a disappointment to some, but then, as with the ride/handling balance, it's all in keeping with the spirit of the car.
In North America, the 5.0 GT Fastback represents a (dare we say it?) run of the mill Mustang. In the States, overtly performance-oriented Shelby packages are offered through dealers and although this model has the spectacular Line Lock feature that allows you to generate plumes of expensive tyre smoke and rubber debris, it's not a leery, tail-happy brute of a car. If anything, it's a cruiser — albeit a somewhat burly one. The suspension tuning (even with the Performance Pack option) is comfort-oriented, but the body control is measured (opposed to floppy), the steering can be adjusted for feel and weightiness, and should you feel the need to attack a twisty stretch of blacktop, the otherwise placid transmission can be set to Sport+ mode, which in conjunction with sharper throttle responses, will adopt a sportier shift pattern.

This car came equipped with a Performance Pack, which includes a limited slip differential and additional strut braces, but although the exhaust sounds most pleasingly rorty in Track mode, the upgrade is subtle. It allows the car to settle and strive when accelerating out of corner exits and engenders driver confidence. As it stands, the Mustang is a sufficiently wieldy sportscar that is fun to drive at three-quarter pace. Its claimed fuel consumption of 12.0 L/100 km is somewhat ambitious; the best indicated figures we saw were in the high 13s, but that should not deter most V8 customers.
Packaging and specification?
Although few prospective buyers would expect the Mustang to offer comparable onboard features and premium levels of fit and finish to continental sportscars (certainly at the Ford's price point), it is still worth mentioning that the newcomer's cabin has a value-positioned family car feel to it. The metallic inserts do lift the ambience of the cockpit somewhat, but the swathes of plastic trim and individual switchgear pieces feel hard-wearing and workmanlike, to say the least. Also, considering that the Mustang is a sizeable vehicle by general sportscar standards, rear leg- and headroom are tight.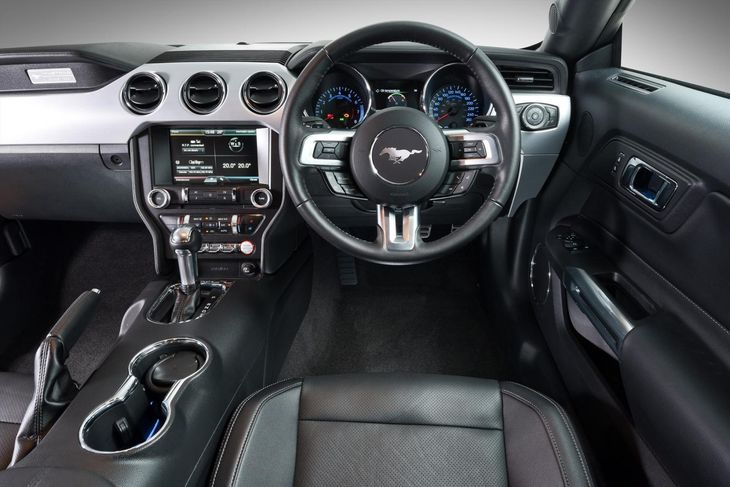 The Mustang's cabin treatment is unremarkable, but the front seats are comfy and mod-cons abound.
Having said that, the leather-swathed cabin offers a number of luxury items and lacks little in the way of conveniences. The well-shaped front seats are electrically adjustable (with lumbar support and heating and cooling functions), lights and wipers are automatically activated, there is dual-zone climate control, keyless entry/start and the 8-inch touchscreen includes SYNC2 Bluetooth connectivity and audio streaming. On the safety front, dual front, knee and curtain airbags are provided in addition to the vehicle's complement of traction and stability systems.
Value for money?
Although there are aspects of the Mustang that appear to make its asking price appear prohibitively expensive, the reality is that for those who successfully ordered (and will soon take delivery of) their 5.0 GT Fastbacks, there are virtually no cars that have quite the same exclusivity and sheer smile-inducing kerb appeal as the Ford.
A possible exception is the BMW M2, but that finely focused and pint-sized driver's car is quite a different proposition to the Mustang. Of course, there might be maniacal enthusiasts who are willing to fork out comfortably in excess of R1 million to get their hands on a marked-up example, but we would caution against that. The simple fact is because the Ford is sold out for the foreseeable future, the units available in the market have inflated price tags. When a freer supply eventually meets a normalised level of demand, the Mustang will settle at its true market value.

Ford Mustang 5.0 GT Fastback automatic price in South Africa
The model costs R839 900, which includes a 4-yr/120 000km comprehensive warranty and a 5-yr/100 000km service plan with 20 000 km intervals.
Verdict
There are few cars that hold so much pent-up emotional and cult appeal as the Mustang and, yes, despite its steep asking price, we are happy to conclude that the newcomer does not have shortcomings that are significant enough to render it a disappointment. Quite the contrary, in fact. The Ford succeeds insofar as it delivers easy-natured, flexible performance, soulful character and undeniable aesthetic desirability. It will appeal to moneyed old-school musclecar fans and younger, upwardly mobile nonconformists/individualists alike. The Cars.co.za test team was positively besotted with it.
General Motors could never get its V8-engined Lumina to thrive in South Africa, but the Mustang is far better known and more significant in the overall motoring landscape. Here's hoping that, as far as the Mustang is concerned, right-hand drive markets will grow in importance for Ford. The Mustang should be more than a marketing ploy; its success will ultimately be judged by the model's longevity, evolution and proliferation (in terms of stock availability), all of which still has to happen.
Quick specs of the Ford Mustang 5.0 GT Fastback automatic

More Mustang-related content:
Watch our video review of the Ford Mustang:

Read Cars.co.za journalist Gero Lilleike's opinion piece on the Mustang
Interested in ordering a new Ford Mustang? Click here
Considering purchasing a used Ford Mustang? Search for one on Cars.co.za