The facelifted version of the Ford Mustang has arrived in South Africa! Here are specification and pricing details for the newcomer.
The Ford Mustang has been updated for 2019 and the changes are significant. The Ford Mustang will be available in South Africa in 5 flavours including coupe and convertible derivatives, with the choice of either the 2.3-litre 4-cylinder turbocharged petrol engine or the 5.0-litre naturally-aspirated V8 petrol motor. The Mustang Bullitt special edition is also on offer.
The 2.3-litre turbocharged 4-cylinder produces 213 kW and 440 Nm, while the mighty 5.0-litre V8 engine packs 331 kW and 529 Nm. Power goes to the rear wheels via a new 10-speed automatic transmission. The Mustang Bullitt, on the other hand, makes 338 kW and 529 Nm. The 2.3 Fastback will hit 100 kph in a claimed 5.5 seconds, while the 5.0 GT Fastback does the same sprint in 4.3 seconds. The convertibles do the 0-100 kph dash in a claimed 5.7 seconds and 4.5 seconds respectively.
Inside, there are new trims for the seats, updated infotainment system, and an all-new digital dashboard. The new Mustang can be spotted with its new-look front end, revised grille, sporty bonnet, and new-look headlights. Under the skin, there's a revised chassis, the option of adaptive damping dubbed 'MagneRide', and an active exhaust system.
Look out for our impressions from the local launch this week and feast your eyes on the prices below. We think the Mustang has become quite a bargain at under R1 million.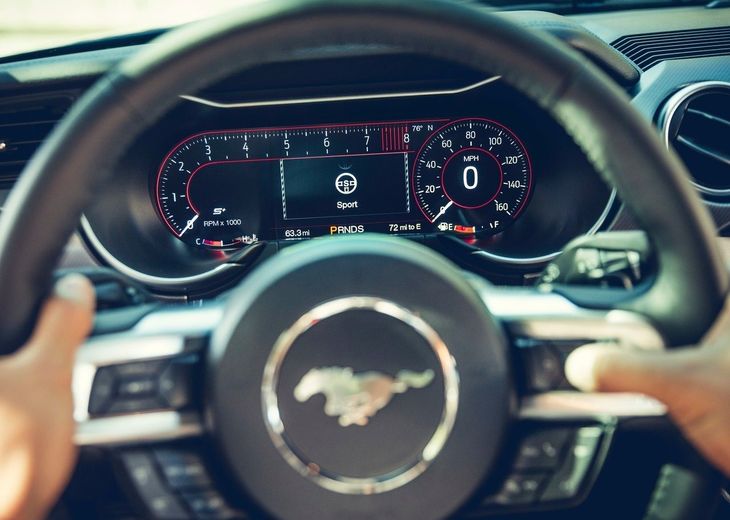 The new digital dashboard of the facelifted Ford Mustang which is due for imminent release
Updated Ford Mustang Price in South Africa (July 2019)
In terms of options, there are some alloy wheels to choose from as well as adaptive damping for the 5.0 GT at a cost of R15 300. The pricing below includes VAT and emissions tax.
Ford Mustang 2.3 FASTBACK R768 000
Ford Mustang 2.3 CONVERTIBLE R831 000
Ford Mustang 5.0 GT FASTBACK R915 800
Ford Mustang 5.0 GT CONVERTIBLE R978 400
Ford Mustang Bullitt 5.0 V8 GT FASTBACK R995 400
Further Reading
Ford Mustang Shelby GT500 Revealed
Ford Mustang (2016) First Drive