A long-serving model often represents the best value in the twilight of its product cycle, by which time most quirks have been ironed out and several features have been bolted on. In automatic guise, the Ford Focus 1.5T Trend looks a veritable bargain at R336 900. It requires a Driver Assistance pack to be really feature-packed, but even after adding that option it still undercuts the opposition.
We like: A well-sorted product, willing performance, Option Pack 2 worthwhile
We don't like: Middling build quality, ergonomic drawbacks, short(ish) warranty & service plan
Alternatives:
A Korean veteran – As is the case with the Focus, the Kia Cerato 2.0 EX Auto is nearing the end of its production life. What it lacks in terms of flair and high-end features (it does have auto lights, self-dipping mirror and folding side mirrors, however) it makes up for with leather trim and a 5-year/unlimited km warranty, plus it matches the Opel and Renault's 5-year/90 000 service plan.
Upper-mid-spec Mazda – The Mazda3 2.0 Individual Auto is the most affordable rival to the Ford, but whereas it matches the Kia's specification, with the addition of keyless entry and push-button start, dynamic stability control, a torque vectoring system and a sunroof, its 3-year unlimited warranty and service plans no longer seem that competitive… unless you're planning to cross the continent in your car in the first 3 years of ownership.
Enjoyable Astra – While the Opel brand forges a new path after the departure of former parent company General Motors, the 1.4T Enjoy Auto remains one of the best propositions in the Astra range. The package includes 17-inch wheels, a host of standard driver assistance features, the intuitive Intellilink R.4.0. 7-inch touchscreen interface and the Astra comes with a 5-year/120 000 km warranty.
Sporty-looking Renault – Although the Renault 97 kW turbo GT Line Auto (R368 900) seems too expensive on the face of it, it rivals the Ford in terms of aesthetics and price if options 2 and 3 are specified on the latter. From Alcantara-trimmed seats with contrast stitching to the 8.7-inch touchscreen with Bluetooth, voice control and nav, the Renault certainly looks the part and its 5-year/150 000 km warranty is an advantage.
Compare the specs of the Focus with those of the Kia Cerato and Mazda3
Compare the specs of the Focus with those of the Opel Astra and Renault Megane.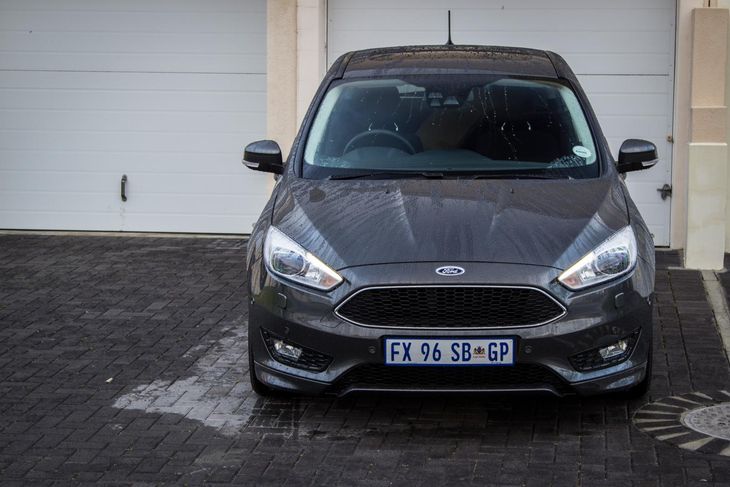 As the test unit was specified with Option 3 – the Trend Styling Pack – it featured bi-xenon headlamps with LED running lights.
What's new?
Ford recently applied a few updates to its Focus premium compact hatchback range (including a redesigned grille and upgraded interior; although it is more of a "model year" update than a comprehensive facelift, it sees the Blue Oval make the voice-controlled colour touchscreen Sync3 interface (with navigation) and a host of driver assistance features available in its mid-sized hatchback package. However, considering that the Focus has been a fixture in the South African market since 2011, how much charm is left in a design that is at least 7 years old? Does the Focus feel long in the tooth and should you probably spend your money elsewhere? Let's find out.
We like:
Distinguished appearance
In a segment of the market that's characterised by less-than-adventurous exterior executions (ones that are less likely to date quickly, in other words), the Focus is a case study. Its front end appearance is now more generic (in line with that of the new Fiesta and, to a lesser extent, the recently discontinued Fusion), yet the addition of Option 3 – the Trend Styling Pack – gives the "old timer" appreciably more kerb presence, courtesy of bi-xenon headlamps (with LED running lamps, plus wash and auto-levelling functions), an ST-like rear spoiler and handsome 17-inch alloys. A tilt and slide sunroof completes the Focus' accomplished look.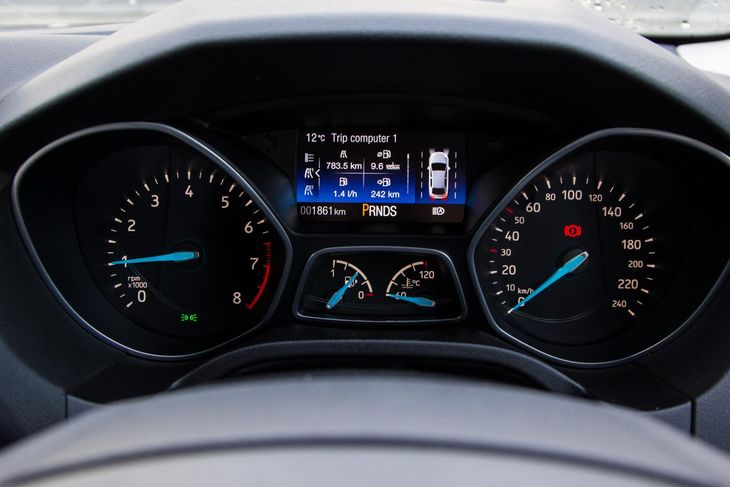 The light blue needles are typical of Ford instrument clusters and this binnacle looks contemporary and neat as a pin.
Still a rewarding car to drive
Although most critics have never regarded this generation of Ford Focus a class-leading product (the Ford Focus Hatch 1,0T Trend was famously named the Best Compact Car in the (inaugural) 2015/16 #CarsAwards, we hasten to add, that is not to say that the Blue Oval's mid-sized hatchback doesn't have notable strengths that are still as relevant today as it was when it was launched all those years ago.
The Focus still offers a very good ride/handling balance, for example, and, in terms of overall occupant comfort and practicality, it does not need to stand back to its rivals very much – if at all. It also offers the most powerful engine (at the price) in its class:132 kW, with a fistful of peak torque (240 Nm, which is narrowly pipped by the Astra, but available over a wider range: from 1 600 to 5 000 rpm). That wad of torque offers good flexibility in terms of cut-and-thrust driving conditions, and the 1.5 Trend's automatic (dual-clutch) transmission delivers crisp, prompt shifts that render the need to change gears manually largely superfluous.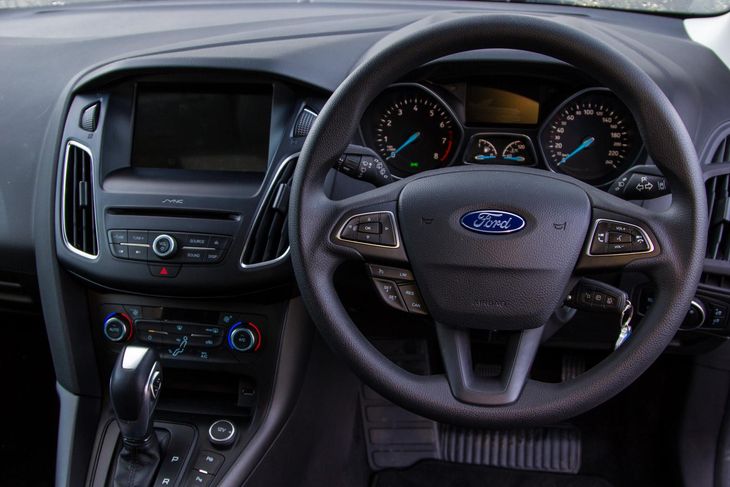 A newly designed steering wheel brings the interior up to date. Note the Active Park Assist button underneath the 12V power outlet.
In terms of fuel consumption, that aforementioned performance advantage does result in a slight penalty. The Focus' claimed average fuel consumption (6.1 L/100 km) is lower than that of the Kia Cerato but a trifle more than those of its rivals, but, as ever, one's driving style will make all the difference, especially considering that small capacity turbocharged engines respond worse to lead-footed driving than naturally aspirated motors – that's in our experience, anyway.
Worthwhile Driver Assistance package
Although this derivative's asking price is keen (it's R13 800 less than its cheapest rival listed here, the Mazda3), its best features come as part of an Option 2 package, which, at R16 900 (as quoted by a dealer) seems very much worth the additional outlay. Indeed, the Trend Driver Assistance package includes automatic headlamps and wipers (with follow-me-home lighting), auto-dimming rear-view mirror, a reverse-view camera (not a common feature in this class) and park distance control all round.
However, it's the chunky Sync3 infotainment interface, with its colour TFT touchscreen and Bluetooth, voice control and navigation functions that really lifts the Focus' user experience. And, to make the Ford even better suited to nipping in and out of parking spots in the hustle and bustle of intra-urban motoring, Active Park Assist can steer the car into parallel or perpendicular spaces that are just 20% longer or wider than the car. Park-Out Assist, in turn, helps you manoeuvre out of a parallel space.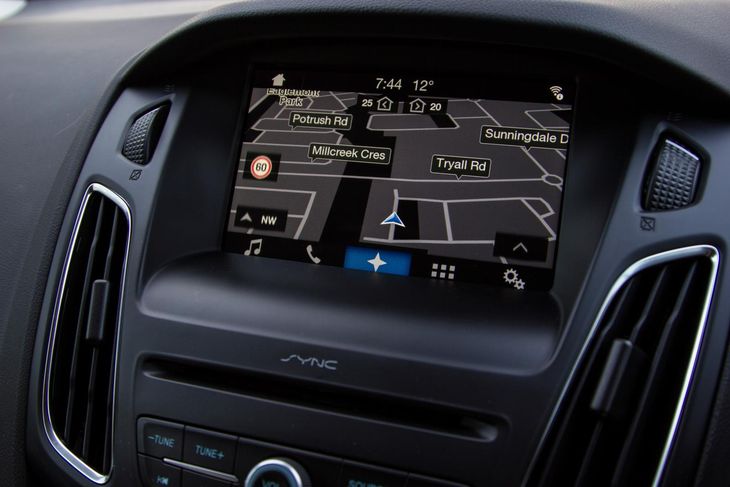 Ford's Sync3 interface (with navigation) is one of the best infotainment setups in the market, but reaching the screen requires a bit of stretch.
For daily commuters, lane departure warning and -keeping aid systems can be particularly helpful on congested freeways, with Active City Stop helpful to keep a lookout for unexpected road hazards. With all these systems that come part of the Option 2 package, it seems almost compulsory to tick its box on the options list.
We don't like:
Looking good costs money
As prudent as the additional specification of the Option 2 package may seem, the aesthetic and feature updates that come with Option 3 (for an extra R19 800, as quoted by a dealer) require more forethought. That's because, if you want to go for both options, it would elevate the asking price of this derivative to in excess of the Golf 1.4TSI Comfortline, of which the R Line version is the champion of the premium hatchback category of the 2017/18 Cars.co.za Consumer Awards ­– powered by WesBank.

The 1.5 Trend Automatic looks like a "junior ST" derivative by virtue of its tailgate spoiler and 17-inch alloy wheels.
However, selecting the Trend Styling Pack on its own could be warranted if you're only looking to spruce up the look of your Focus. The package includes bi-xenon headlamps with LED running lights and a washing system and auto levelling, heated and electrically folding side mirrors with puddle lamps, a tilt/slide sunroof and rear spoiler, handsome 17-inch alloys and, as for the interior, the provision of dual-zone climate control. If your budget is tight (and whose isn't?), perhaps count your pennies and select the Trend Driver Assistance package and forego the Trend Styling Pack? The majority of our testers suggested that would be the best course of action...
Impossible to hide from time
Although we found the 1.5 Trend Automatic a thoroughly satisfying source of everyday transport, its late-product-cycle update is only partially effective, because, in effect, some new-fangled technology has been transplanted into an older architecture that was not conceived to accommodate it. Here is an example: the Sync3 touchscreen is located in a recess in the fascia that requires a bit of a stretch to reach. Evidently, that spot would have located a non-touch-variety display monitor in previous years…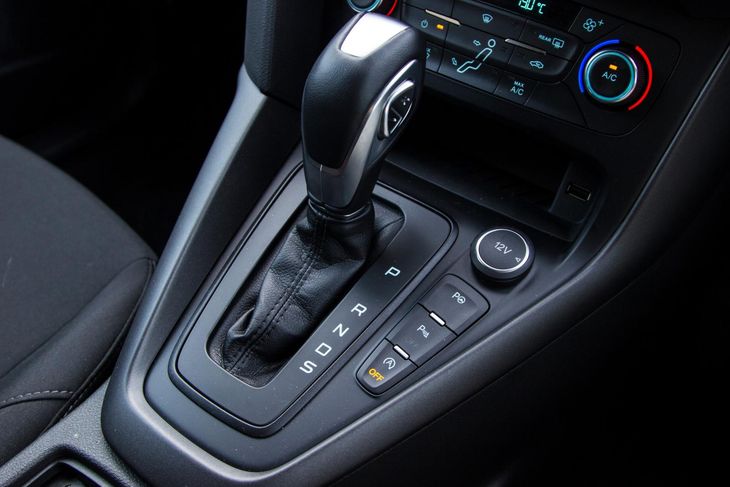 Shifts can be manually actuated via the toggle situated to the right side of the transmission lever knob; the transmission seems sweetly calibrated to the motor.
Secondly, as much as we appreciated the contemporised instrument panel and ergonomically optimised new steering wheel, the Ford's interior still underscores the Blue Oval's initial objective to produce an "affordably luxurious interior" for this generation of the Focus. That is to say that it looks and feels smart, but in way that is more solid and hard-wearing than plush. As the mid-sized/premium hatchback segment moves progressively upmarket, the Ford seems more on par with the Opel in terms of fit and finish than with the class-leading Volkswagen, for example. Given the Astra and Golf 7.5's youthful advantage, however, this not a major gripe…
Price and after-sales back-up
Although the base price of this derivative is R336 900, with the additions of the Trend Driver Assistance and – Styling packages, its asking price would be approximately R373 600. Bear in mind that whereas the Ford has a 4-year/120 000 km warranty (better than those of the Mazda and Volkswagen), the Kia, Opel and Renault offer plans valid for 5 years. Similarly, the Ford has a 4-year/80 000 km service plan, which is better than the Mazda's, but its rivals' plans are valid for 5 years/90 000 km.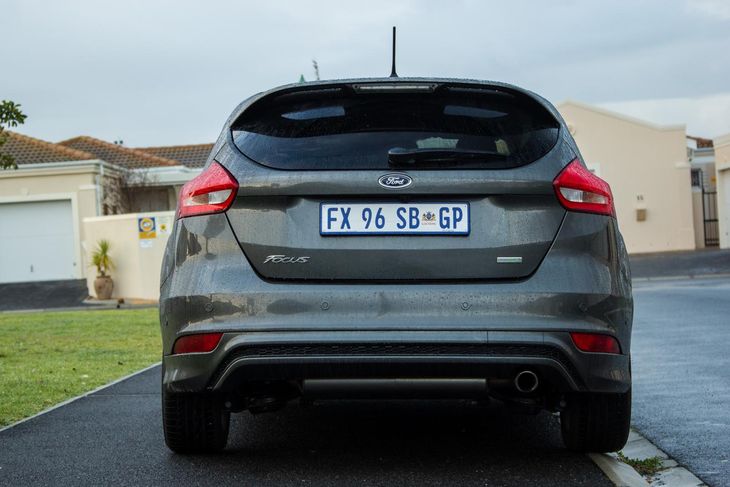 The inoffensively styled Focus remains a competent package and if specced astutely, offers several nice-to-have features.
Verdict
It's understandable that many customers overlook models that are near the end of their product cycle when shopping for new vehicles, because car brands' marketing focus is understandably on the latest and (sometimes) greatest vehicle introductions. The Ford Focus remains underappreciated and although it offers good value in base specification, the plethora of nice-to-have features that come part and parcel of Option 2 (Trend Driver Assistance package) really sweeten the purchasing proposition.
The only question that remains is one that generations of car buyers have grappled with: Is it worth buying a car that will be replaced by a fancier (and probably more expensive) successor in the near future? It depends if you need to be as fashion-conscious in your choice of vehicle as you are about which smartphone you use… At the time of this review's publication, the 1.5 Trend Automatic (with Option 2) offered more than most users of mid-spec and -sized hatchbacks will need. It's well worth a look.
Related content:
Ford releases teaser image of next-generation Focus
Kia Cerato 1.6 EX (2017) Review
Volkswagen Golf 1.0 TSI Comfortline (2017) Quick Review
Renault Megane 1.2 GT Line (2016) Quick Review
Opel Astra 1.4T Sport Automatic (2016) Review
Interested in buying a Ford Focus?