The successful Ford Figo was replaced in 2015 and this new model offers a lot more in many respects. But does it represent a comparable value proposition to its predecessor, or has it moved too far out of reach for budget buyers?
We like: Standard features, build quality, rear legroom, refinement
We don't like: High price tag, underwhelming performance, awkward rear visibility
Alternatives:
For better value: Renault Sandero Stepway
The only hatchback in this price bracket and thanks to its low price, generous specification and turbocharged engine, it has become a formidable competitor and a sales success story. There's no automatic option and that engine does need to be worked hard to get the best out of it, which negates any fuel consumption benefits. It boasts a better specification list, but costs R20k less than the Ford.
For better resale: Volkswagen Polo Vivo 1.4 Trendline sedan
The Volkswagen's build quality is more solid and its a better open-road cruiser than the Ford, but the VW is comparatively down on power. The Ford offers a more capacious boot and more specification for a slightly higher price tag.
For less money, but a similar drive: Suzuki Swift Dzire 1.2 GL
The Suzuki Dzire follows the same exciting recipe as its Swift hatchback cousin and is fun to drive. It's down on power, has slightly less specification and, unfortunately, the rear seats cannot fold down to increase boot space. It's cheaper than the Ford, however.
See how the Ford Figo 1.5 Titanium auto sedan compares to its sedan rivals here.
The new Ford Figo line-up has expanded considerably and for the first time, there's now a sedan model, which you see tested here. Unlike the previous model that was based on a previous generation Fiesta, this is an all-new vehicle.
While the styling of the hatchback is pretty positive, the sedan is anonymous and generic. The front thankfully retains that new nose that has traits from other models from Ford's arsenal. While the immediate looks aren't completely convincing, ultimately looks count for very little when it comes to a critical assessment of this derivative.
How does it fare in…
Performance and economy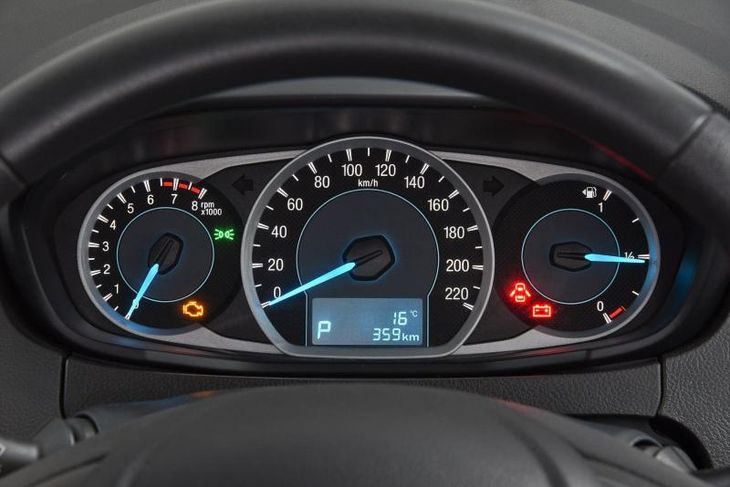 The Figo's dashboard is rudimentary but does include an outside temperature reading.
The Figo is powered by an 82 kW 1.5-litre petrol four-cylinder motor that produces 136 Nm of torque and drives the front wheels via a Powershift automatic transmission. The sedan's not going to break any performance records, but the real test is how well it fares when loaded with passengers and goods.
The result is not particularly inspiring. While the vehicle tips the scales at a lightweight 1 068 kg, the addition of passengers and luggage results in a weight increase that the Figo's engine struggles to cope with. Its performance is satisfactory when there's just a driver on board, but a vehicle like this has generous rear legroom and a cavernous boot, yet feels sluggish when loaded and that does not bode well for the motoring in the thinner air at the Reef.
We're not saying the engine is incapable of moving a fully-loaded Figo, it's just that it will sound laboured and lethargic, and the transmission is likely to kick down constantly. Uphill climbs were a particular test that the loaded Figo battled with, but once you're on a level freeway, the Ford trots along with adequate momentum. As for the shifts themselves, the 'box's responsiveness tended to be on the slower side.
Ford claims a 6.0 L/100 km figure on the combined cycle, but it's impossible to achieve a return that's remotely close to that in reality. In our week's worth of testing, the Figo returned a figure of 8.1 L/100km.
Ride and drive
Even if the Figo sedan isn't the most energetic of performers, it does offer a good ride quality over poorly-made roads. Its 14-inch alloys sit nicely in thick-walled 175/65 rubber, which provides some bump absorption against the ruts of a deteriorating road. Due to its light weight and slabby shape, the sedan does get buffeted about by the strong winds that are prevalent in the Cape at this time of year, but its size gives it a nice balance between compact city car and practical sedan. Meanwhile, the steering is pleasantly light in feel and parallel parking is an effortless task.
Build quality (for what you're paying) is impressive; the cabin's noise insulation is quite good too. It's a simple and unfussy vehicle to drive and visibility is good from the front and sides. The rear window makes reversing a mild challenge, however, as initially you'll forget you're in a longer car (park distance control would solve this issue, but that would push the Figo's price even higher).
The gearbox is geared for economy and doesn't like to be rushed. You can manually change gears by using a button located on the right of the transmission selector, but it sits in an awkward position and requires familiarisation. Despite trying out the automatic and manual override modes, we felt it was best to leave the 'box to its own devices.
Space and practicality
What the Ford Figo does really well is to provide generous space and practicality. There are plenty of little oddment spaces for your keys, wallet and cellphone, as well as ample recesses in the doors to store a pair of water bottles. The Figo's glove compartment is also generously sized and its boot can swallow up to 445 litres of cargo, if the marketing material is to be believed (this can be increased if you fold the rear seats down). Its hatchback sibling's luggage capacity, by comparison, is a paltry 257 litres, at least according to Ford's claim. If optimal space is what you need then best go with the sedan version.
Rear legroom is to be complimented. Our testers' sit-behind-yourself tests revealed there's plenty space for a pair of adults at the back.
Standard features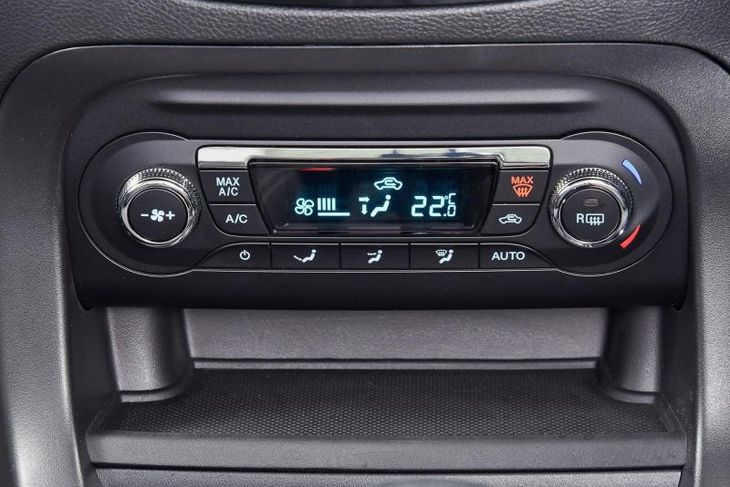 Automatic air-con is a nice-to-have feature on a vehicle in this price bracket.
The Titanium specification is the highest in the Figo range and includes a multitude of modern conveniences. For the record, there are three specification levels: Ambiente, Trend and Titanium. Titanium spec gets you (single-zone) climate control, electronic stability control, Ford Sync connectivity, USB and auxiliary inputs, and a multifunction steering wheel (with audio controls). Cruise control is strangely missing; we think it'd make open-road cruises more pleasurable.
The number of safety systems is comprehensive too. There are 6 airbags, hill start assist, electronic stability control and anti-lock brakes (ABS).
Verdict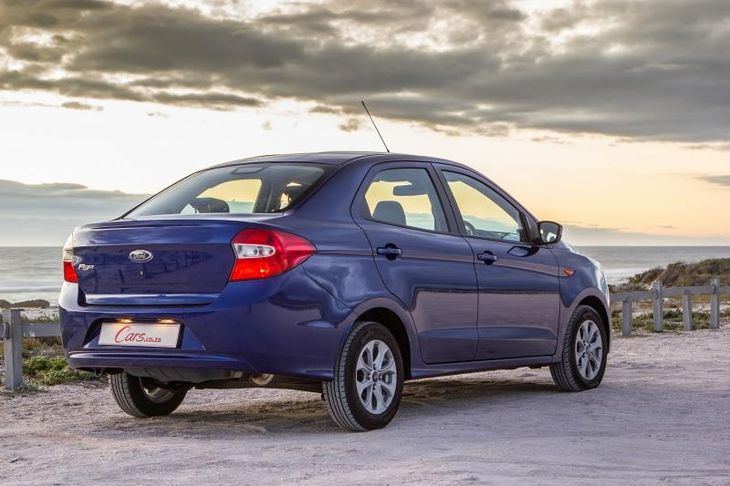 Even though the Figo looks a bit slab-sided, its notchy rear section hides a capacious boot section.
The new Ford Figo is a more expensive proposition than the outgoing model. Whereas the previous generation model remains on sale (and given its value offering, will probably keep the sales numbers ticking over), the changes to the newcomer's interior and model line-up make a significant difference.
The adoption of the interior from the current Fiesta is an excellent move, but that dashboard design is several years old, so while it feels like an upgrade, even Ford fans will point out that it's hardly cutting edge. What is worth noting, however, is the addition of Sync Bluetooth connectivity, which works well.
The weakest link in the Ford Figo's armoury is its engine, and, more to the point, the calibration of the motor with the self-shifting transmission. While the vehicle can get by effortlessly with just the driver to transport, it struggles when fully loaded.
It's a pity, because the rear legroom and substantial boot space make the Ford Figo a great-sized vehicle for small families. Thankfully there's a turbodiesel motor in the Figo line-up that offers similar levels of power, but torque is increased dramatically. Strangely, the oil-burner is only available in hatchback configuration.
Ford Figo price in South Africa
The price of the new Ford Figo puts it R20 grand more expensive than the old Figo, with this top-of-the-range sedan costing R209 900. The Figo range starts from R162 900. The price includes a 2-year/40 000km service plan, 4-year/120 000km warranty and 3 years' worth of roadside assistance.
Interested in a Ford Figo? Check out this vehicle for sale here