The new Ford Fiesta represents a substantial improvement over its predecessor. Not only is the compact hatchback's styling more striking, but its perceived interior quality is better. We recently spent time behind the 'wheel of the turbodiesel-powered Fiesta. If you crave simple, fuss-free motoring then this Fiesta derivative has a lot to offer.
We Like: Good performance, fuel economy, ride and handling
We Don't Like: Some interior elements could be better, pricey
Alternatives
The Fiesta 1.5 TDCi is currently the only turbodiesel offering in the compact hatchback segment, but there are many new petrol-engined products that are worthy of consideration.
The popular choice: Consider the Volkswagen Polo 1.0TSi Highline priced at R286 200. Not only is the Polo cheaper than the Fiesta, it's also better equipped with nifty features such as navigation and cruise control. This Polo is also more spacious and powerful with 85 kW and 200 Nm developed by its 3-cylinder, 1.0-litre turbopetrol. The VW, however, is not as fuel efficient as the Fiesta 'diesel.
Nissan's newcomer: Consider the new Nissan Micra 66kW turbo Acenta Plus priced at R272 400. The new Micra is offered with a comprehensive warranty (6-year/150 000 km) and it has moved decisively upmarket to compete with the Fiesta and Polo. It comes well specified and its 3-cylinder, 0.9-litre turbopetrol engine offers sufficient performance with 66 kW and 140 Nm of torque on offer.
French value: Consider the Renault Clio 88 kW Turbo GT-Line priced at R269 900, which offers 88 kW and 205 Nm of torque from its 1.2-litre turbopetrol engine. It comes generously specced with standard features and represents good value at this price point.
Facts & Figures
Price: R292 500
Engine: 1.5-litre turbodiesel
Transmission: 6-speed manual
Power: 63 kW
Torque: 175 Nm
Fuel Consumption: 3.3 L/100 km
0 -100 kph: 12.5 sec
Top speed: 175 kph
SERIOUS ABOUT BUYING?
What is it?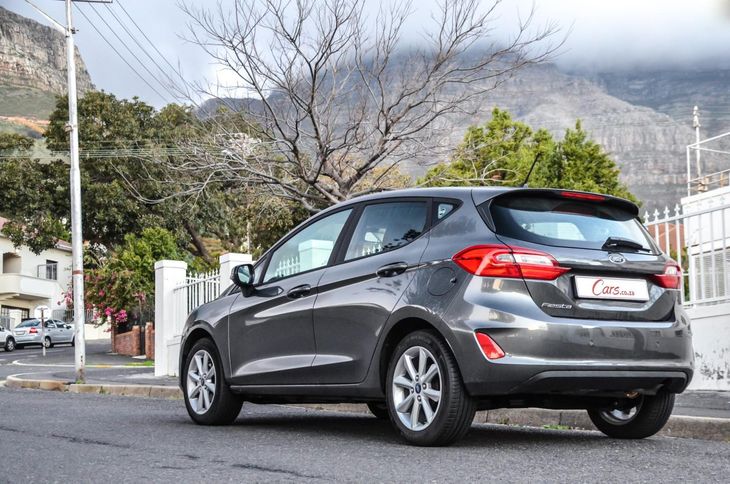 The new Fiesta not only looks better than the outgoing model, but it's better to drive too.
The Fiesta has experienced much sales success in the local market (throughout its various iterations) and Ford intends to further expand its clientele in the compact hatchback segment with this latest version, which arrived early in 2018. The newcomer rides on the same, albeit enhanced chassis from the previous generation, which is stiffer and delivers greater levels of refinement and handling capability. This new Fiesta not only looks better than its predecessor, perceived build quality has improved, while better in-car technology and enhanced safety features have been added.
Is the Fiesta 1.5 TDCi Trend the pick of the range? We spent some time with it to determine if it is worth considering, let's take a closer look...
The Good
Performance and fuel economy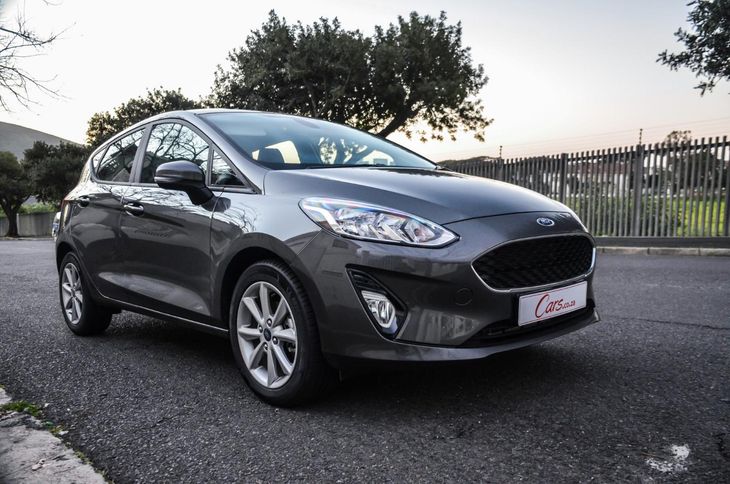 The diesel-powered Fiesta is both fun and economical to drive on a daily basis.
While this turbodiesel-powered Fiesta may not offer as much power as its small capacity turbopetrol siblings, it still provides ample shove for your daily commute. This 1.5-litre turbodiesel engine, which produces 63 kW and 175 Nm of torque, is only offered with a 6-speed manual transmission.
As it is a turbodiesel powerplant, the engine obviously sounds a bit rougher at start-up than its petrol-fed peers, but it settles nicely once up to the optimal operating temperature and the characteristic clatter is barely noticeable on the open road. In fact, the engine delivers pleasingly flexible performance in cut-and-thrust traffic situations and the generous torque delivery facilitated fuss-free overtaking manoeuvres on the highway.
The manual transmission proved slick and positive in action too, but moreover, this particular Fiesta's strength is undoubtedly its fuel economy. During our test, we never saw figures above 5.0 L/100 km. In fact, the lowest indicated figure was a meagre 3.9 L/100 km. In an ultra-competitive segment, one in which efficiency and driver engagement are often at odds, the Fiesta's blend of performance and low consumption stands out.
Ride and handling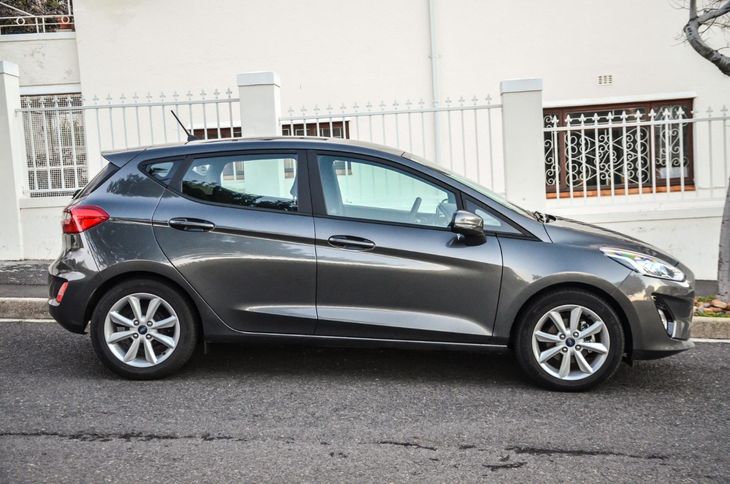 The new Fiesta is an agile handler and delivers a comfortable ride on various surfaces.
Coupled with its lively performance, the Fiesta is pleasingly wieldy; it responds crisply to enthusiastic steering inputs, plus the 'wheel is nicely weighted and provides good feedback. Moreover, despite its reassuringly planted road holding, the Fiesta is comfortably sprung. In other words, its suspension does a great job of absorbing bumps and ruts in the road – buyers should have little to complain about the Ford's ride/handling balance. Overall refinement is admirable too: noise, vibration and harshness (NVH) are well-suppressed, which results in a quieter cabin at highway speeds.
The not so good
Standard spec could be better

The Fiesta's interior represents a major improvement over that of its predecessor, but it's still not class-leading.
For the price, the Fiesta 1.5TDCi Trend offers average standard specification and is, therefore, a bit pricey for what you get (cruise control and navigation are not included as standard, for example). The most probable reason why this derivative seems a trifle under-specced is due to the fact that turbodiesel engines are (generally speaking) costlier to produce than comparable petrol motors, so in order for Ford to bring this derivative to market at a competitive price point, the Blue Oval had to sacrifice some specification.
Having said that, the Trend specification does include (an albeit smaller) 6.5-inch touchscreen with a Sync 3 interface, which is still Android Auto and Apple CarPlay compatible. The system further offers Bluetooth connectivity and voice control and we found it to be easy to use with the help of the mounted steering wheel controls. A pair of USB ports is fitted as standard, as is manual air conditioning.
Cabin build quality is average to good but harder surfaces dominate and we think the instrument cluster looks rather bland for a car in this price range. Safety specification, however, is generous with 6 airbags, ABS with EBD, electronic stability control and traction control as standard.
Average practicality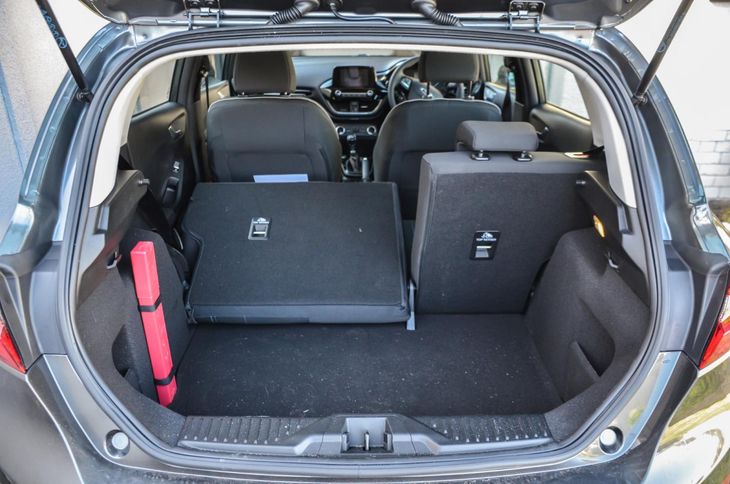 Loading space is sufficient but taller rear passengers will find legroom to be tight.
The new Fiesta is an average performer in terms practicality and it offers a reasonably sized load bay claimed at 303 litres, but it's not quite as spacious as the Polo's claimed 350 litres, for example. Loading space can be further expanded by folding the 60:40 split rear seatback forward.
Taller rear passengers might find legroom to be a bit cramped, but children and average-sized adults should be relatively comfortable. There are several storage spaces dotted around the cabin, including bottle holders in the door mouldings, 2 front cupholders, an enlarged glovebox and additional storage ahead of the gear lever.
Pricing and warranty
The Ford Fiesta 1.5TDCi Trend is priced at R292 500 and is sold with a 4-year/120 000 km warranty and 4-year/60 000 km service plan.
Verdict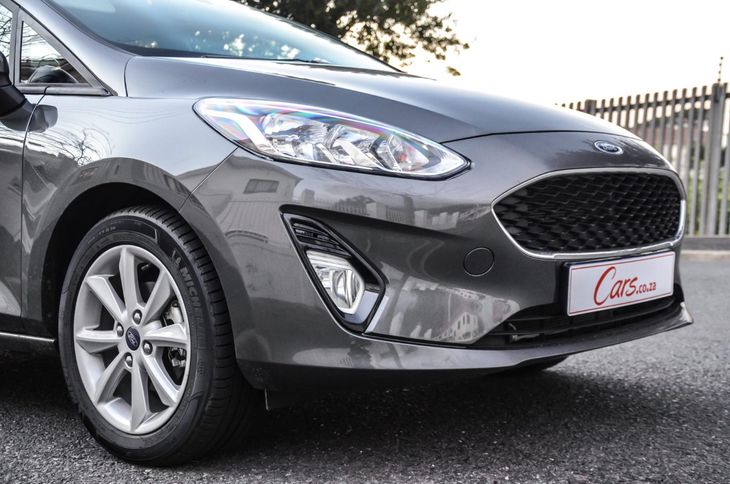 We think the Fiesta diesel is worth a test drive if you are looking for a modern and economical urban runabout.
The Ford Fiesta 1.5TDCi Trend is a pleasure to drive on a daily basis. It's wieldy, offers reasonably comfortable accommodation and a pliant ride quality, plus it returns admirable real-world fuel consumption, which makes it a sensible purchase if you want to maximise every drop of fuel.
These positive traits come at a price, however, and even though it might be pricier and less practical than its higher-specced rivals, we still think the Fiesta diesel is worth your attention. It's far from being a bare-bones offering (its safety specification remains comprehensive, for example) and its Sync 3 infotainment system is arguably one of the best systems on the market.
As a footnote, one wonders whether Ford's courageous move to offer a turbodiesel Fiesta in a segment where such-engined derivatives are (now) scarce could not be a disadvantage when the time comes to sell on the 1.5TDCi Trend (or trade it in). Turbodiesel cars are traditionally more expensive to service/maintain than their petrol-powered peers; that could negatively impact the Ford's value once its service plan has expired.
Related content:
Ford Fiesta 1.0T Titanium Automatic (2018) Review
Comparative Review: Ford Fiesta vs Volkswagen Polo (2018) [w/video]
Ford Fiesta ST (2018) International Launch Drive [w/Video]
Most Fuel Efficient Budget Cars in SA
Most Fuel Efficient Diesel Cars in SA (2018)
6 New Hatchbacks to Consider in 2018
Looking for a used Ford Fiesta?