A Ford product presentation has revealed that the forthcoming Bronco and F-150 bakkie might be produced for right-hand-drive markets. Should you get excited?
Ford is due to launch the new Bronco in the U.S. soon and we have already seen and covered the new F-150 which was revealed last week and provides some useful insight into what we can expect from the new Ford Ranger bakkie.
Many local bakkie fans are clamouring for a full-size double cab bakkie such as the F-150 to be offered in South Africa but the main prohibiting factor is that the F-150 and indeed the Bronco are left-hand-drive only models and are not offered in right-hand-drive markets such as South Africa.
Australia is right-hand-drive though and often an indicator of what's to come for South Africa and a report from CarExpert has suggested that both the new Bronco and F-150 might be produced in right-hand-drive for the IMG market which includes Australia, New Zealand, India, South Korea, Thailand, Malaysia, the Middle East, Africa and ASEAN.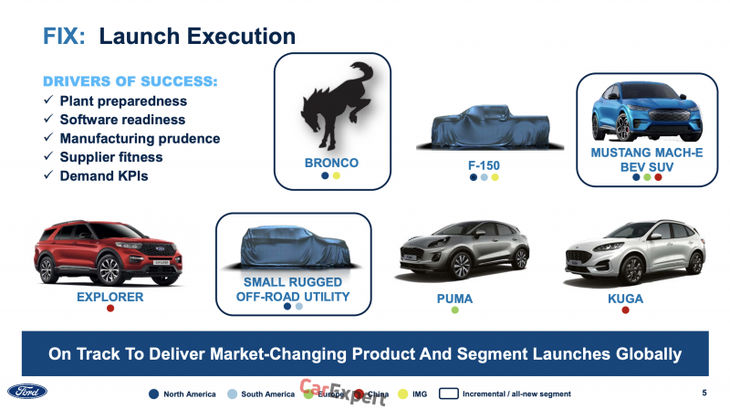 The product presentation you see here indicates that 'plant preparedness' is a key driver of success which means that Ford will either have to build a new plant dedicated to producing the Bronco and F-150 in right-hand-drive or a current plant needs to be expanded and retooled for the job. The Bronco will be built on a modified version of the Ford Ranger's T6 platform which already caters for right-hand-drive markets.
You will recall that Ford and Volkswagen recently joined forces to collaborate on a number of new products including the next-generation Volkswagen Amarok which Ford will engineer and build in South Africa for the local and export markets. We also know that Ford is focusing more of its efforts into commercial vehicles and by offering a vehicle such as the F-150 and even the Bronco for right-hand-drive markets could indeed represent huge profits for the Blue Oval.
We know bakkies are hugely popular in South Africa and even the faint possibility of seeing the large-and-in-charge Ford F-150 in South Africa should get enthusiasts frothing.
At this stage, neither the Bronco nor the F-150 have been confirmed for right-hand-drive but that doesn't mean it won't happen and if this product slide is anything to go by, maybe there is a glimmer of hope out there, somewhere…
The new Ford Bronco will be revealed on 13 July 2020.
As always, we will keep you updated as soon as more details become available.
Buy a Ford Ranger on Cars.co.za
Related Content
Ford F-150 cabin features that could be in next Ranger
Ford Gives Ranger Performance Packages
2022 Ford Ranger: More details emerge