We get behind the 'wheel of the best-selling bakkie in the United States, the Ford F-150. While it's unlikely to reach South Africa due to left-hand-drive-only production, it still represents the world's pinnacle pick-up.
Our recent trip to the United States focused mostly on the scope and scale of Ford's autonomous technology, but a visit to Ford's Dearborn Development Centre allowed us to experience some of its other products, including the F-150 bakkie. We also had a go in the sportiest Ford Fusion V6 and a left-hand drive Ford Focus RS, but, of those products, the F-150 bakkie holds the most interest for our bakkie-mad market.
An F-150 to suit every taste
The Ford F-150 range is satisfyingly diverse and the vehicle is available in an assortment of styles and trims. The Blue Oval offers the F150 with 3 types of cab (regular single, super cab and SuperCrew double cab), which can be combined with 3 loadbox configurations – 5.5 foot, 6.5 foot and 8 foot (that's 1.7 metres, 2.0 metres and 2.4 metres). Then there are 5 engines to choose from with a choice of either 4x2 or 4x4 drivetrains and 6- or 10-speed automatic transmissions.
No, the variations don't stop there. Then you reach the trim levels. XL, XLT and the exotically named Lariat, Raptor, King Ranch, Platinum and Limited are your choices. For the record, the vehicle we drove was the Lariat. It sits in the middle of the range and featured some excellent comfort features such as heated and ventilated leather seats, blind-spot monitoring, satnav, and a 110V air-conditioning outlet. Nods to utility include spotlights built into the side mirrors and Ford's Pro Trailer Backup Assist, which makes reversing with a trailer as easy as turning a tiny knob on the dashboard.
Purposefully squared-off design
Can you get more American than a big pickup truck? Even though the F150 is the smallest bakkie in its commercial lineup, seeing one in the metal is likely to make you do a double-take. It's massive: according to Ford's specifications, up to 5.8 metres long and at least 2,5 metres wide (with standard mirrors). In other words, it makes a Ranger look like a Ford Bantam by comparison. That front grille is splashed with chrome and from a head-on point of view, it's bold and intimidating. As it should be.
You want the.... V6!
You'd expect a big and powerful V8 petrol engine under the hood of the Ford F-150, but we're in 2016 and the culture of downsizing has spread across the Atlantic and infected the big truck market. You can purchase a 5.0-litre V8 for your F-150, but that motor is antiquated in comparison to the engine you really want. For this generation of Ford F-150, there's a 3.5-litre V6 twin-turbocharged petrol motor which trounces its V8 counterpart both in terms of power and torque. 279 kW and 637 Nm sounds more like the outputs from a high-performance Mustang, but this is a double-cab bakkie.
The vehicle we drove came with the new 10-speed automatic transmission. As a publication which has tested several vehicles over the years, we were initially sceptical about the number of ratios. Some vehicles feature 8-speed gearboxes and there are now 9-speed transmissions too. These vehicles with their excessive number of ratios have proven acceptable, but surely 10 is too many? Ten gears may sound ridiculous, but somehow it works. The reason behind this number is simple: fuel efficiency. An interesting note is that this 10-speed unit will find its way into the next-generation Ford Mustang.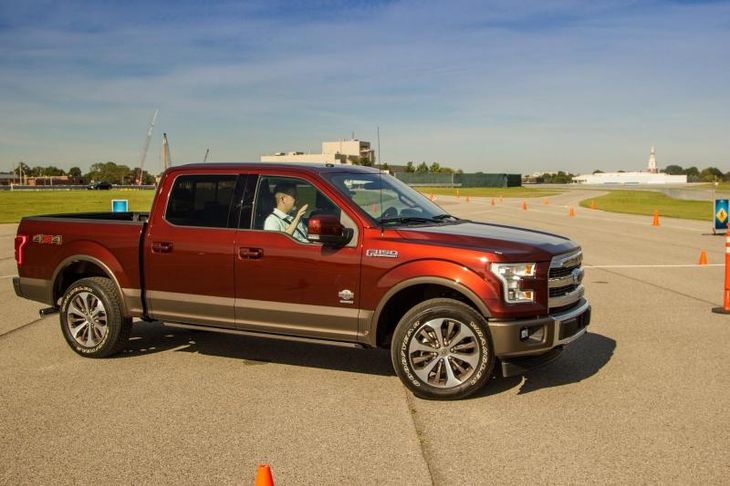 Driving the F-150
We were restricted to a few laps around the Dearborn Development Centre in Michigan, but the experience was enough to give us a fair indication of how the F-150 is like to drive. The first section of the route was through a tight and testing little gymkhana course to demonstrate handling in a confined route and it was here where the sheer size of the F-150 became blatantly apparent.
Once we'd finished the handling course, it was time to hit the high-speed oval and the Ecoboost engine was called into action to deliver all it could muster. There's no lack of shove and the quick-shifting 10-speed transmission changes gears smoothly with a meaty soundtrack accompanying it. It's no dual-clutch unit, but the shifts are seamless. The downside of this transmission is that if you need to do an emergency overtake, the gearbox will have to change down a few gears to put the engine in the sweet spot. It's not that big an issue and the motor has plenty of outright grunt to move it along.
What really impressed us how well the F-150 rides. It really soaks up the bumps and unlike many of the bakkies on the local market, which have leaf-sprung rear suspensions, the Ford doesn't bounce around when unladen. That big and solid-looking body effortlessly translates into a big and solid ride. It's sizeable and capable, and certainly a desirable product that ticks both boxes of lifestyle and workhorse with ease.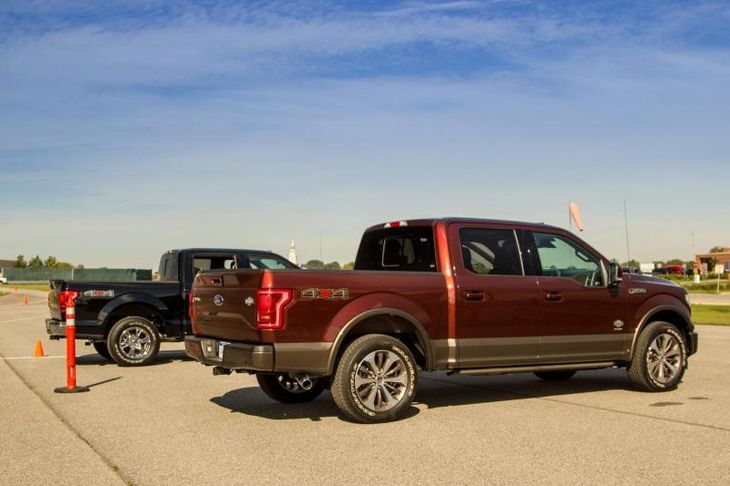 Ford F-150 in South Africa: Yes/No/Maybe?
The F150 product manager from Ford USA gave us a firm "No", when asked about production for right-hand drive markets. If circumstances were to change, maybe there'd be a case for it as (almost 10-year-old) F250s still demand near R300 000 prices. However, just converting the dollar price of the Ford F-150 double-cab Lariot is R550 000 and we would estimate the starting price for the vehicle (including duties and taxes) would be near R800 000. Wow.
What if the Ranger Wildtrack isn't enough to satisfy our desire for big American trucks? Even with the striking Raptor kit on a Wildtrak, it's no F-150. So essentially, there's nothing we can do to get the Ford F150 in South Africa… or is there?
There are many companies in South Africa which claim to be able to import a Ford F-150 (and other American products) and convert them to right-hand drive. The dream of owning a big American Ford truck in South Africa can come true, but be warned, it's not going to be a cheap exercise.
Further Reading
Browse used Ford double cabs here
See how the Ford Ranger stacks up against its rivals
Read a review of the Ford Ranger 2.2
Want to buy an F-Series truck?
We have a few used Ford F-Series trucks for sale, see them here