Now locally made and more affordable than ever before, the Ford Everest has emerged as the top-selling Toyota Fortuner's biggest threat. We test it in 2.2-litre XLT Automatic form.
We like: Interior space and comfort, standard features, ride comfort
We don't like: Plasticky cabin (nit-picking!)
Alternatives
A (cheaper) Toyota Fortuner: You can, for less money, have the Toyota Fortuner 2.4 GD-6 (R474 200). This model, though competitive from a drivetrain point of view, does lack some features, however. For example, you only get 3 airbags (none at all for those seated in the middle and third rows), and a decidedly less impressive infotainment system.
A (more expensive) Toyota Fortuner: For roughly R50 000 more, you can get Toyota's Fortuner 2.8 GD-6 (R557 200). It largely addresses the safety features issue of the 2.4-litre models, but still lags on the infotainment front. You do get more power, though.
A big, big saving: Mitsubishi's new Pajero Sport has still not arrived in SA and Chevrolet's Trailblazer has failed to capture consumers' imaginations. So, how about a real cheapie from India? The Mahindra XUV 500 W8 is better than you'd think, comes with a 2.2-litre turbodiesel engine, loads of features and is priced at only R394 995, including a 5-years/150 000 km warranty.

Compare the specs of the Ford Everest 2.2 XLT with the Toyota Fortuner 2.8 GD-6 Auto and Mahindra XUV 500 W8 Auto here
Facts & Figures
Price: R509 900 (May 2017)
Engine: 2.2-litre, 4-cylinder, turbodiesel
Transmission: 6-speed automatic
Power: 118 kW
Torque: 385 Nm
Fuel Consumption: 7.3 L/100 km (claimed)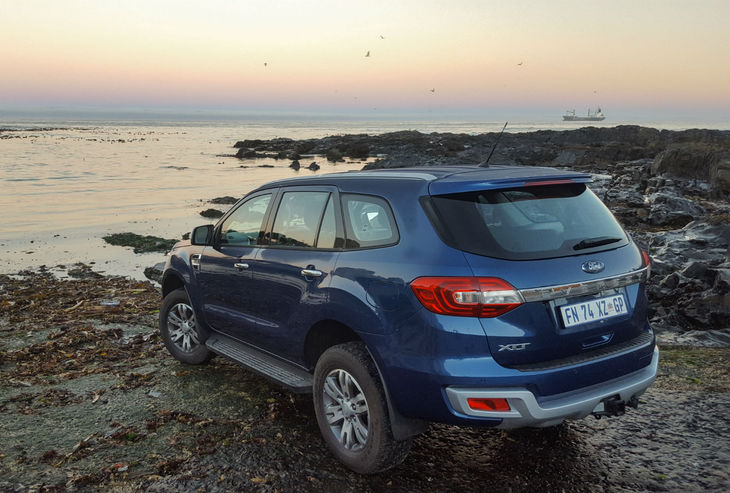 Big, bold and in XLT trim, with extra brightwork, the Everest 2.2 XLT is an attractive and imposing family SUV.
Following a massive R2.5 billion investment in its local factory, the Ford Everest is now made in South Africa. As a direct result, there is now more choice in the local line-up and the entry price is considerably lower. We do like the powerful 3.2-litre Everest derivatives, but at a significant cost saving, could this more affordable, less powerful 2.2-litre model be the pick of the bunch?
The Good
Blend of Power and Economy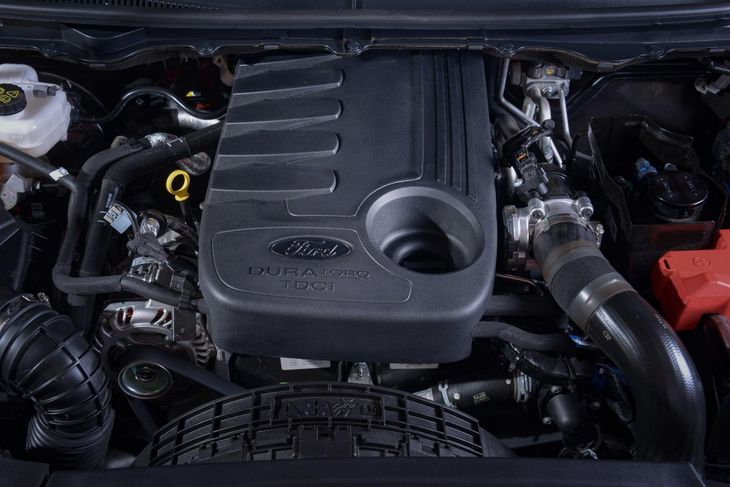 The 2.2-litre turbodiesel engine delivers an impressive blend of power, economy and refinement. Do you really need a 3.2-litre?
The 2.2-litre turbodiesel engine has always impressed us in the Ranger, and continues its good showing in the Everest. It offers 118 kW and 385 Nm of torque, the latter figure available from 1 500 to 2 500 rpm. In this instance it is mated with a 6-speed automatic transmission that is generally well-matched to the power delivery characteristics of the engine, but is not the quickest to react to abrupt throttle inputs.
It's a quiet engine at idle, only becoming noisier when pushed hard but generally relaxed when cruising. It feels more free-revving than the bigger 3.2-litre engine, and delivers decent performance. Mind, this is a heavy, big vehicle, so don't expect fireworks when the throttle is mashed. Nevertheless, for family use its performance is more than sufficient and it can still tow 3 000 kg (braked).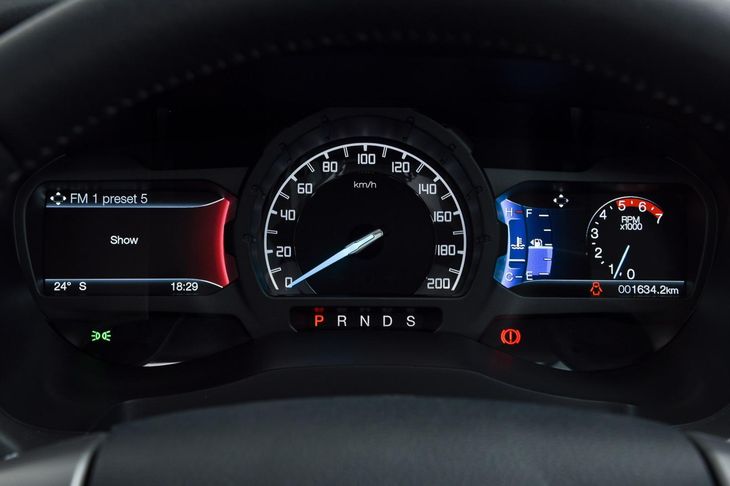 The neat analogue/digital instrument cluster contributes to the high-tech feel of the cabin and offers a number of different displays/functions.
In terms of fuel efficiency, we averaged around the 9.5 L/100 km mark, which is pretty good given the vehicle's size and likely usage patterns. It represent a significant improvement over what you will achieve in an Everest equipped with the 3.2-litre engine. The Everest 2.2-litre has an 80-litre tank, so expect a range of around 850 km between fill-ups.
Practicality and Spaciousness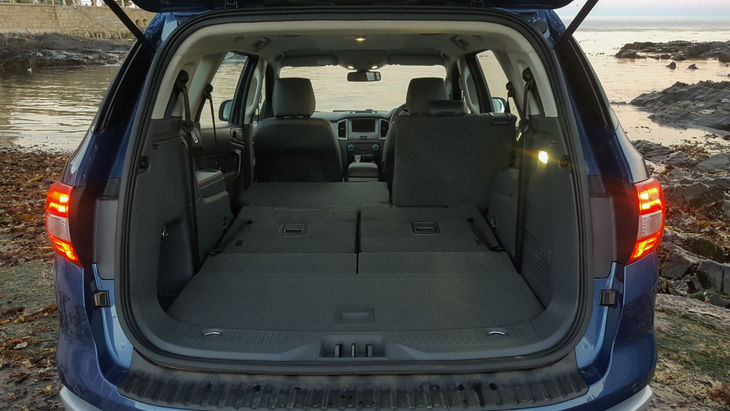 With the 2nd and 3rd row of seats stowed away, the Everest offers a vast load area with a flat floor.
Based on the Ranger, still one of the biggest bakkies on the market, the Everest is an imposingly large vehicle. It rides on a lengthy 2 850 mm wheelbase, which is significantly longer that what you'd find on a Toyota Fortuner, as an example. The theoretical benefit is a larger, more spacious cabin and in the Everest's case this is also a reality. From its comfy front chairs, multi-adjustable 2nd row and surprisingly spacious 3rd row, the Everest is a genuinely practical family vehicle.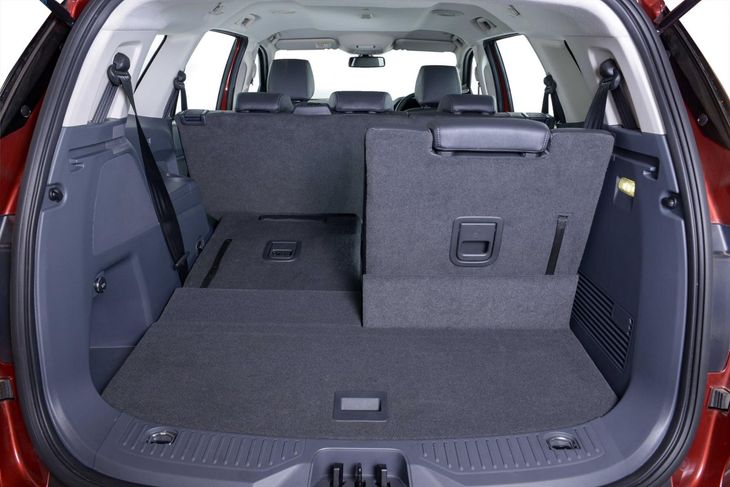 The 3rd row seats can be easily folded using a latch that can be reached from the back of the vehicle.
Open the boot, and there's still reasonable space even with the 3rd row of seats occupied. Fold those down into the floor – easily done from the rear of the vehicle – and you have a very, very large luggage area. It would make a great long-distance touring vehicle for a family of five. The 2nd row offers not only generous adjustment in terms of fore/aft sliding, but also boasts a 1-touch fold function, which see them disappear into the floor as well. In this configuration (2nd and 3rd rows stowed), the Everest offers a long, flat surface that can accommodate very bulky and long items.
If there still isn't enough space in the vehicle for your family's requirements, then note that the Everest 2.2 can still tow a braked trailer of 3 000 kg and comes with Trailer Sway Assist as standard.
Standard Equipment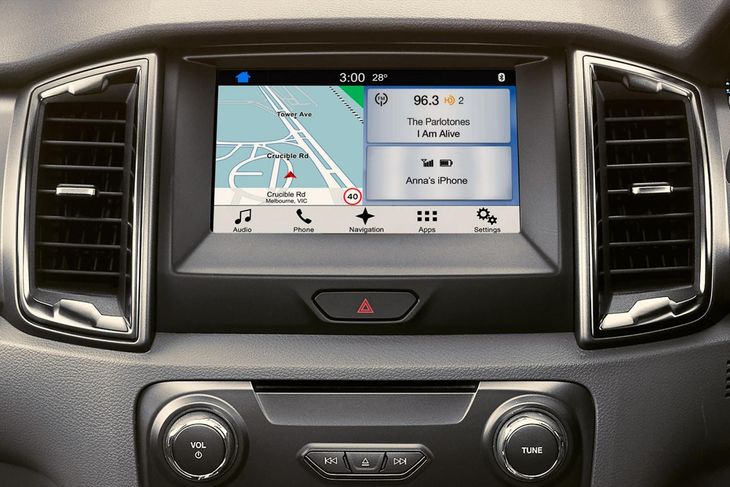 SYNC3 with navigation was recently added as a standard feature to all Everest XLT models.
In XLT trim the Everest is rather generously equipped, and even more so since the recent upgrade. Included as standard are; cruise control, climate control, rear park distance control (including camera), electrically foldable mirrors, rain-sensing wipers, leather upholstery and, on the safety side, no fewer than 7 airbags. We particularly admire the attention given to 2nd- and 3rd-row passenger comfort – there are separate temperature controls in the 2nd row, and overhead ventilation outlets for all 2nd- and 3rd-row occupants
It is, however, the standard fitment of Ford's SYNC3 that is the Everest's most distinguishing feature. It boasts an 8.1-inch touch screen, much improved graphics and the addition of navigation as standard. Free map upgrades are available for 5 years, and the navigation works in 20 other countries, as well as offering the nifty Tracks4Africa service – a travelling community maps package – for adventurous types. Voice guidance can be given in a number of indigenous languages, including Zulu and Afrikaans, in addition to a raft of others (French, Spanish, Arabic etc.).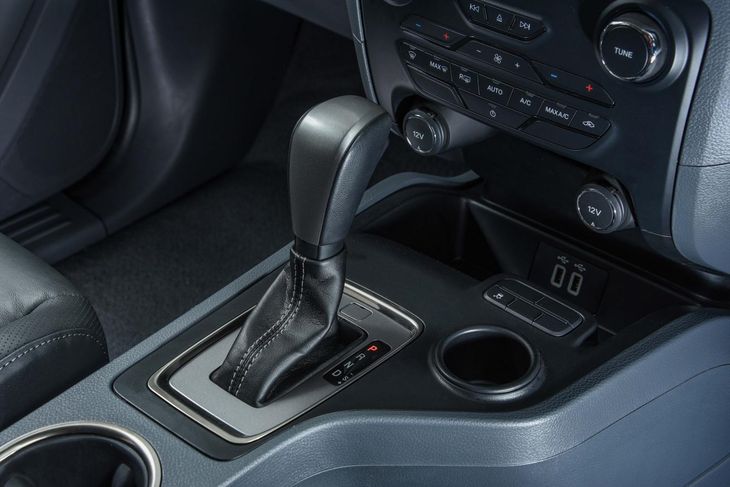 A multitude of drinks holders are dotted around the cabin, and XLT spec includes 2 USB ports.
The advanced system features what Ford calls, "multi-touch gestures", which means it can be controlled in a multitude of ways, including swiping, scrolling, sliding, pinching and even gesture control, in addition to pressing the virtual buttons and voice input control for some functions. Apple Car Play and Android Auto functionality is built-in, but not yet functional because the licenses have not yet been released for our region. It features not one, but 2 USB ports, as well.
The (not so) Good
Slightly plasticky in places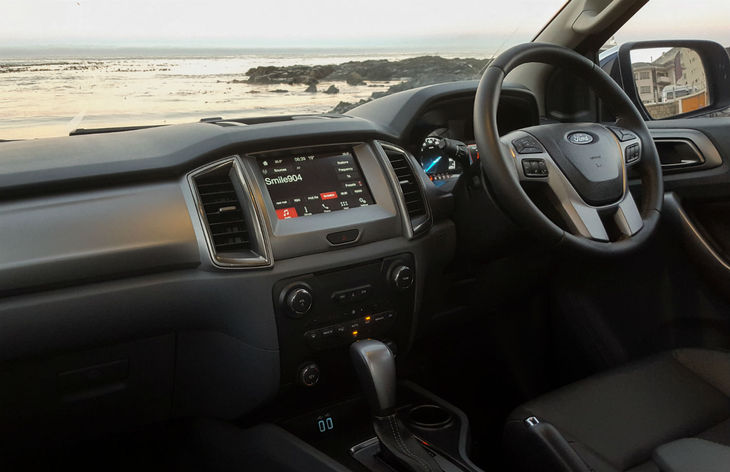 The cabin makes a great first impression, but the choice of materials could be improved.
At a first glance, and particularly because of the fitment of leather upholstery and the impressive SYNC3 system, the Everest's cabin looks upmarket. But compared with the surfaces and materials in the latest Toyota Fortuner, for example, it does feel somewhat too plasticky in places. Toyota, it would appear, has done a better job in hiding the Fortuner's bakkie (Hilux) roots than Ford has done in this instance. It's a small gripe, and should be viewed within the right context which is simply a lack of any serious criticisms.
Summary
The Ford Everest 2.2 XLT automatic is particularly cleverly positioned – roughly R35 000 more expensive than the 2.4-litre Fortuner, and around R50 000 cheaper than the 2.8-litre Toyota. Whichever Fortuner you compare it with, the Everest 2.2 XLT appears to make great sense, offering more safety (airbags) and a vastly superior infotainment system than the former, and a big saving compared with the latter, while still offering better in-car entertainment (but less power).
If you don't need 4-wheel drive, but like the idea of driving a big, rugged and versatile SUV as a family/leisure vehicle, it is a must-drive on your shortlist. The Everest is a surprisingly comfortable vehicle to drive around town, given its dimensions. The light steering and rear-park distance control (as well as camera view) help a lot. Then, when heading onto gravel, you'll appreciate the soft ride, ground clearance and fitment of an electronic rear diff-lock (when needed). It's a superb package overall.
Also see our video below

You may also be interested in;
Spec upgrade for Ford Ranger and Everest (2017)
Ford Everest 4x4 off-road test (video)
Ford Everest vs Toyota Fortuner video review
Buyer's Guide: Rugged 7-seat SUVs
Interested in buying a new / used Ford Everest?