Ford has finally expanded its Everest SUV line-up to include more affordable 2.2-litre derivatives. South African leisure-vehicle enthusiasts have been waiting for these models for a long time. Was the wait worth it?
The Ford Everest is a macho 7-seat and off-road capable SUV. The current generation was introduced to the South African market in 2015 and, as good as it was straight off the bat, the model line-up was lacking in variety. Sure, demand has been strong for the powerful 3.2-litre five-cylinder turbodiesel, especially in range-topping Limited guise, but until now, there hasn't been another engine to choose from. Furthermore, with the top-spec Everest costing almost R700 000 there is certainly demand for a lower-specification and smaller-engined model.
Enter the brand's 2.2-litre 4-cylinder turbocharged diesel engine with 118 kW and 385 Nm. Manufactured by Ford at its Struandale plant in Port Elizabeth, this powerplant has already seen action in the Ranger lineup. Ford has now introduced this engine into the Everest along with new specification levels and trim, ensuring there's a 7-seat Everest to suit the pockets of people shopping in this Fortuner-dominated segment.
Ford Everest 2.2 Line Up
The new Ford Everest range now comprises 8 versions, with a choice of three trim levels (XLS, XLT and Limited) and you can opt for one of the two available engines (2.2-litre and 3.2-litre). There's also the option of manual or automatic transmissions as well as 4x2 and 4x4 drivetrains. The vehicle is assembled at Ford's Silverton plant near Pretoria, with the engines coming from Port Elizabeth.
Read more about the Ford Everest's Specs and Pricing here
Off-road Ability
At the launch, we were offered the opportunity to assess the Everest's off-road talents on a small 4x4 track. The Ford features a whole host of electronically-controlled off-road aides and these are all easily activated at the touch of a button. The 4x4 models boast an intelligent system that diverts power between the front and rear axles, as the driving circumstances demand. Furthermore, there's an active transfer case featuring high and low range, rear differential lock and a handy 225 mm worth of ground clearance. For those who like to get wet, Ford claims the best wading capability in this class (800 mm deep).
The most user-friendly element of the Everest's off-road skillset is the Terrain Management System which features different modes. Essentially you select the mode representing the surface you're driving on and the vehicle will do the rest. The modes are Normal, Mud, Sand and Rock Crawl. There's also Hill Descent Control which will make steep descents easier. Despite it featuring less spec and a smaller engine, the 2.2-litre is still a very capable vehicle offroad, but we wonder whether there isn't perhaps demand for an automatic version with 4-wheel drive...

Open-Road Cruiser
This launch comprised lots of driving (as it should be) and the long open road was a perfect opportunity to test the Everest in exactly the circumstances it is likely to face in the real world – as a long-distance family tourer. The first noticeable characteristic – once at the national cruising speed – was just how quiet the vehicle is. There's hardly any wind noise, only the faintest of rumbles from the tyres and the engine is seemingly barely ticking over. It's very impressive and upon closer examination, it turns out that the Everest features noise-cancelling technology that is able to eliminate some of the white noise while you drive. A quiet cabin is a great way to reduce driver fatigue over long distances.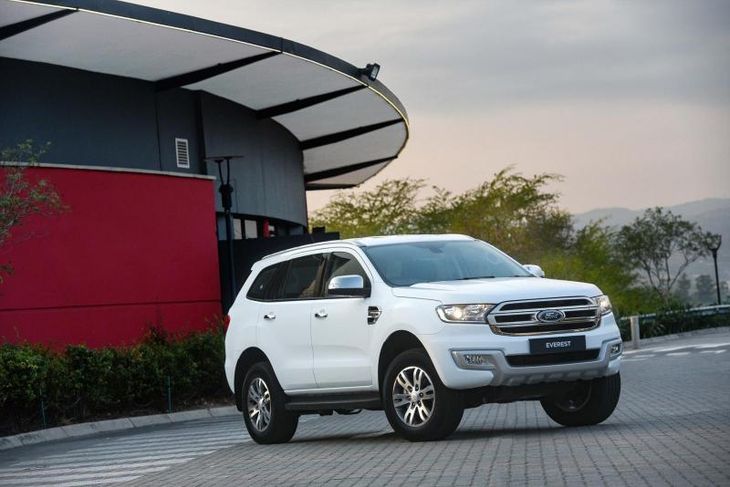 Otherwise, the Ford Everest feels solid and well built, and certainly has that big-car feel that people seem to like in their family SUVs. The steering is reasonably light, but lacks some feel due to the electric power assistance (typical of these systems). Our first test vehicle was the 2.2-litre automatic and we were impressed with the smooth shifts from standstill to highway cruising speeds. The engine has adequate grunt but does tend to run out of puff towards the top of the rev range. Adjust your driving style to ensure the Everest changes gear around the 3 000 rpm mark, to make the most of the torque available in scenarios such as overtaking trucks. Compared with its bigger 3.2-litre sibling, you can definitely feel that it's a smaller engine in a big body, but it's nevertheless willing to deliver.
The next vehicle we drove was the 2.2-litre diesel manual 4x4. This features a six-speed manual gearbox, which offers a solid and positive throw action. It's quite reassuring to shift through the gears, but we did notice a little drop in power with each gear change as the turbo takes its time to build up enough boost again. Given the nature of these vehicles, we feel that it's best to go for the automatic unless you're purchasing the vehicle for its off-road prowess in which case you have no choice but to take a manual-equipped Ford Everest 2.2.
Other Noteworthy Features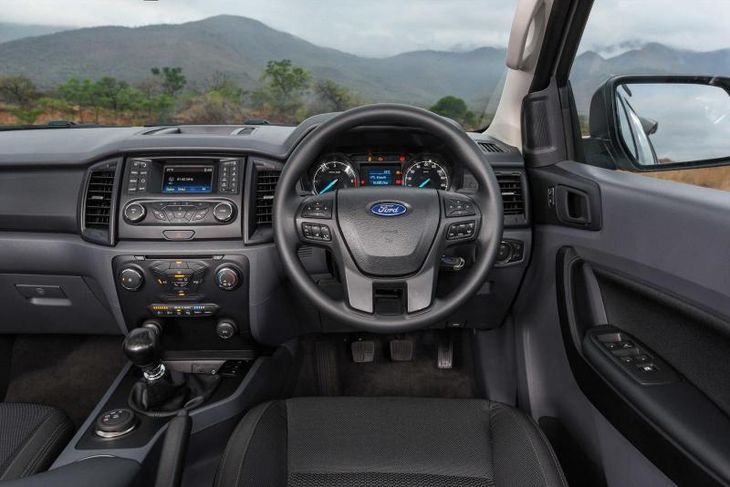 The big change in the cabin is the inclusion of the latest version of Ford's excellent infotainment system. Now in its third generation, SYNC3 offers Apple CarPlay and can support Android Auto. However Google has not authorised the Android-based car connectivity system for our market yet, so it won't work. This is not a Ford problem and we've encountered Android Auto issues with multiple manufacturers. We hope it launches in 2017 so Android users can benefit from this hands-free connectivity.
SYNC3 offers a cleaner and fuss-free interface, and while it lacks the visual impact of SYNC2, there's a lot more to offer. Switching between menus feels like a tablet and you can swipe through screens. Features and menus are easy to navigate and systems which are usually hidden in the depths of sub-menus, proved effortless to find.
The Ford Everest is claimed to be one of the safest vehicles in its class, but the level of safety features depends on which specification level you choose. However, things like Electronic Stability Programme (ESP) with Traction Control, Hill Launch Assist and Trailer Sway Control are all standard. There are dual front, side and curtain airbags, with a driver's knee airbags being standard on XLT and Limited models, and optional for the XLS. All Everests have rear parking sensors.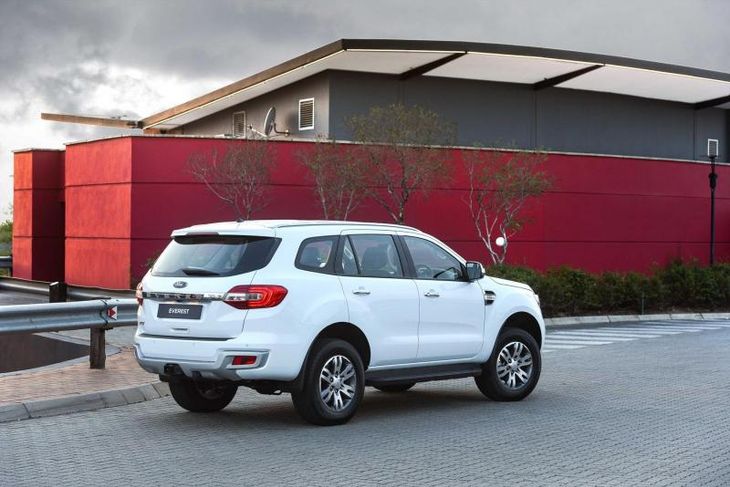 Summary
The need for more models in the Ford Everest was clear from the start, and these new introductions will certainly bolster Everest sales figures significantly. However, we're curious as to why there's no 4x4 auto Everest, when there's a Ranger 4x4 auto. This aside, we found the Everest to be an impressive and solid offering and the new 2.2-litre engine does a good job of lugging this big 7-seater around. Given its spacious cabin and refined cruising talents, this is a practical vehicle that families will love.
Ford Everest Price in South Africa
All models come standard with Ford Protect, including a 4-year/120 000 km comprehensive warranty, 5-year/100 000 km service plan, 3-year/unlimited km roadside assistance and 5-year/unlimited km corrosion warranty. Service intervals are every 20 000 km, while 4x4 models include free 4x4 training.
2.2 TDCi XLS 6MT 4×2 R453 900
2.2 TDCi XLS 6AT 4×2 R470 900
2.2 TDCi XLT 6MT 4×2 R478 900
2.2 TDCi XLT 6AT 4×2 R495 900
2.2 TDCi XLS 6MT 4×4 R529 900
3.2 TDCi XLT 6AT 4×2: R554 900
3.2 TDCi XLT 6AT 4×4: R634 900
3.2 TDCi Limited 6AT 4×4 R698 900
Further Reading
Stay on top of all the latest Ford Everest news here
Read a review of the Ford Everest
Watch the Toyota Fortuner take on the Ford Everest
Find a Ford Everest for sale