Electric F-150 appears to be massively powerful and a huge departure from the status quo.
America's most popular vehicle is going electric and it appears that the switch to battery power will bring enhanced driving capability to Ford's F-150.
For decades the F-150 has relied on V8 engines to haul loads and large multi-axle trailers, but of late the American brand's most important product has embraced turbocharging in a strategy to find greater fuel efficiency.
As pressure grows to provide electric vehicle options in America, the world's most important bakkie market, Ford has been given no choice but to respond to a changing automotive landscape.
Earlier this year Ford announced a R7bn investment in electric bakkie start-up, Rivian, and now it has revealed a prototype battery-powered F-150.
Although Ford won't confirm any specifications pertaining to its electric F-150 prototype, it did showcase the bakkie's hugely impressive towing capabilities.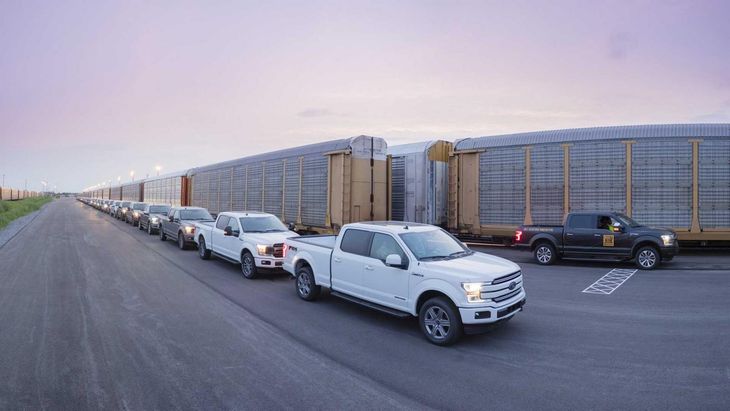 The electric F150 towed 453 tons as a demonstration of capability.
Ford's chief engineer for F-150, Linda Zhang, towed 42 other F-150 bakkies, loaded onto rail cars, with the new battery prototype. That's 453 tons of hauling capability, which is more than one hundred times greater than the average double-cab turbodiesel bakkie's tow rating of 3.5 tons.
The best guess of what is powering this F-150 battery prototype would be a Rivian powertrain. The most potent Rivian battery pack and electric motor configuration is worth 562 kW and 1120 Nm, numbers which would make Ford's F-150 towing stunt possible.
Read about the Rivian/Ford tie up here.
Although an exact introduction date has not been confirmed, Ford is committed to launching this electric version of the F-150, following the release of a hybrid variant, which is due next year.
Rivian has also built a 562 kW kitchen