We've seen many leaks, spy shots and renders of the Ford Bronco - a compact SUV that's aiming squarely at the Land Rover Defender and Jeep Wrangler.
Picture credit: S. Baldauf/SB-Medien. We have paid for these photos and at the photographer's request, have watermarked them.
Ford has been planning to revive its Bronco name for quite some time and the successor to the iconic off-roader was due for reveal earlier in 2020. Then COVID-19 came along and ruined everyone's plans.
The Blue Oval has big plans for the Bronco and has been working on both 4-door and 2-door models. It's being marketed as a compact body-on-frame SUV and will be more than capable when it comes to 4x4 activities. There'll be a 4-wheel drive system with low-range, independent front suspension, solid axle at the back as well as offroad modes.
What you see here is a 2-door Ford Bronco prototype that looks like it's running a short-wheelbase setup. This model would be aimed squarely at the likes of the Suzuki Jimny. The Jimny production can't keep pace with global demand and Ford will attempt to catch some of those clients who don't want to wait.
In terms of engines, the Ford Bronco is expected to offer a 2.3-litre EcoBoost motor with around 200 kW and 420 Nm, as well as a 2.7-litre EcoBoost V6 with 240 kW and 542 Nm. In terms of transmissions, Ford's 10-speed auto is likely to be on duty and rumours suggest a manual gearbox might be available.
As for South African availability, the key thing here is the production of a right-hand-drive model and at this stage it's not happening as "There are currently no plans in place for right-hand drive Bronco," Ford Australia president Kay Hart previously told carsales.com.au. There are a few right-hand-drive markets like Japan, United Kingdom and Australia, as well as South Africa. We'll keep our fingers crossed that Ford changes its mind.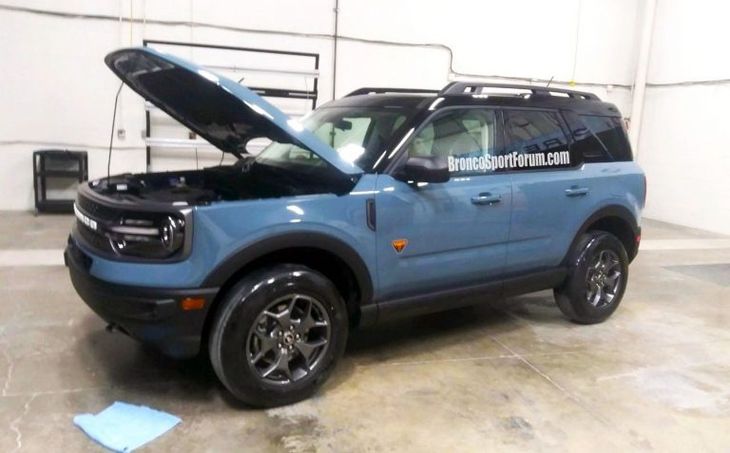 The 4-door Ford Bronco leaked earlier in 2020.
Further Reading
Forget a Jimny bakkie, a 5-door's coming!
Jimny Bakkie is like a mini-tractor