For motorists accustomed to living with modern road machinery, classic car ownership – with its vagaries and fussy maintenance requirements – represents a tantalising, if fraught prospect. Follow our columnist's emotional journey to rekindle his love affair with a car of tremendous sentimental value, while he considers the realities of what owning car of a 42-year vintage will entail...
This was meant to be a story about my 34-year-old Toyota Supra. But then something indubitably bigger than both of us happened.
I cried today. Not a lot, mind you, but enough to warrant mentioning it in the opening line of this column. In 1993, my dad passed away. I was just 14 years old, and with his legacy, he left us his Chevrolet 4100, Suzie. For reasons both social and economical, after 3 years or so our family couldn't keep the 4100 on the road any longer and, eventually, it slipped away from us.
Ever since then my brothers and I (unbeknownst to one another), shared a dream to one day be in the position to replace her. To build a 4100 in honour of my dad's car, the family ride I had literally grown up in and was absolutely instrumental in my formative car-appreciating years. Today I did it: I bought a metallic blue 4100 so similar to my dad's that I've thrown my custom muscle car aspirations in the bin. Because it's just perfect as it is.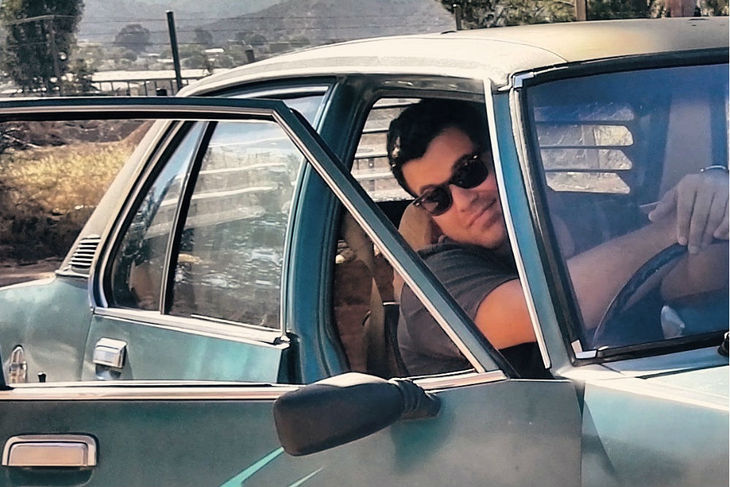 Calvin Fisher is no stranger to classic-car ownership, but even for him, buying the Chevrolet 4100 was a rite of passage.
Why the fuss?
Let's park sentiment for a moment and focus on what makes the Chevrolet a great car as well as a classic. There's the fact that it's a bonafide musclecar in the sense that in South Africa it received, via aggressive shoehorning, a 4.1-litre straight 6 into its Opel Commodore-derived body shell.
Then there's the fact that the Chevrolet 2500/3800/4100 series was, at one point, the best-selling car in the country – and offered performance comparable (in some cases superior) to 6-cylinder BMWs and Alfa Romeos of its era. The fact that, by today's standards, it's simple to run, and its commonality with several Opel models, means it shares a fair number of easily attainable parts and can still be maintained with little fuss.
Also, the fact that despite its Germanic origins (beneath that American bowtie) it represents a time before the pursuit of record-breaking Nurburgring Nordschleife lap times came at the cost of comfort and on-road compliance. Being an executive saloon of the 70s era also means that if you can forgive the absence of creature comforts such as cruise control and aircon (we'll get to that later) you'll be rewarded with wooden trim, comfy seats all round and generally a luxuriously appointed cabin. Again, the car dates from 1975, so manage your expectations accordingly.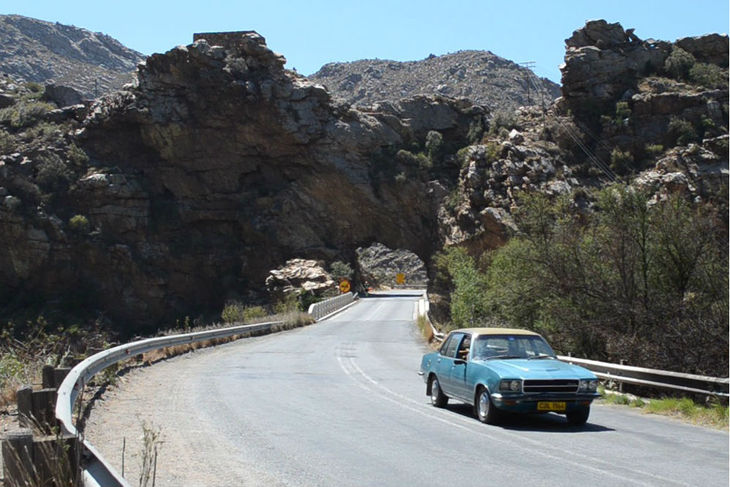 In the Chevrolet's pomp – the mid-Seventies – it was a top-selling family sedan renowned for its long-haul comfort.
It's with all of this in mind then, that when warned by its seller that its master brake cylinder needed attention and that there was a mild oil leak from the crankshaft and that the tyres had seen better days, I was still determined to drive it home to Cape Town. To Cape Town that is, from Ladismith some 350 km away on some of the land's most challenging (engaging, joyous, winding – you pick a word!) asphalt. That was a hell of a gamble, for a 42-year-old car that I'd only seen in 640x480 pixel internet format. But, as they say. nothing ventured…
Sunny skies, sunburnt vleis and Chevrolet
And that's how I came to be face to metal face with Suzie Two, my new 4100. A brief walkaround, an all-to-brief 5 minute cruise around town and swapping of envelopes later and we were off. The clock had barely struck 10 am and the venerable Chevrolet was easily outperforming the DeLorean DMC12 in the Back to the Future films for sheer time travel ability. I was instantly transported 20 years back into the first car I ever drove. It was – and this shames me – the first car I drove while underage... and the car in which I had my first road accident. That was all just in one evening.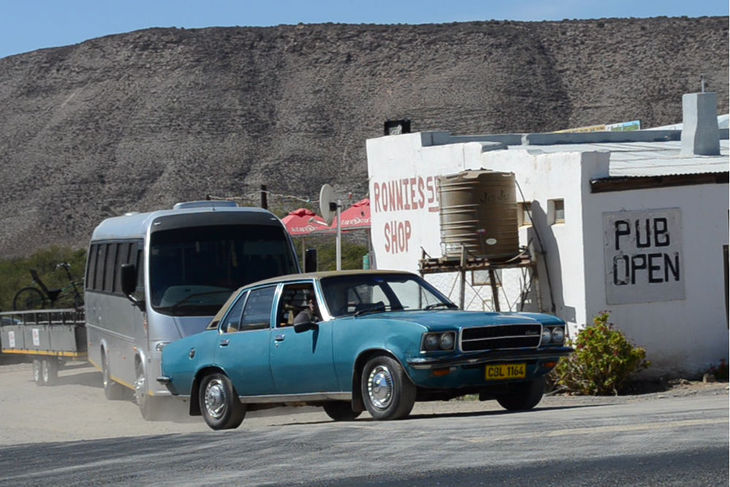 Ronnies Sex Shop is one of the landmarks along the Western Cape's Route 62, so the 4100 had to make its star turn there.
Man, the 1990s were a rush. A stupid and irresponsible rush that I'm happy to leave in the past. The fact we survived them at all must be an indication of how well these cars were made, to have survived us. It's also the car I drove to my 1995 matric ball and so on, memories that faded away 2 decades ago now came flooding back through the vents and with it a smile that tried hard to scythe its way from ear to ear across my face.
Full disclosure: I very recently sampled a 2500, whose owner had monstered a 3800 engine into it, and come away mildly infatuated but missed the wooden instrument panels and gauges, the centre stack, clock and air vents, the details that MADE the 4100 special. This had it all. I was wildly in love and, for the first time, alone with the car. I turned the ignition over to commence the start of our trip home and the straight 6 bubbled a spluttery crescendo, the Chevrolet's snout rising ceremoniously as I fed throttle to the carburettors and all that torque cascaded to the rear differential.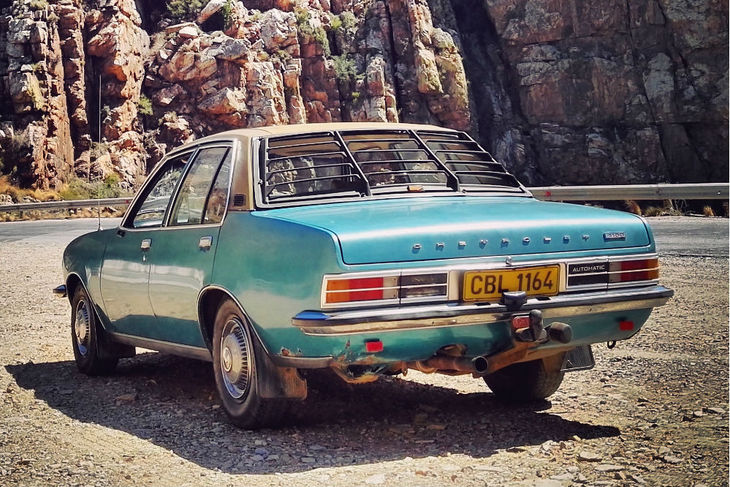 Calvin bought the Chevrolet with full knowledge of the car's cosmetic blemishes, including rust spots under the rear bumper.
Sure, 115 kW and 315 Nm (when new!) is modest by today's standards, but this was from a time when a car's prowess was measured by the top speed on the clock, not the stats that accompanied it. The 4100's clocks wound up all the way to 220 kph, but, in reality, it was rated closer to 175kph. No matter, anything from 200 kph up was supercar territory on the Cape Flats, my stomping ground. We exited left from Ladismith's dusty roads and began our charge down south along Route 62, quickly seeing off the likes of Ronnie's Sex Shop, then Barrydale and onwards.
My plan was to merely chug along at 80 to 90kph, slowly and steadily winning the race home but the 6-cylinder mill purred too sweetly, goading me into action and soon 110 kph was the going rate. Then 120 kph, with room to overtake, as I did often. No aircon meant driving with both front windows down to channel cool air over me. Nostalgia meant alternating between poking my arm through the window and resting my elbow on the sill.
No sunscreen meant that by noon I was sporting an impressive trucker's tan. And 24 hours later this would mean a fair amount of pain, but it was totally friggin' worth it. We made it home safely and without incident. I think what we have is special. This is quite serious. I think I might propose.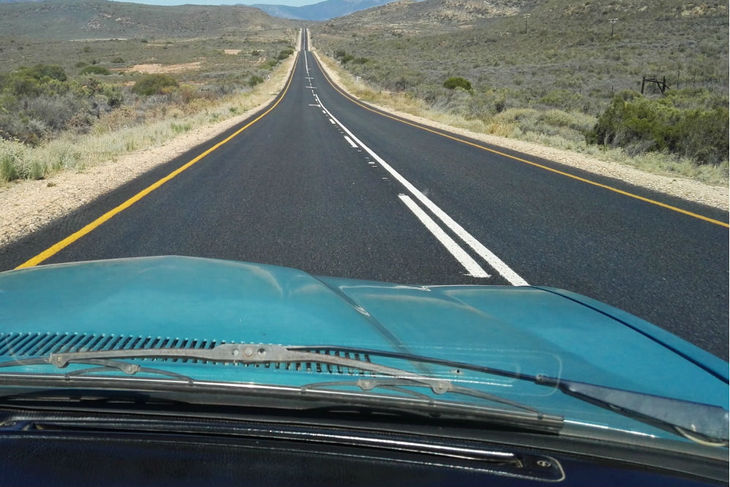 Even though a gallop to Cape Town was not best advised, Calvin enjoyed letting the 4100 "stretch its legs" on the wide open road.
With rose-tinted glasses half off
Let's get serious for a moment. The big Chevy's fuel economy is era correct, so it's fairly high. If you're thinking of using it as a daily runner you can expect to average 13 L/100 km, which is comparable to life with a contemporary performance sedan. If the heat is a real bother to you then a lack of air-conditioning might put you off, but I suppose there are aftermarket solutions to that "problem". And the drive home. which I admit was done at a much higher pace than was wise, heralded the rise of an old 4100 ailment, a clattery tappet cover, but that's really all I have to report.
The tyres were in far better condition than I was expecting, and the brakes held up just fine. The car's just been booked in for its first service (who knows since when) where it will be given a thorough check and hopefully that oil leak resolved. It's worth mentioning that with an older car, safety standards diminish the older it is. A 42-year-old car like mine doesn't have any seatbelts for the rear bench, but my 34-year-old Toyota does.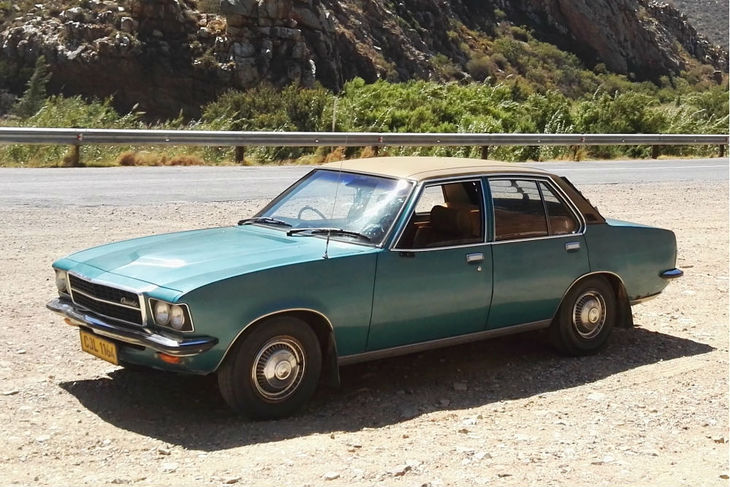 In the sweltering late-summer sun, the most effective source of cooling for the cabin was to drive with the front windows open.
Again, there are after market solutions to overcome this, but then that only really affects you if you've got a small family to carry around. Which is more than I can say about its lack of ABS and airbags.
Tempted to go classic? Read this first:
Look, it helps massively if you're mechanically minded or a compulsive DIYer with a penchant for watching "how-to videos" on YouTube. That's because when driving something of this vintage, in this case a motor vehicle approaching half a century of existence, you'll eventually find yourself in a situation where you'll need to roll up your sleeves and get your knuckles scuffed. It isn't a deal breaker of course, "old-school" auto electricians and mechanics will make light work of a broken brake master cylinder, will find out where that water (or oil) leak is located and plug it with little hassle.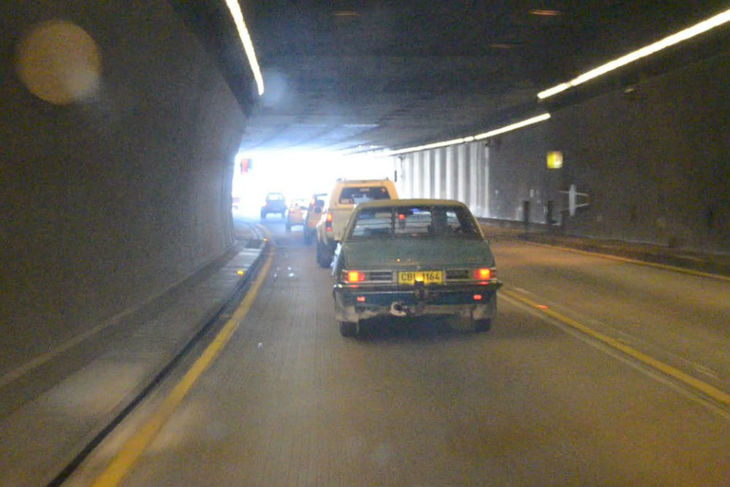 Its journey almost complete, the Chevrolet queued behind other cars in the busy Huguenot tunnel just outside Paarl.
It won't necessarily come cheap, but compared to what a modern car can cost to run after its manufacturer or aftermarket warranty has expired... it's potentially a bargain. Keep in mind that if you're buying at the coast, rust will be an issue. Have a look underneath and see how far gone the underbody is before signing yourself into a life of motorised remorse. In my Chevy's case, the original paint will require a fresh coat which will double as an opportunity to eradicate the mild formation of iron oxide (also known as tin worm, or, more commonly, rust) that has materialised.
Oil leaks are more serious, an indication of any numerous possible ailments, all of them potentially expensive. Excessive smoking is another no-no for me, especially if it leaves a black cloud in its wake, an indication at best of a poor fuel mix, or if the plumes have a bluish tinge, which is worse, that piston rings need to be replaced. That means opening the engine. That means goodbye disposable income. Smoke up front could be less of an issue, but even so be wary. My seller was upfront with the car's flaws and I'm glad to report that it stayed true the whole way home.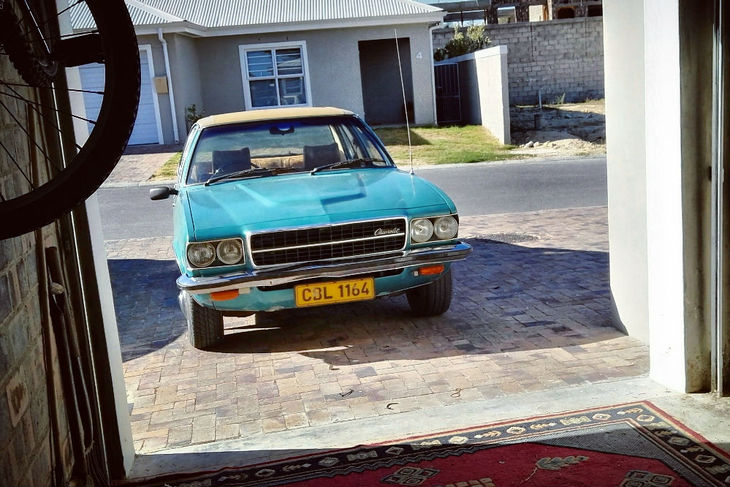 Whether intentional or not, Calvin rolled out the welcome carpet for the 4100's arrival at his Cape Town home.
I don't care. I still want it
All of this aside, I've essentially landed myself a priceless piece of nostalgia that just so happens to be a comfortable cruise missile with an abundance of character. I had plans to cut it and shut it, and transform it into a race-track plaything as a tribute to the original car, but instead found myself forming a close bond with the 4100 in its current unmolested state on the way home.
So much so that I couldn't dare disfigure it in any way now. And to think I got it for around the price of a set of tyres on a modern sedan developed at the Nurburgring. Have I made a case for nostalgia? You be the judge...
Related content:
SentiMETAL Ep 1: A 400 000-mile Jaguar E-Type love affair [Video]
Stunning Classic Bimmers at BMW 100 Festival [Video]
A day at BMW Classic's HQ [with Gallery]
5 Things to Consider When Buying a Classic Car
6 Modern Day Classics To Buy Right Now
Interested in buying a classic?