Lexus has added a more affordable derivative of its sexy RC coupe, powered by the brand's 2.0-litre turbopetrol engine. We took it for a spin near the Cradle of Humankind.
The Cars.co.za team was impressed with the Lexus RC 350 F-Sport when we reviewed it last year. It offers near musclecar-like looks, a brawny V6 engine and loads of luxury in standard trim. You could argue that the RC represents a new breed of Lexus, one that can be bought with the heart, as much as the head. Now, with the addition of the RC 200t, Lexus is placing the RC within reach of a significantly larger audience.
A classic grand tourer (GT)
Before assessing the RC 200t it is important to understand its positioning. This is not a hardcore sportscar, but rather a car in the classic grand tourer (GT) mould. By that definition, the RC 200t should deliver swift (as opposed fiery) performance, great long-distance comfort and loads of luxury features. But it should also not fall over in the first tight(ish) corner. We did not have an opportunity during the local launch to do any long-distance driving, but still had to cover 150 km swiftly in order to make it to the airport in time to catch our flights home. Consequently, the 2.0-litre turbocharged 4-cylinder engine nestled under that heavily sculpted bonnet had to flex its muscles harder than our hosts may have hoped they would be...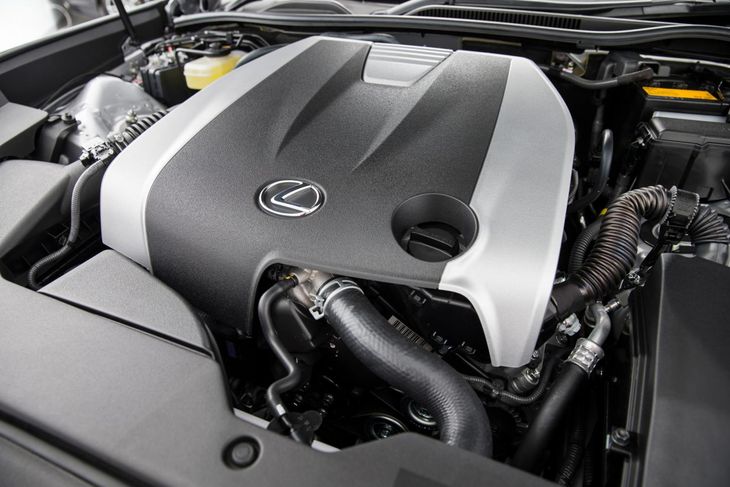 The 2.0-litre engine delivers class-competitive power, but impresses most with its refinement.
The engine is already used in a variety of Lexus products (NX, GS etc.) and uses twin-scroll turbocharging to develop 180 kW and 350 Nm of torque. The power figure, by the way, matches what is on offer from the German rivals (the Mercedes-Benz C300, for example), but is perhaps slightly down on torque. Interestingly, compared with the V6 in the RC 350 F-Sport, the RC 200t is only very slightly down on torque, too. So, coupled with a very slick 8-speed automatic transmission, the RC 200t delivers fair performance, with the 0-100 kph sprint completed in 7.5 seconds, which, admittedly, is bettered by the Germans. Clearly, then, this is no robot-to-robot racer.
Out on the open road, however, the RC 200t's engine and transmission combine to deliver superb refinement and responsiveness (especially in Sport mode). The maximum torque figure is available across a broad rev range (1 650 to 4 400 rpm), so the RC never feels lacking in grunt, and you can make sure the power is available immediately by using the shift paddles behind the steering wheel. And, here's a surprise... the engine in the RC 200t sounds surprisingly sonorous, especially compared with the disappointingly "strained" note of the similar-capacity motor in the Mercedes-Benz C300 models.
With a claimed fuel consumption figure of 8.0 L/100 km, the RC 200t is also appreciably more economical than its 350 F-Sport brother, although seemingly not as efficient as the aforementioned Benz unit.
Refinement is king
Arguably the most memorable aspect of driving the RC 200t is its refinement. In this department, the Lexus arguably leads the field, in fact. It rides on a significantly altered version of the platform that underpins the GS executive sedan, and boasts larger diameter front and rear stabiliser bars, among many other changes.
For Lexus, it was important to retain the comfort and refinement that the brand is known for, and it is that fine balance of traits that makes the RC 200t shine in its preferred environment (the open road). Nevertheless, the coupe's supple, loping ride quality doesn't mean that its body control through the corners is clumsy, quite the contrary, in fact. There are many roadworks in progress in the Maropeng area, so we had ample opportunity to test the RC 200t on a variety of surfaces. It excelled: big, lateral ridges were shrugged off; coarse surfaces failed to make anything in the sturdy cabin rattle or vibrate and, all the while the cabin remained a quiet, comfortable to place, due to excellent NVH (noise/vibration/harshness) control.
Everything is standard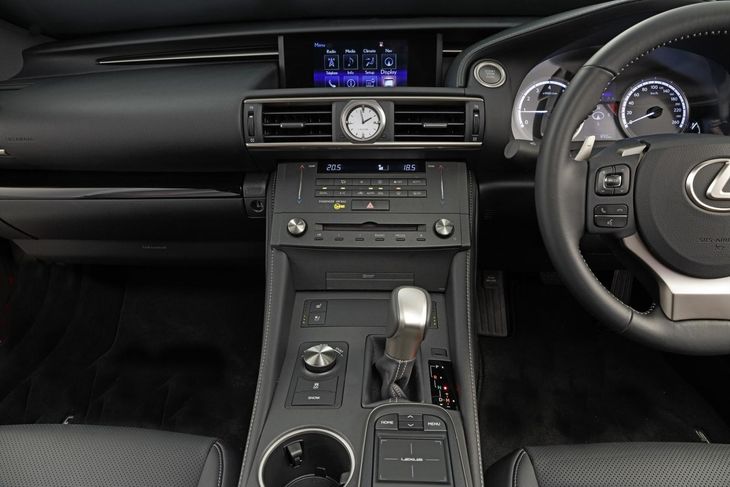 RC's cabin combines traditional and high-tech without sacrificing the brand's legendary quality.
As is the case with most Lexus models – and unlike the German offerings – the RC 200t is offered in one specification level (EX) and wants for nothing. The fantastic front seats are trimmed in soft leather and offer 8-way adjustability for the driver (6-way for the front passenger), as well as heating and ventilation functions for both front occupants. There is also the familiar Lexus Remote Touch Interface for the comprehensive infotainment system (navigation is standard). This control system (think of it as the touch-pad of a laptop), may offer both the driver and the front passenger the ability to access the infotainment system's features, but it can't match the competition for user-friendliness and ease-of-use. Perhaps we've just all become to accustomed to touchscreen interfaces, or systems similar to BMW's iDrive. Of course, owners who live with the car are likely to eventually become familiar with it.
Other cool features include an electrically-operated sunroof, Smart Entry system and heated and retractable side mirrors. Safety is taken care of by: no fewer than 8 airbags, a reverse-view camera and park distance control, ABS/EBD, VSC (vehicle stability control), hill-start assist control and tyre pressure monitoring.
To read up on the standard features, click here.
The looks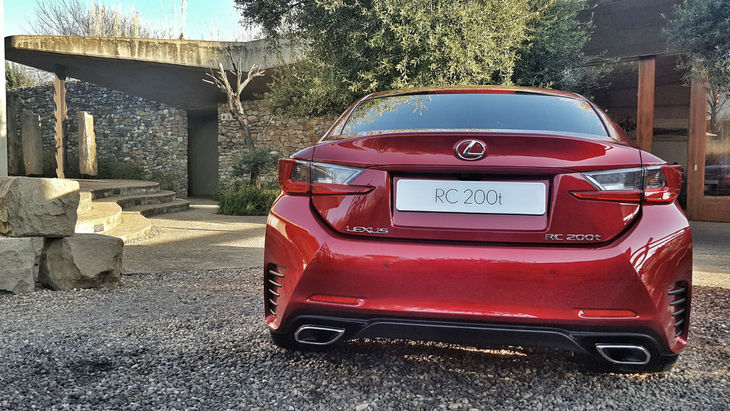 The RC 200t's exterior design is muscular and boasts numerous aero-aiding elements.
Commentary on a car's exterior styling is subjective, but, in this case, it's worth pointing out a few things. Firstly, whereas its German rivals (BMW 4 Series and Mercedes-Benz C-Class Coupe) offer very similar looks to their sedan siblings, the RC appears more of a standalone design. This means that for customers who desire individuality, the RC's flamboyant and muscular appearance could well be a clincher. The Solar Red paint finish, by the way, is magnificent. Standard design features include 18-inch alloy wheels, and LED light detailing.
Inside, too, the design is purposely so different to anything else in this segment. The combination of flat surfaces and curves, and the marriage of traditional materials and high-tech touches such as electrostatic climate control switches, is unique. It is quite a divisive design, to be honest, but Lexus has not compromised its tradition for excellent quality.
Verdict & price
The RC 200t does exactly what Lexus claims: it is a refined and stylish way to cover distances quickly. Yes, it is not as fast or dynamic as its German rivals, but if you're looking for something with a touch more individuality and want an all-inclusive package, then the RC 200t is rather hard to beat.
The RC 200t EX costs R699 100, which includes Lexus' 4-year/100 000 km warranty and Distance Plan Plus maintenance plan.
Looking for a used or new Lexus RC? Click here.