We headed to Turin, Italy to get a taste for the brand's entry into the double-cab market. It's essentially a Fiat-branded (new) Mitsubishi Triton, but there's so much more to it. Does it have enough to shake up the already competitive bakkie segment?
The Fullback is the result of cooperation between Fiat and Mitsubishi, which has offered its Triton double cab model in South Africa since 2007. However, the newcomer has an Italian-styled exterior and a functional, modern cabin, but shares its underpinnings and mechanical parts with the new Triton, which is still to be launched in South Africa. It is quite conceivable that the Fullback will arrive in South Africa (June 2016) before the Japanese bakkie on which it is based makes its long-awaited appearance!
Take a walk around the new Fiat Fullback by pushing the Play button below.
The line up for SA
The Fullback line-up will comprise single- and double cab derivatives, powered by petrol and turbodiesel engines mated with a 5-speed manual or 5-speed automatic transmission. The bakkies will be available in 4x2 and 4x4 configurations.
The numbers
The newcomer has a 3.0-metre wheelbase (for a total length of 5.3 metres), a payload of 1 tonne and a towing capacity of 3 tonnes. Ground clearance is between 200 mm and 205 mm, depending on the derivative.
In terms of engines, there's a 2.4-litre petrol engine as well as a 2.5-litre turbodiesel. The 2.4-petrol produces 97 kW and 202 Nm, while the 2.5 turbodiesel will be available in 3 states of tune: 94 kW, 100 kW and 131 kW respectively, with torque figures that vary between 200 Nm and 400 Nm.
How does it drive?
The model we drove was the 2.4-litre petrol manual 4x4. While its engine's outputs seem conservative compared with those of its rivals' powerplants we found the bakkie's performance was quite willing and capable, especially considering that there were 3 occupants on board and (to demonstrate the bakkie's carrying capacity), Fiat had loaded a combination of logs and cement bags onto the back.
Our test route took us out of the confines of Turin and out onto the Autostrada (highway) first. Despite having to haul 500 kg in cargo, a driver and a pair of passengers, the Fullback showed no shortage of in-gear urge... in fact, we did not miss a sixth ratio!
The notoriously narrow Italian side streets can be a nightmare for a double cab, but we were pleasantly surprised by how nimble and agile the Fiat felt in urban confines. The current market leaders (Hilux and Ranger) have both grown in size considerably and, as a result, can be quite unwieldy. The Fullback, on the other hand, effortlessly completed three-point turns as we were sent in completely in the wrong directions by an erratic aftermarket satnav unit mounted on the dashboard.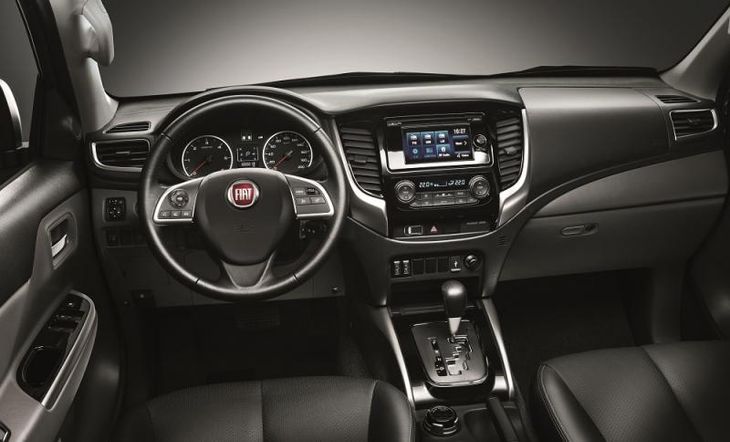 Top-spec cabin boasts quality features and generous specification.
Despite the fact that the engine worked hard, we were impressed by the levels of quietness in the cabin. The ride quality was a revelation too – none of that stereotypical "choppy double cab ride" was present. A quick sit behind yourself test revealed substantial rear legroom.
We'll get confirmation on final specification levels once the local models arrive, but based on our vehicle and these press images of the top-spec model, we'll get power steering, electric windows, climate control, steering wheel mounted controls and, potentially, the Uconnect touchscreen infotainment system.
Offroad ability

Decent on-road manners and low noise levels in the cabin were pleasant surprises
Fiat Professional was keen to highlight the Fullback's off-road ability. We had the opportunity to put the vehicle through its paces in a forest, however the aftermarket satnav did a fine job of getting us lost, so we were restricted to an on-tar evaluation only. On paper, the manual Fullbacks have a traditional transfer case gear lever that allows the vehicle to shift between two-wheel drive, four-wheel drive high and low-range mode.
The automatic-equipped Fullbacks make use of an electronic selector and this allows drivetrain mode shifts at speeds of up to 100 kph. With a ground clearance of 205 mm, and the aforementioned drive options, the Fiat Fullback looks like it has the basics covered in terms of off-road operation.
Will it sell?
The key to the Fullback's success will be its "competitive" pricing. Even if FCA can only hold its introductory pricing for two/three months, the early adopters may give the product the marketing battle won. The MOPAR range of accessories, including such items as blingy wheels, tonneau covers and roll bars will be made available, and given South Africans' love for customising bakkies, these make a big difference in terms of visual appeal.
The Fiat will have its fair share of detractors (obviously) as this segment's buying decisions are largely based on brand loyalty and dealer back-up. We feel that the Fiat Fullback has what it takes to gain a notable share of this market. While it's going to be hard to sway current Hilux and Ranger owners, smaller bakkie brands are in Fiat's crosshairs and if the Fullback's pricing and dealership backup are good, as the firm promises, the opposition should take note of this new arrival. Should you? Let's see the pricing first! But it does look promising...