In line with the facelifted version of the Mercedes-Benz C-Class, AMG has revealed an update to the C43 sedan. What does this update entail? Find out below.
We really like the idea of the C43 and what it offers. If you can't afford (or are too intimidated by) the 4.0-litre V8-engined rear-wheel drive C63 sledgehammer, the C43 (which is produced at Mercedes' East London plant, inter alia) offers 80% of the performance, allied with the peace of mind of 4Matic all-wheel drive. Power comes from a twin-turbo 3.0-litre V6 and, in our experience, the car is deceptively quick off the line. Some would even argue that a well-driven C43 would be able to see off a C63 from a standstill, as the latter struggles for grip thanks to that avalanche of torque delivered by that monstrous V8 engine.
Now for 2018, Mercedes-AMG has announced an update to the C43 range. The headline change? More power! The 3.0-litre V6 biturbo engine has been retained but has been reworked to now deliver 17 kW more. Torque remains the same at 520 Nm, but now the car produces 287 kW, which is enough to see it hit 100 kph from standstill in a claimed 4.7 seconds and it'll run on to a top speed of 250 kph. Power goes to all four wheels via the Mercedes-AMG Speedshift 9G transmission.
In terms of exterior looks, the Mercedes-AMG C43 4Matic looks even more aggressive, especially at the rear thanks to much bigger and more prominent exhaust pipes. There's a new AMG radiator grille at the front and the car gains some new-look alloy wheels. For those wanting more, there's an optional AMG styling package. Inside, the Mercedes-AMG C43 gains some new materials in the trim and there's a new design of steering wheel.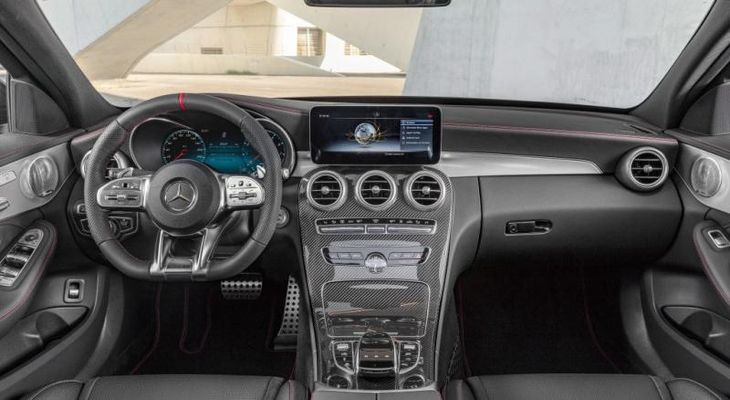 There are new materials in the facelifted Mercedes-AMG C43 cabin and enhanced digital infotainment screens.
Further Reading
Mercedes-Benz C-Class Facelift (2018) Revealed
Spy Shots: BMW 3 Series is coming
Spy Shots: 2018 Mercedes-Benz C-Class
Mercedes-Benz Edition C (2017) Specs & Price
Interested in buying a C-Class?