The new-look Mazda BT-50 may still be regarded by some as the less-than-macho, somewhat awkward-looking cousin of the top-selling Ford Ranger, but beneath its polarising exterior styling lies a pragmatic bakkie that is made for work and isn't short on comfort, either. Australian contributor Matt Campbell drove it ahead of its local introduction in February 2017.
The facelifted Mazda BT-50 range certainly looks a bit more masculine than it did before, with a revised grille treatment, new-look headlight inlays, a re-sculpted front bumper and there's a slightly revised rear-end with new, redder taillights.
But, really, if you already liked the swoopy KODO design language-flavoured look of the Mazda BT-50, as opposed to the square-edged styling of its competitors, then you probably won't care too much about the aesthetic changes. Or, you might love them.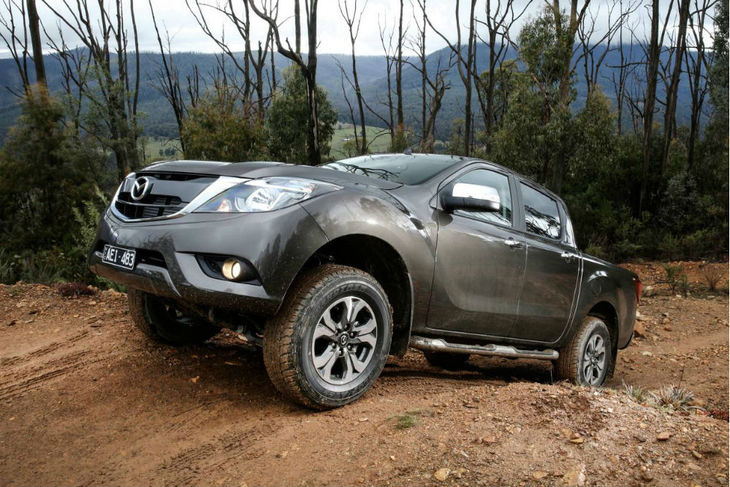 The BT-50 may be regarded as an overtly lifestyle-oriented double-cab, but its off-road prowess is substantial.
As with the current range, the BT-50 line-up consists of single-cab, Freestyle extra-cab and double-cab models powered by 2.2- and 3.2-litre turbodiesel engines. So there's something for everyone and, according to Mazda South Africa, the range line-up of will remain much – if not exactly – as before.
The BT-50 was the last Mazda model to be introduced in South Africa under Ford's custodianship (back in 2012) and it was produced at the Blue Oval's Silverton plant (in conjunction with the Ranger). However, like in Australia, the Ranger comfortably outsells its comparatively outlandish cousin on the local market and Mazda, which took over the distribution of its own products in 2014, now sources its BT-50s from a plant in Thailand.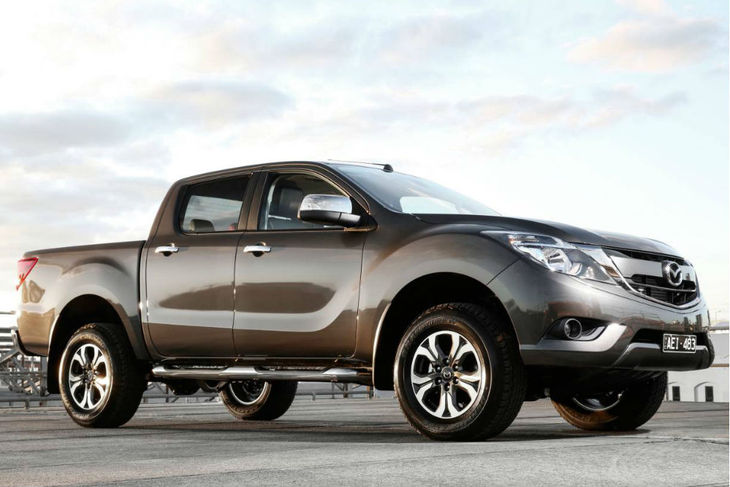 Mazda dares to be different with the most evocative of bakkie designs, it does not look bare without nudge- and roll bars.
Given that the Ranger received such a large update this year, you may expect some technological advances to the BT-50. But, in what can be seen as a demonstration that Ford and Mazda no longer co-develop their products, the newcomer sports nothing like the changes offered by Ranger.
In the cabin
Let's start with the stuff the BT-50 doesn't get that the Ford Ranger does – the list isn't short.
There's no company-sourced infotainment system – the impressive MZD Connect media controller in the brand's passenger vehicles isn't fitted to the BT-50. But in high-spec models, there's a touchscreen media unit, but we will have to wait and see if it will be offered in South Africa (it might!). All models have USB connectivity and Bluetooth phone and audio streaming with voice control to keep you in touch on the road.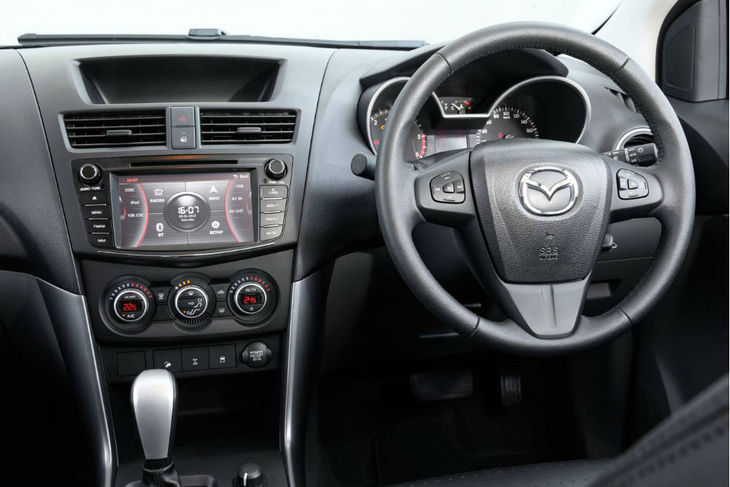 Although the instrument cluster remains largely analogue, the touchscreen infotainment system would be a nice-to-have feature.
Unlike the updated Ranger, the Mazda doesn't get the clever digital readouts on either side of a central speedometer. Instead, the cluster looks identical to how it already did, and that means a speedometer and rev counter, but no digital speedo, nor sat-nav instructions or safety aid settings…because, you guessed it, the Mazda doesn't get the new safety tech of adaptive cruise control and forward collision alert that's offered in the high-end Ford models. A rear-view camera is available, and there are six airbags in most models.
It's a smart cabin with excellent finishes and convenience features, which is, after all, what modern Mazdas are renowned for. The storage solutions are good, with large door pockets up front (and in the rear of double-cab models), and good storage between the seats, too.
The controls are chunky and easy to use, although the more affordable models have a button-heavy media system that can be a bit of a pain to use.

Rear legroom remains one of the BT-50's strengths, the bench can accommodate up to three adults.
If you choose a double-cab, there's easily enough space for five adults on board, with 3 big boppers fitting across the back at a squeeze. If you have little ones, there are ISOFIX child-seat anchor points.
Under the bonnet
The engine line-up remains unchanged, with the 2.2-litre 4-cylinder turbodiesel drivetrain offered in the lower-end models, producing 110 kW and 375 Nm of torque. For a 4-cylinder engine this is a competitive offering, and if you can't stretch to the higher models in the range then you'll not be left feeling hard done by. It's an honest and strong engine, with its sweet spot between 1 500-2 500 rpm – beyond that it can be quite noisy.
High-spec versions have the same 3.2-litre, 5-cylinder turbodiesel engine with 147 kW and 470 Nm of torque. It's an effortless engine with limited weight on board, and even with a full load – five adults and a few hundred kilograms in the load bay – it's strong. The 6-speed automatic can seem a little busy at lower speeds, particularly when you're dealing with traffic, and there's some lag down low in the rev range if you try to hurriedly take off from a standstill.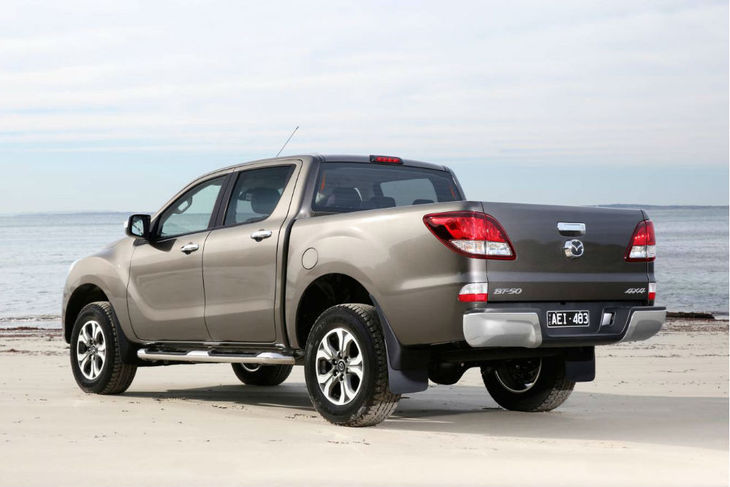 The jury's still out on the tail light designs, but they're nothing if not distinctive.
That said, the engine is among the best in the class for pure grunt – this isn't a bakkie that feels like it will shy away from hard work, despite the fact Mazda pitches it more as a lifestyle vehicle.
Driving dynamics
Another thing the Mazda BT-50 misses that the impressive Ranger has is electric power steering. In the Ranger, the responsiveness of the tiller is so good that you can turn it into parking spaces with just your fingertips.
In the Mazda, the existing hydraulic steering system remains, and its action is heavy: it verges on cumbersome at low speeds when parking or performing 3-point turns, and the turning circle is quite large, too. At higher speeds the steering accuracy and response are excellent, and off-road, it offers appreciable feedback to the driver's hands, allowing them to know exactly where the front wheels are.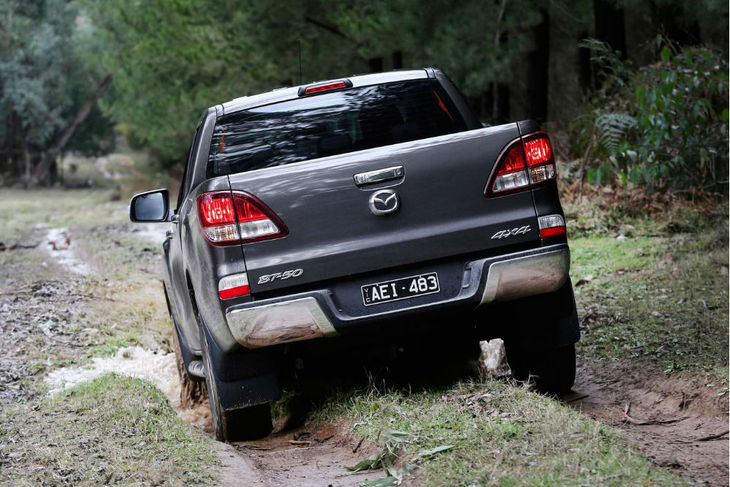 Shift-on-the-fly 2H to 4H functionality is still a boon to those appreciate the odd off-road excursion.

The ride can be harsh in lower-spec models, but that's to be expected when there's nothing in the tray when the payload capability is so high. Higher spec models with the larger alloy wheels ride commendably, even over rough roads with nothing in the tray.
Summary
It misses out on some of the good stuff that the Ford Ranger gets, but the BT-50 is backed by a 4-year/120 000 km warranty and it has 3-years of roadside assistance included. Servicing is due every 15 000 km and there's a 5-year/90 000 km servicing plan, too. The new-look Mazda BT-50 remains among the best in the segment for power and torque, and it certainly has the capability expected of this type of vehicle. Yes, it may lack some of the top-end features of the Ranger and, yes, its exterior styling is still an acquired taste, but a 5-year/90 000 km service plan, backed by a 5-year/150 000 km warranty and keen pricing has kept the BT-50 on people's shopping shortlists, even if it wasn't the bakkie they ultimately bought. May the same be true for this newcomer.
Related content:
Best Leisure Double-Cab Bakkies in SA
5 Cheapest Automatic Double-Cab Bakkies in SA
5 Most Fuel-Efficient Double-Cab Bakkies in SA (2016)
5 Cheapest Family Double-Cab Bakkies in South Africa
New Triton and Navara: South Africa's "Missing" Bakkies
7 New Double Cabs to Look Out For
Toyota Hilux vs Ford Ranger vs Isuzu KB vs Volkswagen Amarok (2016) Comparative Review
In-Depth Comparison: New Hilux vs Ranger vs KB vs Amarok (video)
Drag Race: Hilux vs Ranger vs Amarok vs KB
2016 Toyota Hilux vs Ford Ranger – Offroad & Review
Toyota Hilux 2.8GD-6 DC 4x4 Raider Auto (2016) Review
Ford Ranger 2.2 XLS 4x4 Automatic (2016) Video Review
Ford Ranger 2.2 XLS 4x4 Automatic (2016) Review
Extended Test: Ford Ranger 3.2 4x4 Wildtrak [with Video]
Ford Ranger 3.2 4x4 Wildtrak (2016) Review
Mercedes-Benz X-Class Concept Finally Revealed
Can't Wait for Mercedes-Benz X-Class? Check this out
No Demand for Mercedes-AMG X-Class
Want to buy a Mazda BT-50?