The top-spec derivative of the recently refreshed Opel Mokka X compact family car had an extended tenure in the Cars.co.za test fleet, during which time it provided well-specced, comfortable family transport and excelled at the daily commute. What were its strengths and weaknesses?
The recent announcement regarding the withdrawal of General Motors (and the Chevrolet brand) has left a question mark over the local market future of Opel, which is no longer owned by GM. While the future of Opel in a post-GMSA era will be revealed on June 8 2017, whatever will happen to the Russelsheim-based brand in South Africa (it probably will endure...), that must not detract from the fact that the Mokka X compact family car represents excellent value... and should continue to do so despite the impending rationalisation of the General Motors dealership network.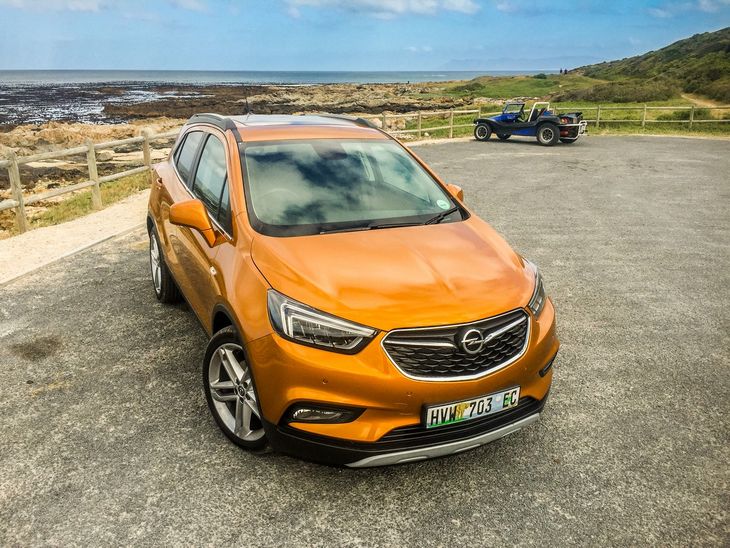 The Mokka X journeyed to Gansbaai, which is 2 and a half hours' drive from Cape Town, for a brief holiday jaunt.
The positives
Standout style
Considering that the car previously known as the Mokka has been production since late 2012 (although it was only launched in South Africa in March 2015), it still looks comparatively fresh due to a recent facelift. Now bearing the name Mokka X, Opel's perennially underrated compact family car looks much more youthful and less overtly cladded (as was the case with the pre-update version), with a redesigned slimline headlight clusters complemented by integrated double-wing LED daytime running lights, a wing-shaped horizontal grille and an ornate front bumper.
Specified with the Premium Lighting Pack, the Mokka X gains front cornering lamps, LED high beams with directional control beam technology, plus LED taillights. Combined with the Amber Orange paintwork, satin bumper and window trims, roof rails and 19-inch wheels, the Cosmo-spec derivative strikes just the right balance between "cute 'n' cuddly" and "it looks like it just might be able to go off-road". Although most of its rivals, with the exception of the Suzuki Vitara, err on the side of (let's say) boutique styling, the X probably has more unisex appeal than most.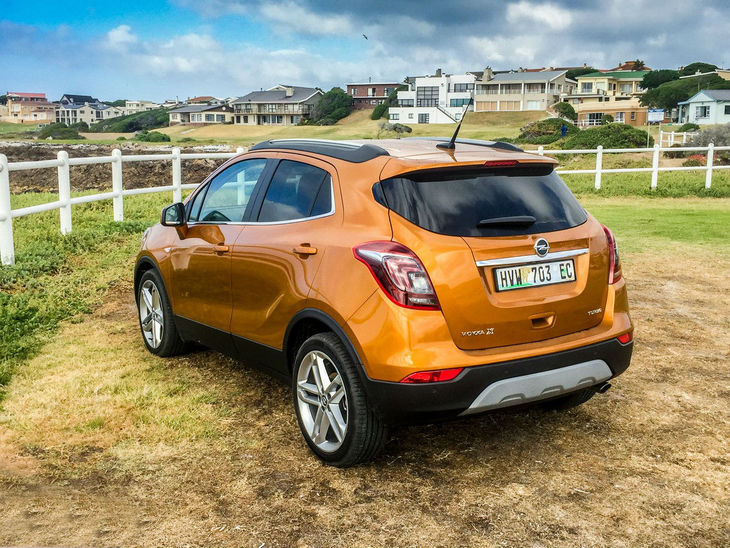 The Mokka X test unit was additionally specified with a panoramic sunroof... the 19-inch wheels and satin cladding were standard, however.
Excellent specification
As befitting a flagship derivative, the Cosmo comes with a host of features that are almost too many to mention (but we'll try). Suffice to say that, specification-wise, there are few compact family cars that can match what the top-of-the-range Mokka X offers. To begin with, the front seats (AGR Certified Ergonomic with height adjustment for driver and passenger) and the multifunction steering wheel (including cruise control with speed limiter toggle) are trimmed in leather (as is the rest of the cabin, plus they are heated.
As for the side mirrors, they're heated and foldable, there is dual-zone climate control, rain sensing wipers and automatically activated lights, an auto-dimming rear view mirror, reverse-view camera, as well as park distance control (front and rear). The biggest revision from an ergonomic point of view, one which is increasingly critical as the user-friendliness of personal electronics interfaces become a focus area of so many consumers, is the introduction of the Intellilink touchscreen infotainment system that has drawn so much praise in the Astra and Corsa ranges.

Highlights of the interior include leather trim, a raised driving position, smart-looking piano black trim and a touchscreen infotainment system.
However, the test unit was additionally specified with a full-colour IntelliLink Navi 900 Infotainment System with an 8-inch screen, which includes navigation function and support for Apple CarPlay/Android Auto. The system is both crisp to look at and intuitive to use and is availed in conjunction with the multi-colour graphic in the instrument panel's driver information display panel.
As a result, the Mokka X feels modern and upmarket in ways that draw so many buyers to the baby SUV/crossover market. Granted, some of the harder plastic panels still betray the Opel's made-to-a-cost compact hatchback origins, but the strategic application of soft-touch materials, piano black insets and metallic look trim lift the ambience. There are a couple of surprise-and-delight features, most notable of which are the fold-down driver's armrest and privacy glass in the rear doors... So, to sum up, the Cosmo derivative's spec leaves little to be desired.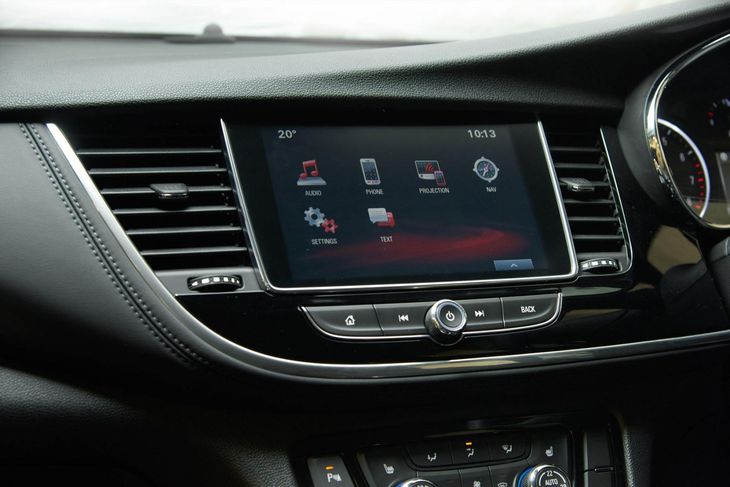 The upgraded 8-inch Intellilink touchscreen system incorporates satellite navigation and Apple Carplay/Android Auto compatibility.
Packaging
Although compact family cars/crossovers are expected to deliver user-friendliness and maximum utility in a city-friendly package, the age-old conflict between practicality and style is as pertinent in this segment as any other. Some of the most eye-catching cars in this segment, such as the Mazda CX-3 and Toyota C-HR, don't offer generous rear legroom or luggage areas, whereas some of the boxier iterations, such as the Suzuki Vitara and Hyundai Creta, are practically packaged... but unlikely to win beauty contests. The Nissan Qashqai probably strikes the best balance in that regard.

Fancy a weekend away? The Mokka X's luggage bay swallowed three occupants' luggage and bedding easily.
The Mokka X is a reasonably good all rounder too. Rear occupants are afforded more-than-acceptable rear leg- and headroom, while the luggage area, if less than generous, can accommodate a small family's shopping or weekend luggage without the need to fold the 60:40 split rear seatback forward. Freeing up the useful utility space takes two steps, as opposed to simply unlatching the backrests and folding them forward (view a demonstration), but it did not perturb those members of the test team who are avid surfers and needed to load/unload their boards regularly.
From a driver and front passenger's point of view, we were particularly impressed with the plethora of oddment stowage spaces. The door pockets are voluminous, as are the lidded compartments in the centre console and above the gear-lever/below the climate control binnacle. We often find that the cabins of compact cars can easily look cluttered because house/flat keys, smartphones, wallets and e-cigarettes end up clogging cars' drinks holders.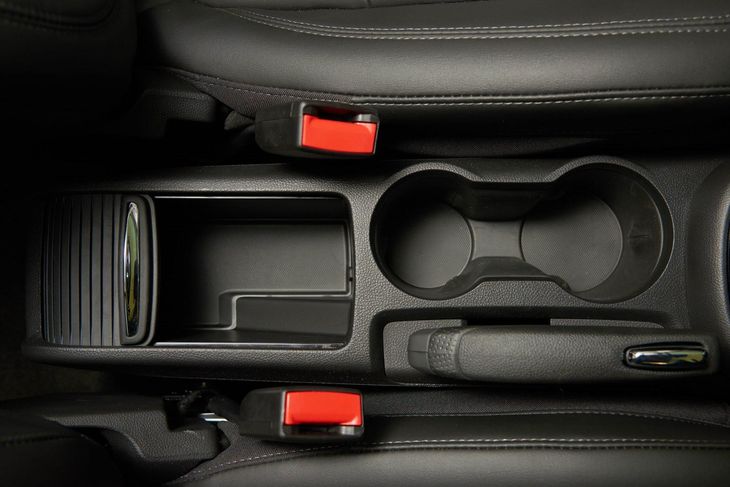 The lidded storage bin in the centre console helps to keep the dual cupholders free of detritus.
In the case of the Opel, however, the (dual-sized) drinks holders could be used as they were intended and, by virtue of the auxiliary and USB ports and 12V socket being housed inside the uppermost lidded compartment, devices (and their cables) could be stored discreetly while they were being charged or used to stream music or project the Apple Carplay function.
Performance & Efficiency
The engine line-up in the Mokka range is limited to one motor – a 1.4-litre 4-cylinder turbopetrol mated with either a 6-speed manual 'box or 6-speed automatic transmission. Even though its (moderate) outputs are unchanged from the pre-facelift version (103 kW/200 N.m), it provides reasonably flexible performance allied with a slick, positive shift action. Cruise control was utilised extensively on a return trip between Cape Town and Gansbaai (320 km), where we found good use for the sixth ratio to achieve an indicated fuel consumption of 7.7 L/100 km, which was not drastically higher than the claimed 6.0 L/100 km and more than reasonable given holiday traffic conditions and that there were 3 occupants and their luggage on board.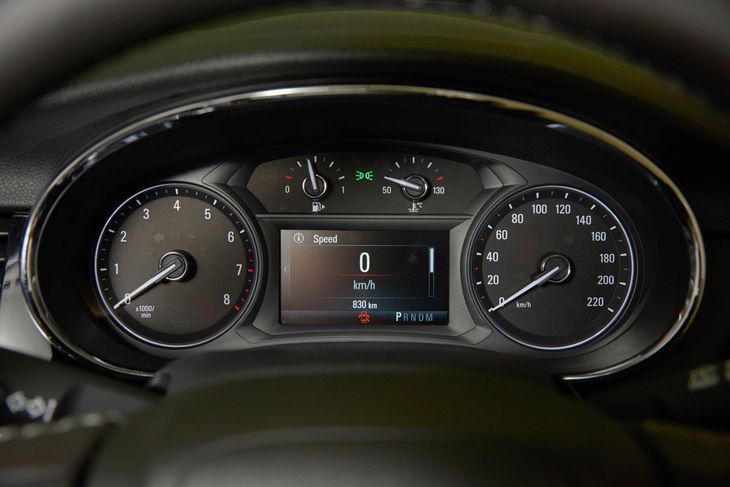 The instrument panel looks a generation older than it should be, but the colour information display matches the fascia screen well.
The negatives
Does show its age in some areas
Although the Opel's ride quality is generally composed, there is a price to pay for those handsome low-profile 19-inch rims and well-seasoned MacPherson strut-torsion beam suspension setup... the Mokka X's ride can feel a tad fidgety or nervous. It's not to say that progress feels unbearably bouncy over poorly-maintained roads, it just doesn't soak up hard bumps as well as more modern (and probably soberly-shod) rivals.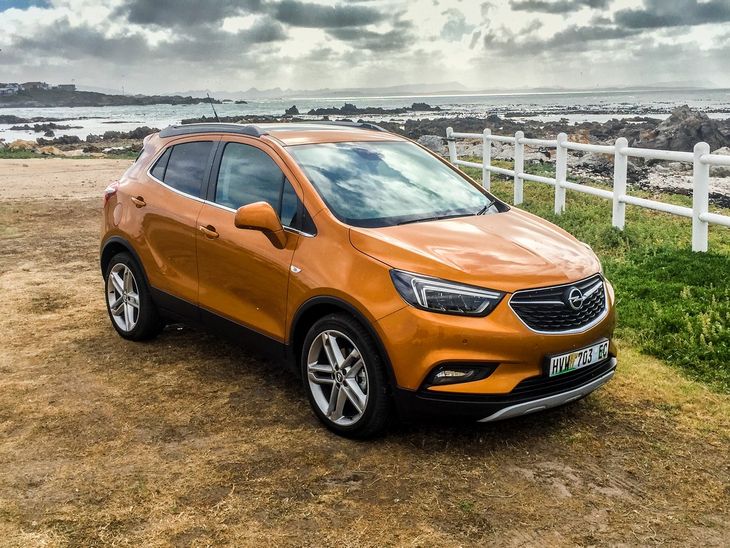 Although the 1.4-litre turbopetrol offers willing performance, the motor does sound a mite strained when asked to rev hard.
We also found the automatic aircon somewhat over-exuberant; perhaps the long dashboard (a by-product of the gently-sloping windscreen) absorbs too much heat, which fools the temperature sensor to blast copious volumes of cold air into the cabin (at least more than what the climate control settings should require under normal circumstances). A few testers also remarked the park distance sensors were imprecise; the ones at the rear would warn of an impending collision when the reverse monitor suggested there was still room left to reverse further.
That Opel "bugbear"
There is no way to sugar-coat this.. Of all the German car companies represented on the South African market, Opel is a fringe-player. Throughout its tenure in now-former parent company General Motors' stable, the Russelsheim-based brand has alternated between being the darling son/daughter and unloved stepchild of the North American auto giant and that rang true for the local subsidiary's variable product strategies too. As a result of that (and other factors), Opel's market share has gradually shrunk to the point that no matter how well-packaged and attractive its products are, they're viewed as "speculative alternatives" to the volume-selling mainstream models produced and sold by German, Japanese and Korean manufacturers.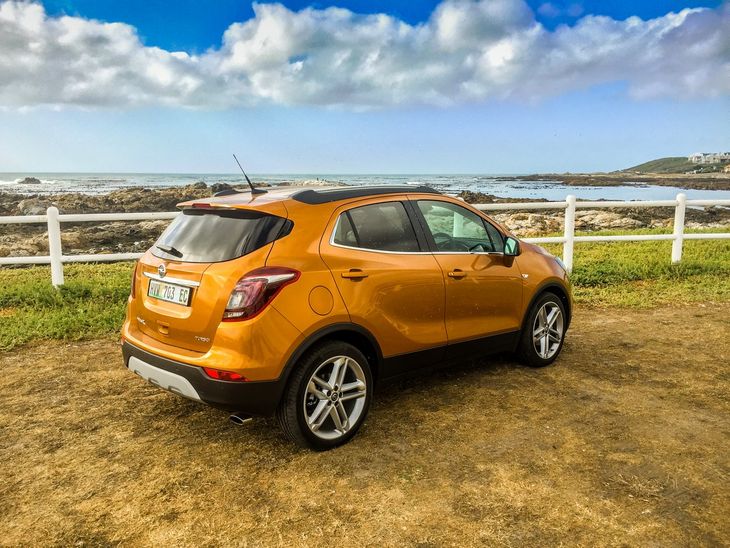 With General Motors heading for the exit in Mzansi, the future of Opel products is, if (probably) not bleak, somewhat uncertain.

To further complicate matters, Opel is now owned by Peugeot Citroen (PSA) and the French multinational has a tiny dealer footprint in South Africa. Will PSA (or Isuzu) take over the distribution and support of Opel products in the post-General Motors era? Well, whichever manufacturer or importer (if any) takes custodianship of Opel in Mzansi, the brand's standing warranties, service plan agreements and parts supply will be honoured, but how much collateral damage could the current uncertainty inflict on the public perception of the German brand? If you look a little further "down the road", how will second-hand values of Opel products hold up until such time as buyers' trust in the brand's future distributorship has been confirmed?
Summary
Of course, the market upheaval created by General Motors and Chevrolet's exit from South Africa, and the subsequent rationalisation of the dealer network that distributes (and provides after-sales support for) Opel, is no fault of the German brand and it would be unfair to label the Mokka X a marginal purchasing proposition because of it. Granted, it may not be the newest compact family car available in the South African market, but it represents excellent value for money (we could not think of any feature that we would have liked to add to the standard specification), plus it comes replete with a 5-year/120 000 km warranty and 5-year/90 000 km service plan. With a list price of R357 400, the 1.4 Cosmo manual is a good deal.
However, in between now and the conclusion of General Motors' withdrawal from the local market, you can expect very enticing sales incentives on (soon to be former, or discontinued) GM products, which will apply to Opel too. If ever X marked the spot, there are bargain deals to be made.
Watch Ciro de Siena's video review of the Mokka X below:
Related content:
Opel Mokka X in SA – Specs and Pricing
Opel Mokka X (2017) First Drive
Opel Mokka 1.4T Cosmo Automatic (2015) Review
Suzuki Vitara 1.6 GL+ (2016) Review
2015 Suzuki Vitara Video Review
Renault Captur Sunset (2016) Review
Renault Captur 88 kW Dynamique (2015) Review
Crossover Comparison: Honda HR-V vs Mazda CX-3
Want to buy an Opel?