Is the Mazda3 2.0 Astina worthy of your ownership? We spent a month with the range-topping model to get a sense of what the car is like to live with on a day-to-day basis.
Mazda3 2.0 Astina - Quick Facts
Engine: Naturally-aspirated 2.0-litre petrol
Transmission: 6-speed automatic
Power: 121 kW
Torque: 210 Nm
0-100 kph: 10.3 secs
Top Speed: 198 kph
Fuel Efficiency: 5.9 L/100km
Boot Space: 308 L
Highlights and Lowlights of the Mazda3 2.0 Astina
The Mazda3 has quietly become one of the country's top-selling C-segment hatchbacks. It competes against such vehicles as the new Opel Astra, Ford Focus and, of course, the Volkswagen Golf 7. But, as is usually the case with modern Mazdas, this product doesn't follow the current trends (on purpose). It's sleek and sporty looking, where most rivals are quite boxy or bland, and with a naturally aspirated 2.0-litre engine as opposed to a downsized turbo, the Mazda3 is pitched at a discerning customer looking for near-premium style and luxury. But what is a Mazda3 like to live with? We spent more than a month with this Astina derivative and these were the 5 things that left a lasting impression.
1. The looks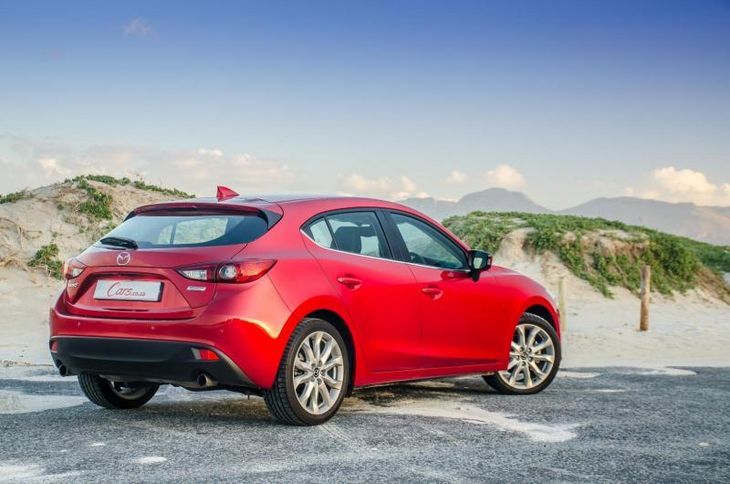 The Mazda3 Astina is an attractive hatchback with its sleek, low-slung stance.

Our first encounter with the Mazda3 occurred nearly two years ago when we had our first unit on test, and time has done little to diminish its appeal. It has aged well, and still photographs beautifully too, especially in Soul Red body colour.
Where other hatchbacks generally can look boxy and uninspired, the Mazda3 appears "livelier" with its longer bonnet and low-slung, coupé-like stance. It's what we like to call "clean" design – simple, attractive and curvy. Note that 18-inch alloy wheels are fitted as standard on this Mazda3 2.0 Astina. A very small facelift will happen in the coming weeks, so keep an eye out for that. Even so, visual changes won't be significant, because they don't need to be.
2. Interior layout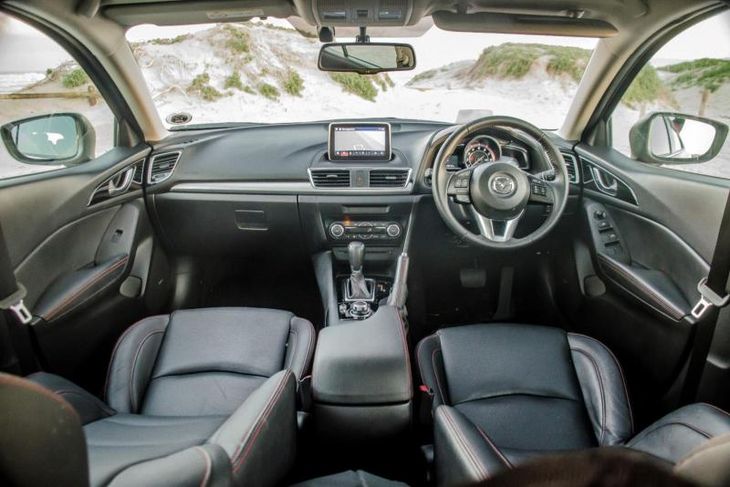 The interior of the Mazda3 Astina features a minimalist design approach with a host of standard features.
What we like about the interior of the Mazda3 2.0 Astina is the simple, minimalist design approach Mazda has employed in the car. The interior, much like the exterior, is uncluttered, yet elegant in design. There's a neat seven-inch touchscreen placed on the upper dashboard and it offers access to a variety of functions such as media, navigation, Bluetooth and vehicle settings. The system is easily navigated using the rotary dial positioned ahead of the centre console (a feature typically found on more expensive cars). Dual-zone climate control air-conditioning is standard on this Astina and the buttons and dials to control it are neatly clustered in the lower dashboard. More importantly, the interior is solid and well-built.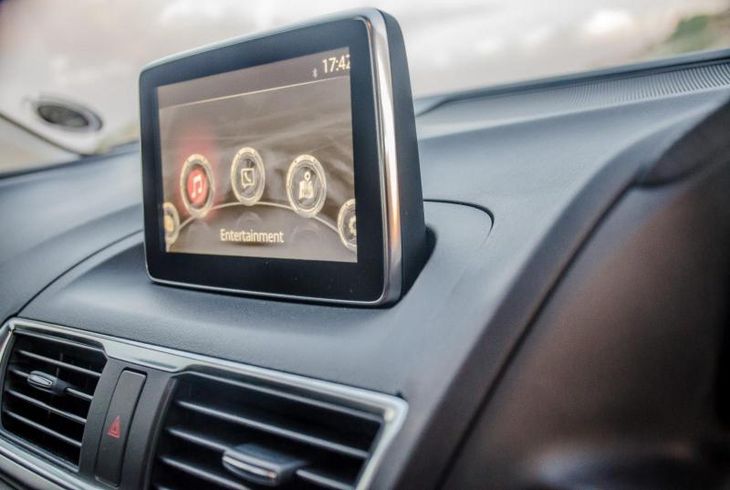 The 7-inch touchscreen adds a nice upmarket touch to the Mazda3 Astina's interior.
There's also a small heads-up display screen that pops up when you start the car using the start/stop button. It looks nifty, but we perceived it to be a bit gimmicky. We think a heads-up display projected onto the windscreen would add a nice premium touch instead. Another gripe, if we can call it that, is the CD loader. It's awkwardly placed directly ahead of the transmission and when in Park, it's difficult to load a CD due to lack of space. You have to shift the transmission into Neutral or Drive to create space to load the CD. But then again, who uses CDs these days anyway?



The instrument cluster of the Mazda3 Astina is stylish and sporty in design.

With our gripes out the way, another aesthetic highlight in the Mazda3 is the instrument cluster. It's sporty in appearance and attractive to look at with a large central tachometer combined with a digital speedometer and flanked by two information displays. For added convenience, the driver can browse trip information, engage cruise control or take calls using the mounted controls on the steering wheel. We must mention the seats too. It's easy to get comfortable in the Mazda3 and the standard leather upholstery adds a premium feel to the interior. Furthermore, the driver's seat is 8-way electrically adjustable, so finding the best driving position is effortless.
3. Ride quality and handling
You only have to drive the Mazda3 for a short distance to be impressed with the ride quality. For the most part, the Mazda3 delivered a smooth and comfortable drive over varying surfaces and only on the roughest and bumpiest sections of road did the Mazda3's underpinnings send jolts through the cabin. The cabin is also reasonably well insulated and very little wind and road noise intrudes while driving.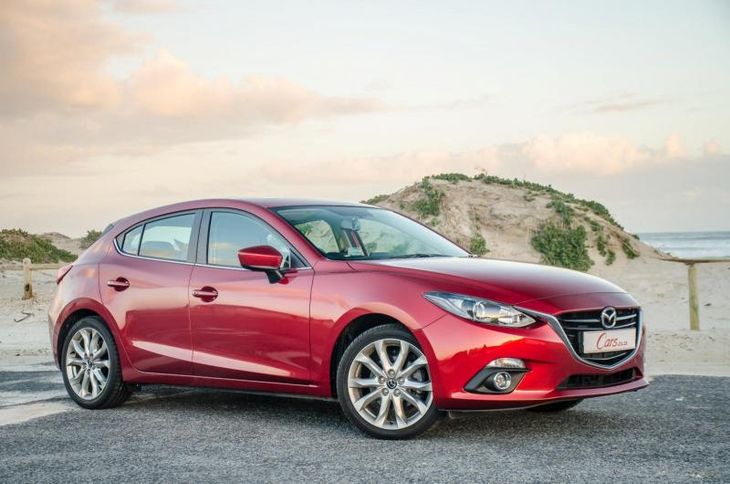 The Mazda3 Astina is comfortable to drive and delivers decent performance.
The engine, however, isn't as refined as we expected it to be. It's quite a noisy unit, but not unbearably so. We also found that the Mazda3's engine (a 2.0-litre petrol unit) prefers not being rushed. The engine moans a bit under hard acceleration and the transmission isn't quite suited for spirited driving (the manual Individual derivative will certainly be more engaging to drive). In order to extract the best performance from the Mazda3, a steady power feed will yield the best results, resulting in smooth, linear acceleration as opposed to a 'pedal to the metal' approach.
Nonetheless, you may be happy to know that the Mazda3 feels quite sporty behind the wheel and it handles well when you are pushing on. We had a chance to test the Mazda3's handling abilities on an out-of-town trip where winding country roads allowed us to push the Mazda3 a bit harder than usual. We discovered that the Mazda3 was composed and responsive when tackling corners at speed.

In terms of fuel consumption, Mazda claims 5.9 L/100 km for the 2.0 Astina and during our extended test period, we achieved an average of 8.4 L/100 km.
4. Practicality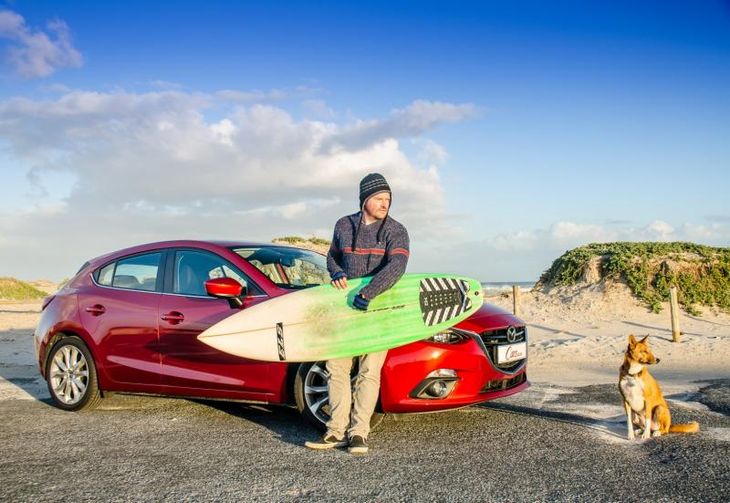 The Mazda3 Astina is a capable and practical vehicle for a variety of activities.
At 308 litres, the Mazda3's boot is the smallest when compared to its main competitors (Ford Focus, Volkswagen Golf, Opel Astra). Even though this is the case, a fair amount of luggage and goods can still be loaded in the boot. If more space is required, the 60:40 split rear seats can be folded down. During our test, the Mazda3 was often required to transport surfboards and other surfing equipment to the beach. With the rear seat folded flat, we could easily slide three or even four surfboards into the Mazda3 and still have space for other goods.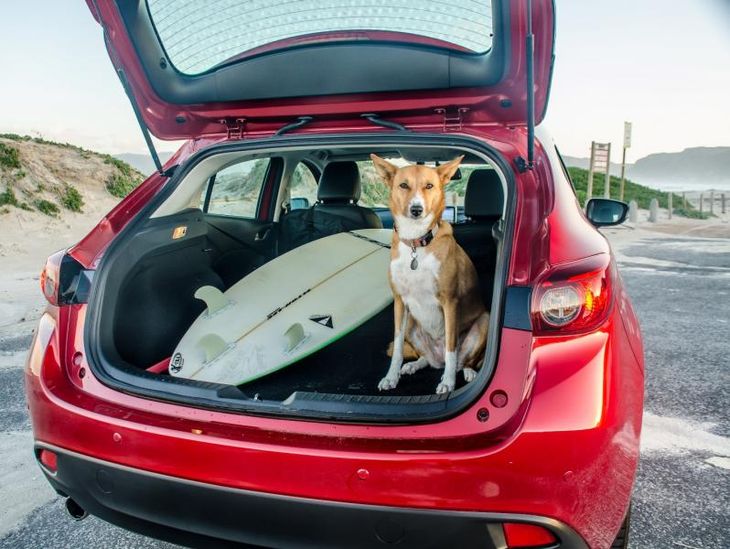 The Mazda3 Astina's boot swallows surfboards and dogs, perfect for a trip to the beach.
Rear passengers, leg-, head- and shoulder room is ample and there is storage space for bottles in the rear doors.
We were also happy to find two USB ports and an auxiliary port in the centre console for connecting / charging multiple devices. In our opinion, two USB ports are always handy, particularly on long journeys with other passengers who might need them.
Compare the Mazda3 2.0 Astina with the Opel Astra 1.4T Sport automatic and the Volkswagen Golf 1.4TSI Comfortline automatic
5. Features
In case you haven't noticed, the Mazda3 2.0 Astina is packed with a generous amount of features. Apart from the features we have already mentioned, this Mazda3 derivative is equipped with a BOSE sound system, rear park distance control with a rear-view camera and blind spot monitoring.
A total of six airbags are included as is ABS with EBD, traction control and electronic stability control. The Mazda3 2.0 Astina compares favourably with its rivals and for the asking price of R357 600, you are getting a generously-equipped, stylish car.
Should you consider the Mazda3 2.0 Astina?

The Mazda3 Astina is worth your consideration if you are looking for a stylish and comfortable hatchback.
Given the high-level of specification offered in the Mazda3 2.0 Astina, it's a car that deserves consideration if you are shopping for a semi-premium hatchback. The Mazda3 is comfortable and easy to drive and its handling and ride quality make it an attractive proposition.
The Mazda3 will appeal to buyers who want to drive a car with a bit more presence, style and luxury than your standard hatchback offering. In summary then, there's very little not to like about the Mazda3 2.0 Astina. The facelifted Mazda3 will be introduced in South Africa soon, so you might be able to get a good deal on the current model, or you can wait until the latest model arrives, which will certainly improve on an already accomplished product.
Price, warranty and service
The range-topping Mazda3 2.0 Astina is priced from R357 600 and is sold with a 3-year/unlimited km warranty and a 3-year/unlimited km service plan.
Search for a new / used Mazda3 on Cars.co.za
Also see:
Mazda3 2.0 Astina (2014) Review