We spent a month in the top-of-the-range Mazda2, a small hatchback with a novel configuration of a turbodiesel engine mated with an automatic transmission. With generous specification, the 1.5 DE Hazumi offers a blend of luxury, ease-of-use and economy. Does the package work?
The standard Cars.co.za review period is usually around 10 days and while you can get a reasonably accurate idea of what a car is like during that time, a few more weeks afford us with an opportunity to form a better opinion of what a vehicle is like to live with; its inherent strengths and weaknesses and how it performs on longer trips. The 1.5 DE Hazumi, which had served extended time in the media test fleet before reaching us for this test, was immediately put to good use for a long-distance trip to the Garden Route.
Let's get the numbers out the way. This is the only turbodiesel automatic hatchback in its segment of the market. Powered by a 1.5-litre four-cylinder motor with 77 kW and 220 Nm, the Mazda2 offers performance that's on par with its rivals and has a claimed fuel consumption of only 4.4 L/100 km. Power reaches the front wheels through a six-speed automatic gearbox. This derivative costs R286 700, which includes a 3-year/unlimited kilometre warranty and 3-year/unlimited kilometre service plan.
Mazda South Africa has gone from strength to strength since it became a standalone entity in the local market. It's actively marketing its model line-up and from small hatchbacks to crossovers, family saloons to compact SUVs (there's even a double-cab!), Mazda offers products that will suit most needs and budgets. After chatting to some sales reps from our local dealer, there is much demand for the Mazda2 and Mazda CX-3, while the World Car of the Year-winning MX-5 roadster is selling in numbers that reflect its niche-product positioning.
What is it like to drive around town?
The transmission and turbodiesel engine work well as a combination. There's a little hesitation when you pull away, which is likely to make you instinctively apply a bit more throttle. This will then result in the turbomotor delivering a wad of torque, which makes the acceleration uneven. Fight that instinct and let the car naturally build up acceleration for a smoother ride.
Most turbodiesel engines, especially those of a smaller capacity, don't deliver much oomph before 1 500 rpm. The Mazda delivers all its torque from 1 500 to 2 500 r/min and peak power at 4 000, but this narrow "power band" and the six-speed auto work surprisingly harmoniously in an urban environment, We found that mashing the throttle pedal to the floor was not the answer as the transmission would kick down too many gears – if you're in a hurry, use the manual override by knocking the selector to the side and treating the 'box like a sequential unit.
The fuel-saving auto start/stop system is a little intrusive and the 'i-stop' message will blink on the dashboard telling you that the car wishes to switch off to save some diesel, if you have opted to switch it off. We found it best to leave the i-stop to its own devices.
Let's hit the road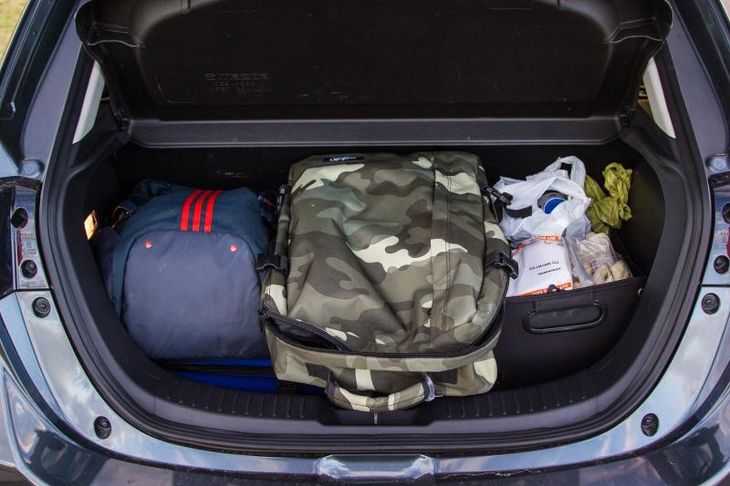 The boot size is on par with rivals, and it was packed fully for a long-weekend trip to the Garden Route.
We tested the Hazumi on the open road for a long journey from Cape Town to Plettenberg Bay. Two tog bags, a laptop bag, camera gear and fishing equipment stretched the Mazda2's boot to its capacity. While it couldn't quite take the cooler box, it's nice to know you can fold the seats down in a 60/40 split to further increase space. The cooler box in question landed up on the back seat strapped down with a seatbelt!
On the open road, the lack of cruise control was annoying, but this was offset by not one, but two USB ports. My partner had her phone plugged in to charge, while the second USB provided power to a portable wifi modem. Why can't all B-segment cars come with multiple USB ports? It would really appeal to the overwhelming majority of 21st-century car buyers.
Meanwhile, It offers good fuel consumption on a long journey. Driving at 120 kph resulted in an indicated consumption figure of 5.5 L/ 100 km, while reducing speed to 110 kph would see that fuel figure drop to under 5.0 L/100 km. We estimate that if you drive long journeys at around 95 kph, your fuel consumption would sit at around 4.0 L/100 km, which is excellent.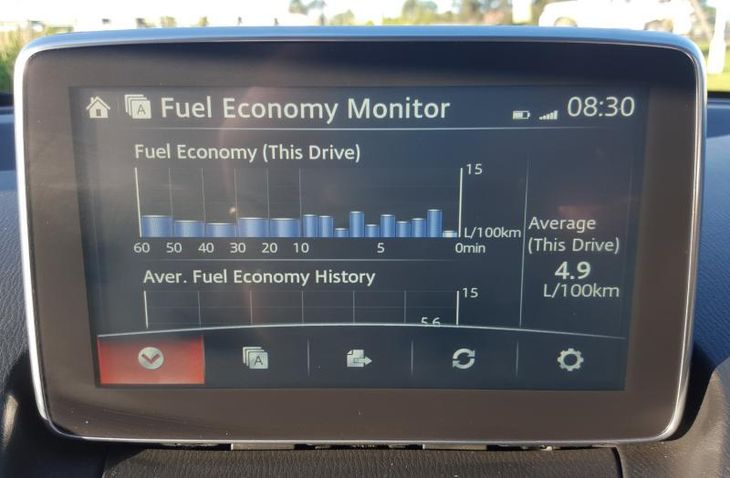 Smart-looking touchscreen offers clear visuals and app-like design.
The car feels quite sporty too, and the combination of a firmer suspension and 17-inch alloy wheels meant that the Mazda2 was involving (and most importantly, fun) to drive briskly on a twisty stretch of road. The auto 'box and engine don't like to be thrashed and it's obvious that both have been mapped for a relaxed drive.
The cabin is a pleasant place. It feels well assembled and the materials used in its construction feel smart, but also hard-wearing. This unit had already endured numerous journalist evaluations, yet the cabin felt fresh and unscathed after 10 000 km on the odo. Operating the functions of the touchscreen infotainment system takes some time to get used to, but once you're familiar with its layout, you'll be able to navigate those menus almost without taking your eyes off the road.
What do you mean it's not full house?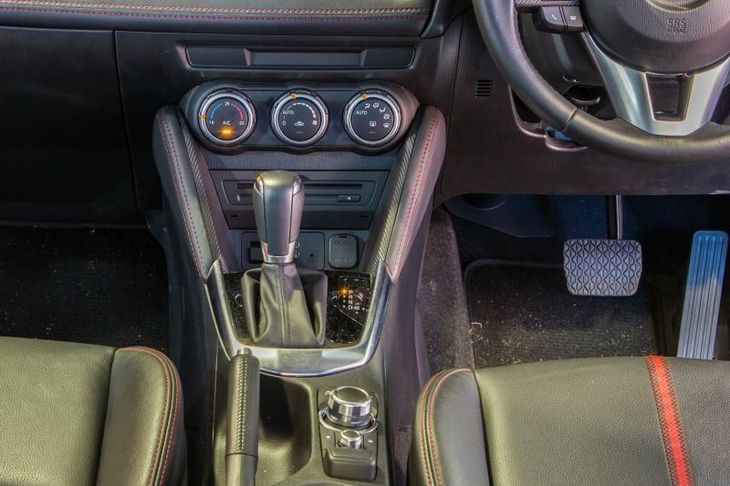 Climate control, two USB ports, CD player, decent infotainment system, steering wheel controls... but no cruise control.
Speaking of the infotainment system, Mazda claims this top-spec model is full house, but although Mazda marketing material suggests a satellite navigation system is present, the car's message system said the nav system required an SD card to work. Our next extended test of the Mazda CX-3 presented the same problem. The GPS hardware is fitted as it will give you latitude and longitude data, as well as altitude above sea level, but for street directions you're going to require that SD card. A visit to our nearest Mazda dealership in Paarden Eiland resulted in a quote for R5 500. For that money, a smartphone with Google Maps and an in-car mount can do as good a job.
The omission of cruise control was a letdown. Cruise control would not only aid this model's fuel consumption figure, it would be such a benefit to the Mazda2 on longer trips.
Verdict
We enjoyed our time with the Mazda2 1.5 DE Hazumi and we tallied up a tidy 2 000 km in it. Not only is it a well-built and -specified product, but it also happens to be a pleasure to drive and impressively frugal (if you drive it with a measured inputs from your right foot, of course).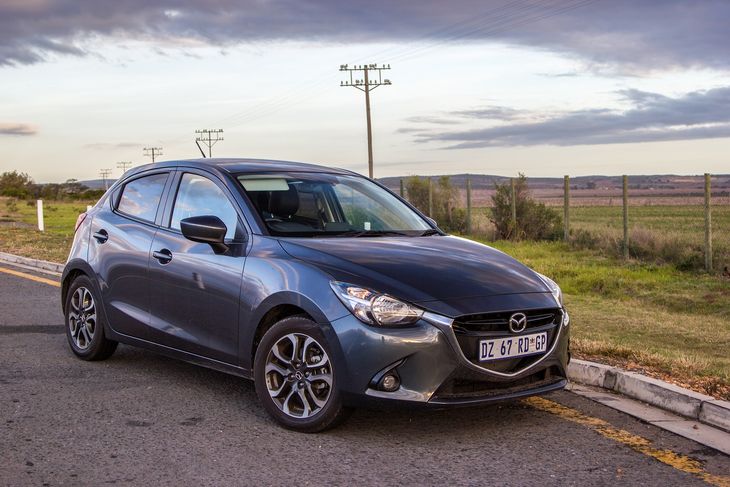 The 1.5 DE Hazumi proved a willing tourer, but the inclusion of cruise control would have been welcome.
With its price tag of R286 700, some may argue that the Hazumi demands a premium price for what's essentially still a small car. Yes, perhaps there is better value in the manual petrol versions, but for those who cannot quite afford the premium-badged boutique hatchbacks, the top-of-the-range Mazda2 offers a smart, well-equipped package and a satisfying driving experience with the not-insignificant benefit of an automatic transmission, which, in congested urban areas, makes daily motoring a lot more bearable.
First impressions of a Mazda dealership were good too, with a brand representative immediately leaving his desk to come and greet me as I walked through the door. Buoyed by well-made and -priced products, Mazda's reputation in South Africa is better than ever. Given how solid and robust the test unit felt, we find ourselves asking: is Mazda the new Honda? Before the arrival of Lexus and Infiniti, Honda was considered the most desirable premium-but-affordable Japanese marque in the market; its products were well-specced, sporty and desirable. Now that Honda's products are more mainstream and, arguably, a bit staid, Mazda appears to be producing the most fashionable alternatives to the premium brands' wares.
Read a more comprehensive review of the Mazda2 1.5DE Hazumi here.
Want to buy a new or used Mazda2? Click here to see some examples.
Related content:
Read a review of the Mazda MX-5 here.
See why the Mazda MX-5 won World Car of the Year
Read a review of the Mazda CX-3 here.