When Peugeot Citroen South Africa announced that it would no longer import Citroen products late last year, the quirky French brand's small but loyal customer base was disappointed, but there were sound business reasons for the decision. Does that mean that buying a product such as the C4 Cactus should best be avoided? If you are looking for excellent value, a modicum of versatility and oodles of fun, quite the contrary....
Citroen is renowned for its Gallic flair and quirky designs and the C4 Cactus compact family car/crossover is no exception. First shown in concept form at the 2007 Frankfurt Show (that's right, almost a decade ago), the production version of the C3/DS3 based contender was launched in South Africa scarcely 2 years ago... how's that for a protracted gestation period?
Judging by the public attention that the Citroen garnered during its month-long tenure in the Cars.co.za test fleet, it probably attracts more adoring eyes per Rand spent than many luxury cars. In an age of cookie-cutter designs, this is crossover that is truly distinctive, it may be based on the C3's platform, but that's about as derivative as it could be. When it was listed on the new vehicle price list, the asking price for the 1.2L PureTech Turbo 81 kW Shine was R314 900; now retailing as part of Peugeot outlets' "Pre Owned Citroen" offers, the same derivative costs R249 900, with the same after-sales support (warranty and service plans) as was available before.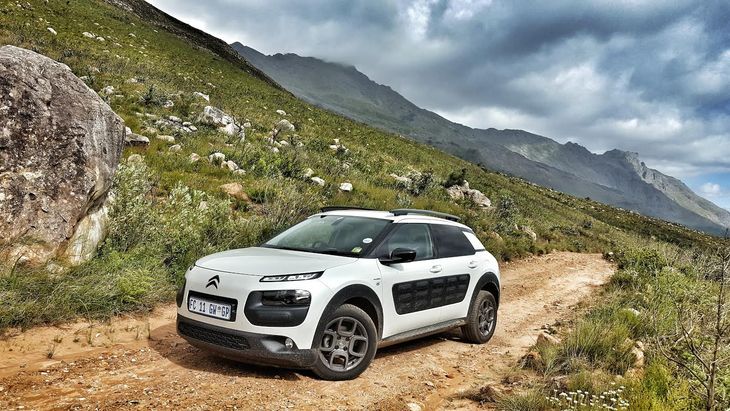 The C4 Cactus on one of several dirt road excursions; although it is an urban runabout, it dealt with unsealed surfaces reasonably well.
At just under R250k, the 1.2L PureTech Turbo 81 kW Shine is lavishly equipped compared with what is positioned around it in the new vehicle market. In terms of its exterior appearance, the Citroen draws attention by virtue of its 16-inch anthracite alloy wheels, LED daylight running lamps, front foglights with cornering function, tinted rear windows, and roof rails. Oh, and don't forget the quirky but completely functional Air Bumps, which ably protect the doors from those dreaded car parking-area bumps and scrapes.
If the exterior is grand, cabin conveniences abound: a multifunction steering wheel, cruise control, a 7-inch colour touchscreen with satellite navigation, hi-fi audio system with auxiliary inputs, Bluetooth connectivity and audio streaming, heated- and electrically folding door mirrors, front armrest, LED mood lighting, a reverse-view camera with rear parking sensors…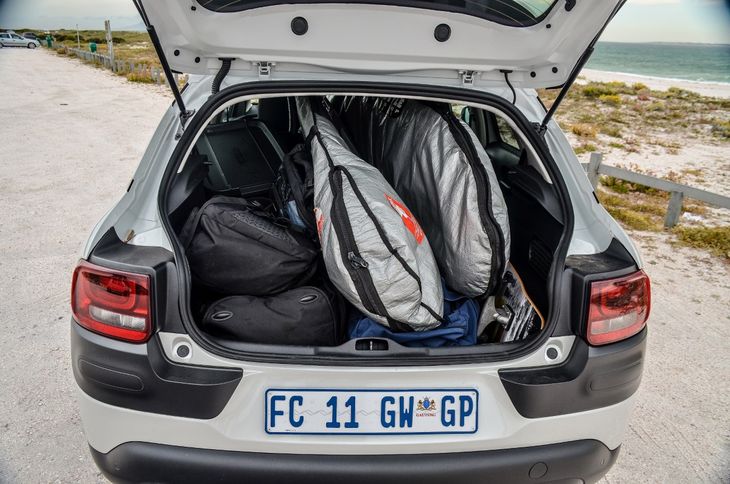 The shape of the loading aperture is a little... unconventional, but bulky surfing gear was accommodated with ease.
The positives:
The C4 Cactus is a post-modern car in the most charming way, the interior is supremely comfortable, the front seats cossetting, almost sofa-like in terms of comfort. The lack of reach adjustment on the steering column was a small drawback, but few testers complained about it.
The driving experience is comfortable too, courtesy of quick sharp steering, a pliant ride quality, a soft, long throw to the 5-speed manual transmission and operating the clutch pedal feels like you're stomping on pillow (but in a good way)
Then there's that French quirkiness, in the forms of the aforementioned Air bumps, the vintage briefcase-style glovebox, the rear windows that open to the sides and most of all, there are no buttons on the fascia with which to adjust the temperature or fan speed of the automatic air con... All those functions are adjustable via the touchscreen interface. And when you close the door behind you, you pull on a leather strap, not a cold, gormless plastic handle.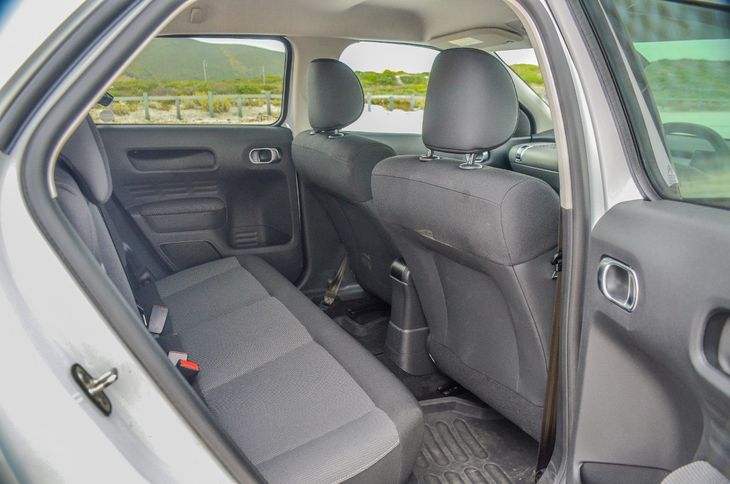 Rear legroom was better than we expected, although a few testers remarked that the side-opening windows were quirky.
Everything about the Cactus' fascia looks and feels space-age, from the digital instrument cluster with its red and white lettering, to flicking through the menus with your fingertips.
And a lot of the technology you can't see. This is a vehicle for a small family and its safety specification reflects that well. In addition to ABS with EBD and brake assist, hill assist and electronic stability control, there are front, side and curtain airbags, seat belt warning on all seats and a pair of ISOFIX mounting points on the rear bench.
And, as if to contrast the relaxed, long-throw shift action, the C4 Cactus has a spirited 1.2-litre 3-cylinder engine that produces 81 kW and 205 kW. The car feels sprightly and eager off the line in town, replete with an eager growl, yet the car does not feel short-geared at the national speed limit. For all its fashionable packaging, funky trimmings, and electronic addenda, the Citroen's petrol motor is, mechanically speaking, the highlight of the car.
Moreover, the C4 Cactus sipped fuel even though testers loved making its triple motor spin enthusiastically. After 5 100 km, it averaged just 6.5 L/100 km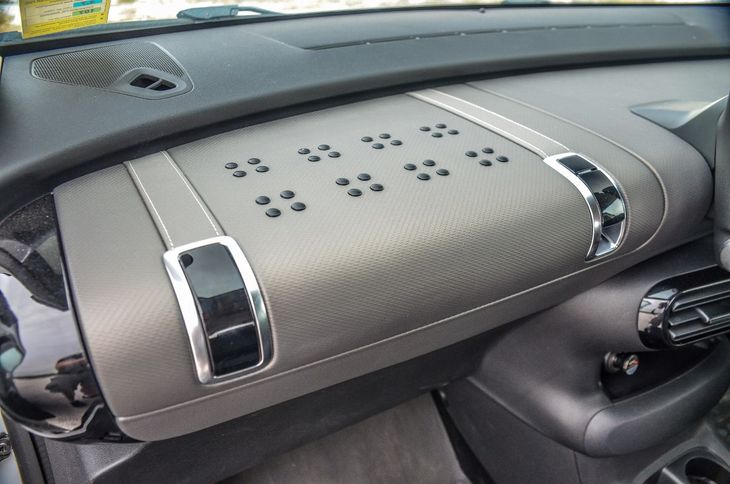 The ornate briefcase-style glove compartment was one of our favourite "Cactussy" interior adornments.
The negatives:
The first drawback of the C4 is a veiled compliment. Curiously, given the C4 Cactus' crossover flavour, the rear seatback folds forward, but not in a split configuration, which effectively means that if you'd like to transport anything that's too bulky to fit in with the rear seats in place, will instantly transform the car into a 2 seater. Fortunately, however, the luggage space is spacious as it is, so for everyday use, the rear seatback should remain in situ.
From an everyday driving point of few, the Citroen is softly-damped and it absorbs uneven or rough road surfaces calmly… takes things in its stride. However, sudden hard bumps tend to unsettle especially the rear suspension momentarily, which is a startling, uneasy experience.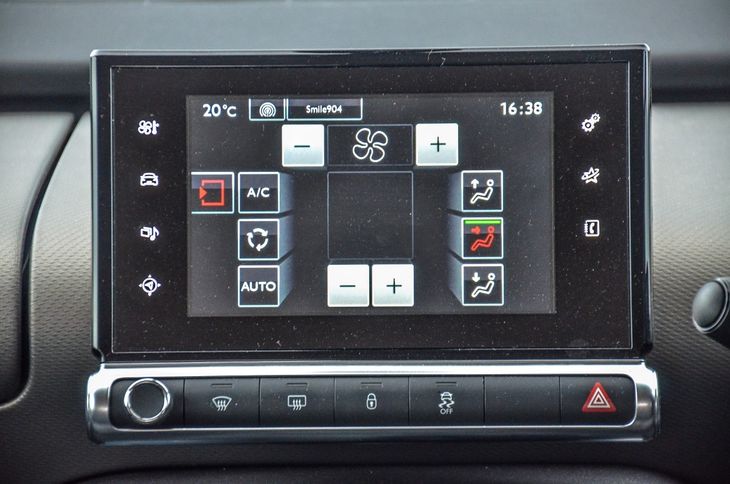 Want to change the C4 Cactus' ventilation settings? There are no knobs for that, but the touchscreen interface is easy to use.
Furthermore, Gallic flair, which the C4 Cactus has in generous supply, is all fine and dandy, but there are a number of characteristics that could deter undecided buyers. We've already mentioned the solid rear seatback, but what of those rear windows that don't open conventionally, that could unnerve some buyers.
Similarly, there is no rev counter; okay, you should know when to change up or down the gearbox by listening to your ear or looking at the shift indicator, but what if you are blasting music and forget to change up in time? No-one likes "bouncing off the rev limiter"...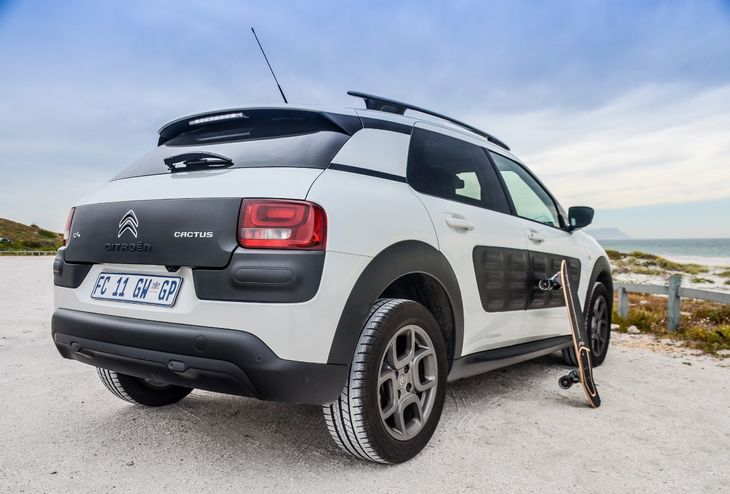 One of the Air Bumps' unexpected uses was as a handy skateboard stand...
Summary
Even though the C4 Cactus no longer features on new vehicle price lists, it was undoubtedly one of the most endearing/easily likeable products that Citroen offered in South Africa. It was clearly not designed to please fuddy-duddies: the Citroen celebrates individualism and creative expression in an almost innocent, playful way and is the antithesis to boxy, po-faced crossovers (probably better than many of them too, if not at least more intriguing).
Having said that, although there is no doubt about the validity of the car's warranty/service back-up (courtesy of the existing Peugeot franchise network) or justifiable fears that spare parts will become unavailable in the near future, common sense suggests that, like Volkswagen's offshoot SEAT, which left the local market following a brief foray a decade ago, trade-in values of new or recently bought Citroens will suffer badly as a result of the brand's local distribution coming to the end of last year.
However, that certainly does not disqualify the C4 Cactus as a value proposition, especially as a used buy. Some buyers want something unconventional and, for the lack of a better word, spunky. Citroens are not for everyone, certainly, but of those models that didn't receive the uptake they truly deserved when they graced new-car showrooms, the C4 Cactus is up there.
Related content:
Peugeot Citroen Realigns Strategy in SA
Hyundai Creta (2017) First Drive
Crossover Comparison: Honda HR-V vs Mazda CX-3
Extended Test: Mazda CX-3 2.0 Individual auto [Video]
Opel Mokka X (2016) Local First Drive
Renault Captur Sunset (2016) Review
Suzuki Vitara 1.6 GL+ (2016) Review
Toyota C-HR (2017) First Drive
Interested in buying a Citroen C4 Cactus?