The AMG GT and GT S meet their snarly new siblings, the GT R and GT C at Kyalami Race Circuit.
Viscera. It's that stuff in your gut that AMG insistently takes a spoon to, then gives it a vigorous stir. When Mercedes-Benz's Affalterbach-based division first gave birth to the SLS, it had spawned AMG's first road car. And, as sad as it was to see them cull it a few years later, they did thoughtfully replace it with that most evocative of teardrop profiles, a velvet glove slipped over a brutish, growly biturbo V8 with the advent of the smaller GT.
Soon after, it dialled up the aggression as AMG does and out came the S model. So now 375 kW and 650 Nm play the standard car's 350 kW and 630 Nm and the zero to hundred sprint sheared from 4 seconds flat to 3.8 seconds. But as is typical of these power games, it's not the incremental hike in outputs that set the two cars apart.

Bells? Whistles? Somewhat, but for the most part, it comes down to demeanour. What then of the AMG GT R, now blessed with a 3.6sec sprint time, 430 kW and 700 Nm? And crucially, where does the newest of them all fit in, the GT C?
The short answer, of course, is perfectly in between, with power and torque now sitting at 410 kW and 680 Nm and 100kph crossed in 3.7 seconds. Elementary Herr Watson, but if only we could drive the three monikers back to back at great pace, and in a safe, controlled environment. Enter South Africa's premier race circuit, Kyalami.
S, C, R… is AMG playing scrabble?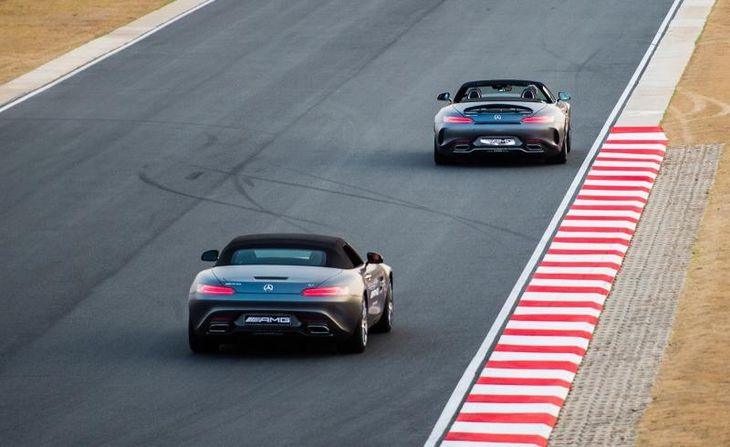 Mercedes-AMG put its GT family onto a race track, the only safe space to try tame these beasts
Let us discard the base GT to start, and secondly, I'll ask you to indulge us as we pit roadsters and coupes against each other for obvious reasons. I'm going to do this all wrong, and start with the most powerful animal here, the GT R that danced around the Nordschleife so impressively that it even stole its nickname; The Green Hell. You'll especially see the resemblance in the one I'm driving thanks to its green Magno paintwork. Many V8s roar, most of them snarl, but AMGs growl. It's in its marketing material for good reason, Affalterbach knows how to tune an exhaust note. The GT R doesn't let the German side down, rather this car feels representative of the might of their noise department.
Dial the driving mode selector into Sport+, pull both shift paddles towards you, flatten the brake and floor the throttle to release a baritone thrum that will send shivers up your spine, and naughty thoughts into your hippocampus. It rocks the little AMG's chassis. Rocks but never lulls, you feel at the helm of a caged predator, and with the release of the brake pedal, all the other colours of hell join the green to break loose. And you're off to the sound of thunder resonating in a metal bucket… rolling down a flight of stairs.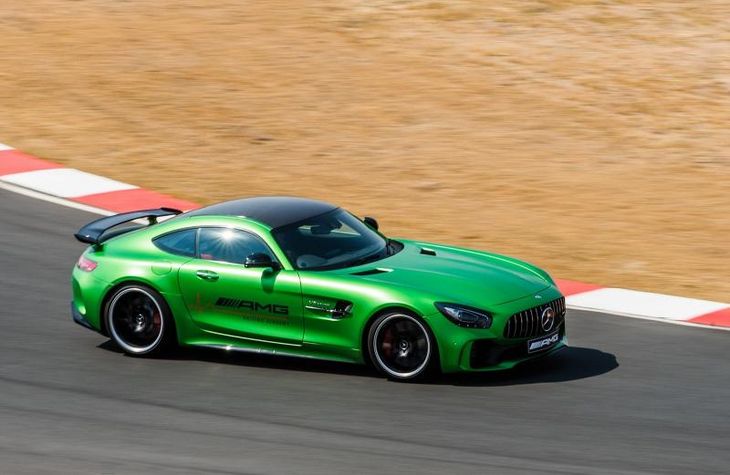 AMG GT-R. Raw, focused and potent... did we mention loud? Boy it's loud!
It's quick, blistering, yet that acre-long bonnet feels a lap ahead of you. The GT R grips fiercely, my white knuckles suggest I am too. Immediately you can tell this car, a product of a company that has cultivated its products solely on race tracks, has proper pedigree, balance and precision where you might have suspected it was brutish and cumbersome. Before this test is over, it will reveal itself the easiest car to drive here. Climb into the older GT S and immediately you're aware of the deficit in power and twist, and the better-appointed cabin – the GT R really plays that race-car-for-the-road card with conviction, including but not limited to a half roll cage, traction control dials and bucket seats.
The GT S is still a force of nature, lapping the circuit with similar verve and noise if somewhat turned down the wick. You'd need to be a race driver or have supernatural driving ability to truly eke out the R's performance abilities above and beyond the still-hot S, but where the Green Hell car is uncompromising, the GT S feels close to that original base car – in this company anyway. But, and this part is worth remembering, the base car still feels absolutely special.
GT C Roadster - a tasty yet potent proposition
This brings us neatly and finally to the newest car in the lineup, the GT C Roadster. It's CV places it tidily in the middle in terms of price and performance, and if you're after something very exclusive, Mercedes-AMG South Africa has brought four Edition 50 derivatives into the country at a premium. The GT C, like the GT R, comes with rear axle steer, includes adjustable damping and larger brake discs, throaty exhaust flaps (more noise, more AMG) and receives a raft of cosmetic upgrades including wider arches, more vents than ever, silver details and accents and 20 inch alloys at the rear – the fronts are 'mere' 19 inchers.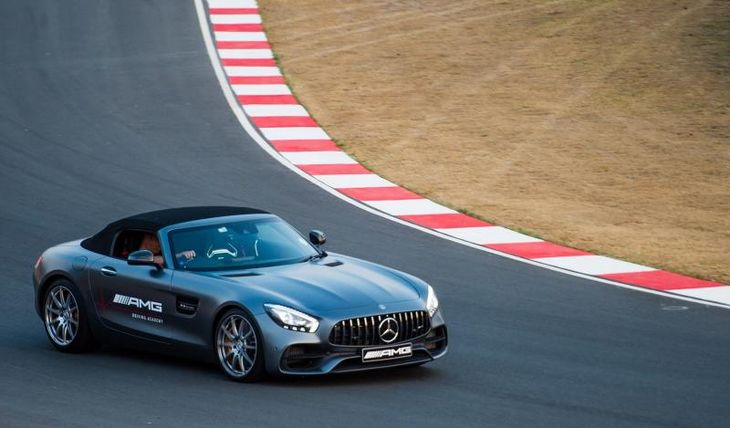 Style and cabriolet sophistication meets tasty V8 performance
It's an overall overhaul to the performance and luxury of the base car but for now, let's focus on the newfound shunt. I'll happily cut to the chase and deliver my impression around Kyalami. The GT C feels much closer to the S than the R in its behaviour, slap bang between them for noise and drama, but in terms of engagement nothing touches the R. The GT R would not be my GT of choice for a daily drive, for that the GT C trumps its siblings. All of them. It's a well-balanced performance coupe, a fine AMG, trouncing the S in every department. The GT R is hewn from race tracks, and must live on race tracks where it excels. It's surprisingly comfortable considering how much technology has gone in (such as active aero panels to control heat and a carbon splitter with 80mm of travel) and how much weight has come out (including using lightweight magnesium components). But ultimately we're playing with cars that can launch themselves from standstill to 100kph in 3.6, 3.7 and 3.8 seconds respectively. When performance results are this close to each other I'm afraid it comes down to the leather and the weather, and what's on offer in the open-air C is sumptuous.
A tasty verdict of sorts
The AMG GT family then isn't a family at all. They're flavours. Spicy, sweet and savoury – you decide which is which, except for the GT R – that's wasabi! You might like spicy all the time, or just once in a while. You might hate the sweet stuff, or could happily survive on a savoury, day in and day out every minute of your life, so pick a GT that suits your taste. Me, I like chilli chocolate. What's worth noting, however, is that the GT C is a brilliantly quick car that is also incredibly luxurious. While the GT R is a brilliantly quick car that is not.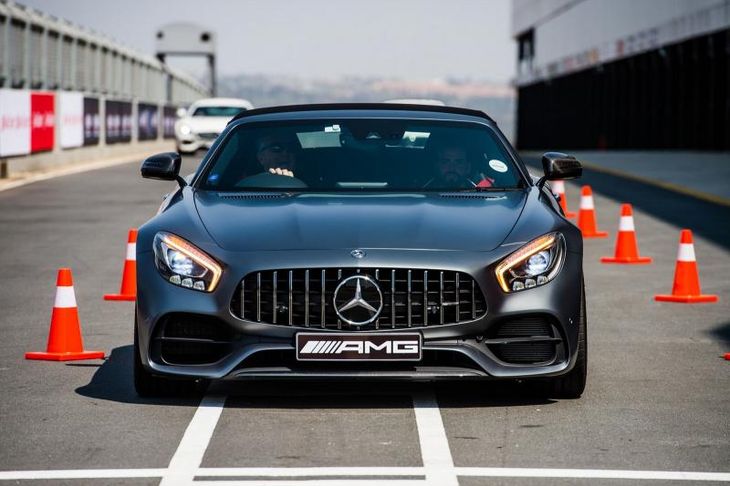 How attractive is the Panamericana grille fitted to the Mercedes-AMG GT?
Mercedes-AMG GT Range Price in South Africa (September 2017)
R2 199 000 GT Roadster (350kW/630Nm)
R2 199 000 GT S Coupe (375kW/650Nm)
R2 599 000 GT C Roadster (410kW/680Nm)
R2 689 000 GT R (the Green Hell car - 430kW/700Nm)
R2 864 000 GT C Edition 50 (410kW/680Nm - limited to four in South Africa)
Related content:
Mercedes-AMG GT R Track Drive & Road Review [Video]
Mercedes-AMG GT R (2016) First Drive

5 Mercedes-AMGs that Define the Brand

Mercedes-AMG Unleashes Hottest AMG GT R

Mercedes-AMG GT & GT C Roadsters Coming to SA

Mercedes-AMG GT S (2015) Review

Five Interesting Facts About The Mercedes-AMG GT S

Mercedes-AMG GT (2015) First Drive

Rendering: Next-gen Mercedes-AMG A45 (2018)

Mercedes-Benz Edition C (2017) Specs & Price

Mercedes-AMG: Hand-Built Engines Meets 21st Century Tech
Want to buy a Mercedes-AMG GT?