Fitting the right specification tyres to your vehicle is crucial, especially if you want to traverse grueling off-road terrain. We tackled some of the most challenging mountain roads with Toyota Hilux and Fortuner derivatives shod with new Bridgestone Dueler 693III tyres. Here's how the picturesque expedition unfolded...
Many of us long for a good old-fashioned road trip; a trek to an uninhabited locale; a drive into the unknown. A spur of the moment getaway seems rather romantic and adventurous doesn't it? It certainly does on televised travel programmes. The reality though, is that a road trip usually requires a great deal of planning. We discovered this when we took part in a road trip that would entail long distances, mountainous gravel roads and large quantities of biltong. What, where and how are critical details on trips of this nature. What are we using to get there? Where are we going? How are we going to get there?
What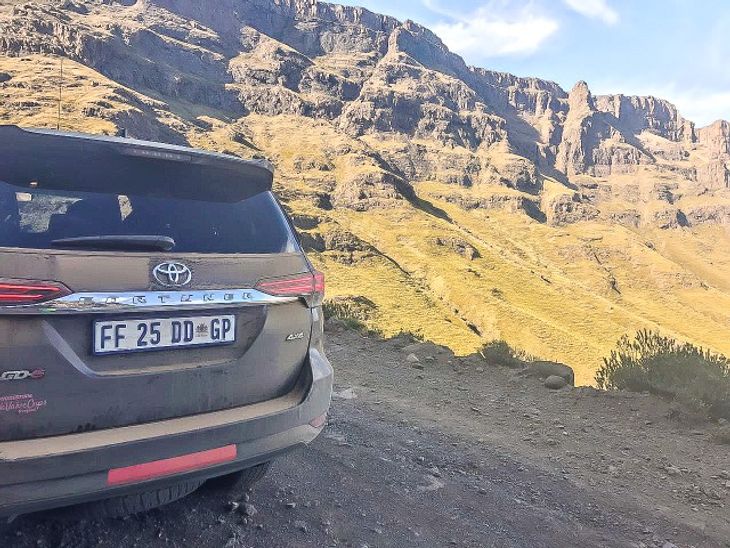 The Toyota Fortuner proved to be very capable in the tough terrain found in Lesotho.
Those who regularly make off-road expeditions stress how important it is to fit the right rubber to your vehicle to suit route conditions. Our recent encounter with Bridgestone's new Dueler A/T 693III tyres proved this. This is a tyre that is meant to drive comfortably on-road for daily use and then tackle the roughest terrain off-road when necessary. It stands to reason, then, that given the off-road credentials of the Hilux and Fortuner, that Toyota would find Bridgestone's Dueler A/T 693III tyres to be perfectly suitable. In fact, the Dueler A/T 693III is the OEM tyre for both the Hilux and Fortuner models - vehicles we had at our disposal for this journey. So, our what was taken care of - a few Toyotas fitted with some dual purpose tyres.
Where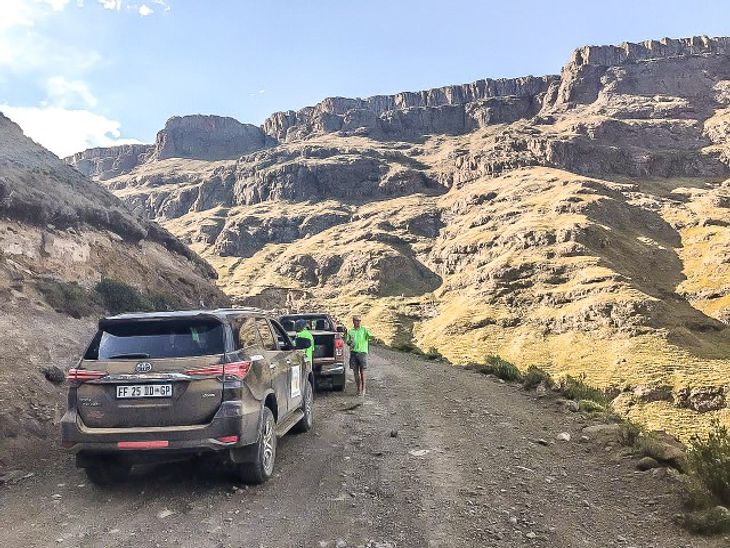 Lesotho is the perfect place to test your vehicles capability. The Toyota Hilux and Fortuner are well-equipped to deal with difficult terrain.
Where were we going? We needed a place that would allow us to test the capabilities of these tyres, preferably a place with large inclines and steep declines and a combination of gravel and tar. Fortunately, South Africans have the opportunity to explore our neighbouring countries and Lesotho was the perfect escape for this test. As one of our more mountainous neighbours, Lesotho would give us the chance to see what a tough car with tough tyres can do.
How
Our trip to Lesotho began in KwaZulu-Natal and we headed towards the Ongeluksnek pass on a tar road. Normally an off-road tyre tends to "whurrr" on tar due to the reinforced tyre walls and mixed compounds. Surprisingly, holding a conversation didn't seem all that difficult as we had minimal noise in the cabin. Tyre noise will always be prevalent, but in this case, it wasn't droning or annoying. The Toyota Hilux was our mode of transport for the first day and this gave us the opportunity to experience the refinement of these new bakkies, which offer a superior ride to the previous-generation vehicles. There was no "bobble head" effect present in this unloaded Hilux and we sailed along smoothly to our first stop where we feasted on gourmet pies, warm scones and freshly squeezed cow's milk. This is the stuff road trips are made of!
With our bellies full, we trekked toward the Ongeluksnek pass in Lesotho, but before we arrived at the border, we had to switch the cars to 4H and manoeuvre through some steep gravel inclines. Some of the most outstanding views surrounded us upon our arrival in Lesotho. Beyond the border post was greenery, moist gravel and uphills high enough to leave marathon runners panting. This is where we would see how dual-purpose these tyres really were. As we climbed, not once did we fear for grip and not once did we get stuck. We were elated because of the views and the beauty of Africa. The descents proved to be somewhat more challenging, as these require careful planning. But again, with the Hilux in the right mode and our Bridgestone's hard at work, we arrived at our destination happy.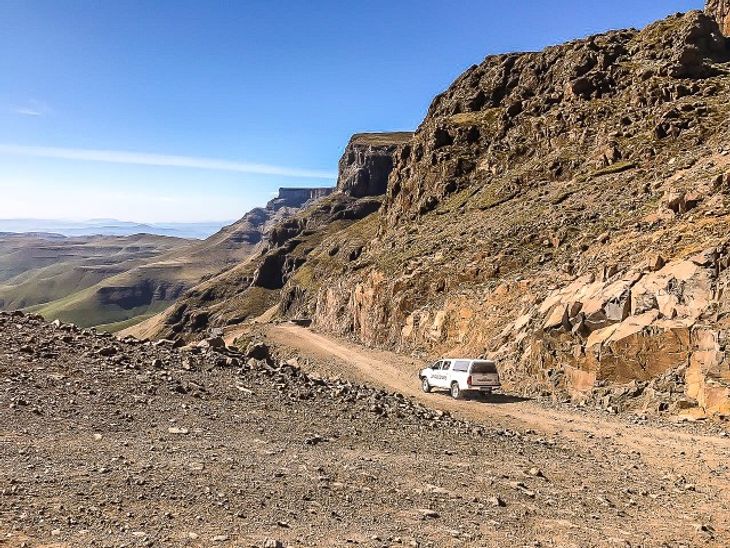 The views in Lesotho are a great reward for your off-road efforts.
The next morning, we left Lesotho through a different pass to enter KwaZulu-Natal, only to drive into Lesotho again for another taste of dust. This time our challenge was the famous Sani Pass road, a climb that is not only scenic but quite challenging if you don't have the appropriate machinery. Tarred roads were welcome on our journey back after slowly navigating through rocks on the previous day.
This is where you see why Toyota chose the Dueler A/T 693III to be its OEM product. It simply handles the transition from on to off-road so well. Interestingly, we averaged 8.6 litres/100km in the Hilux despite us driving on very different terrains every hour. By then we'd swapped into the more family-friendly Fortuner, which had no problem powering through the sweeps on the newly tarred roads back to KZN.
As we arrived at the beginning of the Sani Pass, road conditions seemed to suggest that the route would be a walk in the park. However, having traveled barely 3 km further, it became apparent that the road is meant for SUVs. Oncoming traffic (mainly tour bakkies) requires you to be vigilant on the climb and the higher you go, the steeper it gets. A combination of low range, second gear and not looking down got us through the climb. Moments like those make you appreciate having the right amount of traction to keep going, something we had plenty of. There's a feeling of fulfillment that one gets after climbing 3 200 m and looking down to see what you've conquered. It's no wonder why people from all over the world enjoy these sorts of excursions.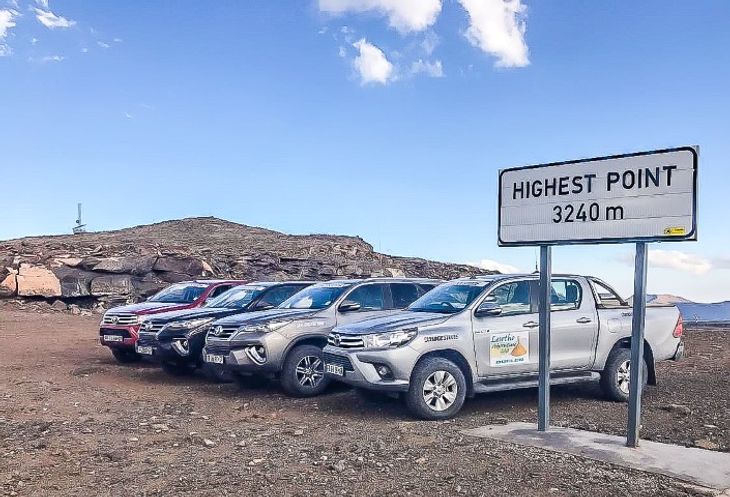 Bridgestone's new Dueler A/T 693III tyres proved invaluable in reaching the Lesotho highlands.
As we arrived safely back in Lesotho and settled into our place of rest, the business presentation by Bridgestone's representatives meant so much more to me than it usually does. Generally, we are told how good a product is and what it can potentially do. This time we had the chance to experience it for ourselves. The tyre truly offers the great handling they claim, both on and off-road. It's low rolling resistance meant that we maintained almost identical fuel economy in both the Hilux and the Fortuner and the way the tyre is constructed meant that it doesn't kill your ears. A manufacturer like Toyota wouldn't trust a tyre brand if they couldn't ensure that the claims are in fact the reality.
Summary
As mentioned, much goes into planning for a road trip and without the right tools your TV fantasy may end up to be a horror story. As many will embark on road trips soon, never underestimate the importance of having the right rubber fitted to your vehicle. Comfort, fuel economy and safety are all factors directly linked to tyres, so having the right set for the job can mean the difference between you relating the story of your travels, or your story being related for you.
Related content:
Toyota Hilux 2.8GD-6 DC 4x4 Raider Auto (2016) Review
Toyota Hilux 2.4 GD-6 4x4 SRX (2016) First Drive
In-Depth Comparison: New Hilux vs Ranger vs KB vs Amarok (video)
Toyota Hilux vs Ford Ranger vs Isuzu KB vs Volkswagen Amarok (2016) Comparative Review
New Hilux vs Old Hilux – An Expert's Opinion on What's Changed
Toyota Fortuner 2.4GD-6 (2016) Review
Toyota Fortuner vs Ford Everest (2016) Comparative Review [Video]
Comparative Review: Ford Everest 3.2 4x4 XLT vs Toyota Fortuner 2.8 GD-6 4x4 6At
Interested in buying a Toyota Hilux or Fortuner?
Click here to search for a new/used Hilux