While sales volumes of full electric or plug-in hybrid vehicles remain small in South Africa, the recharge network has grown considerably. Let's have a look at just how many such facilities there are in Msanzi.
Four years ago, Nissan took a bold step in bringing its full electric vehicle – the Leaf – to the South African market. Fast forward to 2017, the Japanese manufacturer says it has met its target in terms of rolling out public charging stations to 7 sales and service dealers in Gauteng, and charging-only facilities to an additional 2 dealers.
The company's initial local strategy for the Leaf was business-to-business, with a focus on Gauteng's metropolitan areas. There are currently no Leaf dealers in Cape Town, but the company says it is looking at expanding into KwaZulu-Natal and the Western Cape.
Nissan South Africa has told Cars.co.za that pure EV uptake is very slow as customers are aware of the limitations around travel distances and public charging infrastructure. Since the first EV went on sale in South Africa in 2013, fewer than 500 examples of the Nissan Leaf, BMW i3/i8 have been sold, but 2017 could be the EVs' best year yet...
As of May 2017, Nissan has a total of 9 charging facilities in Gauteng (listed below), and an additional 5 locations that are not attached to dealers (listed below).
Slowly expanding network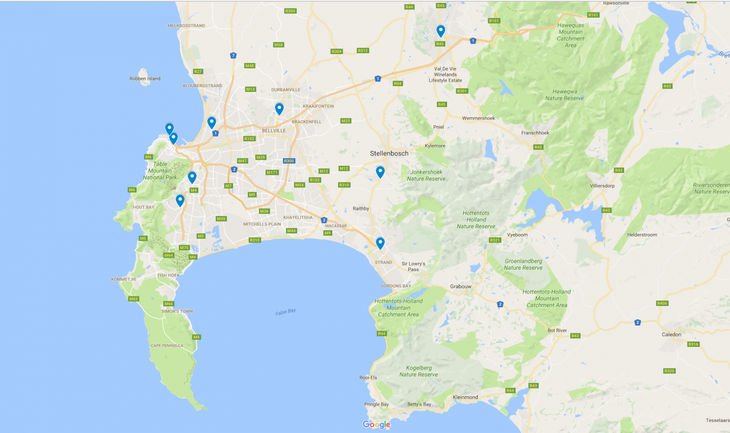 A map of the Western Cape showing the locations of the relatively few EV charge station locations. (blue pins)
Meanwhile, BMW South Africa, which launched the full electric i3 (and range-extender REX version) back in 2015, has been faster in its rollout of charging stations. There are currently 38 BMW i-dealerships dotted around South Africa in 8 provinces – listed below that have AC chargers. They are free for customers to use, provided it is activated with their Charge Now card.
There are currently only 4 BMW dealerships that have DC charging stations, namely Sandton Auto, SMG Cape Town, Supertech (Durban) and Club Fountains in Pretoria. BMW South Africa's head office in Midrand also has public charging infrastructure with two AC chargers and one DC charger. Additionally, BMW has one solar car port charger available at its HQ.
AC chargers can power an i3 from 0 to 80% in approximately 2 hours and 30 minutes, while DC chargers can do the same, but in a much faster 30 minutes.
Shared rollout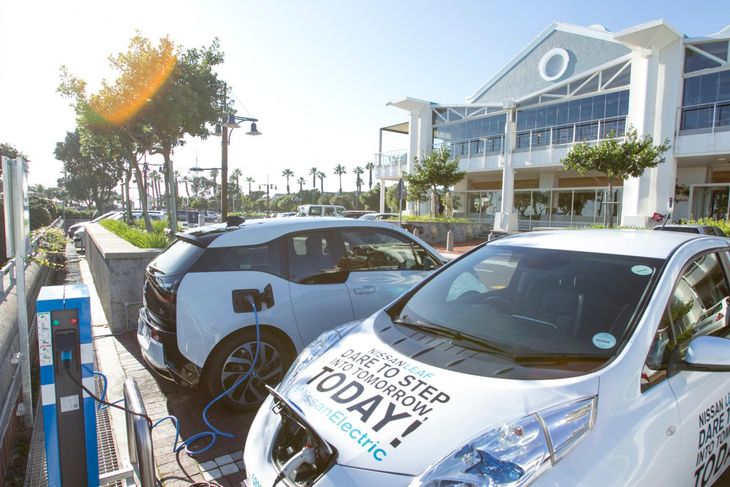 The joint charge facility at the V&A Waterfront in the Western Cape.
Between Nissan, BMW and Growthpoint Properties, there is a memorandum of understanding (MoU) to share costs of public charging facilities, which is currently in place until 31 December 2017. So far, 2 of these facilities have been rolled out in the Western Cape, one at the V&A Waterfront and the other at Constantia Village.
BMW South Africa says it was important for these public charging stations to offer Type 2 connections that can be used by the i3, the hybrid i8 and the Leaf. These stations are future-proof and are able to cater for future EV and PHEV (plug-in hybrid electric vehicles) models, says BMW.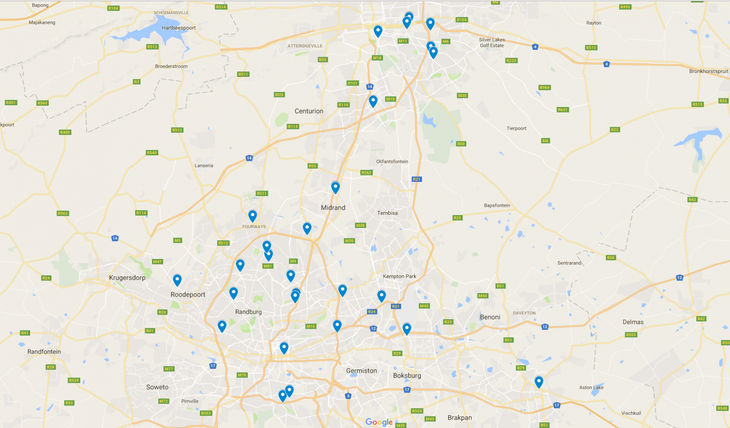 A map of Gauteng showing the location of the majority of EV charge stations.(blue pins)
Going forward
BMW is currently in negotiations with key partners to expand the EV and PHEV public charging infrastructure in metropolitan areas throughout South Africa. Its focus areas in the coming months are to further expand into Gauteng and Kwa-Zulu Natal.
Meanwhile, Nissan is busy exploring its expansion with strategic partners but cannot confirm the number of additional charging facilities that will be made available.
Nissan Leaf Dealers
CMH Sandton - Corner Of Ballyclare & William Nicol Drive
Melrose Nissan - 89 Corlett Drive, Melrose North
Edenvale Nissan - Corner Of Van Riebeeck & Aitken Street
IC Roodepoort - 43 Van Vuuren Street
Imperial Nissan Menlyn - 116 Louis Avenue
Bb Hatfield Nissan - 1290 Corner of Pretorius & Richard Street
McCarthy Randburg - Corner Of Malibongwe And Avon Road
CMH Midrand - 451 New Road
Nissan The Glen - Cnr Lois & Skukuza Road
Other Charging Stations
Nissan Head Office ( Pretoria ) - 2 Ernest Oppenheimer Street
CSIR (Pretoria) - Meiring Naudé Road , Brummeria
Eskom Head Office (Johannesburg) - Megawatt Park – Maxwell Drive , Sunninghill
Melrose Arch ( Johannesburg ) - 60 Atholl Oaklands R oa d & Melrose B ou l e v ar d
BMW i dealerships
Gauteng (18)
Auto Alpina Boksburg - cnr North Rand Road and Pond Street, BEYERSPARK
Auto Alpina Springs - 33 Second Avenue, SPRINGS EXT
Auto Bavaria Midrand - Cnr New Rd And 16th Ave, HALFWAY HOUSE
Auto Glen Motors - Cnr Oak and Middle Lane, OAKDENE
Autobahn BMW - Corner Brabazon and Isando Road, ISANDO
Bedfordview - 8 Kings Road, Bedfordpark
Cedar Isle Auto - Cnr Witkoppen & Cedar Road, Dainfern
Clearwater - Cnr Hendrik Potgieter & Falls Rd, Little Falls
Club Motors Fountains - 84 Harmony Street, MUCKLENEUK
Joburg City Auto - 190 Commissioner Street, MARSHALLTOWN
JSN Motors - 41/43 Ormonde Street Cnr William Nicol , SANDTON
Leo Haese Centurion - 2023 Lenchen Avenue South, CENTURION COUNTRY CLUB
Leo Haese Pretoria - 1207 Burnett Street, HATFIELD
Menlyn Auto - Cnr January Masilela Dr and Garstfontein , MENLYN
Northcliff Auto - 11 Cresta lane, CRESTA
Sandton Auto - 126 Rivonia Road Cnr Daisy, Sandown
Vaalridge Auto - Cnr Johannesburg Rd & Gen Smuts Rd, Vereeniging
Zambesi Auto - 501 Breedt Street, Montana Gardens
Western Cape (7)
Auric Auto - Main Road, Claremont
Auto Atlantic - Cnr Heerengracht & Hertzog Boulevard, CENTRAL
Donford - C/O Cnr R44/ Webers Valley Road, Stellenbosch
Donford Helderberg - 47 Mynhardt Street, Goedehoop
Paarlberg BMW - 199 Main Road, PAARL
SMG Cape Town - 1 Century Way, CAPE TOWN
SMG Tygervalley - 1 Pasita Road, Tyger Valley
Kwazulu Natal (5)
Ballito Autohaus - 5 Moffat Drive, DOLPHIN COAST
SMG Durban - 41 Somtseu Road, STAMFORD HILL
SMG Pietermaritzburg - 9 Armitage Road, PIETERMARITZBURG
Smg Umhlanga - 2 Wilton Crescent, Umhlanga Rocks
Supertech Pinetown - 153 Old Main Road, NEW GERMANY
Eastern Cape (2)
Autohaus Monti - Cnr Pearce Street & 4th Avenue, BEREA
Continental Cars - 26 Ring Road, GREENACRES
Free State (1)
Sovereign - Cnr Charles and First Avenue, WESTDENE
Limpopo (1)
Modern Autohaus - 12 Iran Ave, POLOKWANE
Mpumalanga (2)
Eastview - 3 Emnotweni Avenue, NELSPRUIT
Eastview eMalahleni - 5 Corridor Cresent , BEN FLEUR
Northwest Province (2)
Best Auto - cnr 4th Ave and R24, WATERFALL EAST
Daly - 60 Margaretha Prinsloo Street, KLERKSDORP
Nissan, BMW, Growthpoint Property Public Charging Stations
Cape Town – V&A Waterfront
Cape Town – Constantia Village
You may also be interested in;
Battle of the PHEVS: BMW 330e takes on Mercedes-Benz C350e (video)
The problem with electric mobility
Top 10 green performance cars (2016)
Top 10 most fuel-efficient cars in SA (2017)
Looking to buy a new / used BMW i3?
Find one for sale on Cars.co.za today by clicking here
Looking to buy a new / used Nissan LEAF?