The only Dodge product to remain on sale in South Africa continues to cater to lifestyle buyers looking for maximum space, comfort and features. But… after so many years on the market, can the Journey still compete?
We like: Passenger comfort, standard features
We don't like: Thirsty engine, marginal cabin finishes
Also consider: Mitsubishi Outlander, Kia Sorento, Hyundai Santa Fe
What's the appeal?
Though the Dodge product offering has steadily contracted in recent years, and there doesn't appear to be any new product on the horizon, the Journey has carved itself a small (but sizeable enough) niche in South Africa. In terms of price, it occupies a position somewhere between the top-end smaller crossovers with seven-seat configurations (such as the Nissan X-Trail and Mitsubishi Outlander), and similar-sized (but lower-specification) vehicles such as the Kia Sorento and even the body-on-frame SUVs (Toyota Fortuner/Chevrolet Trailblazer/Ford Everest).
What the Journey offers, then, is a practical, spacious package loaded with a standard features list that is unmatched at the price. You also get some old-school charm in the thirsty V6 engine under the bonnet, and the boxy, very American looks.
Latest updates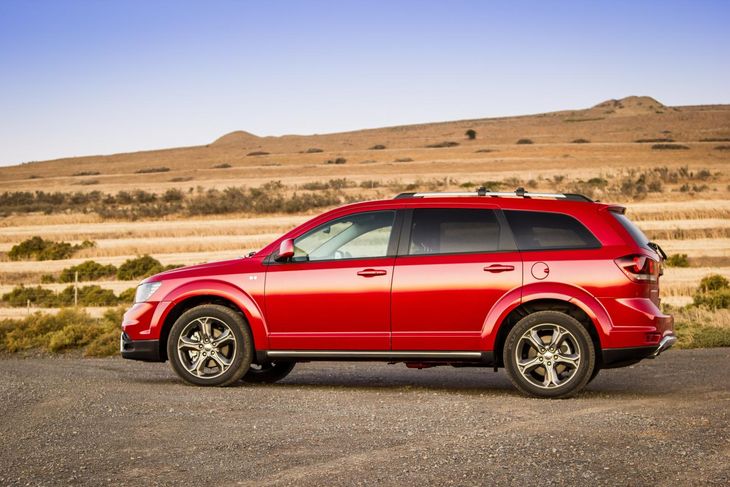 The boxy lines of the Journey have aged well. Striking 19-inch wheels and roof rails are standard.
Officially, there's not much that's different in the latest Journey models. The Crossroad derivative is the flagship of the range, but according to last year's sales statistics supplied to us by Lightstone Auto, the slightly cheaper and mechanically identical R/T continues to be the best seller.
The Crossroad can be differentiated from its R/T sibling by its brushed aluminium-look "nudge bar" and side garnishes, striking gunmetal 19-inch alloy wheels and a black grille. Overall, the vehicle has aged remarkably well... Constant updates have provided fillips during a surprisingly long model life.
Inside, the biggest upgrade is the uConnect multi-media system, which allows multiple connectivity options and also offers a hard-disc drive for storage.
How does it fare in…
Comfort and features?
The extensive standard features list is integral to the Journey's consumer appeal. From an electrically adjustable driver's seat, to leather upholstery, a heating function for the front seats, cruise control, navigation and the aforementioned uConnect multimedia system, the Journey offers many conveniences.
But the comfort on offer doesn't only stem from the provision of these luxury items. At 4 888 mm in length, the Journey is slightly longer, narrower and taller than the Korean twins (Kia Sorento and Hyundai Santa Fe). So there's a spacious cabin to start with. Now add a longer wheelbase and you have a vehicle that affords the first two rows of passengers very comfortable accommodation. The third row is, predictably, best suited for children.
Like most vehicles developed with the American market in mind, the seats are large, softly padded and supremely cosy on longer trips. In one of its previous updates, the Journey also received a larger, padded centre armrest. There's also an overhead "conversation mirror" that allows you to monitor what the little 'uns are getting up to on the back seat. And, very cleverly, those middle-row seats boast built-in booster cushions… a very welcome feature.
The Journey's ride quality is paramount to overall comfort levels too. Despite its 19-inch wheels and low-profile tyres, the Journey delivers a cossetting, pliant ride that deals with most road surfaces well. It's less adept at cornering at any kind of pace, however, but this is unlikely to concern its target audience.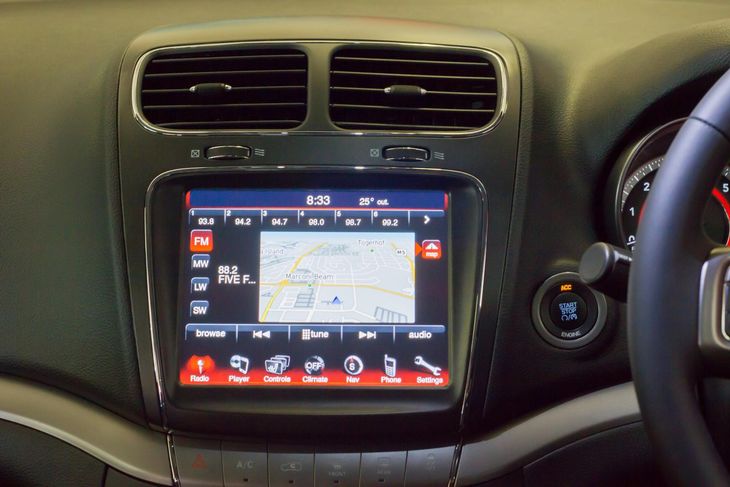 The uConnect multimedia system offers hard-disk storage and voice control features.
Performance
In a market that has largely shifted towards more frugal turbodiesel offerings, the Journey's thirsty 3.6-litre V6 petrol engine represents an odd choice. While the significant grunt (206 kW) is certainly noticeable, the Journey lacks the torque of its turbodiesel rivals. In fact, its 353 Nm of twist is developed quite high up the rev range (4 400 rpm), so you have to push the engine hard to extract the overtaking acceleration you may require and that hurts the fuel economy...
Fuel economy
Dodge claims an average fuel consumption of 10.4 L/100 km, but you'll have to drive very gently to achieve that. In fact, our average during the test term worked out to closer to 12.5 L/100 km, which is very thirsty. At least the tank is large (77.6 litres, so refuelling stops aren't as frequent as you may expect.
Practicality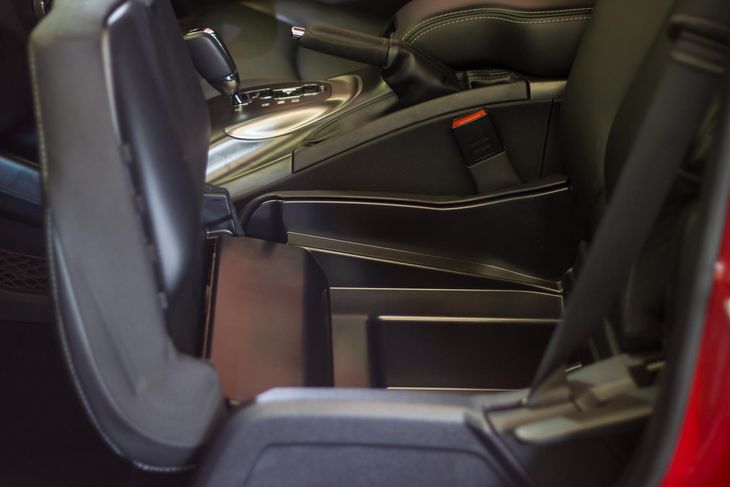 Front passenger seat cushion lifts up to reveal practical storage compartment.
Dodge, of course, is a stablemate to Chrysler, a brand that's renowned for family-friendly packaging – the latter makes the Voyager, after all. So the Journey cabin is littered with some clever touches, such as hidden storage compartments. For example, the cushion of the front passenger seat lifts up to reveal a spacious storage box. Even the fact that the rear doors open to 90-degrees show that a lot of thought went into the family-oriented packaging of the Journey.
In terms of boot space… well, if all three rows are occupied, the space for luggage is restricted to only 167 litres, but this is par for the course for most seven-seater vehicles. In the more likely scenario of five seats taken and the third row stowed away, there's more than ample space for a holiday trip. And with the second row also folded forward, the Journey is transformed into a very capable furniture removal "van" with no less than 2 296 litres of utility space.
Verdict
It's easy to dismiss the Dodge Journey as a largely irrelevant throwback to yesteryear courtesy of its thirsty, old-fashioned V6 powertrain and cabin finishes that fall some way short of what you'd expect to find in a vehicle such as the Hyundai Santa Fe, for example. Strangely, however, the Journey turns out to be a charming vehicle that slowly wins you over with its numerous other talents. If large fuel bills don't frighten you, there's enough on offer here to merit a test drive.
Pricing
The Dodge Journey 3.6L Crossroad sells for R533 990. The price includes a three-years/100 000 km warranty and three-years/100 000 km maintenance plan. It requires servicing every 15 000 km.
Compare the Dodge Journey 3.6L Crossroad with the Hyundai Santa Fe 2.2 CRDi Elite and Kia Sorento 2.2 CRDi LX here
Interested in buying a Dodge Journey? Search for one on Cars.co.za