Self-driving car company, Cruise, has revealed its new fully autonomous Origin shuttle which makes a compelling case for the future of public transport.
Cruise, an autonomous technology company based in San Francisco, California, has revealed the Origin, an electric, driverless vehicle that the company intends deploying for a scalable ride-sharing service.
This might look like a concept, but it's not. It's actually production-ready and traditional driving instruments such as a steering wheel, pedals and instrument cluster don't feature, which creates more space to accommodate passengers. Passengers face each other inside the origin and each person has access to their own USB ports to charge devices. Mounted screens are also fitted to provide ride information. Access to Origin is gained via sliding doors as opposed to outward opening doors.
Cruise CEO, Dan Ammann, said "We've been just as obsessed with making the Origin experience as inexpensive as possible. Because if we're really serious about improving life, and our cities, we need huge numbers of people to use the Cruise origin. And that won't happen unless we deliver on a very simple proposition, a better experience at a lower price than what you pay to get around today."
The Origin is designed to operate for over 1.6-million km and is modular and upgradeable which means individual components can be easily replaced. Since Cruise specialises in autonomous technology, the Origin is equipped with a multi-layered sensor system that makes use of radars and cameras that are able to track people and objects in a way that creates a safe and reliable autonomous public transport solution.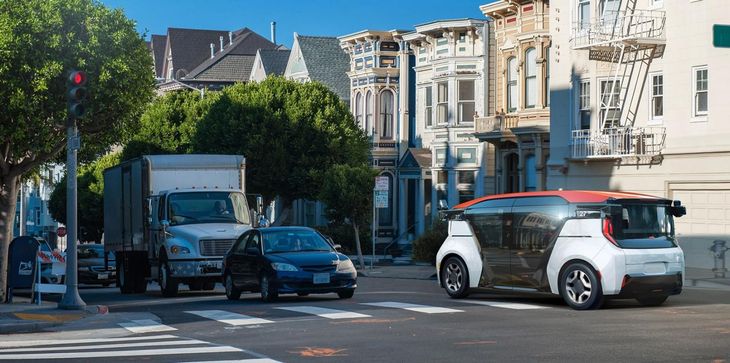 Is this what the future of public transport looks like?
Details regarding the electric powertrain are unknown at this point but parent company General Motors (GM) is expected to produce the Origin on its electric vehicle platform.
However, as it stands, it might take some time before the Origin is put to work in cities as it reportedly doesn't yet meet Federal Motor Vehicle Safety Standards (FMVSS) which are U.S. federal regulations that dictate design, construction, performance, and durability requirements for motor vehicles and regulate automobile safety-related components, systems, and design features.
We will keep you updated as soon as more details become available.