Tyre manufacturer Continental launched its new SportContact 6 tyre at Zwartkops Raceway this week and we attended the launch to learn more about this new tyre offering. Tyre safety is an often overlooked aspect of car maintenance and Continental aims to address the issue through its Vision Zero campaign to educate – and create awareness among – South African motorists.
Continental has introduced its new SportContact 6 tyre to the South African market and it will appeal to owners of high-performance vehicles such as Mercedes-AMG products, BMW's M range as well as performance offerings from Audi, Jaguar and Porsche, amongst others.
The SportContact 6 tyre succeeds the 5P offering with significant improvements in grip in both dry and wet conditions. When compared to the outgoing 5P offering, the SportContact 6 tyre is claimed to offer 14% better steering precision while handling performance has improved by 11%. Moreover, its grip capability has been improved by 4% with a 2% improvement in wet conditions. The SportContact 6 tyre is available in 41 sizes for rims ranging from 19 to 23-inches.
Tyre testing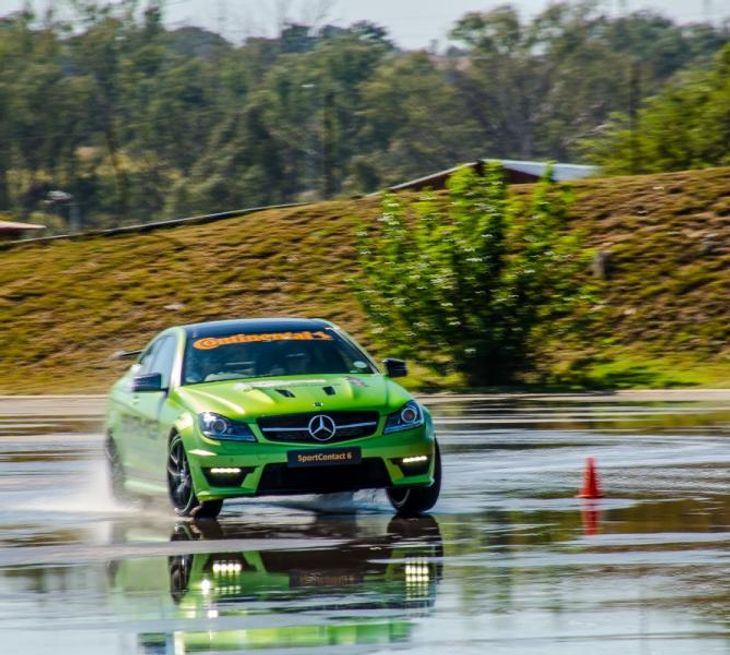 We put Continental's SportContact tyres to the test at Zwartkops Raceway.
The launch took place at Zwartkops Raceway and we had the chance to test the capability of the SportContact 6 tyres on Mercedes-AMG products in wet and dry conditions.
The first test activity took place on a wet skidpan where we got behind the wheel of a Mercedes-AMG CLS63 S and Mercedes-AMG C63 Coupe Edition 507. An obstacle course was laid out and both cars were fitted with new SportContact 6 tyres. Judging by the way the vehicles responded to enthusiastic steering and throttle inputs in those slippery conditions, the new SportContact 6 rubber seemed to grip the wet tarmac with zeal.
We also had the opportunity to test the tyres in dry conditions with a few laps around Zwartkops Raceway. To do this, we buckled up in a Mercedes-AMG A45 (read our review) and proceeded to push the cars and their tyres to their limits. The SportContact 6 were rated to 350 kph and the levels of adhesion they demonstrated out on track, under hard driving conditions, were remarkable. Those were extreme conditions, but high-grip tyres play an important safety role insofar as they give motorists the confidence to take effective evasive action when they encounter road hazards while driving.
Tyre safety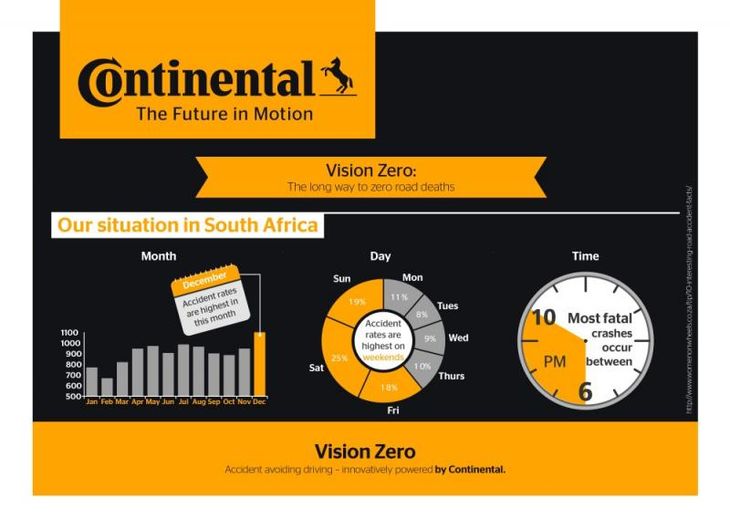 Road safety in South Africa remains a major challenge.
Continental also took the opportunity to highlight its Vision Zero campaign, which aims to eradicate traffic collisions and related fatalities and injuries.
In South Africa, about 15 000 road deaths occur annually and the marketing manager of Continental Tyre South Africa, Niel Langner, said that a lack of understanding of tyre safety contributes to the problem.
"Tyre education and awareness is at the forefront of our campaign in SA, as there's a significant lack of understanding regarding the critical role that tyres play in overall driving safety," says Langner. "This can be attributed to buyers across the full spectrum of the industry, as price is the main consideration when it comes to purchasing decisions, but this often results in a trade-off in performance and safety compared to a quality or premium tyre."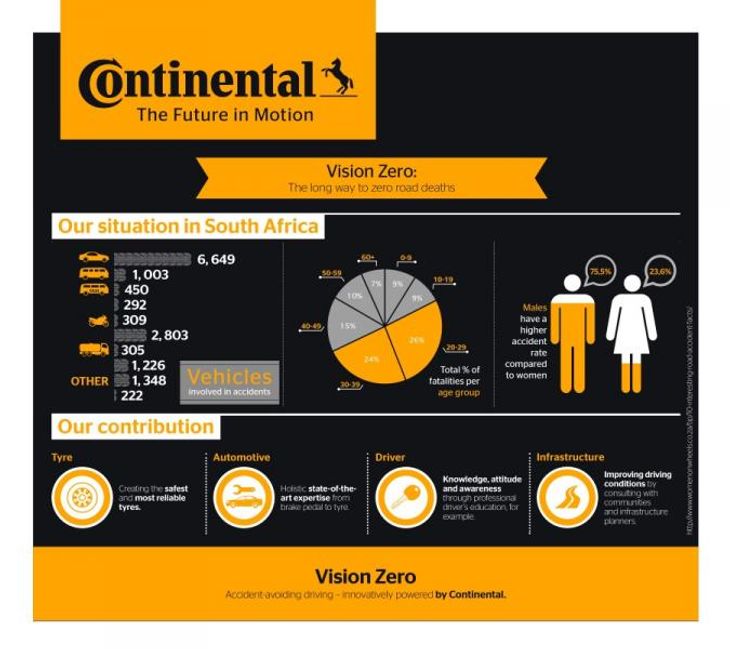 Between 14 000 and 15 000 people die on South African roads every year.
Meanwhile, motorists should bear in mind that maintaining the correct tyre pressure will ensure that their vehicle's tyres perform optimally. Over or under-inflated tyres have a direct negative impact on grip as well as reducing braking and handling ability. Incorrectly inflated tyres also result in premature wear (higher costs) and increases the risk of tyre failure.
In South Africa, the legal tread depth limit is 1 mm (Europe is 1.6 mm) and it must be noted that a tyre's ability to disperse water diminishes significantly as tread depth decreases, increasing the chances of aquaplaning in wet conditions. Braking distance also increase as tread depth decreases. Therefore, Continental recommends changing your tyres when your tread depth reaches 3 mm to ensure maximum performance from your tyres.
"Tyres are the sole point of contact between the vehicle and the road. All forces transmitted to the road are put down via a footprint no bigger than the size of a postcard. In a critical situation, it is the tyre that determines whether the vehicle can stop in time, or whether it stays safely on course through a corner," Langner stated. "This is why we need to inform as many drivers as possible, all over the world, about the safety benefits of using high-tech tyres inflated to the correct pressure and with adequate tread depth. We will continue driving this message and expanding our education and awareness platforms to inform motorists on the crucial role tyres play in road safety," he concluded.
More information