The Hyundai Tucson is currently the best-selling compact family SUV in South Africa, but the latest Mazda CX-5 is a strong product and we brought these two segment heavyweights together for a comparative assessment. Does the handsome Hyundai Tucson have what it takes to best the suave Mazda CX-5? Take a look at our findings for the answers...
At a glance
| | | |
| --- | --- | --- |
| | Mazda CX-5 2.2DE AWD Akera | Hyundai Tucson 2.0CRDi Elite |
| Price: | R561 700 | R539 900 |
| We Like: | Exterior and interior styling, practicality, performance, ride quality, spaciousness, comprehensive comfort and safety features, value for money | Exterior styling, solid interior build quality, performance, comfy ride quality, good rear passenger space, big boot |
| We Don't Like: | Ride might be too sporty for some, shorter warranty | Could be more practical, average specification, bland interior design |
What are we comparing?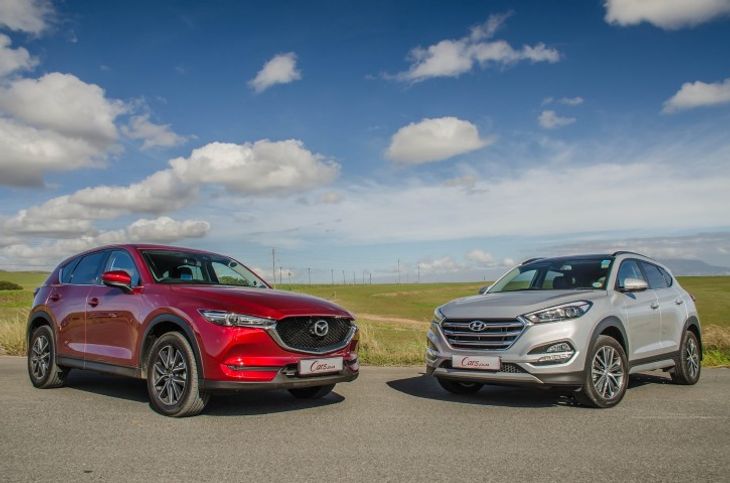 The Hyundai Tucson is currently the segment leader, but the new Mazda CX-5 is a strong rival with attractive styling and features.
The compact family car/SUV segment is hugely popular (and crowded) in South Africa and according to Hyundai, the Tucson has been a consistent top-seller since its launch in 2016. The CX-5 has been a late bloomer; it too has sold well locally, but a new CX-5 arrived in May 2017, bringing with it a host of improvements in terms of design, refinement and safety. The CX-5 2.5 Individual was also recently crowned as the winner in the Family Car category of the Cars.co.za Consumer Awards — powered by WesBank, which is a significant achievement.

For this comparative review, we stack the Hyundai Tucson 2.0CRDI Elite derivative against the equivalent Mazda CX-5 2.2 DE AWD Akera to determine which car is the better buy. Both are range-topping derivatives that are powered by turbodiesel engines mated with automatic transmissions. The Korean offering is admittedly R17 600 more affordable than its Japanese rival, but keep in mind that whereas the former is front-wheel drive, the latter offers the added practicality (and safety) of a four-wheel drivetrain. Let's see how they stack up!
Compare the Mazda CX-5 2.2DE AWD Akera with the Hyundai Tucson 2.0CRDi Elite
How do they fare in terms of…
Kerb Appeal?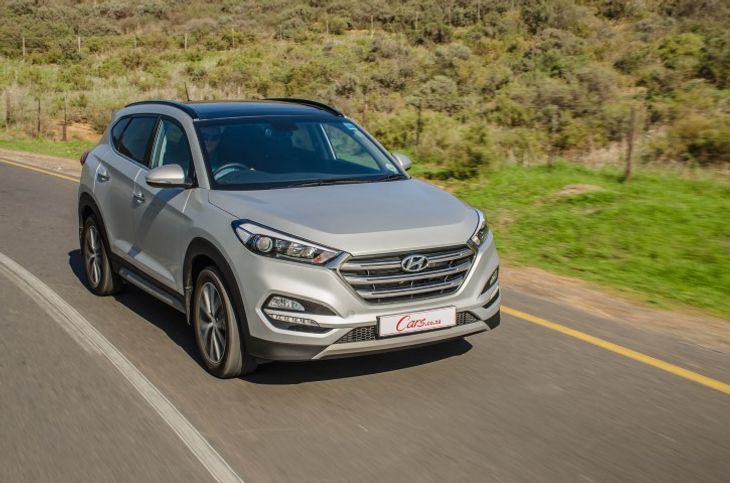 The Tucson's bold front-end styling has proven popular with buyers looking for a compact SUV.
The Tucson stands out from the crowd by virtue of a bold hexagonal grille and a wing-shaped bar in the bumper that incorporates its LED daytime running lights. The front-end is further enhanced by LED-adorned headlights. Riding on 17-inch alloy wheels, the Tucson's square-jawed, yet overall sleek, appearance is accentuated at the rear with sporty touches such as a satin chrome-look diffuser in the rear bumper and a twin exhaust system. It's a good-looking car and this fact has undoubtedly helped it achieve sales success in the local market.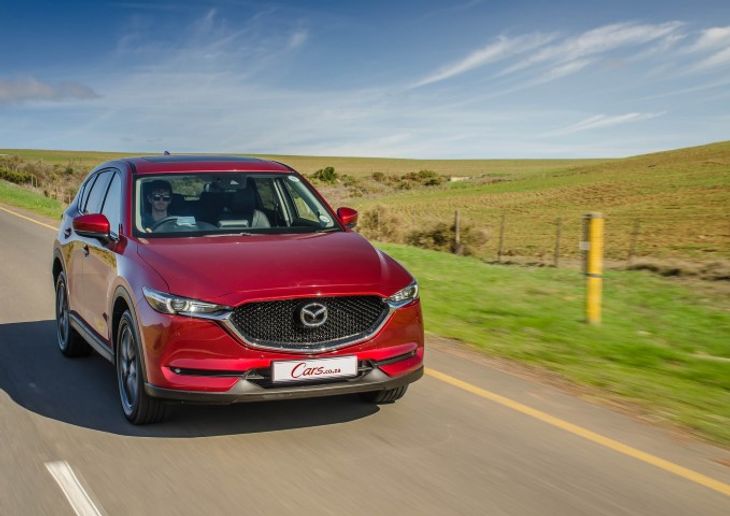 The new Mazda CX-5 brings a sharper, more sophisticated look to the road with a redesigned grille and headlights.
As for the new CX-5, an angled, recessed 3-D grille is a major attraction and it gives the car a purposeful look with a chrome bar extending beneath characteristically slim adaptive LED headlights. The reshaped taillights are leaner, accentuating the CX-5's voluptuous rear end with 2 tailpipes rounding off a rather dashing, sophisticated-looking product. The CX-5 also rides on larger 19-inch alloy wheels.
Verdict: You are welcome to pick your favourite, but in our test team vote-off, the CX-5 came out on top as the better-looking car.
Performance and Refinement
| | | |
| --- | --- | --- |
| | Mazda CX-5 2.2DE AWD Akera | Hyundai Tucson 2.0CRDi Elite |
| Engine | 2.2-litre turbodiesel | 2.0-litre turbodiesel |
| Power | 129 kW | 131 kW |
| Torque | 420 Nm | 400 Nm |
| Transmission | 6-speed automatic | 6-speed automatic |
| Fuel Consumption (claimed) | 6.0 L/100km | 6.7 L/100km |
| 0-100 kph | 9.5 seconds | 9.3 seconds |
| Top Speed | 206 kph | 201 kph |
Based on their manufacturers' claimed figures, the Tucson and CX-5 are closely matched. The CX-5 offers more torque from its slightly bigger engine and is slightly more fuel efficient. Comparatively, the Tucson offers a smidge more power and it's marginally thirstier. However, the way in which the products deliver their performance is noticeably different.
Push the engine start button and the Tucson's 2.0-litre turbodiesel comes alive with a hearty diesel thrum that's noticeably audible in the cabin. Acceleration feels brisk when you put your right foot flat to the floor and we found the transmission to be relatively smooth and responsive to throttle inputs.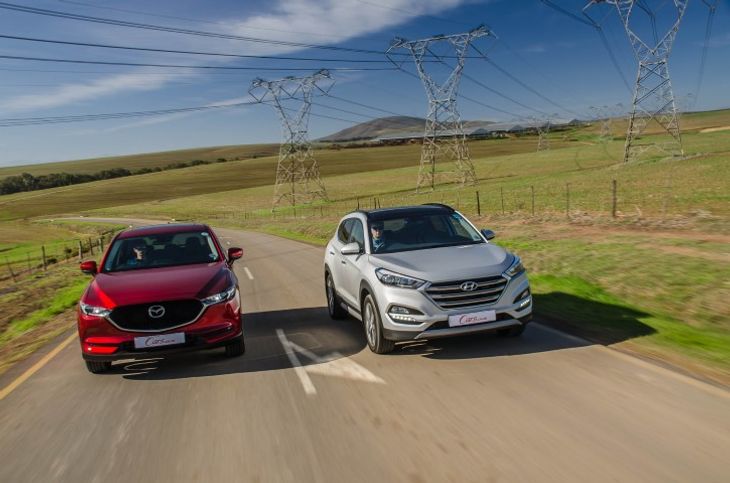 The Tucson and CX-5 are closely matched on paper and both deliver good performance and reasonable fuel economy.

Quick and punchy overtaking manoeuvres are easily achieved on the highway and only a hint of turbo lag is evident. For the most part, the Tucson's engine adapts well to your driving style, whether it be more spirited or relaxed. The driver can choose between 2 driving modes, ECO and Sport, depending on your intentions, whether it be saving fuel or extracting the most from the engine. Overall, the Tucson is a strong performer with good acceleration and admirable all-around ability. It must be said, however, that the Tucson's engine is not as refined as it could be. The engine emits a fair amount of noise and it exhibits some diesel clatter, but with that said, it's by no means overbearing. During our test, the Tucson returned respectable fuel consumption figures and we averaged in the region of 8.3 L/100km.
In the case of the CX-5, it too has an engine start button, but at startup, the engine is quieter and far more refined. Engine noise is less intrusive inside the cabin and the engine doesn't clatter under harder acceleration. Much like the Tucson, the CX-5 accelerates with fervour when pushed and the transmission is quite slick in snapping through its gears with minimal turbo lag. The engine and transmission seem to be well matched.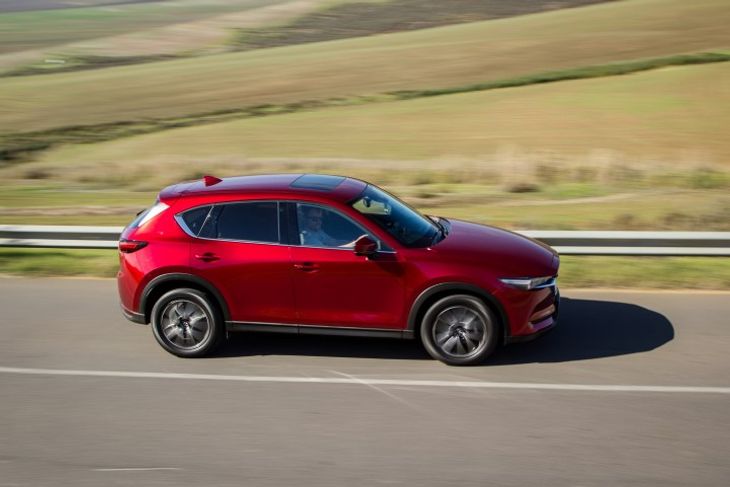 The CX-5 is more refined than the Tucson with less engine noise and better performance delivery.
Similarly, overtaking is a no-fuss affair for the CX-5 and the additional torque helps give some added oomph when it's needed. Apart from its practical benefits, with all-wheel drive, the CX-5 also feels more effective in its power delivery and it certainly feels sportier. Interestingly, although the CX-5 claims to be more efficient than the Tucson, we found it to be a bit thirstier, returning an average figure of 8.7 L/100km. However, with more attentive driving, we are sure that the CX-5, and the Tucson for that matter, are capable of lower fuel consumption. Spirited driving will, however, increase consumption, naturally.

Verdict: In terms of performance capability, the Tucson and CX-5 both deliver responsive acceleration and good overall performance in both city and highway driving situations. However, we feel that the CX-5 has the edge over the Tucson because it delivers its performance in a more refined manner.
Ride Quality and Handling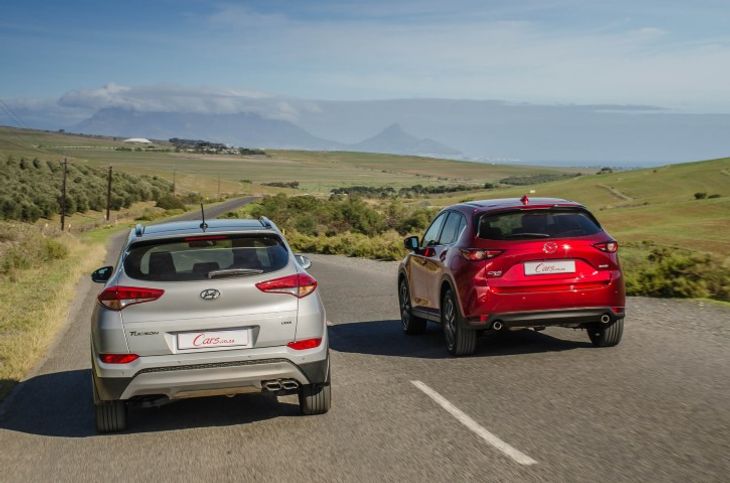 Both the Tucson and CX-5 deliver a comfortable ride, but the CX-5 is slightly firmer with a more sportier feel.
Apart from the previously mentioned engine noise entering the Tucson's cabin under harder acceleration, Hyundai has done a good job of insulating the cabin from other audible interference such as wind and road noise and the cabin is fairly quiet when cruising along at highway speeds. The suspension errs on the side of comfort and the Tucson negotiates bumpy surfaces well without being crashy or uncomfortably intrusive.
Steering feel is positive and slightly on the heavier side, encouraging control on behalf of the driver. The Tucson corners with confidence and its wide stance give it a solid and planted feel when pushing on. Overall, the Tucson's handling is best described as 'confidently capable' and its forgiving ride quality is definitely one of its key strengths.
Mazda has gone to great lengths to improve the ride quality of this new CX-5 and the improvements are to be appreciated. Along with its more refined engine, the cabin is quieter and almost free of any interference from wind and road noise. The larger wheels do become marginally noisier on rougher surfaces, however, but it's easily forgivable.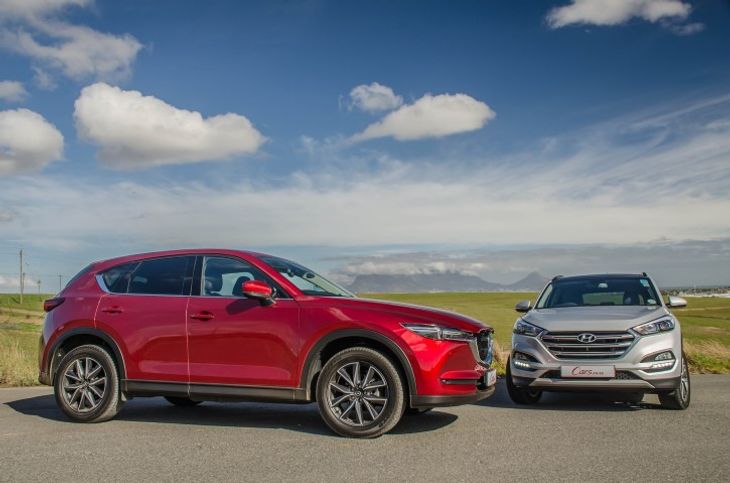 Ride quality in the Tucson and CX-5 is excellent, but the CX-5 feels delivers a more refined ride.
Like the Tucson, the CX-5's ride quality is pleasingly comfortable but the suspension is slightly firmer, which complements its sportier disposition. Even so, the CX-5 still copes very well on rugged tar and imperfections are ironed with seemingly little effort. The key difference in ride quality, however, is that the CX-5 seems to glide over tar with a premiumness that the Tucson can't quite match. It's worth noting that the chassis of this new CX-5 is more rigid than before, which effectively improves its handling and we found the CX-5 to be particularly good at cornering where it's both stable and willing, even at speed. Also, you may, or may not, be pleased to know that the steering feel of the CX-5 is lighter than that of the Tucson.

Verdict: The ride quality and handling ability of the Tucson and CX-5 are difficult to fault. Both deliver a comfortable ride over varied surfaces and both feel reassuringly capable in corners. Ultimately, the judgment will depend on the characteristics you favour more. If you want a weightier steering feel and a little more forgiving ride, then the Tucson is a good bet.

Alternatively, if you prefer a sportier and slightly firmer sprung SUV with a lighter steering feel, then you can't go wrong with the CX-5. As for a verdict, we prefer the setup of the CX-5 and like the premium feel of its ride.
Practicality
| | | |
| --- | --- | --- |
| | Mazda CX-5 2.2DE AWD Akera | Hyundai Tucson 2.0CRDi Elite |
| Length | 4 450 mm | 4 475 mm |
| Width | 1 840 mm | 1 850 mm |
| Height | 1 680 mm | 1 660 mm |
| Ground clearance | 185 mm | 172 mm |
| Luggage capacity | 442 - 1 914 L | 488 - 1 478 L |
| Fuel tank capacity | 58 L | 62 L |

The Tucson will have to sit in the back seat for practicality because this is where the CX-5 shines rather brightly. Yes, the CX-5 does have the smaller luggage bay, but when you fold the seats down, the volume of the load area is capacious. For the mountain bikers who don't want to take a wheel off, the CX-5 will swallow your bike whole. But to be fair so does the Tucson, it's just not as big. More so, the CX-5 has a clever luggage cover and conveniently placed levers in the load bay to drop the 40:20:40 split rear seats. In the Tucson, you have to walk around to each side of the car to fold both seats down via 2 levers, it's rather tedious. The Tucson carries a full-size spare wheel and has a 12V socket in the load bay. Comparatively, the CX-5 carries a tempory-use spare steel wheel instead.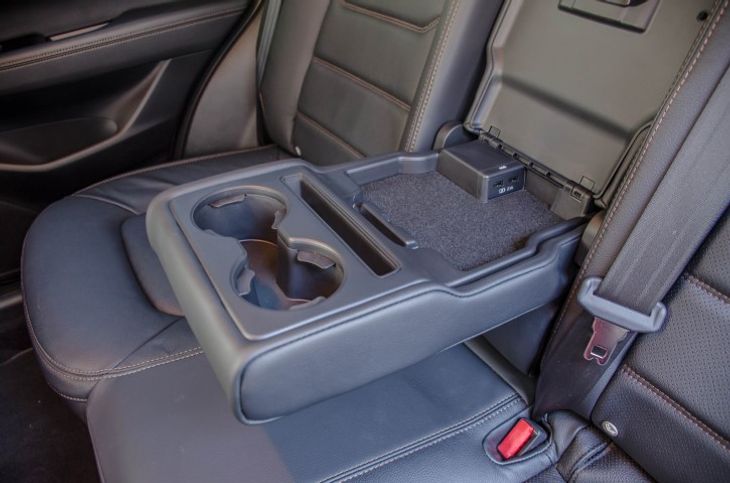 The CX-5 is equipped with a useful charging station with 2 USB ports for rear passengers, amongst other practical features.
The CX-5, unlike the Tucson, goes further by offering an electronic tailgate that's useful when your hands are full of shopping bags. But that's not all. Although both the CX-5 and Tucson have a rear centre armrest with 2 cupholders, the CX-5 ups the ante with a nifty smartphone charging station with 2 USB ports. Rear passenger space in both vehicles is quite generous for 2 (ideal) to 3 (pushing it) adults, should be comfortable with little to complain about. The Tucson does offer slightly more legroom though, but the CX-5 fights back with a 2-stage rear seat reclining feature, for added comfort on longer journeys.
Both cars have bottle holders in all the door mouldings and the driver and passenger have 2 handy cup holders in the centre tunnel. Additional storage space can be found ahead of the transmission lever as well as in the centre console or glovebox.

Verdict: Where the Tucson can be regarded as average in terms of practicality, the CX-5 bests it by going above and beyond with thoughtful features that take its practicality up a few notches. The CX-5 is, therefore, a clear winner in the practicality stakes.

Interior comfort features

The Tucson's interior is grey and perhaps uninspired in terms of design appeal, but it very well-built and sturdy.

The Tucson features a predominantly grey interior with hard-wearing plastics being the order of the day and the seat upholstery is made from synthetic leather and the electrically adjustable seats are adequately comfortable. The driver's seat also has lumbar support. The cabin feels indestructible but the design and layout lacks inspiration. Perceived build quality is very good, however.
The Tucson's steering wheel has mounted cruise control, audio and telephone controls and it's adjustable for rake and reach. Infotainment comes courtesy of an optional (R15 000) 8-inch touchscreen display and it offers basic functions such as a radio, Bluetooth functionality, DVD/CD player, Mirror Link and navigation, but for some reason, this test unit's navigation was not operational. Although basic, we found the system to offer adequate functionality and it's easy enough to use. A USB and auxiliary port is also fitted as well as a 12V socket.
Other key features on the Tucson include a larger panoramic sunroof, dual zone climate control air conditioning, electric windows and electrically adjustable folding side mirrors.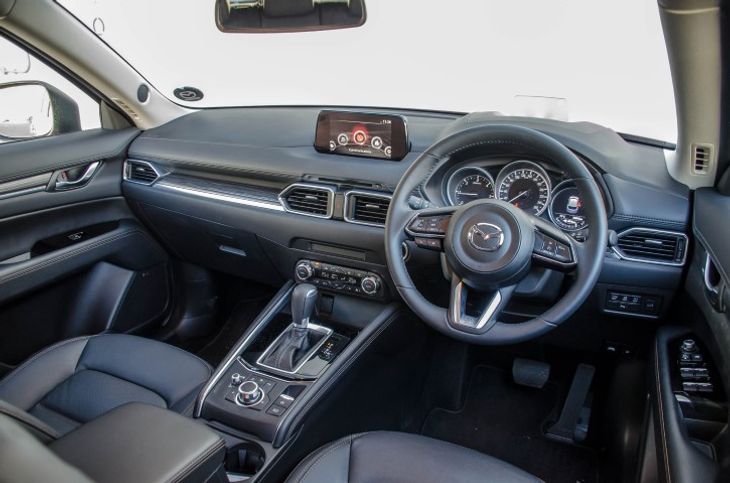 The CX-5's interior feels and looks more upmarket with quality finishes and an attractive overall design.

The CX-5, on the other hand, takes a sophisticated approach in terms of layout and design. Soft touch surfaces dominate the predominantly dark/black cabin and it feels far more modern and stylish with appealing wooden-like inserts seen on the dashboard and door inserts that give the interior a premium feel. Perceived build quality is very good but unlike the Tucson, the CX-5's interior is minimalist and is far more appealing in terms of design and layout. Comfortable, genuine leather upholstery is fitted and the front seats are electrically adjustable with lumbar support.
The steering is also adjustable for rake and reach with mounted Bluetooth, cruise control and audio controls. In terms of infotainment, the CX-5 excels with an upright 7-inch display that's operated using a rotary dial in the centre tunnel. The system offers Bluetooth functionality as well as navigation. A quality, 10-speaker BOSE sound system is also fitted along with a CD player and 2 USB ports and an auxiliary port in the centre console. Comparatively, the CX-5's infotainment system is slick and more user-friendly than the system found in the Tucson. A 12V socket is also fitted should you need it.

Other features offered on the CX-5 include a head-up display, electric sunroof, dual zone climate control air conditioning, electric windows and electrically adjustable folding side mirrors.
Verdict: From an interior design point of view, the CX-5 is superior to the Tucson with its smart and aesthetically pleasing cabin. The quality of materials used is a cut above and although they share similar comfort features, the CX-5 looks and feels more premium inside. The CX-5 is the better-packaged product.
Safety Features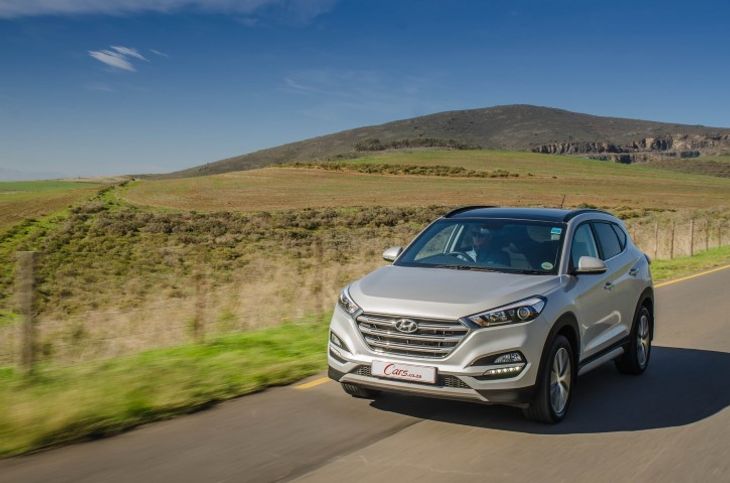 The Tucson's safety offering has made it a popular choice in South Africa.
In term of passive safety features, both vehicles are fitted with 6 airbags, ABS with EBD, stability control and traction control. The CX-5 adds brake assist.
On the Active safety front, the Tucson comes with blind spot detection with lane change assist that helps you change lanes safely via a visual signal (located in the side mirrors) and audible alerts. Rear-cross traffic alert and hill start assist is also standard on the Tucson. Rear park distance control is accompanied with a reverse camera that appears in the rear-view mirror. The display is small though, making it difficult to judge your manoeuvres accurately. It would be far better to have the rear camera displayed on the main infotainment screen.

Comparatively, the CX-5 is equipped with lane departure warning which alerts you when you are veering out of your lane and is complemented with lane keep assist by adding slight torque to help steer the vehicle back onto the correct path. Lane keep assist is displayed on the updated heads-up display that also brings information such as speed and speed limits directly into the driver's field of vision. Blind spot monitoring is also standard as is front and rear park distance control with a reversing camera displayed on the infotainment display.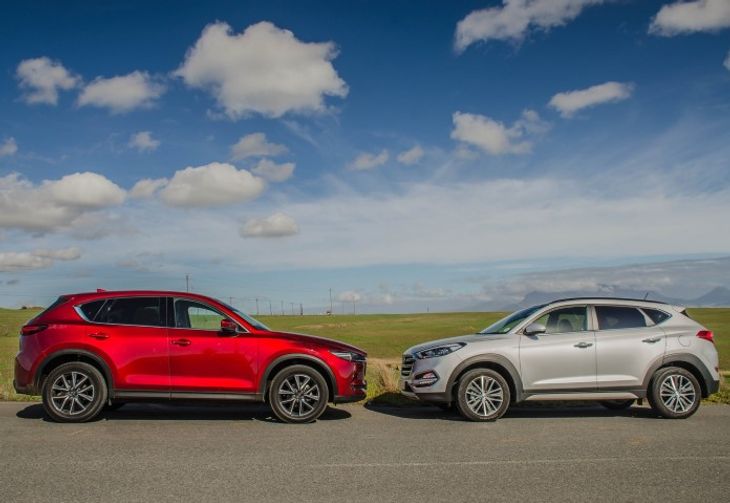 Although both vehicles offer a good level of safety specification, the CX-5 is more comprehensively equipped.
Furthermore, the CX-5 offers Smart City Brake Support (SCBS) to help prevent or minimise low-speed collisions by detecting potential collisions up to 80 kph. This feature issues a visual audible alert when an imminent collision is detected and primes the brakes for quicker response when or if the driver applies the brakes. Another included feature is driver attention alert which 'learns' your driving habits and if your habits change, implying fatigue, an audible and visual alert will be issued, encouraging you to take a break. Both vehicles feature ISOFIX child seat mounts.
Verdict: Although both vehicles are well-equipped with passive and active safety features, the CX-5's safety specification is more comprehensive. If safety is high on your priority list, then the CX-5 is the safer bet.

Pricing and warranty
Mazda CX-5 2.2DE AWD Akera

Hyundai Tucson 2.0CRDi Elite

Price

R561 700

R539 900

Warranty

3-year/unlimited km

5-year/150 000 km vehicle

7-year /200 000 km drivetrain

Service Plan

3-year/unlimited km

5-year/90 000 km

Service Interval

15 000 km

15 000 km

Search for a new or used Mazda CX-5 on Cars.co.za
Search for a new or used Hyundai Tucson on Cars.co.za
Final Verdict

The new Mazda CX-5 pips the Tucson in all departments and offers buyers more value with a host of attractive features.
There is much to like about the Hyundai Tucson. It's an attractive SUV that delivers good performance and a comfortable ride. Although it's not as refined as the CX-5, it's more than adequate for both city driving and those longer family excursions on the weekend. The Tucson offers a decent level of features as standard and even though its interior packaging and practicality offering is average, it ticks many of the boxes buyers are looking for in this segment.
The latest CX-5 is a strong product that seemingly does many things really well. Its engine is great to drive and its sportier driving feel should find favour with many buyers. Its premium ride and its equally premium interior is to be appreciated. The CX-5 is a feature-rich family SUV that offers a comprehensive list of standard comfort, convenience and safety features. Mazda really has lifted the bar with this latest iteration of the CX-5.
In terms of vehicle price, both vehicles are similarly priced, but based on our assessment above, the decision should be a relatively simple one. Simply put, the Mazda CX-5 2.2DE AWD Akera is the better car to buy based on its drivability, design, packaging and feature offering. It's also a more refined and sophisticated product that will resonate well with image-conscious buyers. With that said, the Tucson's packaging and feature offering can't match that of the CX-5 but it does offer more peace-of-mind in terms of warranty and servicing. Nonetheless, we think the CX-5 is a clear winner and offers buyers far better value.

Watch our in-depth video review and comparison of the Mazda CX-5 and Hyundai Tucson below!
Related content:
Winners of 2017/18 Cars.co.za Consumer Awards – powered by WesBank
Extended Test: Mazda CX-5 2.2DE AWD Akera [with Video]
Mazda CX-5 2.2DE AWD Akera (2016) Review
Hyundai Tucson Sport (2017) Quick Review
Hyundai Tucson Sport (2017) Launch Review
Hyundai Tucson 1.7 CRDi Executive (2017) Review
Comparative Review: Hyundai Tucson vs Kia Sportage vs Renault Kadjar vs Volkswagen Tiguan