Mercedes-Benz brought its classic 220 D pick-up to the launch of the X350D in Slovenia and, surprisingly, allowed us to take it for a drive. So we did...
Through the years Mercedes-Benz has toyed with the concept of a pick-up a number of times. If you take into account some of the Sprinter variants or even the 6x6 version of the G-Class, you could argue that the X-Class is in fact not the first "bakkie" to wear the Three-Pointed Star. But arguably it was the Argentinian Mercedes-Benz distributor that made the first serious attempt at a Mercedes bakkie in the '70s with this, the so-called "La Pick-Up".
Recently Mercedes-Benz has brought a restored version of the W115-based La Pick-Up, of which around 6 000 were build using CKD kits, to X-Class events to build a sense of "heritage" around its new Amarok-rival. It did so too for our recent visit to Llubljana in Slovenia to drive the X350d and this time round, journalists were allowed to take it for a short spin. Happily, we got lost, so my drive was a bit longer...
A little background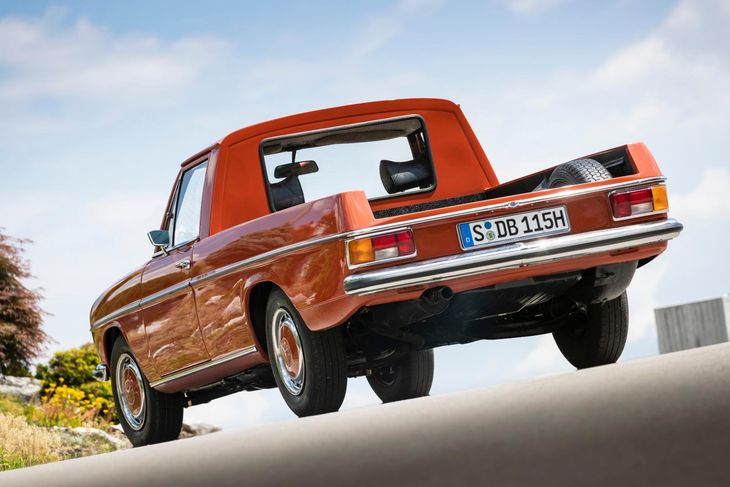 The W115-based La Pick-Up was offered in single- and double-cab body styles.
In the early '70s it was not allowed to import pick-ups or cars into Argentina, but it was permitted to build them using CKD (completely knocked down) kits. And so the local distributor imported CKD kits of the sturdy W115 sedan from Germany and converted them to pick-ups at the González Catán facility. It is said that around 6 000 of them were built (in single- and double-cab body styles) from 1972 to 1976 and somehow this particular example found its way back to Germany where it was used for hard work on the railways. When Mercedes-Benz found it in recent years, it was apparently close "to its end", but a complete in-house restoration has brought back to life.
On the road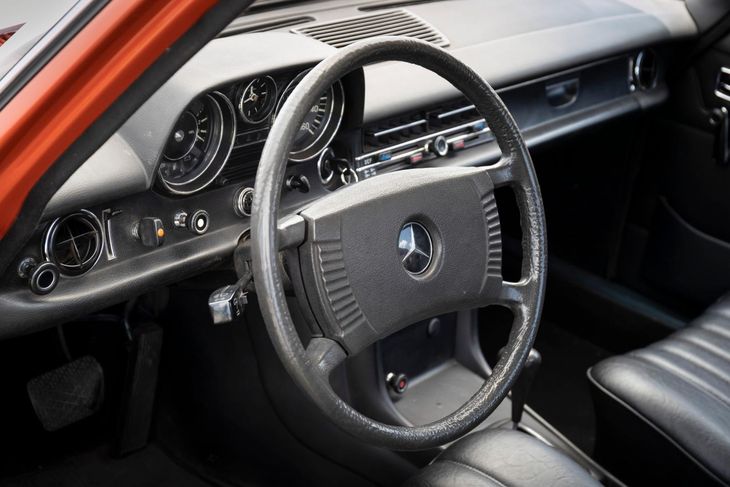 The cabin is pure W115, and even featured a 4-speed automatic transmission and a radio.
It is clear that this restoration was a no-expense spared one... the La Pick-Up's body is blemish free and the doors shut with a very solid thud. It's also very clean and neat inside... there is no trace of its history as a workhorse for Stuttgart's SSB railway company. My first challenge, however, was to find a comfortable driving position. I'm 1.8m tall and with the chair pushed all the way back, I still felt a little cramped. Nevertheless, the La Pick-Up appears surprisingly luxurious at first glance. It even has an automatic gearbox! And you thought self-shifting bakkies were a new thing...
Fire up the ancient 2.2L diesel engine (21:1 compression) and you get the type of oil-burning clatter we haven't heard for years. But... and this came as a rather big surprise... the engine is creamy smooth and torquey, feeling stronger than its 65 horsepower (just shy of 50kW) and around 125Nm of torque suggests. Still, when I looked down at the gearshifter and noticed an "S" I joked with my Mercedes chaperone that I was going to put it into "Sport" mode. Without cracking a smile he simply insisted... "No, no... this is not a race car!" The "S" mode simply locks it into the first 2 gears.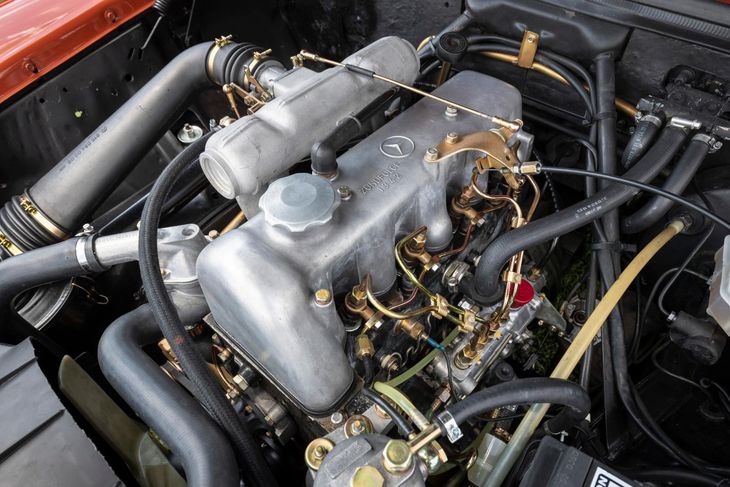 With less than 50kW and 125Nm of torque, the emphasis is on toughness and smoothness, rather than performance.
Dynamically the La Pick-Up also impresses. Like most older cars that were set up for comfort, rather than Nurburgring track times, the La Pick-Up irons out road humps and corrugations, and there's not a hint of a rattle from the facia. The only aspect that requires constant attention from the driver (and this will be familiar to any classic car owners) is a slight tendancy to "wander"...
Slovenia is an achingly beautiful country, and as we headed out into the countryside, I couldn't help but smile as its famous Alpine peaks reflected on the gleaming orange curves of the La Pick-Up's bonnet. Here I was driving a fantastically bright, orange 2-door Mercedes-Benz without an AMG badge in sight... and having lots of fun.
You may also be interested in;
Classic Drive: BMW's legendary E30 333i and 325is (Gusheshe)
108 years of Alfa Romeo: We choose 10 of its best (gallery)
Porsche at 70: Celebrate with a Top 10 ranking (gallery)
Looking for a new / used Mercedes-Benz to buy?