BMW South Africa showcased the latest addition to its Heritage Fleet – a fully restored 530 Motorsport Limited Edition – at the recent M Festival at Kyalami. Gero Lilleike had a rare opportunity to take BMW's "unofficial first M model" – and a cornerstone of the brand's motorsport heritage in Mzansi – for a brief drive around the track.
As far as unique-to-SA classic cars are concerned, the BMW 530 Motorsport Limited Edition (MLE) is among the most significant. What's more, it's an utter rarity – only 7 roadgoing MLEs are believed to have survived! And what about the racing 530 MLE? There's only 1! BMW South Africa produced a string of homologation models (cars produced in low volumes to conform with the entry requirements for sedan-based track racing) in the 'Eighties and early-'Nineties: the 333i, 745i and 325iS "Evo 1" and Evo 2. However, the 530 MLE pre-dates all of them... not only did it lay the foundation for BMW's M Division to produce road cars; it enabled the Bavarian brand to market its cars through its involvement in SA motorsport.
Read all about the BMW 530 MLE's history and restoration project here!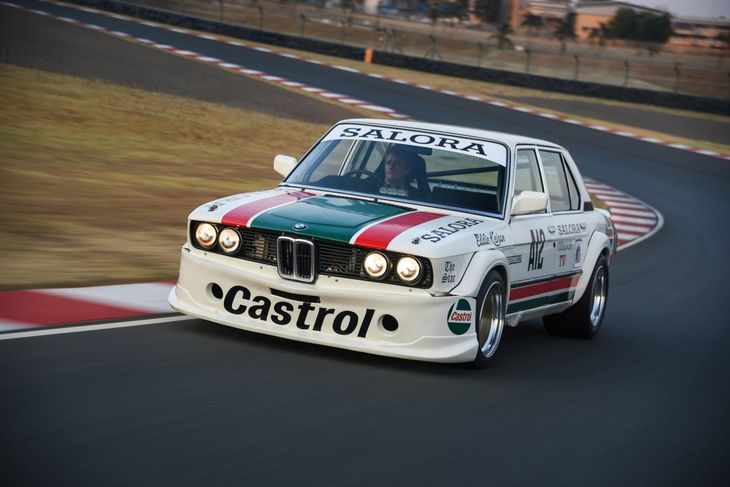 This is the only racing 530 MLE in the world. It dominated its series in local track racing in the '70s and early '80s!
Standing track-side with the recently-restored BMW 530 MLE, as the setting sun casts a colourful glow over Kyalami, my heart is pounding in my chest. I'm nervous, but also incredibly excited, because I'm about to drive BMW South Africa's most recent restoration project, the 530 MLE and, most significantly, it's car #100, which was previously owned by Peter Kaye-Eddie, a former racing driver and 530 MLE racing team manager. More than this, I would be driving it around Kyalami, the very venue where the racing version of 530 MLE obliterated its competition more than 4 decades ago in the local Modified Production Series. Statistically speaking, it's the most successful racing version of the 5 Series to date... probably ever.
At the onset of the track demonstration, BMW Group Communications Manager, Diederik Reitsma, gave us a quick briefing and we were told that we would only have 1 hour to soak this car in. Nothing more, nothing less. And so, I patiently wait for my turn.
Then it happens. As I open the venerable Bimmer's driver's door and slide into the driver's seat, I've instantly transported to a time long ago. I had spent most of the day driving BMW's latest products and now, as I step into the 530 MLE, it feels as if I'm stepping into another world…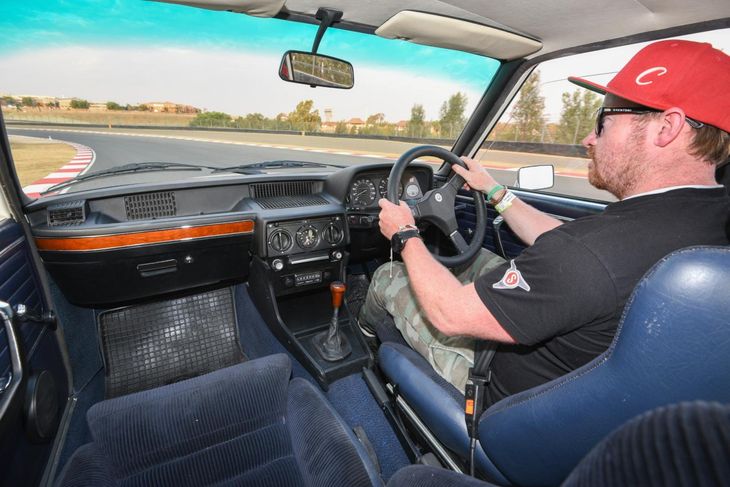 The 530 MLE's cabin is bereft of many conveniences found in modern cars, but it's such a charming place to be.
Upholstered in old-school corduroy cloth (it's like an old school velour...), the sculpted driver's seat is generously bolstered but palpably comfortable, in a way that only an old car's seat can be. The U-shaped headrests catch my eye – they give the cabin a distinct 70's touch. The old Sanyo Rally II tuner radio made me smile and the simplistic air conditioning dials, central analogue clock and mono dials are a reminder of much simpler times.
Buy a stunning Limited Edition print of the 530 MLE (only 50 to be produced).
As I'm about to turn the key to start the 530 MLE, Luis Malhou of Custom Restorations, the man in charge of this restoration job, steps to the window. He kindly asks me to not rev the engine beyond 3 000 rpm and to go easy on the car around the track as both the engine and brakes are still being run/bedded in. I acknowledge his request with a smile, albeit a nervous one and reassure him that I will take good care of her.
I turn the key and the 3.0-litre, 6-cylinder motor springs to life. And, oh, what an urgent, unfiltered soundtrack it emits. I gently prod the throttle pedal, but it's stiff. I prod it a bit harder and let the motor pipe up for a brief moment. My heart is racing, I'm overwhelmed…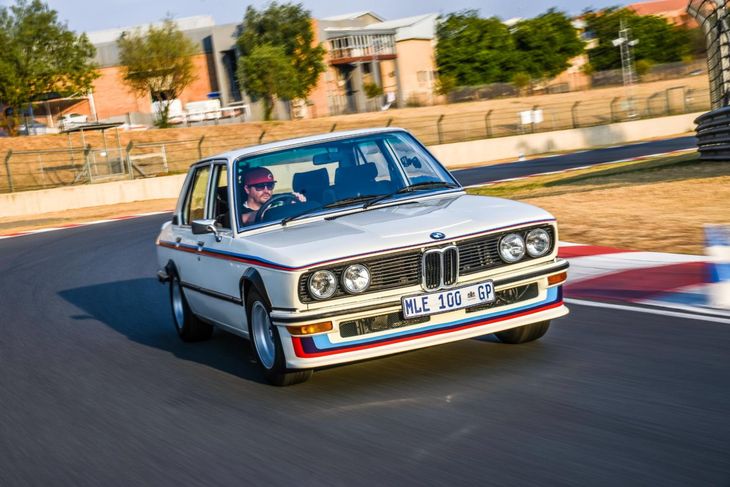 Only 7 road-going BMW's 530 MLE's are thought to exist worldwide.
It's time to go! The manual 5-speed Getrag transmission lever feels loose and mechanical in my hand but simultaneously direct with a longer-throw action, which is, of course, perfectly period correct and increasingly rare in these days of "user-friendliness". The gears catch sweetly. The lack of power steering is immediately noticeable and the tiller feels heavy as I steer the 530 MLE into Crowthorne, the first corner at this iconic track.
I wind down the window to afford my body much-needed fresh air amid the intensity of a track drive (of a priceless museum piece!) and, as the 530 MLE makes its way up through Jukskei Sweep to Barbecue corner, I can't help but think how spoilt modern-day motorists are with convenience features. Driving this car makes this fact abundantly clear, especially considering that less than an hour prior I was driving the latest M340i.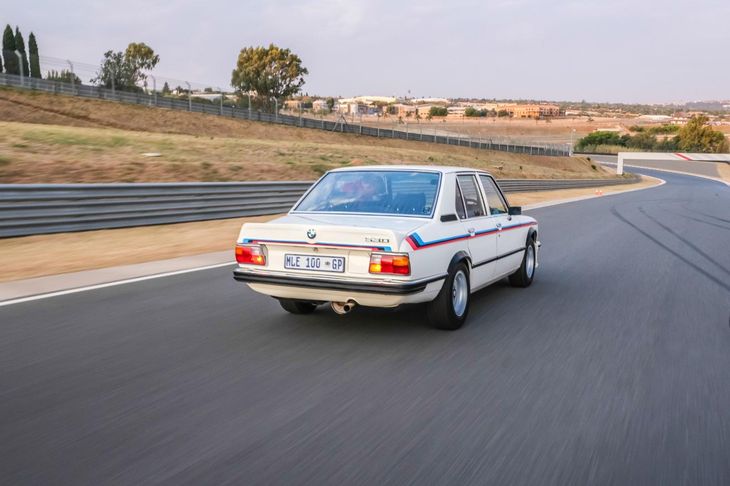 The BMW 530 MLE tackles the famous Mineshaft at Kyalami.
As I work the wheel and the Bimmer rolls on towards Clubhouse Bend and the Esses, my thoughts drift to motorsport and I try to imagine what it must have been like racing the 530 MLE at full throttle on track. I imagine what those days, in which privateers worked on their cars in their back yards during all hours of the week, before risking life and limb racing these elemental tin tops at the weekend, must have been like.
It's worth noting here that the racing version had notably higher outputs from its modified 3.0-litre engine with no less than 206 kW and 318 Nm on offer – it must've been a real tail-happy treat to drive at the old Kyalami. With the sun setting behind me and its rays bathing the cabin with warm light, I turn onto the famous Mineshaft and I savour the dream-like moment (still puttering along at 50 kph, I daren't drive the 530 MLE any faster).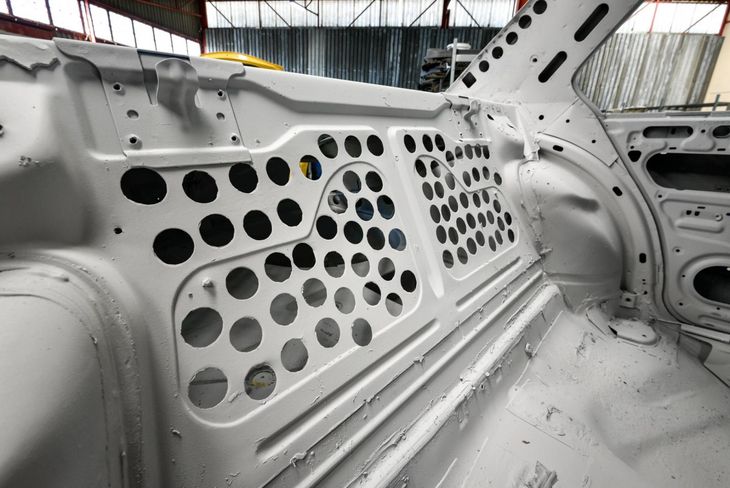 Less than a year ago, the 530 MLE was down to bare metal. Note the holes that were drilled into the bulkhead to save precious kilos.
It then dawns on me that I wasn't even born when the 530 MLE left its indomitable mark on South African motorsport. The late Tony Viana, from Welkom, and other revered saloon-car racers achieved successes in local racing at the wheel of race-bred BMWs I mentioned before (Deon Joubert also won the South African driver's championship in a modified 535), but would any of those cars have existed had the MLE not paved the way?
I pull into the pits and switch off the Bimmer's engine. It's back to reality as I sit in silence. I take a few seconds to reflect on my brief encounter with this 530 MLE. I'm happy and grateful for this day, for this drive. This must surely be a highlight of my career... This car has something; something special; something that most modern cars claim to have but just don't have and probably never will have. It's got character! And lots and lots of it.
Buy a new or used BMW 5 Series on Cars.co.za
Related content:
BMW 530 MLE: Restoration of an SA icon
BMW SA to restore local icon - 530 MLE
Watch all our SentiMetal videos here