Citroen returned to South Africa in 2019... Could its most expensive model – the C5 Aircross – also be its best offering? It joins a very competitive family-car segment, in which buyers are looking for a mix of design appeal, practicality, value and a good balance between performance and economy. How well does the Citroen deliver on these expectations? Let's find out!
We Like: Unique styling, performance, lots of standard features, practicality
We Don't Like: Negative perceived brand perception, fuel consumption could be better
Fast Facts
Price: R509 900 (December 2019)
Engine: 1.6-litre turbopetrol
Power/Torque: 121 kW / 240 Nm
Transmission: 6 speed automatic
Fuel Consumption: 7.9 L/100 km
Load space: 520 to 1 630 litres
Own a Citroen? Tell us about your experience here
SERIOUS ABOUT BUYING?
Check out full specification details and finance estimates here.
Some Citroen dealers regularly offer specials: Have a look here
What is it?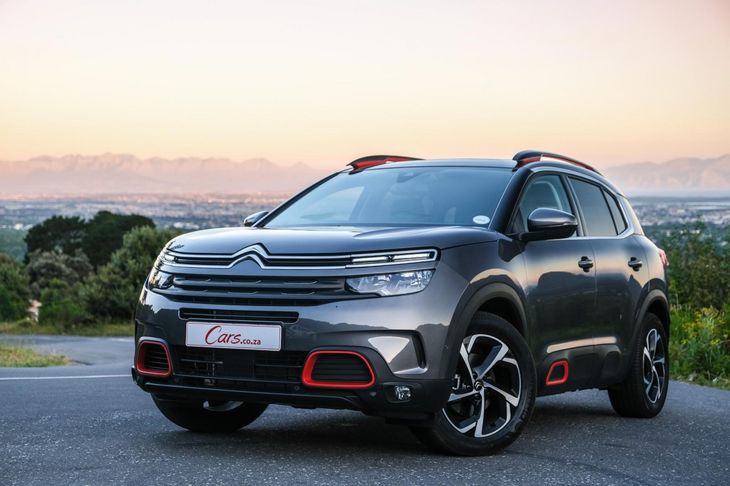 The Citroen C5 Aircross brings much-needed vibrancy to the family car segment – we like it!
After a 3-year absence, Citroen is looking to re-establish itself in the local market by focusing its efforts on 3 core products: the C3 compact hatchback, C3 Aircross crossover and this model: the C5 Aircross family SUV.
The market's obsession with all-things-SUV shows no signs of wavering, so the C5 Aircross is a very important offering in Citroen's local lineup. Compared with most of its rivals, which includes products such as the Hyundai Tucson, Kia Sportage, Mazda CX-5, Toyota RAV4, Volkswagen Tiguan and so forth, the Citroen offers eye-catching styling and a measure of oddball appeal. Many curious onlookers gawked at the C5 Aircross during its tenure in our test fleet...
The C5 Aircross not only looks futuristic – its styling marks a refreshing change in a segment "plagued" by cookie-cutter-syndrome, that is to say, family cars like these tend to be conservatively-packaged and even a bit bland. The Citroen, by contrast, bucks the trend. We love how different this car looks (inside and out) and, like its cousin, the Peugeot 3008 (a finalist in the Family Car category #CarsAwards powered by WesBank), the newcomer is daring.
So, the C5 Aircross gets our thumbs up in terms of styling, but how good is it as an overall product and, more importantly, should it be on your family-car shopping list? Let's take a closer look…
How it performs in terms of…
Interior quality and features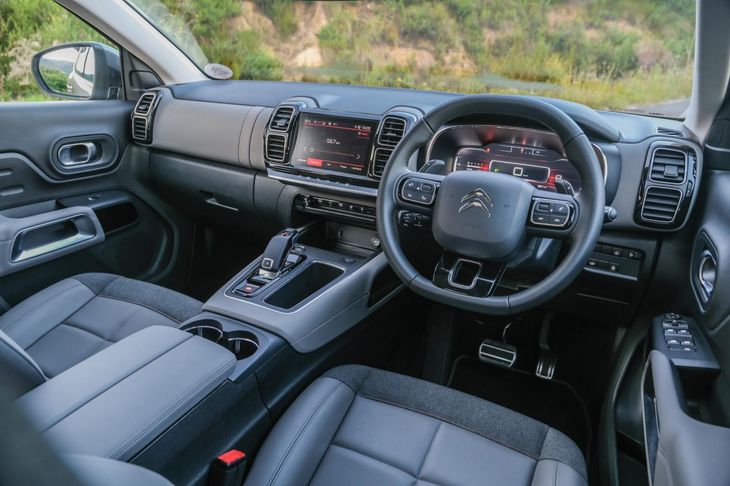 The interior is modern and upmarket and comes well equipped with standard nice-to-have features that its rivals can't match.
Much like its exterior design, the cabin of the C5 Aircross is a breath of fresh air. Perceived interior quality is very good and we like the look of the partial leather and cloth upholstery. It looks stylish and upmarket! It's also worth noting that the seats themselves are comfortable and exude a sense of quality. The driver's seat is electrically adjustable and when you cast your eyes forward and you're met with a slick customisable 12.3-inch digital instrument cluster.
You can tailor the layout of the cluster's display by using the toggles on the leather-trimmed, multifunction steering wheel. The futuristic-looking instrument cluster is complemented by an 8-inch touchscreen infotainment system that offers Android Auto and Apple CarPlay compatibility. In terms of its interface, however, it's not the most intuitive system on the market (the layout and menus do require some familiarisation) and integrated satellite navigation isn't included.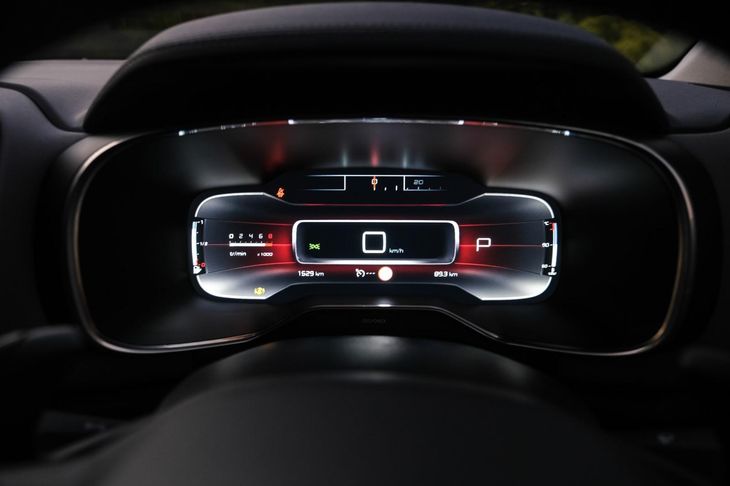 We like the configurable digital instrument cluster as it lifts the interior ambience appreciably.

Moreover, in top-spec 1.6T Shine guise, the C5 Aircross is impressively-equipped with standard features... some of the key nice-to-haves include a panoramic sunroof, electric windows and side mirrors, cruise control, automatic air conditioning (climate control), front and rear USB ports and a wireless smartphone charging pad.
Safety specification is also impressive and includes ABS with EBD and brake assist, electronic stability control with traction control, as well as 6 airbags. Park distance control (front and rear), a 180-degree reverse-view camera, lane departure warning and blind-spot monitoring systems are included too.

In terms of interior execution and features, the C5 Aircross is tough to beat at its price point. In fact, our reviewers believe the Citroen sports one of the best-looking interiors in this segment.
Practicality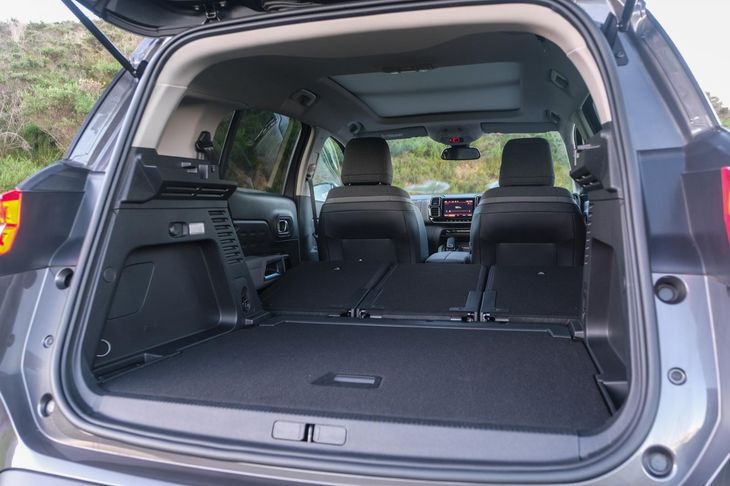 With a sliding rear bench and a capacious load bay, practicality is yet another strength of the C5 Aircross.
Another area in which the Citroen C5 Aircross excels is practicality. Firstly, the plastic cladding with integral air pockets (the so-called Airbumps, first seen on the now discontinued C4 Cactus) helps to protect the bodywork from wayward trolleys, flailing doors from adjacent vehicles and myriad other minor impacts your car might sustain in your local shopping mall's parking lot. We think this feature looks pretty cool too…
Rear passengers will be pleased with the generous legroom on offer. The aft bench comprises 3 reclinable seats and can slide forward by as much as 150 mm to increase the standard 520-litre load bay to offer 720 litres. With all 3 seats folded, the flat load floor can accommodate bulkier items (up to a claimed at 1 630 litres). The C5 Aircross is more spacious than many of its rivals and on par with the Tiguan, which is also claimed to have a 520-litre load bay capacity.
It's also worth noting that rear passengers have access to a USB port, while front passengers have access to 2 cupholders and a large central storage bin for oddments. In terms of practicality, the C5 Aircross is difficult to fault!
Performance and economy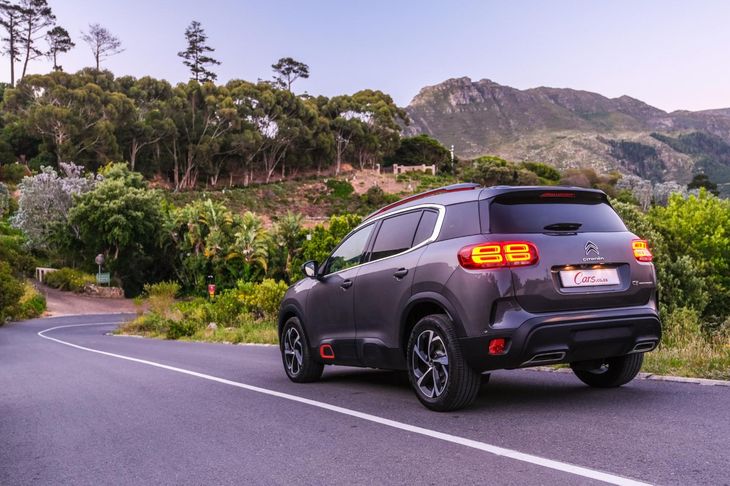 The C5 Aircross delivers punchy performance in a refined manner. It's a wonderful car to drive every day!
The C5 Aircross is powered by a 1.6-litre turbocharged engine that also features in mid-range Peugeot 3008 derivatives. With outputs of 121 kW and 240 Nm, the motor is perky and performs commendably in combination with the 6-speed automatic transmission. The transmission shifts smoothly (generally unobtrusively) and the shift paddles behind the steering wheel allow the driver to actuate 'changes manually (to get the most from the engine) when they need to. There's also a Sport button, which causes the Citroen's 'box to delay upshifts, but we found the performance difference between Normal and Sport to be negligible – the C5 Aircross isn't a really a performance-orientated SUV, anyway.

Nonetheless, the powertrain is quite responsive and should you want to up the tempo/get to your destination in a hurry, the C5 Aircross will be happy to oblige. It delivers its performance in a refined and sophisticated manner, more so than many of its rivals. It gets up to highway speed with little effort and we found it to be quite nippy in traffic too. Needless to say, it's a great car to drive on a daily basis and in terms of performance, it's more than adequate.
In terms of fuel consumption, the C5 Aircross is claimed to consume 7.9 L/100 km, but you are more likely to see returns of just over 9.0 L/100 km depending on your driving style.
Ride and handling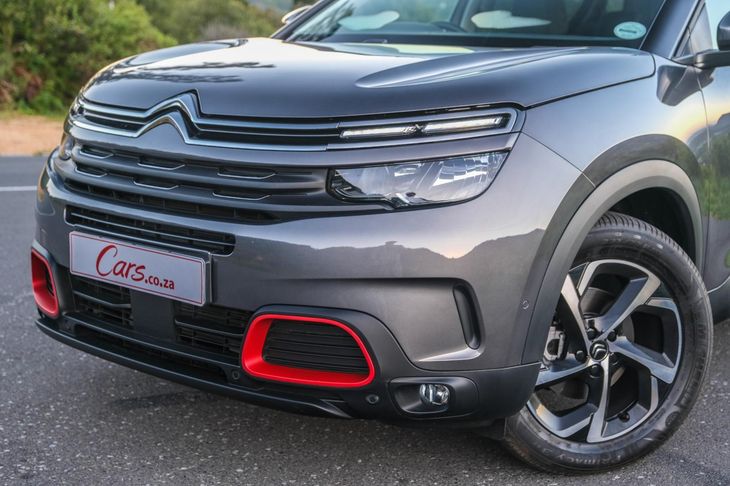 Ride comfort is a major highlight of the C5 Aircross.
Apart from offering head-turning styling and a pleasing level of on-road performance, the C5 Aircross is also remarkably comfortable to drive. In fact, it's one of the things we liked most about this car. The ride is pliant/forgiving and for the most part, the C5 is completely unflustered, even when you drive over poorer road surfaces. The steering feel, however, is rather light (it could perhaps be a bit firmer), but direct. As a result, the Citroen is easy to manoeuvre in the city.
Furthermore, minimal body roll is evident under brisk cornering – for a practically-packaged family car, the C5 Aircross feels confident and surefooted on its rubber. The cabin is pleasingly quiet/well-insulated from wind, road and mechanical noise. We'd go so far as to say one could be forgiven for thinking that you were driving a more expensive vehicle! The C5 Aircross has a premium ride quality – it's definitely right up there with the best in this segment.
Pricing and warranty
The Citroen C5 Aircross 1.6T Shine is priced at R509 900 and is sold with a 5-year/100 000km warranty and a 5-year/100 000km service plan.

Buy a Citroen on Cars.co.za
As a way of comparison, the rivalling Volkswagen Tiguan 1.4TSI Comfortline R-Line, priced from R508 600, offers less power at 110 kW but has 250 Nm (10 Nm more than C5 Aircross). The C5 Aircross is packed with standard features, many of which are optional in the Tiguan and some of these include the panoramic sunroof, rear camera and keyless access. The warranty period is also longer on the Citroen.
Verdict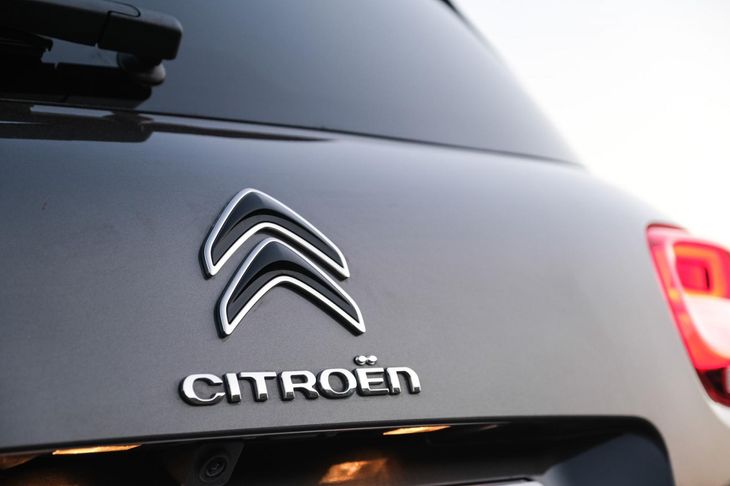 The C5 Aircross is easy to recommend but poor perceived public brand perception stands in the way of its success.
Who said family cars have to be boring? Our entire test team liked the C5 Aircross 1.6T Shine and that says a lot about this new, still-unproven product. There really is much to like about this top-spec Citroen C5 Aircross – not only is it very competitively priced against its rivals, but its level of standard specification bolsters the product's value proposition considerably. It's a comfortable, solid performer that offers the necessary level of practicality to make it a good family car. This is an appealing alternative to the mainstream, somewhat anodyne products on offer in this segment. If you're a buyer looking for something different that's also classy/upmarket, the C5 Aircross may suit you to a tee.
However, brand perception counts for a lot when final buying decisions are made and we feel that the prodigal son (Citroen) needs to prove itself in terms of after-sales care and support in order to truly win the hearts and minds of buyers, who are typically wary and unsure of left-field brands. Nonetheless, the C5 Aircross is easy to recommend on its merits and we think it's a product worthy of consideration if you are in the market for a stylish and well-appointed family car.
Related content:
Citroen C3 Aircross 1.2T Feel (2019) Review
Citroen Returns to South Africa