Citroen has returned to the South African market with a renewed lineup that consists of 2 crossovers and a budget-car offering. We get to grips with the C3 Aircross, a compact SUV competing in a segment which has seen a slew of new entries in 2019. Can it compete with the entrenched competition?
We like: Styling, practicality, full-house safety equipment.
We don't like: Uninspiring drive, Android/Apple Carplay only available on top-spec Shine.
Fast Facts
Price: R339 900
Engine: 1.2-litre turbopetrol
Power/Torque: 81 kW/205 Nm
Transmission: 6-speed automatic
Fuel economy: 6.5 L/100 km (claimed)
​Load capacity: 410 litres
Own a Citroen? Tell us about your experience here.
SERIOUS ABOUT BUYING?
Where does it fit in?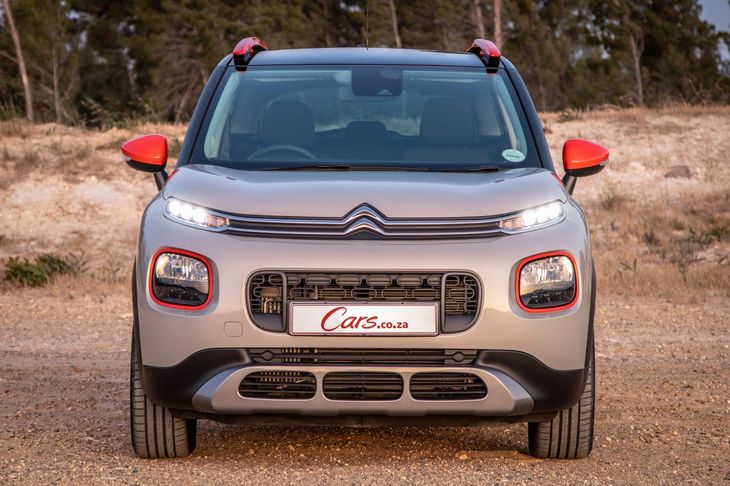 Citroen's design is unmistakably French and quirky. Are those orange Shrek ears?
Automotive manufacturers appear to have found a new segment that's gaining traction among young, trendy buyers and small families. The Citroen C3 Aircross is ostensibly aimed at buyers that would usually purchase traditional family cars such as the Mazda CX-5, Peugeot 3008, Toyota RAV4 and Volkswagen Tiguan... but they don't necessarily need all the space those cars offer.
What's more, the target market appreciates the appeal of a stylish lifestyle vehicle that can still fit children in the back and sports equipment in the load bay. A hint of extra ground clearance goes a long way, especially when the cars are unencumbered with the fuel penalty that comes part and parcel with an all-wheel-drive configuration... after all these are city-based cars that may only need to conquer gravel roads a handful of times (or even less) a year.
And so, the C3 Aircross plays its hand as a fun and funky alternative to the more traditional players in the segment. It comes in a playful range of colours and sports a design that stands out in a way only a French brand's product can.
How it fares in terms of...
Kerb appeal
You're either going to love or hate the looks of the Citroen C3 Aircross. That's probably the exact effect the French marque was going for anyway; it wants to be something different and an extension of an individual's personality. In that regard, the C3 Aircross delivers. As tested, finished in an orange-accented cream colour or dirty beige, it stands out from other offerings in the crowded compact crossover/SUV segment like very few cars can.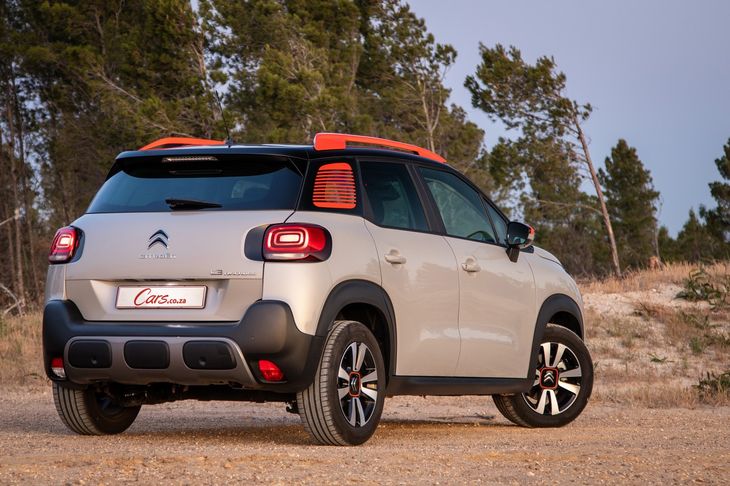 Kanye West may have inspired the shutter shades on the rear pillar. Doesn't make it easier to see out the rear.
For added quirkiness, it's also wearing a set of Kanye West-inspired shutter shades on its rear side panels (C-pillars). While these may seem a cool, modern design element, they do make it rather difficult to see out of the rear. The 1.2T Feel has 16-inch wheels, while 17-inch items are optional on the Shine 1.2T. Ground clearance is 178 mm, which adds to the "SUV look" that's on-trend but in reality, it's only about 4 cm higher off the ground than a common hatchback.
Drivetrain performance
The 1.2-litre 3-cylinder turbopetrol engine at the heart of the C3 Aircross has been around for some time and we've sampled it in just about every contemporary Peugeot and Citroen in the last 3 years. With peak outputs of 81 kW and 205 Nm on tap, it's on par with other small turbos from the likes of VW, Renault, Ford and Hyundai (to name just a few). It's a bit noisy at low revs, but calms down markedly in the mid-range.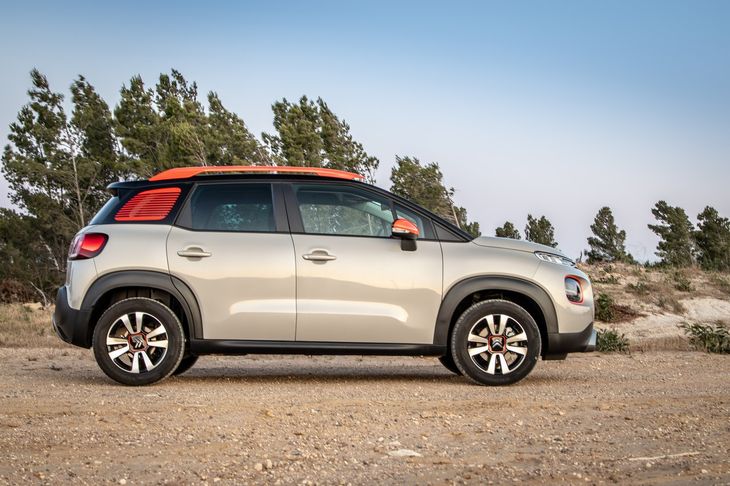 The engine and drivetrain are adequate and comparable to other offerings in the segment.
The acceleration isn't going to get your blood pumping but that's not what buyers in this segment are after. If performance figures have no bearing on your buying decision, the gentle, uncluttered acceleration experience will come off as pleasant. Drivetrain refinement is again, decent but not inspiring. The 6-speed auto 'box does a good enough job of keeping the engine in the torque band but with a very short first and second gear, it has a tendency to lunge a bit in traffic. It is, however an improvement over the Cactus we last experienced this combination in.
Fuel economy for all the 3-cylinder turbo engines never meets expectations as they end up having to work quite hard to keep pace with traffic and highway speeds. Citroen claims you should average 6.5L/100 km but after 2 weeks with the C3 Aircross, we were at 8.4L/100 km.
Ride and handling?

The orange theme is carried over to the inside as well. Note the wide front seats.
For all it's excitingly quirky exterior and interior bits, the "ride and drive" of the 1.2T Feel left our testers underwhelmed. There is a fair amount of body roll in the corners and the steering is lifeless and uninspiring when the Citroen's asked to display its (limited) dynamic ability. And, like almost all its competitors, it struggles to deal with abrupt bumps and a lot of those abrasions are transferred to the cabin which is unpleasant (but not out of the ordinary for a compact SUV).
The C3 Aircross deals with bigger undulations, such as speedbumps and pavement hops, markedly better and absorbs those with more of a cushioning effect.
Interior features
Part of the appeal of the C3 Aircross is the extensive list of standard interior equipment. The seats have a funky square design to them and are quite wide. Slimmer occupants may find them a bit loose-fitting, but they are comfortable on long journeys and adjustable in virtually all directions. Having a rake- and reach-adjustable steering column makes life more comfortable as well...
As for infotainment, there is a major difference between the Feel and Shine derivatives in that Apple Carplay and Android Auto compatibility is standard on the latter, whereas the former is equipped with Bluetooth and a USB port at the front. That feels like an oversight considering how tech-focused the modern buyer is; screen-mirroring technology is even available on the humble Datsun Go budget car. That said, BMW doesn't have Android Auto available yet either.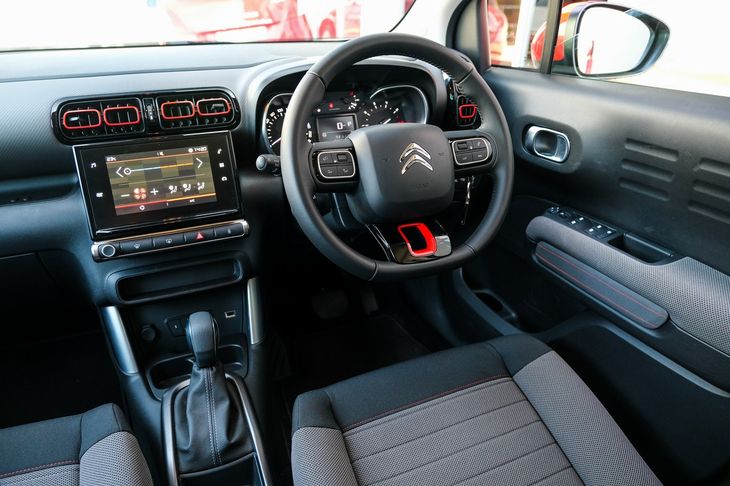 The Feel model does not get Android Auto/Apple Carplay, only the top-spec Shine.
The touchscreen itself has a matte texture to it, a bit like a smartphone screen protector that removes that nice crisp colour and display that makes a modern screen a desirable item. The basic functions are easy to access with the shortcut buttons below the screen, but delving into the menus can be confusing if you're not well acquainted with it.
Interior practicality
The long wheelbase of the C3 Aircross endows it with more passenger space than its rivals. The load bay is claimed to have a 410-litre capacity, which is on the bigger side for the segment. If you want even more practicality, the high-spec Shine derivative's rear seats are set on rails, which allow you to slide the 2nd row forward to produce an extra 110 litres of loading space.
Safety features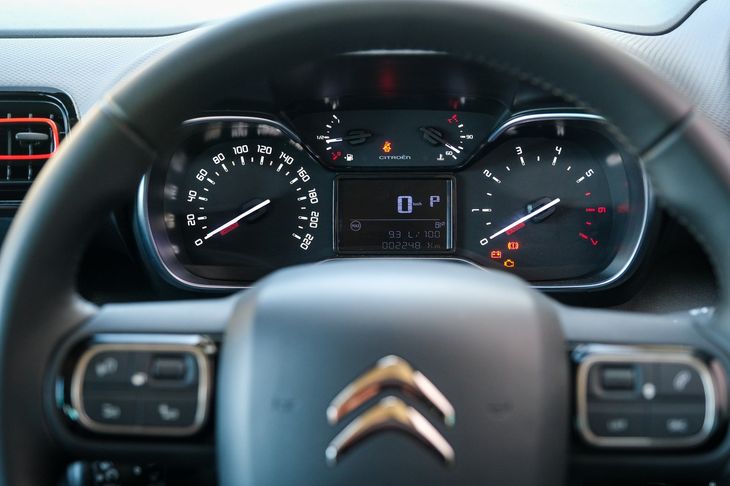 Analogue dials are becoming a rare sight in new cars.
Both the Feel and the Shine get a full allocation of modern safety features including stability control, ABS and EBD, hill-start, ISOfix anchors for the rear seats and 6 airbags. Added safety features come in the form of a tyre pressure sensor, auto-locking doors and seatbelt warning chimes.
Price and warranty
The C3 Aircross 1.2T Feel costs R339 900 with its Feel sibling R359 900 (December 2019). For the extra R20k, the Shine offers better value-for-money with its extra features and added practicality. Citroen offers an inclusive 5-year/100 000 km warranty and a 5-year/100 000 km service plan on the C3 Aircross range. The service plan, in particular, is longer than what any of its competitors currently offer.
Verdict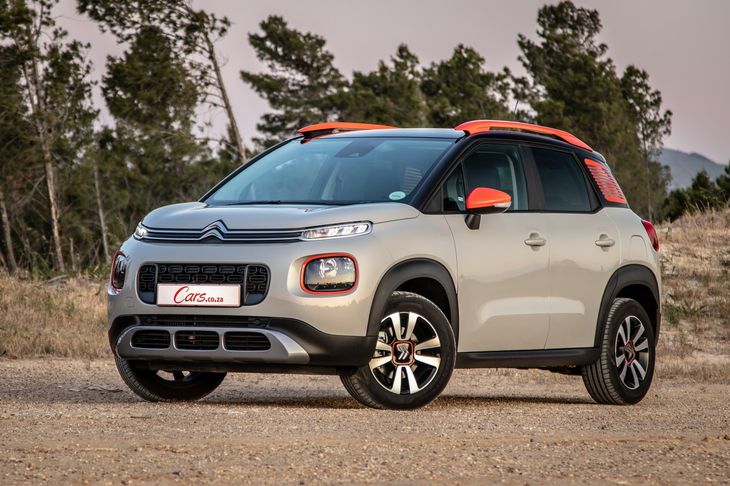 The C3 Aircross is probably not the killer blow that Citroen SA is looking for.
Citroen has made its return to the local market with a suitably boutique line-up and the C3 Aircross fits perfectly into a segment that's currently taking off in South Africa. The newcomer's exterior styling is a study in quirkiness and head-turning French design that makes it stand out from other offerings in the segment. The engine and gearbox combo is adequate compared with those of its rivals, but unlikely to satisfy those who enjoy a bit more perk to their performance.
With its longer wheelbase, the C3 Aircross offers more room for passengers and capacious loading space. Definitely consider spending extra for the Shine spec, which offers sliding rear seats and an upgraded infotainment system. The Citroen's driving experience is perhaps a trifle humdrum... It was always going to battle to match the aesthetic quirkiness and style of the overall package but nonetheless, we were left a little underwhelmed by the way it felt to drive.
What's more, the 1.2T Feel's asking price is not quite keen enough to really make buyers take notice or forget about the mainstream models that may represent "safer" buys in terms of anticipated resale value a few years down the line. The specification levels are high, however, and the safety kit comprehensive, plus the 5-year warranty and 5-year service plan go some way to elevate the Citroen as a reasonable long-term ownership proposition. Voila!
Related content:
Volkswagen T-Cross 1.0TSI Highline R-Line (2019) Review
Hyundai Venue (2019) Launch Review