It is now against the law to transport school children on the back of a bakkie for reward. However, the real problem lies in the vague regulations that prescribe the manner in which vulnerable young people can be transported on the back of LCVs, writes consumer journalist Wendy Knowler.
Just the thought of it makes first-world parents shudder with horror – young children routinely being ferried to school in places designed for goods, not humans – mainly the back of bakkies. Too many parents have buried children who've died after being ejected from bakkies during accidents; accidents that children securely strapped into the back seats of passenger vehicles would have survived.
Newspaper reports carry eyewitness reports that sound heartbreakingly similar to this one after 8 Pietermaritzburg primary school children were killed in early 2015: "The driver was going so fast and I saw the bakkie swaying and then I just heard screams and saw children flying off the bakkie…"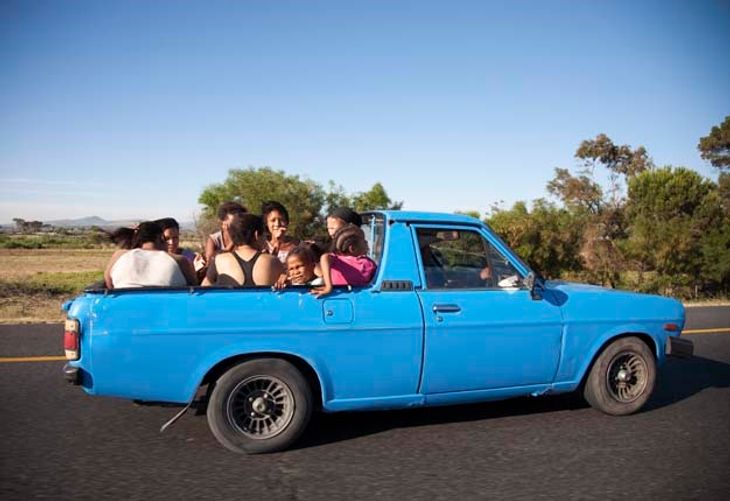 The law does not prescribe a limit the number of people who can be transported on the back of a bakkie.
It's illegal to transport children in the goods compartment of any vehicle for reward, including the back of a hatchback and the boot of a car. However, the bakkie driver who tells his kids and their mates to hop in the back for a drive to the beach is not breaking the law – because he's not charging them for the service, it's legal, if not responsible.
The recent amendment targets the bakkies-as-paid-school-transport industry. But the practice didn't become illegal on May 11, despite many media reports saying so, says Howard Dembovsky of Justice Project South Africa.
A commercial (goods-carrying) vehicle cannot be a 'taxi'
"Ever since the promulgation of the National Road Traffic Regulations in 2000, Regulation 250 has prescribed that: "No person shall on a public road carry any person for reward in the goods compartment of a motor vehicle," Dembovsky has been quoted as saying.
The amendment to Regulation 250 which came into effect on 11 May 2017 states: "No person shall on a public road convey school children in the goods compartment of a motor vehicle for reward."
Simply put, it has previously been illegal to transport anyone at all for reward in the goods compartment of a vehicle – but since 11 May 2017 it's been illegal to transport school children and/or any other people in the goods compartment of a vehicle unless, in the latter instance, the transport operator has applied and paid for a permit to do so in compliance with the National Land Transport Act.
Then there's Regulation 247, which lists the circumstances under which people may be transported in the goods compartment of a vehicle:
The back is enclosed to a height of at least 350 mm above the surface upon which such person is seated; or,
At least 900 mm above the surface on which such person is standing, in a manner and with a material of sufficient strength to prevent such person from falling from such vehicle when it is in motion.
'As many passengers on the back as the GVM allows'
But, as Dembovsky points out, there is no limitation on the number of people which may be transported in the goods compartment of a vehicle, provided the gross vehicle mass (GVM) of the vehicle is not exceeded. There's also no legal need to have a canopy on the bakkie.
"All too often one sees people standing on the back of bakkies and/or sitting on top of the sidewalls of bakkies, or on top of other stuff in the back of a bakkie, such as furniture," Dembrovsky says. "This practice is completely unlawful and yet it is rarely enforced."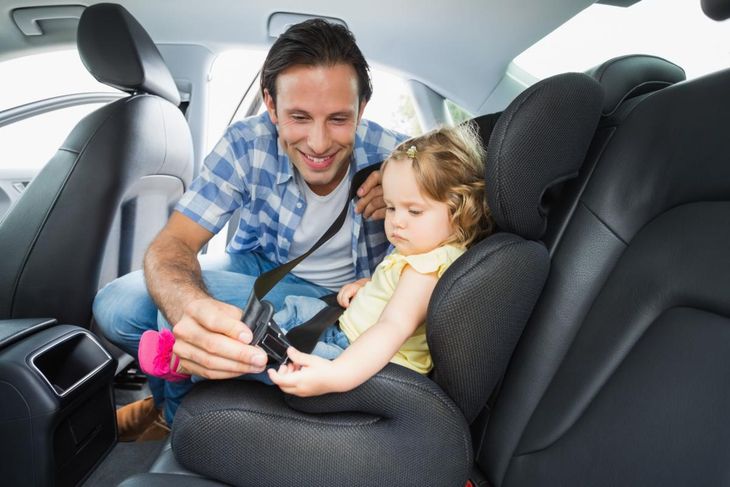 Parents should condition their offspring to become accustomed to being secured in child seats.
Speaking of a lack of enforcement, there's another law designed to protect the lives of very young children being driven on our roads – not that you'd know it by observing families in transit. In terms of the National Road Traffic Act, children – defined as being between the age of 3 and 14 except, where they are taller than 1.5 metres – must be restrained in a car, by at least a seatbelt, and those younger than 3 years of age have to be restrained in a specialist child seat.
Too few motorists utilise child seats
The child car seat regulation came into force in May 2015, which gave rise to a spike in baby seat sales, but a year later, major baby goods retailers reported that there'd been no meaningful growth in baby seat sales as a result of the regulation. Many South African parents hold young children on their laps, believing that to be adequate restraint in the event of an accident, but no matter how tight their grip, the child is in grave danger, said paramedic Robert Mckenzie, media liaison officer for KZN EMS (Emergency Medical Service).
As recently as May 2017, a 7-month-old baby girl died after being flung from a car that left the N2 near Umhlali on the KZN north coast and rolled. The mother had been holding the baby at the time of the accident. She survived, along with another two adults in the car.
Unrestrained small child can fly around inside a car
"The forces involved in a crash, even a minor crash, are excessive, making the child too heavy to hold on to when there's a sudden impact at speed," McKenzie said. "An unrestrained small child flies around inside of the car, colliding with solid objects like the dashboard and windscreen. "Their little soft-boned bodies and disproportionally big heads and organs make children much more prone to serious injury in a car crash than adults."
McKenzie said despite the new legal requirement, his team was still attending accidents where unrestrained young children had been flung from car windows and through windscreens. To those parents who say their toddlers "won't" sit in a car seat, McKenzie has this to say: "Children have to be taught to sit in a car seat; it's not a natural instinct for them.
"Often parents don't put their children in a car seat because the child is not used to it and they start to cry. But as parents, we need to be firm with this and very quickly a child will learn how to sit in a child seat and become accustomed to it, " he concluded.
Related articles:
Double-cab bakkies are the new SUVs
Tech Speak: Understanding Safety Terms
Safety Trumps Convenience
Volvo Takes Child Safety to the Next Level