Chery recently upgraded its budget car offering with the introduction of the J2 Swag, which offers a lot of standard specification – let alone added kerb appeal – for R154 900. How does it compare with mainstream volume offerings?
By Stuart Johnston
What a difference a new set of wheels can make to a car! Slot on a set of stylish 17-inchers, as Chery has done with its J2 hatchback, and you suddenly have a car with a lot more swagger. "Swag" is derived from swagger and suggests something is stylish. It certainly is a short, sharp and catchy name.
Eye-catching adornments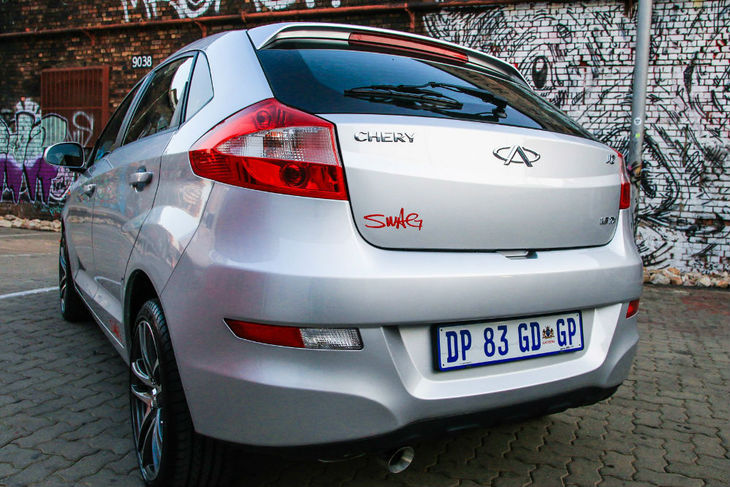 Nevertheless, there will be more than a few Chery J2 Swag owners arriving home with smug grins on their faces as they unveil their new car to their friends and family. You see, with those wheels and accompanying low-profile footwear, subtle "Swag" decals and an attractive chrome tailpipe known, for some reason, as an "F1-X", this little hatchback is suddenly much easier on the eye compared with the standard J2 model on which it is based.
There are interior features that earn bragging rights too, such as a Telefunken touchscreen audio/satnav system with Bluetooth and streaming capability. It is mounted at the top of the silver-grey-trimmed facia and incorporates an MP3-compatible CD player as well as a USB port.
Then there is the new leather-trimmed interior; the seats are covered in what looks like commendably durable hide with stand-out stitching.
A few revisions are evident
As for the rest of the Chery, it is pretty much stock J2 fair – the Swag serves as a mid-life refresher to a model launched here in mid-2013.
The car is not unattractive, but it needed those larger wheels to draw attention and, the overall shape is a credit to Chery's in-house stylist. The swage line on the flanks is very reminiscent of Fiat's styling, and the way the large tail lights and sleek headlight clusters are incorporated into the whole is pleasing.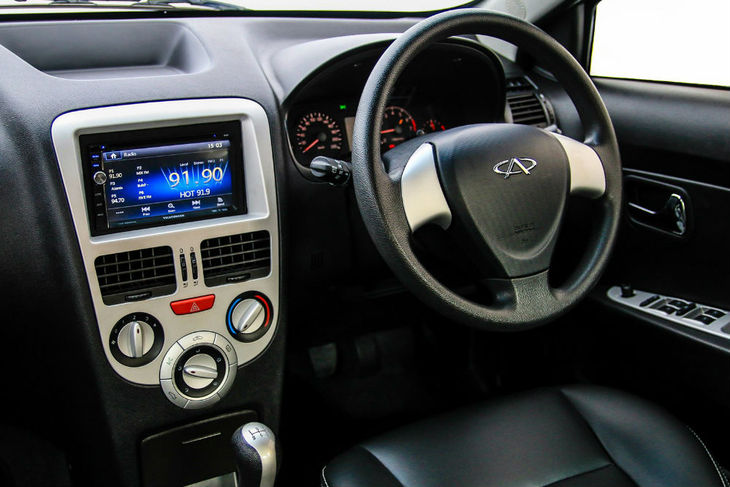 Inside, when one looks past the leather trim and infotainment pod, there are elements that are cool, but not all the finishes are that well-thought out. The silver-grey finish on the console housing the ventilation dials (and similarly-painted panels on the door inserts), looks okay when new, but doesn't age well.
On the other hand, the panel fit compares well with that of the J2 Swag's rivals, such as the Toyota Etios and Honda Brio, to name two examples. And, from a practical point of view, there is impressive rear leg- and headroom and a luggage bay that measures 274 litres, which is generous in this A-B-Segment.
Safety-equipment-wise, it ticks the usual boxes in the under R180 000 bracket, airbags for driver and front passenger, and ABS (anti-lock brakes) and (EBD) electronic brake-force distribution.
Comfort stuff includes remote central locking, air-conditioning and electric windows front and rear. Oh, and don't forget power steering.
On the daily commute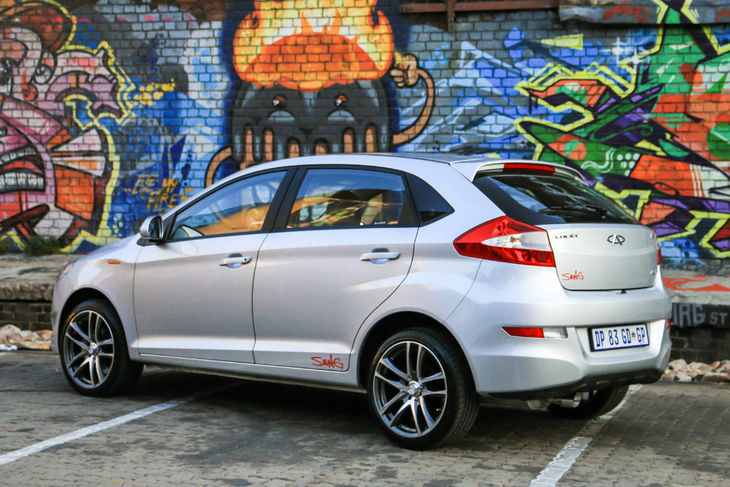 The J2 Swag is fitted with a 1,5-litre normally aspirated four-cylinder motor and a five-speed gearbox driving the front wheels. When reversing out of a parking spot for the very first time in the Swag, I noticed a bit of clutch shudder on the car, which didn't repeat itself when using the five forward ratios.
Power is rated at 72 kW and 140 Nm, and I must say those figures seem slightly optimistic, although it has to be taken into account that the J2 is not exactly a lightweight. Fully-equipped with electric gizmos as it is, it tips the scales, un-laden, at 1 180 kg. The claimed 0-100 kph sprinting capability is 15 seconds, which is not exactly firebrand stuff. Neither is the 170 km/h top speed, but then those figures probably won't be a factor for buyers of this car, the majority of whom will want a multitude of ticked feature boxes and are less likely to be interested in the Chery's handling and performance balance.
Fuel consumption is rated at 7,4 litres/100 km, and you will be lucky to improve on 8,0 litres/100 in day-to-day use. The problem is that the motor works hard even in commuting situations, and on the highway, downshifts are sometimes needed to maintain pace on steep gradients.
Overall, the ride quality is not bad, just a bit choppy over big bumps, but the steering feel is very vague, and the car does feel as if it is up on tip-toes.
Furthermore, the car was very new when I tested it, and I feel this reflected on the braking performance. The J2 Swag needed a hefty right foot to get the ABS to kick in. The shift quality of the gearbox, I have to say, was of the notchy variety.
Pricing
Ultimately, the Swag isn't going to sustain any kind of swagger when measured against the European or Japanese-made models in its market, but as a new purchase, at its price, R154 900, it offers many creature comforts, handy navigation, smart-looking leather, and impressive passenger and luggage space.
Plus there is a 5-year/120 000 km warranty, 5-year roadside assist, as well as a 2-year/30 000 km service plan. As a utilitarian runabout it is worth a look.
View the prices and specifications of the Chery J2